There seems to be a number of John Wayne fans coming up with further suggestions for the article I wrote recently about John Wayne's leading ladies. So due to popular demand, I've decided to revisit the subject once more to include the actresses that didn't make it onto that first list.
John Wayne's Leading Ladies. 19 more…
Constance Towers – The Horse Soldiers (1959)
Geraldine Page – "Hondo" (1953)
Jean Arthur – "A Lady Takes A Chance" (1943)
Paulette Goddard – "Reap the Wild Wind" (1942)
Nancy Olson – "Big Jim McLain" (1952)
Rita Hayworth – "Circus World" (aka "The Magnificent Showman")
Charlene Holt – "El Dorado"
Laraine Day – "Tycoon " / "The High and the Mighty"
Ella Raines – "Tall in the Saddle"
Martha Hyer – "The Sons of Katie Elder"
I'm going to open up the list to include some of the ladies who starred opposite Duke in his non-Westerns – but to be honest even JW's non-Westerns are almost Westerns anyway. The actresses are also not listed in order of preference either, although I have left my favourite until last.
Sophia Loren – Legend of the Lost
I can't remember the last time I watched Legend of the Lost in which Miss Loren pouts and sways across the desert as prostitute Dita, in thrall to JW as Joe January – what a great name.
I think the film itself is a metaphor for the arid box-office years Duke enjoyed – or not as the case might be – in between The Searchers (1956) and Rio Bravo (1959). Either way, I get the feeling the film is a bit of a Henry Hathaway misfire seeing as not too many people seem to champion it that much.
La Loren looks wonderful of course, and if I'm correct I think this is her first major Hollywood film, after which she went on to star opposite the likes of Alan Ladd, Cary Grant and William Holden.
Personally, I think she's at her most beautiful in the early 1960s in El Cid, opposite Charlton Heston. When she's onscreen you literally can't take your eyes off her.
There's a documentary running on Netflix called Conversations with Gregory Peck, which follows the actor on a speaking tour he did back in the late 1990s. During a Q&A session, he's asked if Sophia Loren, who starred opposite him in Arabesque (1966) was actually naked in a scene in which Peck had to hide in the shower with her.
Peck hesitates for a moment, then says 'How shall I put it? Well, it was pretty spectacular, I'll tell you that'. I think that just about sums the lady up, don't you?
Capucine – North to Alaska
I'm not a great fan of North to Alaska. Duke and broad comedy don't mix that well for me but the film appears to have a number of ardent admirers so who am I to argue? I'm guessing part of the attraction of the film is the presence of the lovely French actress Capucine, who plays a character called Angel.
Whilst not inured to the charms of the lady myself I just get the feeling watching Miss Capucine – is that the form for referencing a woman with only one name? – that her heart wasn't exactly in the role itself.
According to a couple of trivia notes on IMDB, there's a scene in which Capucine is required to laugh. In order to get her to react accordingly, someone off-camera tickled her feet. Also, the director originally slated for the film, Richard Fleischer, didn't think she was convincing enough as a prostitute.
Unfortunately for him, Miss Capucine was romantically involved with the producer of North to Alaska, so Fleischer got the boot instead.
Strangely enough, her deadpan mode of acting worked very well for her when she played the wife of Peter Sellers in the first Inspector Clouseau movie, The Pink Panther, a role she returned to twice in the later sequels.
I note that she also appeared in the Woody Allan scripted What's New Pussycat, so maybe comedy was her real forte after all. It turns out her real name was actually Germaine Hélène Irène Lefebvre. Sadly she took her own life at the age of 57 in 1990 after suffering from depression and illness.
Joan O'Brien – The Alamo / The Comancheros
This lady obviously wasn't Wayne's love interest in The Alamo but she played a significant part in the movie as the wife of Captain Dickinson, played by Ken Curtis.
Her real-life counterpart, Susanna Dickinson, was indeed one of the only survivors of the battle, so it's good that at least some historically accurate facts made their way into the James Edward Grant script – I'm assuming most of you know, for example, that the battle actually took place at around 3:30 in the morning, as depicted in the 2004 remake.
O'Brien went on to play Duke's love interest in The Comancheros the following year, but I think I'm right in saying that it wasn't exactly a full-blown overwhelmingly romantic role for her and if I'm correct she only actually appeared in a couple of scenes with Wayne.
I do remember though that Wayne's daughter, Aissa, again played O'Brien's daughter, as she did in The Alamo. In fact, a quick look at the cast indicates that The Comancheros was almost a mini-reunion for a number of people involved in The Alamo, featuring the likes of Patrick Wayne, John Dierkes, 'Big Boy' Williams and Cliff Lyons.
Of course, the real leading lady in The Comancheros is Ina Balin, but she plays Stuart Whitman's love interest so, even though a highly attractive young lady in her own right, she doesn't qualify as Duke's squeeze in this one.
I am glad to confirm that, as of this moment of writing, Joan O'Brien is still alive and kicking at the grand old age of 80, so it isn't all bad news for some of Duke's onscreen female partners.
Susan Hayward – Reap the Wild Wind / The Fighting Seabees / The Conqueror
I must check out Reap the Wild Wind again sometime soon as I wasn't aware Susan Hayward was in the film, although she's about six places down on the cast list so I'm guessing it's not a substantial role.
The main female lead in the film belongs of course to Paulette Goddard, but she's Ray Milland's gal so doesn't count as a romantic John Wayne movie lead.
A couple of years later Hayward played opposite JW in The Fighting Seabees, as a newspaper reporter. Although some of the posters and other promotional materials indicate that she's Duke's love interest, it appears as though her character isn't that interested in Wayne at all. It's the blindingly boring Naval officer Dennis O'Keefe that she has the hots for, which works out well for everyone when Duke cops it in the climactic battle with the Japanese.
I guess we had to talk about The Conqueror at some point in time even though I've been avoiding it like the plague since I started writing about John Wayne earlier this year.
What can I say that hasn't been said already? It may be the worst movie John Wayne ever made but even the worst film has something to redeem it, and the presence of luscious-looking Miss Hayward goes quite a long way in compensating for the shortcomings of this misfired enterprise.
As Duke himself says in the film, 'I feel this Tartar woman is for me, and my blood says, take her'. I guess I'd feel the same way if I were in Duke's fur-lined boots but, honestly, what was he thinking when he took this role on? The least he could have done was to lose that moustache. He looks like an unemployed Spanish waiter.
I won't go into the sad history of the fate of numerous members of the cast and crew, including Duke and Susan Hayward, most of whom it is suspected died prematurely due to the film being shot in the Utah desert near where above-ground nuclear weapons had been tested a few years before.
Suffice to say that, for various reasons, The Conqueror isn't exactly the most loved of John Wayne's films. Too sad for words, in more ways than one.
Lauren Bacall – Blood Alley / The Shootist
To be honest I don't detect any real chemistry between Wayne and Bacall in Blood Alley but the actress was in her prime in the mid-1950s and still happily married to Bogie so on that basis she deserves a mention.
Wayne is in full commie-baiting mode as the captain of a steamer attempting to sneak a group of villagers out of communist-ruled China. On the way he falls in love with medical missionary Bacall.
I vaguely remember Andrew McLaglen telling me that the story about Robert Mitchum being replaced on the film by Wayne for being tired and emotional is not actually true, but either way, Duke, who produced the film as well, ended up with the leading role.
Unfortunately, this was another one of those box-office clunkers that Duke managed to get involved in during the 1950s, along with other titles such as The Barbarian and the Geisha and Big Jim McLain. As I've said more than once, comedy and Wayne don't mix – add to that politics and Wayne in film as well.
Although Bacall doesn't get to play Wayne's love interest in The Shootist, she brings a quiet dignity to her role as a widowed mother attempting to keep her son, enthralled by being in the company of a renowned gunslinger, on the straight and narrow.
The film critic Roger Ebert notes that when you witness the scenes between Wayne and Bacall they're so authentic that 'you forget you're watching a movie'.
I agree wholeheartedly. Bacall's role in The Shootist has been underrated for too long, so time to put that right.
Claudia Cardinale – Circus World (aka The Magnificent Showman)
I know, I know. Duke's leading lady in Circus World is obviously Rita Hayworth, but I saw this film when it first came out back in 1964 and Miss Cardinale, with all due respect to Rita, was most definitely my preferred object of burgeoning teenage lust.
Cardinale plays the daughter of Hayworth and Wayne, and the lucky recipient of Claudia's attention in this not-so-good Henry Hathaway directed film is the actor John Smith, his fairly commonplace name matching his nondescript performance.
Italian actress Claudia on the other hand is a delight to watch on screen, mainly because, to my 12 year-old eyes she seemed to wander through the film as a scantily clad trapeze artist wearing a costume that might almost accidentally fall off at any given moment.
Already famous due to her appearances in Italian cinema classics such as 8½ and The Leopard, Claudia went on to parade her obvious charms in other Hollywood films such as Blindfold and The Professionals.
My favourite Cardinale performance is her role as Jill McBain in Sergio Leone's classic Western, Once Upon a Time in the West, holding her own against lauded thespians such as Henry Fonda, playing against type as a rapist and killer, Jason Robards and a pre-Death Wish Charles Bronson.
Her first appearance in the film is highlighted by the Ennio Morricone penned Jill's Theme, a piece of music as luscious and gorgeous as the actress herself. And I think I'm going to leave it there before I gush any more on the beauty that is Claudia Cardinale. Just one final thought though. Did I say she could also act as well?
Ann Margret – The Train Robbers
I could make this bit quite short and just say that if you want to know how I feel about Ann Margret then just read my previous thoughts on Claudia Cardinale and insert relevant films pertaining to her career, but then that wouldn't do Miss Margret justice.
It's such a shame that actresses of the calibre of Sophia Loren, Claudia Cardinale and Ann Margret don't really get the chance to stretch their acting talents in Wayne's films, but then I guess he's such a formidable presence on screen himself it's very rare – Maureen O'Hara excepting of course – that his female co-stars get the opportunity to steal Duke's limelight.
Ann Margret's role in The Train Robbers could have been much more interesting if the story had followed on from the reveal that she intended to keep the money she employs Wayne and his companions to help her retrieve from the desert, but the film ends at that point.
You're left with a feeling Ann Margret has kind of been wasted in her role when it's obvious she's a very accomplished actress. And gorgeous as well of course, but that's a given.
Moving on from her sex-kitten roles in 1960s films such as Viva Las Vegas, The Pleasure Seekers and Kitten With a Whip – the title of that one alone does strange things to me that I'd rather not discuss here – her acting talent finally came to the fore in her Oscar-nominated roles in both Carnal Knowledge and Tommy.
However, harking back to my teenage years, it's the sequence at the beginning of the musical Bye Bye Birdie, made back in 1963, in which she dances towards the audience against a bright blue background, that will forever be seared in my mind. Oh yes, and her scenes opposite Elvis in Viva Las Vegas in which she appeared to be wearing nothing under her black tights.
I think I'll take a break at this point. I need a cold shower.
Katharine Hepburn – Rooster Cogburn
Watching Rooster Cogburn again recently I was struck by the fact that the unlikely casting of Wayne and Hepburn worked so well.
It was obviously an advantage that they were both the same age – apparently Hepburn was two weeks older than her co-star – so it would not have been out of place if the pair had ended up walking down the aisle at some point in the film.
You can sense Hepburn's enjoyment onscreen acting with Duke, so, despite their opposing political views, it should come as no surprise that she admired Wayne very much. Hepburn's thoughts on Wayne are too long to quote here but I loved her observation that 'As powerful as is his personality, so too is his acting capacity powerful. He is a very very good actor in the most highbrow sense of the word. You don't catch him at it.' That's so right. You never catch Wayne acting. He just is.
When you see Katharine Hepburn starring opposite John Wayne in Rooster Cogburn you're prompted to ask if there are any other actresses of Hepburn's calibre that for various reasons never made it onto the screen with Duke.
It turns out stars like Barbara Stanwyck and Joan Crawford made the grade with Wayne in Baby Face (1933) and Reunion in France (1942) respectively but where are the likes of Ava Gardner, Olivia De Havilland, Joan Fontaine, Ann Baxter or Bette Davis?
Davis is quoted as saying 'I certainly would have given anything to have worked with John Wayne. He's the most attractive man who ever walked the earth, I think.' Sparks certainly would have lit up the screen if Wayne had been paired with Ava Gardner.
It's good to know that Wayne's career ended on a high note as regards his female co-stars, with Hepburn in Rooster Cogburn and Bacall in The Shootist.
Dorothy Jordan – The Searchers
I posed the question a while back; who is the leading lady in The Searchers? Natalie Wood or Vera Miles? Then it hit me. It's neither Wood or Miles.
It's an actress called Dorothy Jordan, who plays the real love interest of John Wayne in The Searchers, as his brother's wife, Martha. Due to the early demise of her character, we only get one real scene between Ethan and Martha but it's one of the most poignant in the film.
The sequence, apparently improvised on the set, involves a number of gestures that silently display the love that Martha has for Ethan, and vice versa. She fetches Ethan's coat and gently strokes it before handing it to him, Ethan preparing to go off in pursuit of a Comanche raiding party. He in turn kisses her on the forehead then leaves the cabin, while Ward Bond, as Reverend Clayton, diplomatically averts his eyes from this scene of unrequited love.
Of course, that's the last time Ethan will see Martha alive, but there is a suggestion in the original shooting script of The Searchers that it is Ethan's love for Martha that stops him from killing Debbie, who has been tainted by her association with her Comanche kidnappers.
Ethan tells Debbie to close her eyes as he prepares to shoot her, then obviously thinks twice before commenting 'You sure favour your mother'. He then takes Debbie in his arms as Martha's theme – the one heard on the soundtrack after the opening credits of the film – plays once more, reiterating the importance of Martha as a character in the film.
Dorothy Jordan actually retired from acting back in 1933 but was lured back to work exclusively for Ford in the 1950s, appearing in The Sun Shines Bright in 1953, The Searchers in 1956 and her last film The Wings of Eagles in 1957.
Her screen time in The Searchers is almost inconsequential but the death of her character is the driving force behind Ethan's motivation throughout the rest of the film. It is therefore only right and proper that Dorothy Jordan as Martha should be considered seriously when acknowledging the actresses who played opposite Wayne.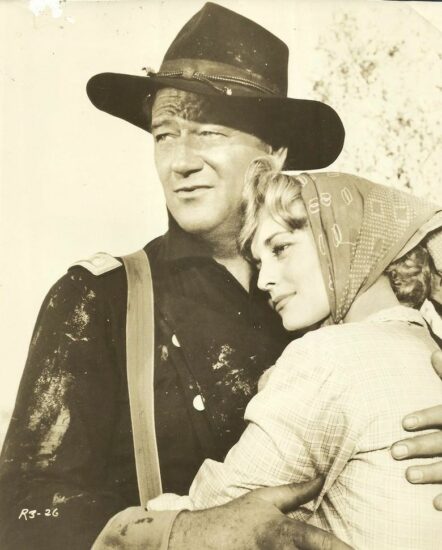 Constance Towers – The Horse Soldiers (1959)
A genuine all round entertainer, having carved out a successful career in film, TV and theatre, Constance showed that she had a pretty good singing voice too. The actress only appeared once opposite John Wayne, in John Ford's Civil War saga "The Horse Soldiers", playing Southern belle Miss Hannah Hunter of Greenbriar. JW, as Col. John Marlowe, takes a brigade of Union soldiers deep into Johnny Reb territory in order to carry out an attack on a town that supplies the Confederate army at Vicksburg.
When Miss Hannah is discovered eavesdropping on Marlowe discussing the plans for his brigade they are forced to take Ms. Hunter along for the ride. She is not that enamoured of Marlowe at first but of course eventually falls for JWs rough mix of wit, charm and charisma, even though he's operating in ornery and cantankerous mode for most of the film.
Constance went the extra mile on the film and sang on a tie-in album as well entitled "Constance Towers Sings to The Horse Soldiers". Ford was obviously impressed by this multi-talented lady, casting her opposite Jeffrey Hunter and Woody Strode in his next movie, "Sergeant Rutledge".
She later teamed up twice with another highly regarded filmmaker, Samuel Fuller, first of all in the lurid melodrama "Shock Corridor", then two years later in 1964 as a prostitute in "The Naked Kiss". After this her film work tended to be fairly infrequent, giving Constance the opportunity to showcase her singing talent on the stage in New York productions of musicals such as "Camelot", "Show Boat" and "Carousel."
Not content with this, and having made her TV debut in the early 1950s, Ms. Towers went on to carve out a name for herself starring in two of the most popular American soaps of their time, "The Young and the Restless" and "General Hospital".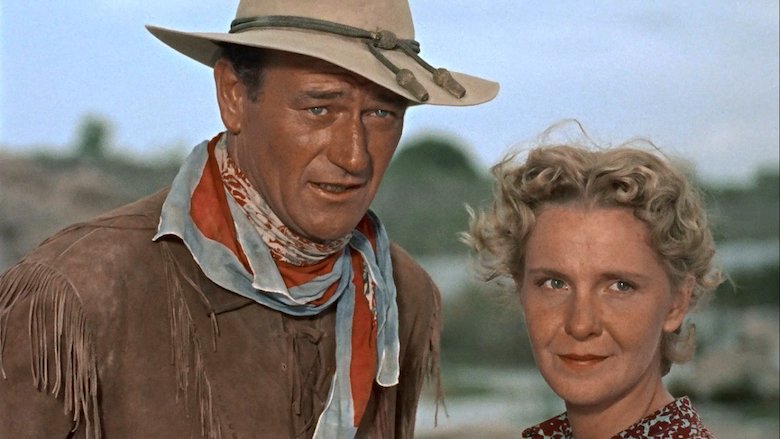 Geraldine Page – "Hondo" (1953)
This acclaimed Broadway actress might not have first seemed to be the perfect fit as John Wayne's love interest in "Hondo", but apparently Duke "wanted a weathered, hardened, almost handsome face" to play abandoned settler Angie Lowe, and Ms. Page obligingly delivered. Based upon a Louis L'Amour book, this is an unabashed cowboy and Apache film, with Wayne mouthing the good old-fashioned homilies of screenwriter James Edward Grant, who thinks that "a woman should be a good cook" and that Angie is a "homely woman".
A student of the Method style of acting, "Hondo" was only her second film and her performance won her the first of three Academy nominations for Best Supporting Actress. After the success of Hondo, it should have been plain sailing for the actress but Page was blacklisted by Hollywood for the next eight years due to having studied under Uta Hagen, another actress also blacklisted for her own association with Soviet sympathiser Paul Robeson.
During this period she juggled TV appearances alongside a number of stage roles that kept her gainfully employed before returning to the screen in 1961 in the film adaptation of the Tennessee Williams play "Summer and Smoke", winning the first of her three Best Actress nominations in the process. The films and critical accolades continued with a starring role opposite Paul Newman in "Sweet Bird of Youth", both Page and Newman essaying the roles they had played in the successful Broadway version back in 1959.
In 1971 she delivered a memorable performance as school headmistress Marsha Farnsworth, head of a young ladies teaching establishment in Mississippi, playing opposite Clint Eastwood in the Gothic Western "The Beguiled". Her infatuation with Eastwood's character, Confederate soldier John McBurny, leads to a messy amputation and eventual death by poisoned mushrooms for poor old Clint.
Page went on to appear in a number of celebrated movies over the following years in films including "Pete N' Tillie", "Interiors", "The Pope of Greenwich Village" and "The Trip to Bountiful". Her role in this last film, released in 1985, as an elderly woman determined to revisit her childhood home, finally produced an Oscar win for Page as Best Actress. Her love of the theatre found her once again on Broadway starring in a successful revival of the Noel Coward comedy "Blithe Spirit".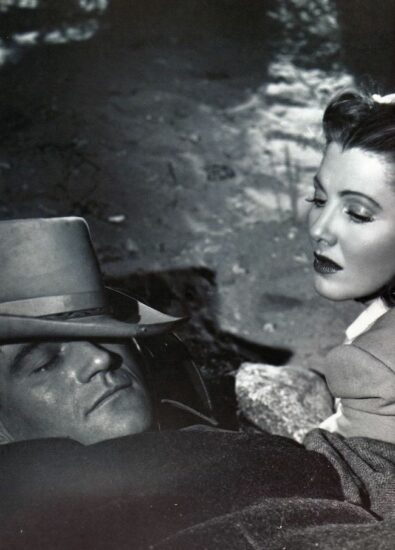 Jean Arthur – "A Lady Takes A Chance" (1943)
Gladys Georgianna Greene aka Jean Arthur, only played opposite John Wayne once, In the romantic comedy "A Lady Takes A Chance". Also known as "The Cowboy and the Girl", which is about as close as RKO could get to "The Cowboy and the Lady" without being served with a writ, Arthur stars as Mollie, a gutsy lady who decides to take a bus trip out West to get a flavour of the place, as young women back in the 1940s were wont to do. She immediately falls for the first cowboy to be thrown from a horse and land in her lap and we can all guess who that cowboy is.
Duke's a bit of a lady's man and a commitment-phobe to boot, whilst Mollie is a "one-man at a time woman", so they don't exactly hit it off straightaway, until she brings Duke some luck at the gambling table. Along the way, the audience is treated to a comedy bar room brawl and plenty of stock film footage of real rodeo riders in action. 
Jean Arthur gives it a touch of the Frank Capra's – highly appropriate seeing as she made three films with the director back in the 1930s – with a blatant steal from "It Happened One Night", revealing her legs in true Claudia Colbert fashion to hitch a ride.
Her initial career got off to a pretty good start when she made her debut in "Cameo Kirby", a silent melodrama released in 1923 and directed by John Ford. By the time talkies came into fashion Arthur had appeared in nigh-on over forty movies but it took a few more years before she snagged her first featured role in the Frank Capra comedy romance "Mr. Deeds Goes to Town", in which she co-starred with Gary Cooper in 1936
Prior to this the actress found herself working for John Ford again in "The Whole Town's Talking", a comedy-gangster film in which Edward G. Robinson played the dual roles of Killer Manion and a mousy advertising executive. With her star now in the ascendant, Arthur went from strength to strength, proving her serious acting chops as Calamity Jane in the Cecil B. DeMille Western "The Plainsman", opposite Cooper again, who played Wild Bill Hickok. Towards the end of the 1930s she clocked up two more Capra comedies, "You Can't Take It With You" and "Mr. Smith Goes To Washington", finding time in between to take on a leading role opposite Cary Grant in the Howard Hawks classic, "Only Angels Have Wings".
After taking a sabbatical from the big screen the actress returned in 1953 for what would be her very last film as homesteader Marion Starrett in the classic George Steven's Western "Shane". Her performance opposite Alan Ladd and Van Heflin was one of her best and Arthur's loss to the big screen at still a relatively early age is to be mourned.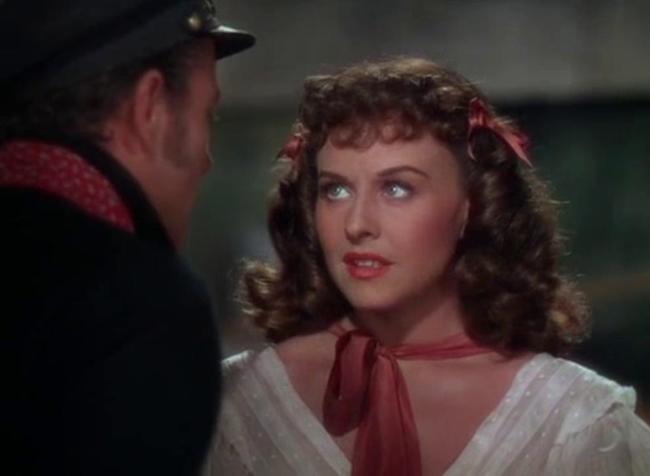 Paulette Goddard – "Reap the Wild Wind" (1942)
In this Cecil B. DeMille epic sea-faring melodrama set in the 1840s, Goddard plays the strong-willed marine salvage owner Loxi Claiborne, falling head over galoshes for Duke as Captain Jack Stuart, although her ardour fades once she finds out Stuart has scuttled his own ship and ended up drowning a female stowaway in the process. Ray Milland is the nominal star of the film as sailing ship executive Steven Tolliver. Loxi then switches her affections to him once Captain Stuart has fallen out of favour. Stuart does the honourable thing, giving his life to save his rival in love from a giant rubber squid and thus freeing Miss Godard to marry the wimp that is Ray Milland.
A year or so before this she was in the running for the much-coveted role of Scarlet O'Hara in "Gone With the Wind", the part eventually of course going to British actress Vivien Leigh instead. It should come as no surprise then that the actress plays her part in "Reap the Wild Wind" as a poor man's Scarlett O'Hara, complete with a Hattie McDaniel's look-alike black hand-maiden and a "y'all quit that lolly-gaggin' round me now, ya hear?" turn of phrase. We even get "fiddlesticks" which is about as close to "fiddle dee dee" as you can get without being served with a plagiarism suit by MGM.
She went on to appear in a couple of Bob Hope comedies and worked once more for director Cecil B. DeMille in "North West Mounted Police". Goddard picked up a Best Supporting Actress Nomination a year later for her role as military nurse Lt. Joan O'Doul in the WWII drama "So Proudly We Hail". In 1947 the actress found herself opposite Gary Cooper in yet another DeMille epic, "Unconquered", a historical drama set during colonial times in which the actress played a condemned woman, Abby Hale, who is transported to America and sold as an indentured slave to none other than Mr. Cooper himself.
After a successful run of roles in the 40s Goddard's career began to tail off, most of her appearances from the early 1950s onwards confined to TV with appearances in shows such as "Sherlock Holmes" and "The Errol Flynn Theatre". She retired in 1958 and moved to Switzerland with her fourth husband, the author Erich Maria Remarque, author of the novel "All Quiet on the Western Front" and went on to live a comfortable life as a moneyed New York socialite.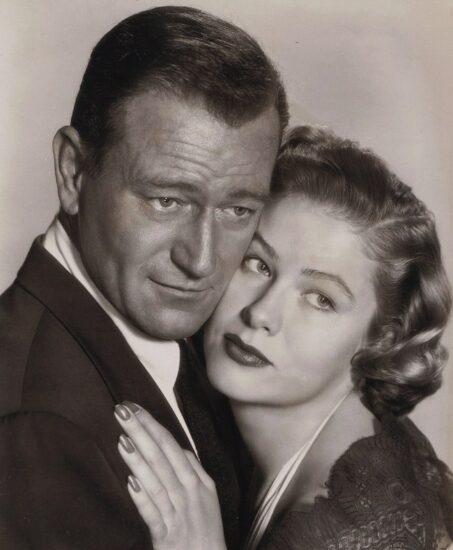 Nancy Olson – "Big Jim McLain" (1952)
After only three years in Hollywood, Nancy Olson found herself being romanced by none other than John Wayne himself in "Big Jim McLain", released in 1952. As voluptuous widow Nancy Vallon, her character kind of wanders in and out of the film without really that much to do but her scenes with Wayne are imbued with an erotic undertone that leaps off the screen whenever the two of them meet. And she looks great in shorts as well.
The film itself features Wayne taking on a bunch of Communists, or to give them their full name, Commie-pinko subversives which is quite apt seeing as JW hated Communism with a passion that bordered on the obsessive compulsive. It's therefore not too much of a stretch for him here, playing the title role with gusto and clenched fists, working for the House of Un-American Activities Committee and carving his way through a phalanx of those Russkie SOBs like doo-doo through a goose. 
Not many actresses (or actors for that matter) can lay claim to winning a Best Supporting Actress nomination after having appeared in only two films but Ms. Olson sure can. After making her screen debut at the age of 21 in the Randolph Scott Western "Canadian Pacific", released in 1949, Nancy won the nomination for her role as script reader Betty Schaefer in the classic Hollywood drama "Sunset Boulevard", directed by Billy Wilder. Playing the love interest of William Holden as scriptwriter Joe Gillis, the audience is left in no doubt their affair is doomed literally from the start, the film famously opening on a shot of Gillis floating face down in a swimming pool after having been murdered by faded movie star Norma Desmond, played by Gloria Swanson.
Her big screen appearances are quite sporadic for the rest of the 1950s, although she could also be found taking on the occasional TV appearance in shows such as "Alfred Hitchcock Presents". In 1960 she played best friend to Hayley Mills in the Disney movie "Pollyanna". Staying with Disney the actress appeared as Fred McMurray's other half in the comedy "The Absent-Minded Professor", reprising the role in the sequel, "Son of Flubber", released in 1963.
It was around this time that Nancy's screen and TV career took second place to her private life, with the occasional foray in the theatre, appearing on Broadway in plays such as "A Front Row Seat" and "Send Me No Flowers". She had previously married a genuine Broadway legend in the mid-1950s, the lyricist Alan Jay Lerner, who apparently came up with the title to the song "I've Grown Accustomed To Her Face" from the famous musical "My Fair Lady" after having made a similar remark regarding his wife.
One of her last big screen appearances was a cameo in the 1997 movie "Flubber", a remake of "The Absent-Minded Professor" starring Robin Williams.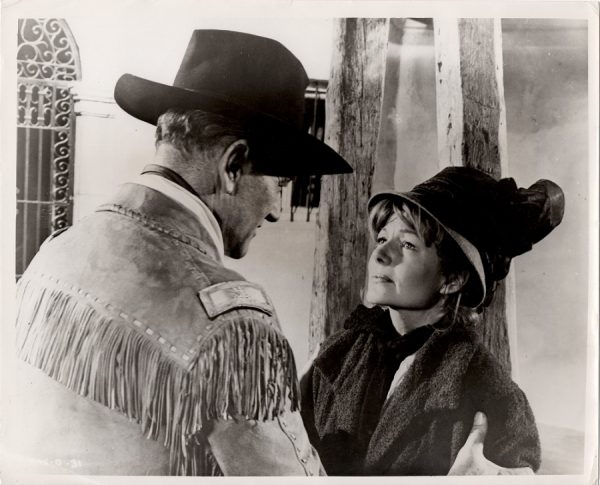 Rita Hayworth – "Circus World" (aka "The Magnificent Showman")
Actress and dancer Margarita Carmen Cansino aka Rita Hayworth was cast as John Wayne's love interest in the Samuel Bronston circus epic "The Magnificent Showman (ala "Circus World") in 1964. It was rumoured later on that Hayworth started to show the first signs of Alzheimer's disease during filming, arriving late on the set and forgetting her lines and annoying Duke in the process. The movie itself performed poorly at the box office, turning out to be one of Hayworth's last major screen roles.
She started her career playing small supporting roles in a number of Hollywood films in the mid-1930s under the stage name of Rita Cansino. Signed to Columbia Studios in 1936, her first screen outing as Rita Hayworth was in the 1937 feature "Criminals in the Air", after which she appeared in a series of B movies before being cast as Cary Grant's ex-girlfriend in the Howard Hawks classic "Only Angels Have Wings".
Her stock rose with the studio and audiences alike when she played opposite Fred Astaire in the 1941 musical "You'll Never Get Rich", the two of them reuniting the following year in "You Were Never Lovelier". Her profile was heightened even more when a photograph taken for 'Life' magazine led to her vying with Betty Grable for the title of most popular American GI pin-up during WWII.
In 1946 the actress appeared in what is probably her most famous role, playing the femme fatale in the classic noir movie "Gilda" in which she performed the popular dance number "Put the Blame on Mame". Staying within the genre, Hayworth starred opposite her then husband, Orson Welles, in "The Lady From Shanghai", the 1947 film featuring a climactic sequence in a hall of mirrors, a scene copied more times than can be counted in other films over the years
Her private life, if one could call it that seeing as she was forever being hounded by photographers, meant that Hayworth's screen career from then on became sporadic to say the least. Highlights in the next decade of the 1950s included her turn in the title role of "Salome", a biblical epic in which Hayworth performed the dance of the seven veils. She also appeared in the Frank Sinatra musical "Pal Joey", ol' blue eyes serenading her on screen with the classic song "The Lady is a Tramp".
The rest of her acting career encompassed supporting roles in low budget films such as "The Rover" and "The Bastard" with the occasional TV outing on shows including "Rowan & Martin's Laugh-In" and "The Carol Burnett Show". Her last film was the Ralph Nelson Western "The Wrath of God", in which she played opposite Robert Mitchum. By this time she was struggling with the effects of her deteriorating health and eventually retired from public life.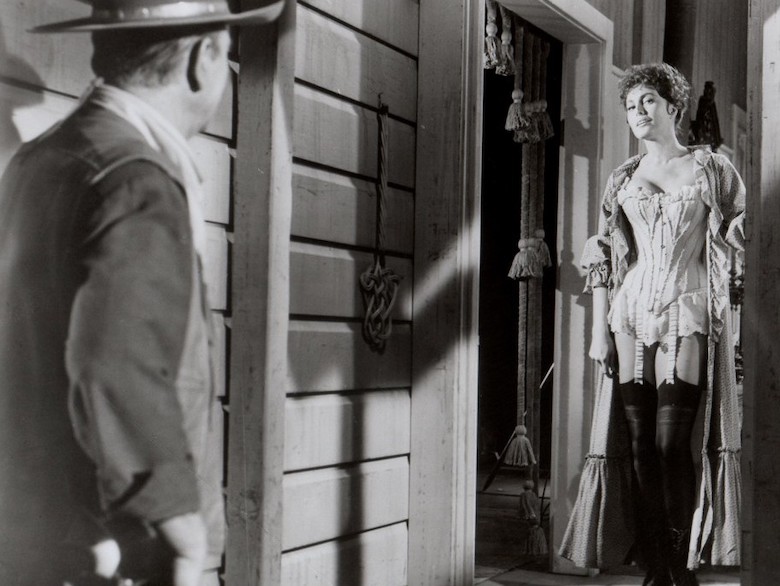 Charlene Holt – "El Dorado"
Actress and model Charlene Holt had a fairly brief acting career of just under two decades, most of her appearances restricted mainly to guest star roles in TV shows such as "Hawaiian Eye" and "Perry Mason". She eventually made the transfer to the big screen with an uncredited role in "Island of Love", released in 1963.
Director Howard Hawks caught sight of her in a TV commercial and before she knew it Charlene found herself playing opposite Rock Hudson as his fiancée Tex in the comedy "Man's Favourite Sport?" Obviously happy with her performance Hawks then cast her alongside a youthful James Caan in the stock-car racing drama "Red Line 7000". The film wasn't exactly greeted with good reviews when it hit the screen back in 1965 but the director had at least one more masterpiece up his sleeve, in this case the John Wayne Western "El Dorado".
Considered to be a virtual remake of "Rio Bravo", Robert Mitchum took on the role of a hard drinker from Dean Martin with James Caan bringing up the rear as Mississippi in place of Ricky Nelson's gunfighter Colorado. It has to be said it's actually more of a companion piece to the earlier film and, lovely as Ms. Holt is as saloon owner Maudie, Wayne's love interest, she doesn't really set the screen alight the way Angie Dickinson did in "Rio Bravo". Having said that she still manages to hold her own amongst the stellar cast and the film would not be so glamourous to look at without Holt's presence.
Apart from an uncredited role in "Hour of the Gun", directed by John Sturges, Charlene's acting career took second place to her offscreen life. She still took on the occasional TV part and played an uncredited role in "Melvin and Howard", released in 1980.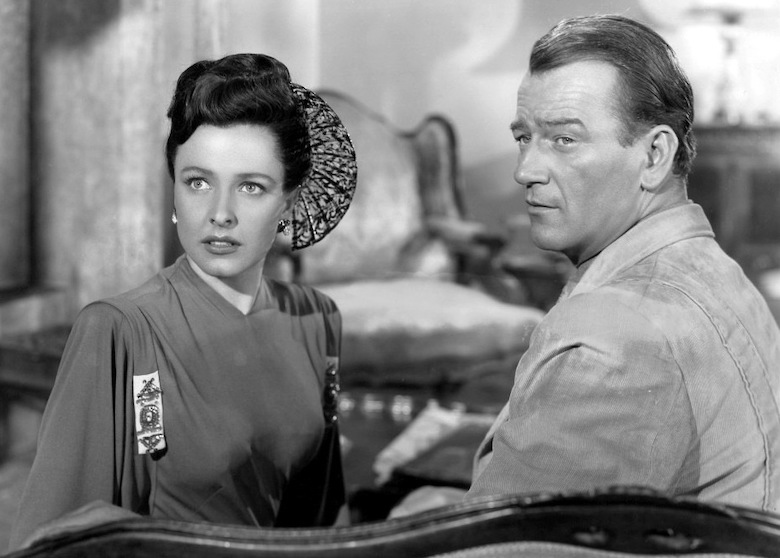 Laraine Day – "Tycoon " / "The High and the Mighty"
In 1947 Laraine Day appeared with John Wayne in the big-budget romantic drama "Tycoon". With a budget of three million and two-hundred-thousand dollars, it was Republic Studios' biggest production to date. Day played the role of Maura, daughter to wealthy builder Frederick Alexander (Sir Cedric Hardwicke), who bankrolls an epic construction job headed up by Wayne as Johnny Munroe to build a mountain road in South America.
She and JW were reunited in 1954 when both appeared in the airplane disaster movie "The High and the Mighty", Day as passenger Lydia Rice presumably watching in horror whilst Duke, as pilot Dan Roman, chucks everybody's luggage out of the door in order to keep the ailing aircraft in the air.
Day made her film debut with an uncredited role in the classic Barbara Stanwyck melodrama "Stella Dallas", released in 1937. She went on to appear in three adventure / Western films opposite George O'Brien early on in her career before landing the role of nurse Mary Lamont in the popular "Dr. Kildare" series opposite Lew Ayres as Kildare. The actress played Lamont in a further seven films with Ayres, her character getting bumped off in "Dr. Kildare's Wedding Day", Mary getting hit by a truck just before she and Kildare were to tie the knot.
During her run in the Kildare movies, Day got to co-star with Joel McCrea in one of Alfred Hitchcock's better early Hollywood efforts, "Foreign Correspondent". Her big screen appearances were intermittent with occasional leading roles in standard Hollywood fare such as "The Trial of Mary Duggan" and "A Yank on the Burma Road", released in 1941 and 1942 respectively. 
An avowed Republican, the actress must have delighted JW even more when she took on the role Nan Collins in the anti-Communist pot-boiler "The Woman on Pier 13" (aka "I Married a Communist"), released in 1949. Outside of her Hollywood career Day was feted by New York Giants fans as "The First Lady of Baseball" after having married the team manager Leo Durocher in 1947, a union which unfortunately ended in divorce in 1960, the year she made played her final big screen role in the crime thriller "The 3rd Voice". However, her TV career continued all the way through until the mid-1980s with guest roles in shows such as "Wagon Train", "Love Boat" and "Murder She Wrote", in which she made her final acting appearance.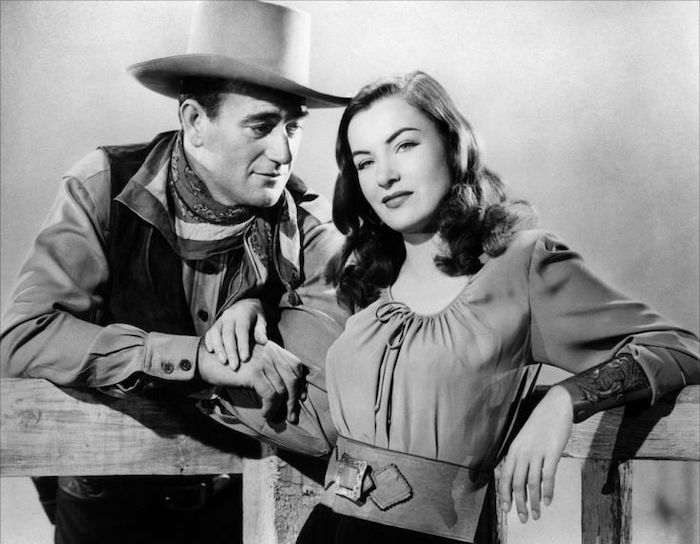 Ella Raines – "Tall in the Saddle"
Ella Wallace Raubes aka Ella Raines referred to on occasion as 'the girl with a glint in her eye' took on the role of 'Arly' Harolday opposite John Wayne in "Tall in the Saddle", released in 1944, her character memorably described in the film as a frontier gal who's "meaner than a skillet full of rattlesnakes". For a moment or two, it looks as though JW is immune to her charms with declarations such as "no woman is gonna get me hog-tied and branded", but of course, they eventually fall heavily for each other.
Prior to this, the actress impressed director Howard Hawks so much he immediately signed her to a contract which resulted in her debut in the WWII Navy film "Corvette K-225", released in 1943. In quick succession she went on to appear in the female ensemble movie "Cry Havoc" and played Eddie Bracken's love interest in the classic Preston Sturges comedy "Hail the Conquering Hero", all of this while she was still in her early twenties.
Seeing as this was the 1940s the actress was obliged to appear in a couple of film noir vehicles, in her case "The Suspect" and "The Strange Affair of Uncle Harry", taking time out to appear as a wartime pin-up girl during this period as well. She also played a cameo role in a flashback sequence for the incredibly violent – for its time anyway – prison drama "Brute Force" which starred a youthful Burt Lancaster. 
It's fair to say that the 1940s were halcyon days for Raines who took on the role of the delightfully named Poppy McNaughton in the comedy "The Senator Was Indiscreet". Her last film of any real note was in "The Walking Hills", a modern day Western directed by John Sturges with some striking similarities to "Treasure of the Sierra Madre" with a great ensemble cast including Randolph Scott, Arthur Kennedy and John Ireland.
After that Ella's career began to taper off and her final screen appearance was in a low-budget British thriller "The Man in the Road", released in 1956. Still only in her mid-30s, Raines effectively retired from acting to concentrate on her family. It's a shame she didn't make more movies, her retirement definitely a loss to the big screen.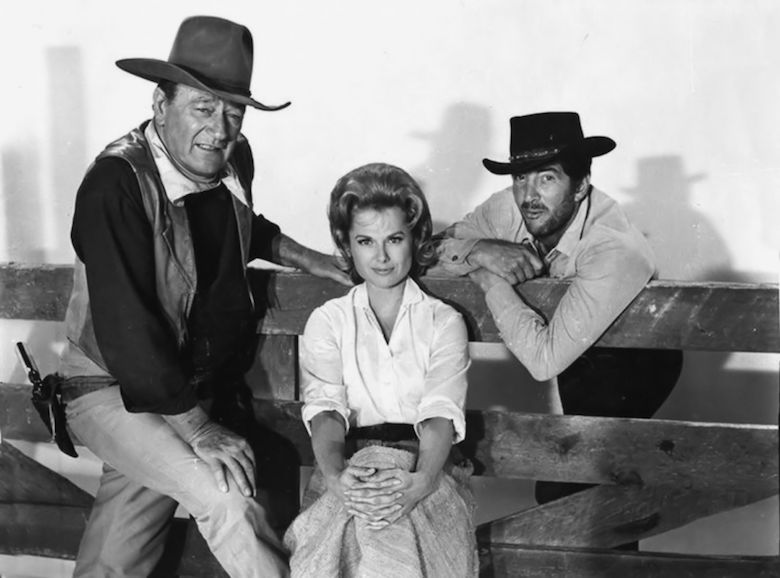 Martha Hyer – "The Sons of Katie Elder"
Martha Hyer took on the role in 1965 of Mary Gordon opposite John Wayne in "The Sons of Katie Elder", directed by Henry Hathaway. Hyer's role was perfunctory to say the least but she got one of the best bits of dialogue on offer when she berates the four Elder brothers, John (JW), Tom (Dean Martin), Matt (Earl Holliman) and Bud (Michael Anderson) for not being around when their mother needed them.
"She blamed Texas for taking her sons. Texas is a woman, she used to say, a big, wild, beautiful woman. You raise a kid to where he's got some size, and here's Texas whispering in his ear and smiling, saying 'Come and have some fun. It's hard enough to raise children, she'd say. 'But when you've got to fight Texas, a mother hasn't a chance".
You might recognise some of the speech seeing as Wayne recorded a spoken-word version of it on the soundtrack to the film called "Texas Is A Woman". Hyer eventually recedes from the main plot but it's quite possible that the script intrigued her in some way or the other seeing as… well, more of that later.
Hyer's career began back in the mid-1940s with a number of uncredited roles that didn't really take her anywhere.
When you're appearing in movies such as "Abbott and Costello Go To Mars" then there's not much opportunity to set the screen alight and that's the way it remained until she took on the role of Gwen, a creative writer schoolteacher, in the Vincent Minnelli directed drama "Some Came Running", released in 1958.
Despite finding herself in the auspicious company of the likes of Frank Sinatra, Shirley MacLaine and Dean Martin, Hyer held her own and garnered a nomination as Best Supporting Actress.
After this the actress was offered more high profile roles in films such as "The Carpetbaggers" and "First Men in the Moon". In 1966 she appeared in the star-studded movie "The Chase", directed by Arthur Penn and starring Marlon Brando, Jane Fonda, James Fox, Angie Dickinson and the pre-stardom duo of Robert Duval and Robert Redford. After that, having married producer Hal Wallis, she slowly wound down her career and retired from the big screen.
However, Martha had one last card up her sleeve, writing the script under the pseudonym Martin Julien for what would turn out to be John Wayne's penultimate film, "Rooster Cogburn".  Of course, it helped that her husband was also the producer but nevertheless she still made a good job of it.
Thank you for reading our article on some of the lesser known leading ladies of John Wayne. There are a few more to add to the list which we'll be working on in the coming months.