Following up on the recent articles on Clint Eastwood's Westerns, I came across so many great quotes in the movies that I thought I'd share a top 10 with you. There's also a lot of memorable quotes from some of the other characters that appear alongside Clint in his cowboy films that would justify a separate list of their own, but for now I'll keep to those from the Man with No Name himself. I'm listing them by preference rather than chronologically.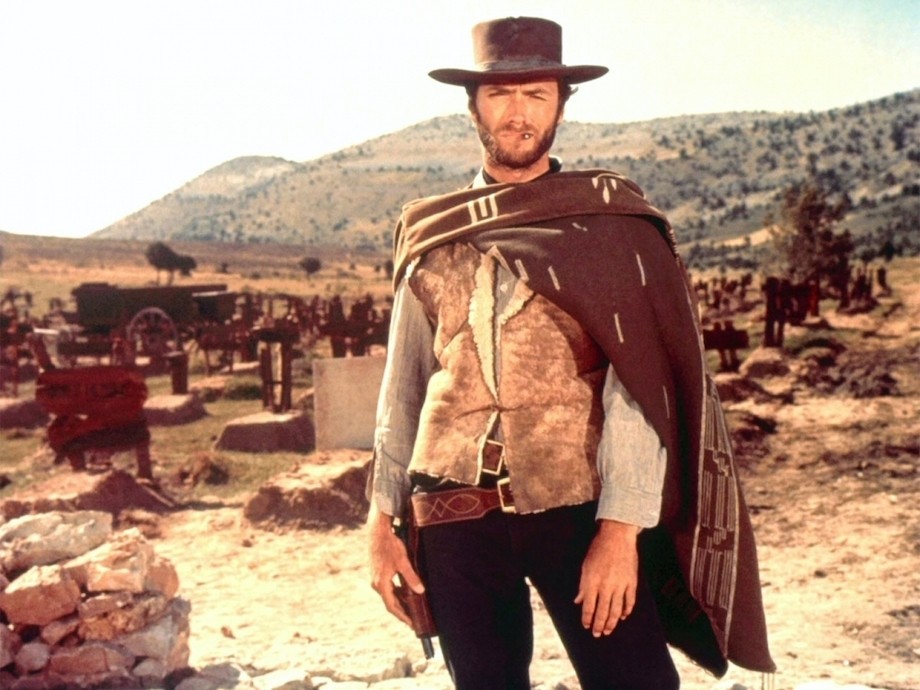 Two Mules For Sister Sarah (1970)
"A ranch? You mean get up at sunrise, go to bed at sunset, rearin' the saddle all day. No thanks, sister, I'd rather be dead."
Clint's firm intention to stay away from all things of a domestic nature, and anything to do with Sister Shirley McLaine. This of course is before he finds out she's a lady of the night, after which he decides he's been a tad hasty.
For A Few Dollars More (1965)
"You people need a new sheriff."
The first of a number of quotes attributable to Mr. Eastwood relating to the efficacy of the local law enforcement. In this case, he takes the badge away from the sheriff and hands it to a group of concerned citizens. Still, it could have been worse. He could have just shot the guy instead (see Unforgiven later in this article).
Joe Kidd (1972)
"Next time, I'll take your damn head off."
Useless sheriff no. 2, played by Gregory Walcott, an actor who also included on his CV what is generally considered to be one of the worst films ever made, Plan 9 From Outer Space. Clint ostensibly punches the guy in the face for being the proverbial hole in the butt, but I suspect it was also for appearing in Ed Wood's cult turkey, and not being even faintly embarrassed by the whole thing.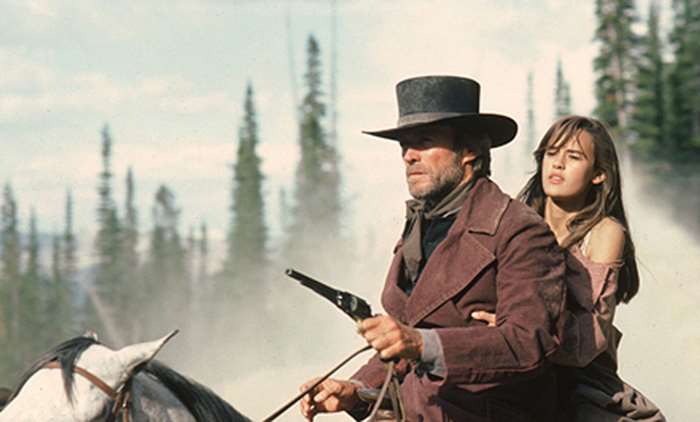 Pale Rider (1985)
"Well, if you're waitin' for a woman to make up her mind, you may have a long wait."
Somewhat off-message bearing in mind contemporary mores and attitudes vis-à-vis #MeToo and female equality, so let's put it down to good old-fashioned 1980s male chauvinism and leave it at that.
High Plains Drifter (1973)
"The only problem you've got Sheriff is a short supply of guts"
Clint passing judgment on Useless Sheriff No. 3. It was either going to be this quote or "You're gonna' look pretty silly with that knife sticking out of your ass", but I'd forgotten the context of this one, although I'm pretty sure it has something to do with him being mad with someone – as usual.
Hang 'Em High (1968)
"When you hang a man, you better look at him."
Wise words from innocent hangee Clint to those guilty of inviting him to a hastily arranged necktie party without recourse to a fair trial. Needless to say, he takes his revenge by becoming a U.S. Marshal so he can then legitimately hand out frontier justice Clint style.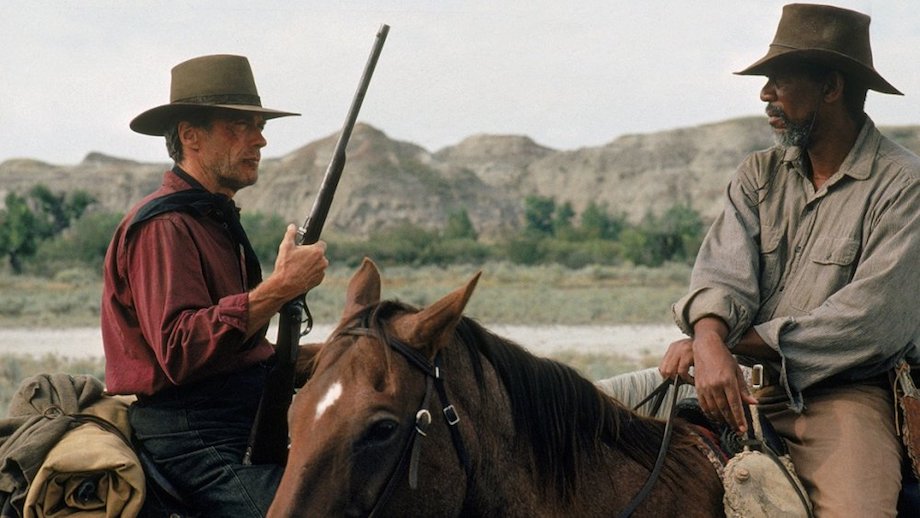 Unforgiven (1992)
"I've killed everything that walks or crawls at one time or another. And I'm here to kill you, Little Bill, for what you done to Ned."
True to his word, Clint, as killer William Munny, shoots and kills practically everyone in the drinking establishment in which poor dead Ned is displayed in the window. To further prove his self-declared credentials, Munny dispatches the local sheriff, Bill Daggett, played by Gene Hackman, by shooting him in the face with a double-barreled shotgun. I guess that makes him useless sheriff no. 4.
The Good, the Bad and the Ugly (1966)
"You see, in this world, there's two kinds of people, my friend; those with loaded guns and those who dig. You dig."
After double-crossing each other more times than you can count throughout the previous two and a half hours of the movie, Blondie and Tuco – that's Clint and Eli Wallach to the uninitiated – finally get down to business with Clint holding the loaded guns, and Tuco doing the digging. There's one final double-cross at the end of the film but you can check that one out for yourselves. All we'll say is, one of them really should stop hanging about too much
A Fistful of Dollars (1964)
"My mistake. Four coffins."
A classic punchline to a classic, one might almost say iconic, scene in which killer Clint guns down a group of reprobates for laughing at his mule after they failed to apologise to said equine friend, presumably a mule who went by the name of Francis (a little Clint in-joke there for anyone familiar with his early films). After wiping out the poor fools, he corrects the local undertaker on the number of wooden containers required. Maybe math wasn't his best subject.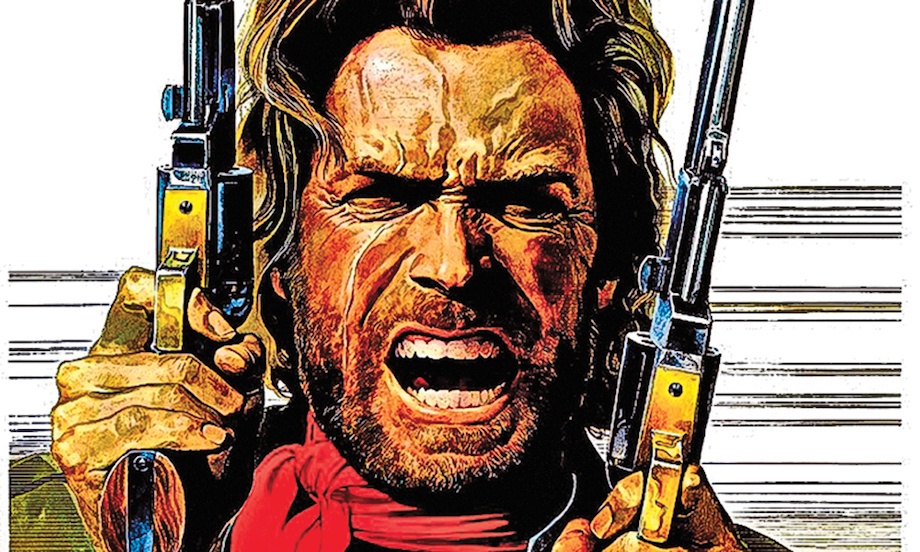 The Outlaw Josey Wales (1976)
"Dyin' ain't much of a livin', boy."
Now who would have thought that beside being an outlaw and an all-round cold-blooded killer, Josey Wales was also a part-time careers officer. Approximately thirty-seconds after offering some sage advice to a bounty hunter out "to get me the Josey Wales", Clint reinforces his point by blowing the poor guy to Kingdom come.
This film undoubtedly possesses the best screenplay of all of Eastwood's Westerns, and choosing a favourite was extremely hard to do. I eventually decided on this one because it's succinct, sharp and straight to the point, with just a hint of the cruel but fair about it.
Just like Clint really.