'Neath the Arizona Skies (1934) Lone Star, Dir: Harry Fraser, b/w, 53m
Cast: John Wayne, Sheila Terry, Shirley Jane Rickert, Jack Rockwell, Buffalo Bill Jr., Yakima Canutt
"'Neath the Arizona Skies" is the last of the nine Westerns John Wayne starred in for the year of 1934. It's not quite up there with the twelve films he appeared in the previous year but it's good to see JW giving it all for his art.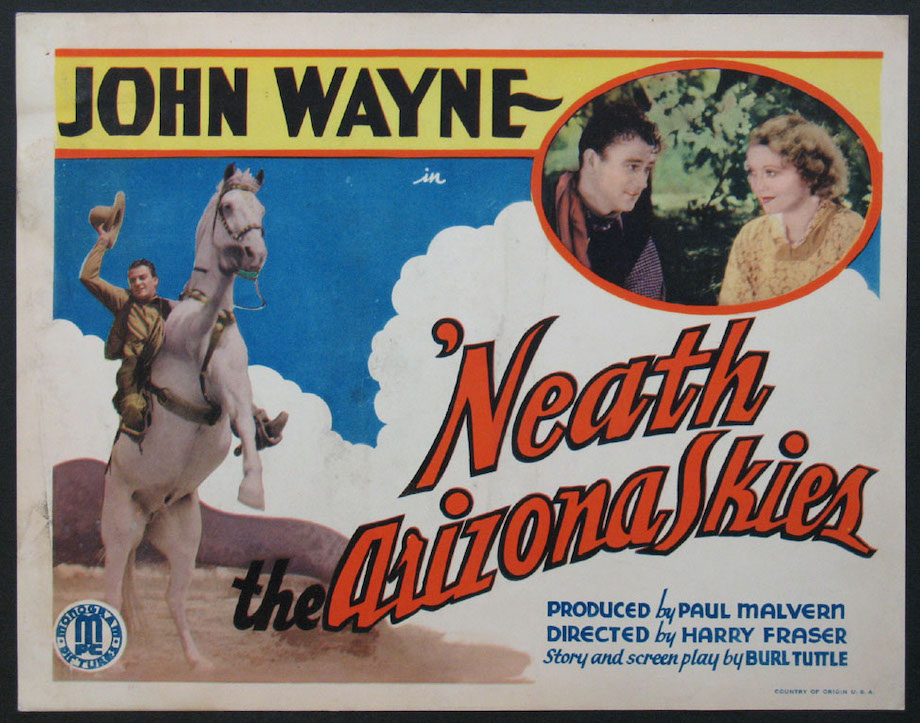 The storyline for this film is quite topical its time for once, dealing with the attempt by a gang of dastardly outlaws looking to deprive a young girl of mixed race, Nina, of the money due to her from her mother's oil lease.
About ten years before the film was released a similar situation occurred in real-life when members of the Osage tribe were being murdered for the dividends they were entitled to for the oil found on their land (check out a recently published book entitled "Killers of the Flower Moon" by David Grann if you're interested in the subject). Of course the Osage didn't have John Wayne to help them out but seeing as little Nina is JWs ward then we know things will work out just fine.
With villain Yakima Canutt and his gang on their trail after finding out the kid is worth fifty thousand simolas, Nina and JW, as Chris Morrell, hightail it out of town.
JW sends Nina on ahead to get help from a friend of his whilst he turns the table on Yak and the gang and runs off their horses.
Meanwhile, the little girl reaches the ranch as instructed and is promptly enslaved as a kitchen help by the new proprietor's who have run off the previous owner. This is troubling on at least two fronts.
First off, the West that JW inhabits appears to be a minefield for kids who are constantly being kidnapped in order to carry the slops out.
Secondly, the owners of the ranch include "Gabby" Hayes, appearing in a smaller role than usual and not credited in the cast list. I never figured old Gab as the kind of guy who'd enslave a kid but then it goes without saying that you never really know anyone as well as you think you do.
As usual there's a whole lot of double-crossing and disloyal toing and froing between the villains of the piece which, to be frank, gets kind of complicated to the point where it's hard to keep up with what's going on but what the hell – I haven't got anything else to do.
A low-down skunk of a hornswaggler tells Yak he wants ten-thousand dollars in exchange for letting him know where little Nina is. The skunk has just shot another skunk who stole some money for him which the first skunk takes all for himself.
Said skunk then tries to take Nina from another skunk who's been told by Gab that he's Nina's father – which he might be for all I know.
Daddy skunk wants Nina for himself as she's worth fifty-thousand dollars to him. He then shoots the other skunk in the back for pulling a gun on JW after which Yak the skunk turns up and the shooting finally starts.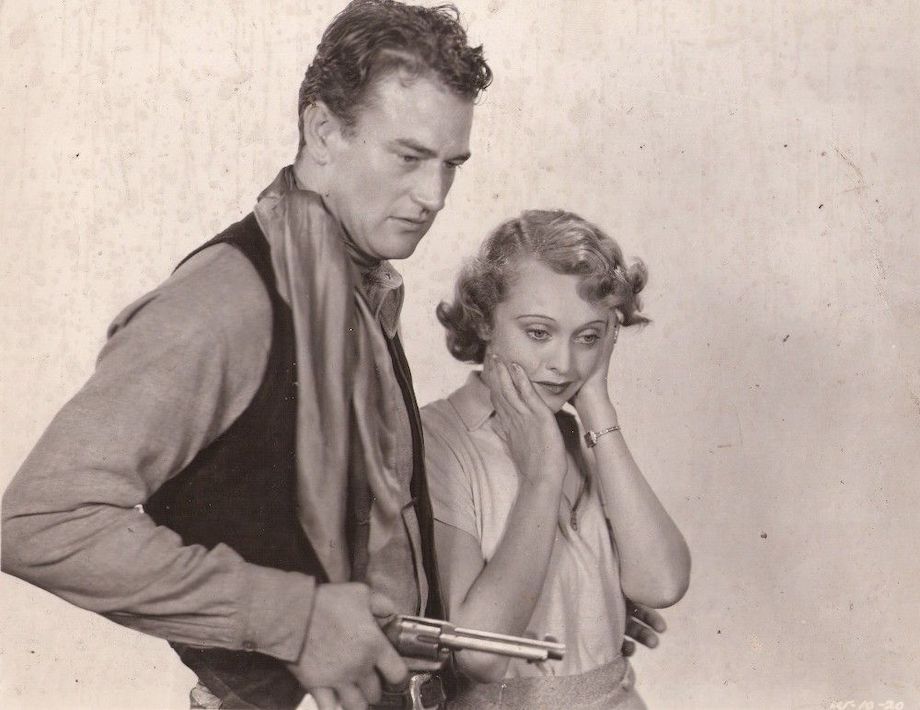 The lovely Clara, played by Sheila Terry, who hasn't really figured in the story up until now, has been kidnapped by Yak.
Duke selflessly offers to be exchanged as a hostage in return for Clara's release. For a moment I thought we were going to see an early rehearsal for the same setup in "Rio Bravo" but unfortunately there's no room in the storyline of these early JW efforts for such a thing as tension or suspense.
Without retelling the whole of the narrative you can bet it predictably ends up with JW chasing Yak or, as seems to happen so often, Yak doubling as JW chasing Yak, the non-JW Yak also taking little Nina along for the horse chase as well.
JW and Yak fight it out in the water, although I'm not sure how Yak ended up in the river as the film jumped at one point – which is damned annoying seeing as I'd gone to the trouble to actually buy the film on DVD from a local charity shop for a whole pound (approximately $1.31 at local currency exchange rates).
Hero and villain punch it out in the water with a rather unsporting Yak producing a knife. They pull each other under the water but only Duke makes it back to the surface, the assumption being that Yak's been splashed up, and we're not talking the water kind of splash either.
I honestly couldn't tell you whether Daddy skunk actually did turn out to be Nina's pa on account of he appears to get shot by Yak in the shootout.
Duke gets the girl, one he hardly knows this time but then that's par for the course. On top of that, everyone lives happily ever after, even little mixed-race Nina, played by Shirley Jean Rickert, a young actress who used to play the little blonde girl in the "Our Gang" series, and who looks about as mixed-race as an Aryan fraulein.
One for the die-hard JW fanatics out there – of which we're probably talking millions.
Catch up with the rest of John Wayne's 1930s Westerns.