John Wayne strums his way through this whilst miming to the questionable vocal talents of Glenn Strange, an actor who went on to play the Frankenstein monster a few years later. You have been warned.
Lawless Range (1935) Republic, Dir: Robert N. Bradbury, b/w, 53m
Cast: John Wayne, Sheila Manners, Frank McGlynn Jr., Jack Curtis, Wally Howe, Yakima Canutt
Duke plays a young cow herder called John Middleton who has his heart set on becoming a champion rodeo star. His ambitions have to be set aside when his pa asks him instead to go visit a friend of his who's in trouble. I know. We've all been there.
Faster than you can say "for pity's sake please leave that guitar at home", JWs riding the range reprising one of his earlier hits from "Riders of Destiny", the one that includes the wonderfully happy sentiment "There'll be blood a-running in town before night, there'll be guns a-blazing and singing with lead, tonight you'll be drinking your drink with the dead".
Someone should tell JW to forget about the rodeo. He could make so much more money as a funeral entertainer.
On the way over to his dad's friend, JW stumbles into a robbery and ends up being arrested. The sheriff tells him he knows he wasn't involved in the robbery but arrested him just so that he could offer him a job.
By another one of those incredulous coincidences that permeate these short JW 1930s offerings, he wants to send Duke over to investigate the disappearance of Hank, the very man his pa sent him to help anyway.
The "arrest" was to convince any bad guy who might be sniffing around that JW has serious "don't mess with me" credentials. In the meantime, JW is to work undercover and try and find out what happened to Hank.
I have to say this is about one of the most ridiculous plotlines of any of John Wayne's Poverty Row movies I've seen so far, and I've seen quite a few up to this point.
Whilst eluding bad guy Joe Burns, played by Yakima Canutt, and his henchmen, a posse turns up from out of nowhere, arrest JW by mistake then compound things by inviting our hero to a necktie party.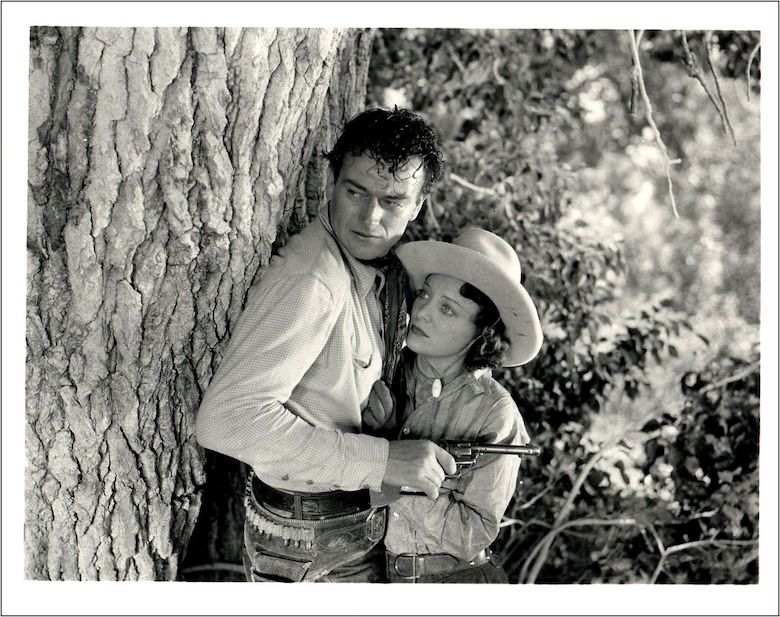 Hank Mason's daughter, Ann, a feisty young thing played by Sharon Manners, arrives in the nick of time and vouches for JW, as she witnessed him earlier holding off Burns and the gang on her behalf. As a reward for saving his life, JW serenades her later on with a song that's so awful I'm betting she wished she'd let the posse string him up instead.
The townsfolk think there's an insider passing on information to Yak and the boys as to when the next food delivery is due by wagon train. JW is therefore lauded as the hero of the day when he successfully helps the latest delivery get through and bring enough food to the town to keep the ranchers going for a few more months.
It's so obvious that the local banker, Carter, played by Frank McGlynn, is the informer seeing as he wants to foreclose on all of the ranchers that he may as well have a sign taped across his forehead declaring "Bad man for hire".
One of the idiots taken in by Carter hands him a wanted poster indicating that JW is on the run, a fake poster put together by the sheriff who hired JW in the first place. As Yak himself figures out, "I think the Marshall turned Middleton loose that night to use him as an undercover man to get the goods on us".
And that, ladies and gentlemen, is what we writers call 'needless exposition'. Meanwhile, Duke has offered to help the ranchers get their cattle to market but before he can start, he's tricked into a meeting with Yak who tells him they know he's workin' agin' 'em.
JW gets trussed up and thrown into a room next to a bearded old guy who looks a dead ringer for Gabby Hayes.
Unfortunately, it's not good ol' Gabby, which is a shame because the film really needs a boost at this point, but an actor by the name of Wally Howe, who probably won the role after entering a Gabby Hayes look-alike competition.
JW gets away and rides back to fetch the sheriff who gave him the undercover job. Together they aim to try and head off Carter, Yak and the gang at Shotgun Pass before they can steal the herd.
This results in a hugely massive shootout in which it's difficult to work out which side is which.
The bad guys inevitably ride off and, just as inevitably, JW gives chase, shoots Yak and apprehends Carter.
JW and Ann embrace at the end, then the film thankfully finishes just before he starts to reach for his guitar. If there's any justice in this world the young lady in question then smashes the guitar over JWs head.
Not one for the faint of heart.