Remember that line in Jaws? "That's one bad hat, Larry". Well, I thought Somewhere in Sonora was bad but The Man from Monterey is even worse, in fact, it's so bad I don't quite really know where to begin.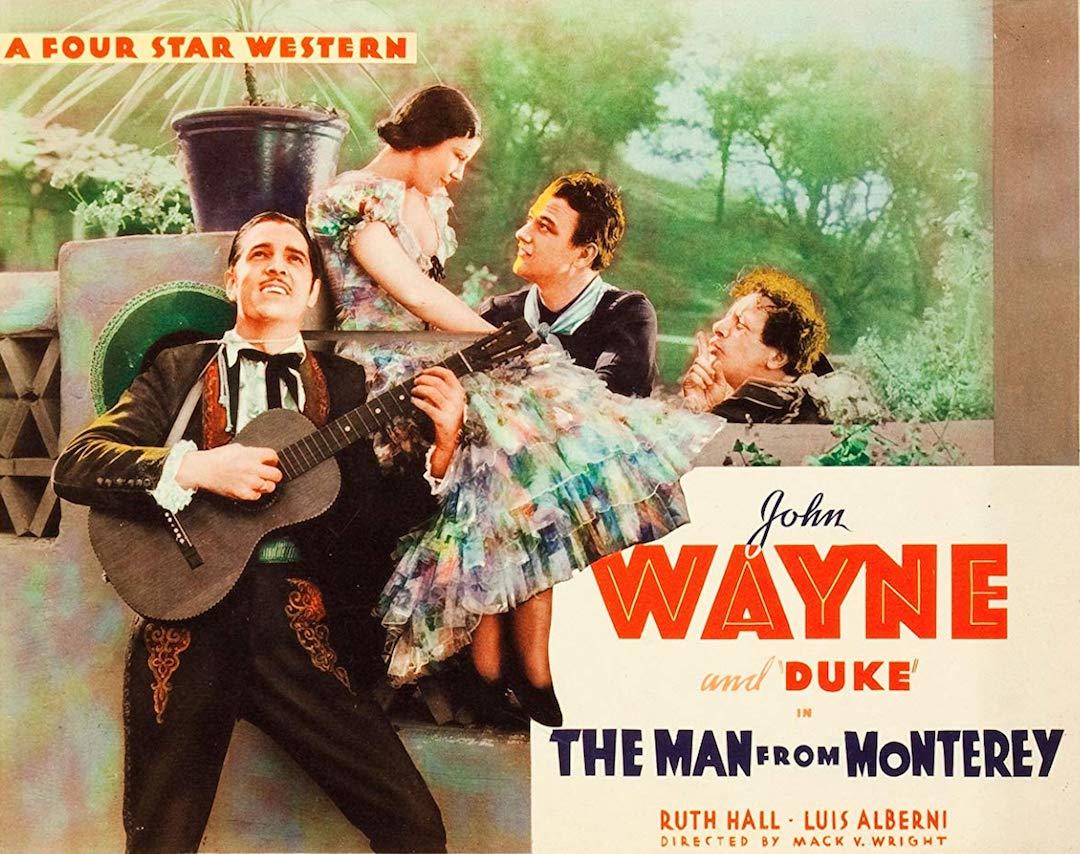 The Man From Monterey (1933)
Warner Bros, Dir: Mack V. Wright, b/w, 57m
Cast: John Wayne, Ruth Hall, Louis Alberni, Donald Reed, Nena Quarters, Francis Ford
It starts off (kind of) promisingly, with the story, set in Santa Barbara in 1848, concerning what I assume is a little-known piece of history about Spanish landowners having to register their property with the American authorities.
The main villain, Pablo Gonzales, played by none other than John Ford's older brother Francis, uses this as an opportunity to swindle his fellow Spaniards by not telling another rich landowner that there's a deadline to be met for registration. Miss the deadline and the dastardly Pablo can then confiscate the land for himself.
There are two obstacles in place that will inevitably thwart Pablo's ambition to own half of California.
First is John Wayne himself, this time playing a cavalry captain by the name of John Holmes, who is sent by the authorities to make sure there are no shenanigans leading up to the registration date. The second problem is that Pablo's son, Luis, is probably one of the most inept villains ever to grace the screen.
To cap it all he's played by one of the most useless actors to ever appear in any film ever made anywhere in the history of the world. The culprit in question, Donald Reed, or to give him his proper name, Ernesto Guillen, was somehow or other allowed to continue making films until 1940 when thankfully someone stepped in and presumably ordered him to desist from attempting to act any further.
Not that he'd actually indulged in any acting before that anyway.
Also, JW hardly does anything in this film that one might reasonably interpret as action, other than take part in a ludicrous sword fight that has to be seen to be believed.
He doesn't punch, shoot or maim anyone but boy, does he love those Mexican ladies, in particular, the lovely Dolores Castanares, played by the equally lovely Ruth Hall.
Unfortunately, Ms. Hall comes a close second to Donald Reed when it comes to her thespian talents as well.
There is definitely an element of bedroom farce about this sad effort, with JW climbing the balcony to rescue the lovely Ruth, then being spotted as he tries to climb back down and then running back into the bedroom and having to hide behind the door as Ruth's fiancé, the hopeless Luis, bursts into the room.
JW tells everyone that "I've got a wild scheme in my head and there's just a chance it'll work". Don't bother, Mr. Wayne. No one's watching, even if seeing our hero disguised as a Spanish caballero is quite an interesting sight to behold.
Duke – the horse, not the actor – saves the day once more, inexplicably able to discern he's supposed to gallop back to the fort and bring the cavalry to the rescue.
There was something niggling away at me in the back of my mind as I prayed for this woeful effort to finish. Then it hit me.
JWs character in the film, John Holmes, is also the name of a famous porn star from the 1970s who worked under the nom de plume of Johnny Wadd. After that, I just couldn't take the film seriously anymore, not that there was much to consider in the first place.
Maybe I should have watched one of Mr. Wadd's efforts instead. I reckon it would have been a damn sight more interesting than The Man From Monterey.
I actually parted with good money for the DVD of this film. I was robbed. Don't make the same mistake.