Henry Hathaway learnt his craft during the silent era, working as an assistant director on the 1925 version of "Ben-Hur".
Turning to directing in the early 1930s he went on to work mainly within the Western and gangster genres throughout most of his career, although his first box-office hit was with "The Lives of a Bengal Lancer" in 1935, an adventure film set in colonial India in the late 19th century.
One of Hathaway's most notable gangster films, "Kiss of Death", starred a young Richard Widmark as psychotic killer Tommy Udo who famously pushes an old lady in a wheelchair down the stairs.
He tended to do his best work in Westerns though, working with Widmark again in "Garden of Evil", and helming other cowboy titles such as "From Hell to Texas", "Nevada Smith" and "5 Card Stud".
He also directed the majority of the segments in the star-studded Cinerama epic "How the West Was Won". In amongst all this Hathaway found time to work with John Wayne on six feature films, the majority of them typically Westerns. This article will consider these movies in order of preference.
Legend of the Lost (1957)
If John Wayne is not invoking the spirit of the West, dressed as he is like one of his best loved Western characters, Ethan Edwards in "Legend of the Lost" then we'll eat our communal ten-gallon hat.
In fact, it should be subtitled "The Searchers Go to Libya", seeing as, in his job as a guide for hire, he goes off on an ill-advised hunt for treasure in the desert.
Cinematographer Jack Cardiff, who took over the directing reins from John Ford when Ford fell ill whilst making "Young Cassidy" in the early 1960s, captures the clear blue sky and the majestic grandeur of the desert so stunningly in widescreen Technirama that he nearly knocks Freddie Young's efforts in the later "Lawrence of Arabia" into a cocked hat.
Add to that the presence of the luscious Ms. Sophia Loren as 'lady of the night', Dita and you have a real visual treat for the eyes.
The film starts off promisingly enough with a scene-stealing performance from Kurt Kasznar as the crooked town prefect of Timbuktu, and a Raiders of the Lost Ark vibe compounded by a later scene in which a couple of spiders fall on Ms. Loren whilst they wander through the 'Valley of the Tarantulas.'
After that the film wanders off the beaten path of plausibility by the introduction of Rossano Brazzi, playing an emotionally conflicted individual who can't decide if he wants to make a decent woman of Dita or ravish her on the spot whilst JW takes a nap.
He's a thoroughly bewildering character who these days might be diagnosed as bipolar but is sadly beyond the acting talents of Mr. Brazzi.
Brazzi hires JW to help him find his father who has apparently found a lost city of treasure way out in the middle of the desert. When they get there it turns out the father has been murdered which sends Brazzi into a frenzied rage, culminating in our hero getting stabbed in the back and Sophia forced to slow Brazzi to a gentlemanly walk by shooting him six times in the chest.
Not the best of the Wayne / Hathaway collaborations, even if it does look good.
The Magnificent Showman (aka Circus World) (1964)
With some great set pieces, this movie truly lives up to the term spectacular, released as it was originally under the Cinerama banner.
Early on you get to see a circus boat keeling over in Barcelona harbour, with the climactic scene featuring a giant circus tent going up in flames.
Six writers are credited with the story and script, including Hollywood veteran Ben Hecht and director Nicholas Ray, but the minute you hear JW utter the line 'Make up your mind, or you're forever dead', you just know it could only be James Edward Grant.
The story involves circus manager Matt Masters (John Wayne of course), accompanied by his other alliteratively named associates Cap Carson and Aldo Alfredo, trying to rescue a European tour when their boat sinks.
Alongside all this is an ongoing domestic situation between JW and Rita Hayworth, Ms. Hayworth playing the wayward mother of Claudia Cardinale, who we have to say looks absolutely splendid in her sequined trapeze costume.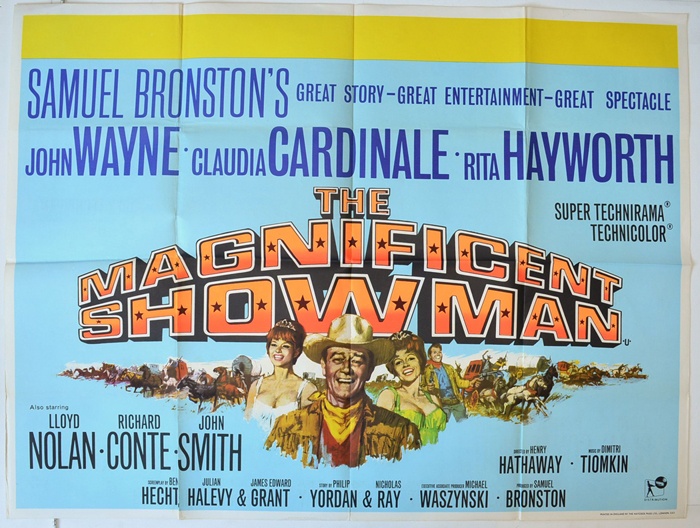 In our opinion, the film should have been called "The Magnificent Showgirl" instead.
Wayne should have got his first Oscar here as there's one sequence when he's watching the clowns do their bit and he's almost persuading the audience that he actually finds them funny.
Which of course they're not. Clowns are not funny. They're just… weird.
Also, the sight of Wayne kicking a person of reduced stature in the backside would be enough to have today's PC brigade up in arms. Still, at least he didn't throw the little guy across the ring or at a dartboard.
This movie was the last gasp from producer Samuel Bronston who specialized in financing star-laden widescreen epics such as "El Cid" and "55 Days in Peking" outside of Hollywood before his production company underwent bankruptcy proceedings in 1964.
With a curiously understated soundtrack by Dimitri Tiomkin, in the final analysis, the film has a bit too much circus and not enough drama.
North to Alaska (1960)
Considered to be more of a comedy rather than a John Wayne Western, "North to Alaska" is set in the early 20th-Century, and features the startlingly attractive French actress, Capucine, as Duke's love interest.
The story concerns two gold diggers, Sam (John Wayne) and George, played by Stewart Granger who, along with George's young brother Billy, played by contemporary teen singing sensation, Fabian, all get involved to one degree or other with prostitute Angel (Capucine).
It's more of a farce than an adventure story, with Sam tasked with fetching George's fiancé back with him on returning from a business trip but bringing Angel back instead.
The partners fall out over Angel, whilst Billy gets a bad case of the hots for her as well.
Seeing as this is the part of Duke's career when filmmakers try to get down with the kids and shoe-horn a teenage singing heartthrob into the action (see Ricky Nelson in "Rio Bravo" and Frankie Avalon in "The Alamo"), it's only natural that Fabian gets in on the act too, serenading Capucine whilst she's in the bath with a song called "If You Only Knew".
Let's put it this way. As a singer, Fabian is a great actor, and he's not too good at that either.
Predating the mudhole brawl in "McLintock!" by a couple of years, all and sundry get covered from head to toe in the stuff at the end of the film when a fight breaks out in the middle of the mud bound town.
Ernie Kovacs as a fraudster called Frankie is one of the highlights in a film that does its best to entertain, the kind of movie that might have been described as a rollicking romp back in the day.
Maybe the uneven end result is down to production starting before a proper script had been finalised, meaning that Hathaway was forced to make up scenes and improvise in order to bring it on time and on budget.
Like most of the films he made with Wayne, "North to Alaska" looks good, with location shooting taking place near the Sierra Nevada mountains, and the film made an impressive return at the box office, but the best of the Wayne / Hathaway films was still yet to come.
The Shepherd of the Hills (1941)
This is a pretty good movie, being more of an adventure film than an out and out Western, and set in the Ozark Mountains round about the early 1900s. On first sight, you might not be blamed for thinking this is a John Ford movie.
John Wayne, Ward Bond, John Qualen and even Harry Carey Senior are all present and correct. You also get a conversing with the dead at the graveside sequence, minimal camera movement and a story that serves as a paean to the poor and dispossessed, but of course, Hathaway holds the directing reins on this one.
Wayne, as mountain bootlegger Matt Mathews, hardly figures at all at the beginning of the film. He turns up occasionally for a few moments in the first half hour to show he's in mean and ornery mode, clipping feisty mountain gal Sammy Lane, played by Betty Field, around the ear for sassin' off at the mouth about JWs dead mother.
In truth, the film really belongs to Harry Carey, as Daniel Howitt, the shepherd of the title.
Carey is a mysterious stranger who turns up wanting to buy land in the vicinity. It's hard to understand why he would even consider living there considering how surly everyone he meets seems to be, but then it's obvious there's more to the story of the shepherd than meets the eye.
Sammy is the first one to figure out, apart from everyone else on the planet, that Carey is actually Wayne's father, the father he has hated for abandoning the family years before and who he blames for the death of his mother.
Upon finding this out JW gets a case of the Ethan Edwards 'let's go kill me some kinfolk' syndrome. They face each other in a gunfight but father shoots first and guns Matt down.
After recovering from surgery Matt looks at his father and says with a smile, "Kinda like being born again right side up". What he should have said is 'You shot me, you bastard. Your own kid. I mean, what's wrong with you?'
Like a lot of good Western directors, Hathaway gives the landscape a chance to shine on the screen. It's beautifully shot on location in and around San Bernardino National Forest, and also happens to be Duke's first movie in colour. It's a real gem of a movie and if you haven't seen it yet you're in for a real treat.
The Sons of Katie Elder (1965)
The film opens with a great score by Elmer Bernstein of "The Magnificent Seven" and "The Great Escape" fame, with Wayne's co-star from "Rio Bravo", Dean Martin, along for the ride as well.
The cast features a host of other familiar faces who crop up in supporting roles, including Strother Martin, John Qualen and Paul Fix. George Kennedy is his usual excellent self as a sadistic gun for hire whilst Dennis Hopper has a high-profile role as a weak-willed son who is so weedy, he ends up being gunned down by his own dad.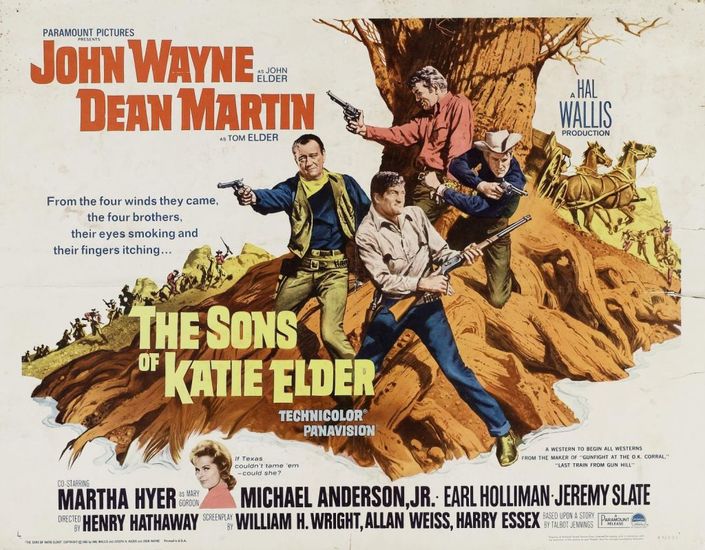 The story tells of four brothers meeting up at the funeral of their mother and swearing revenge on the people who murdered their father and swindled poor old ma.
There appears to be quite an age gap between the older brother as played by Wayne who was fifty-seven at the time, and the youngest brother played by Michael Anderson, who looks about four but was actually twenty-two.
On the face of it the film is just an old-fashioned shoot-em-up with Duke and the brothers turning the tables on the villains by the end but like a lot of Wayne's later films, and many 1960s Westerns in general, there's an underlying sense of men getting older and out of time in the changing West.
At the time of shooting, JW was recovering from surgery from cancer, or 'the big C' as he called it, having had a lung and two ribs removed prior to production. It didn't help that the film was partly shot in Durango, which is nearly 2,000 metres above sea level, so apart from everything else Duke had difficulty breathing as well.
A great ensemble piece, with Dean Martin vying with Duke for the acting honours just as he did in "Rio Bravo". Despite being in recovery from lung surgery our boy still gives good cowboy.
True Grit (1969)
Duke finally got his Oscar playing the one-eyed drunk Rooster Cogburn, which some might argue was more of an award for longevity in the business than anything else.
To be frank, he was much better in "Red River" or "The Searchers" or "She Wore a Yellow Ribbon" whereas in "True Grit" he really just played himself.
Either way, what a great performance it was.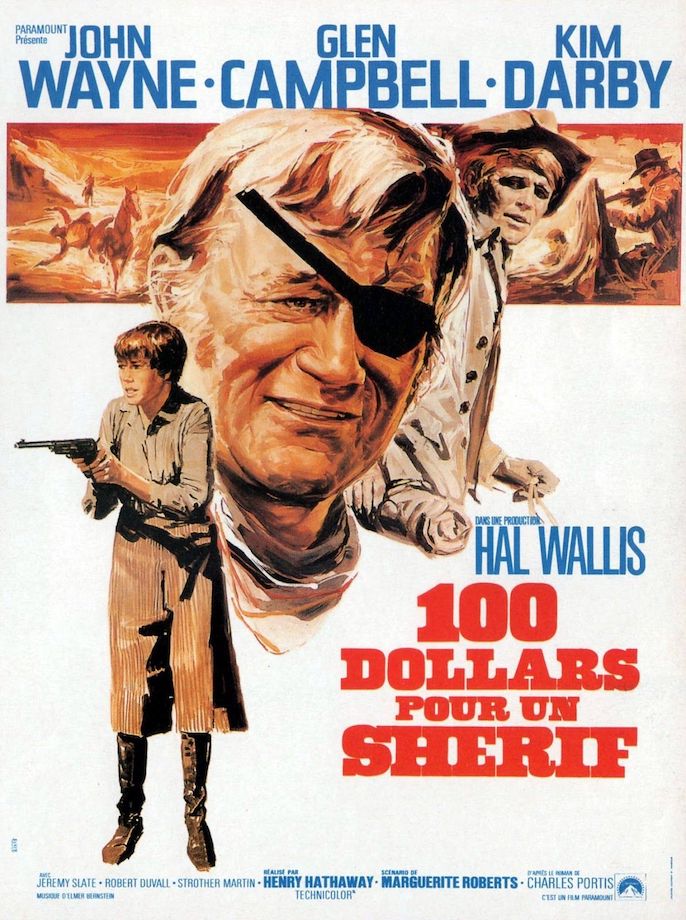 Based on the novel by Charles Portis, the film tells the story of a young girl, Mattie Ross, played by Kim Darby, who hires Rooster to help avenge the murder of her father, shot in the back by one of his hired hands.
Singer Glen Campbell is cast as Texas Ranger La Boeuf who accompanies Rooster and Matty in pursuit of the killer, as well as getting the opportunity to warble the theme tune over the opening credits.
Campbell just about holds his own in the company of supporting actors such as Strother Martin, Jeff Corey and Robert Duval, who plays chief outlaw Ned Pepper.
Dennis Hopper, working with director Henry Hathaway for the third time, puts in a brief cameo appearance as one of the villains, before going on to direct and star in the seminal 60s counterculture movie, "Easy Rider".
"True Grit" features probably one of the most memorable scenes of any John Wayne film ever, the climactic shootout in which Duke is pitched against villain Ned Pepper, played by Duval.
Pepper riles our hero by referring to Rooster as a 'one-eyed fat man', prompting Rooster to famously declare 'fill your hands, you son-of-a-bitch', then riding with reins in his teeth towards Pepper and his gang like a knight in a jousting contest.
In the end, good wins out over evil and Wayne triumphs against the odds. As he always does. As he always should.
With a magnificent soundtrack courtesy of Elmer Bernstein, "True Grit" is officially the most popular Western John Wayne ever starred in, taking over $31 million at the box-office ("How the West Was Won" earned more took more but Wayne was only in the film for about two-and-a-half minutes).
The movie was remade by the Coen brothers back in 2010 and garnered acclaim for, among other things, emphasizing the contemporary Western diction and verbal style as featured in the original source novel.
Apart from a couple of different story strands, for example, the character of La Boeuf as played by Matt Damon surviving through to the final reel, it didn't really improve on the earlier version all that much. Jeff Bridges as Cogburn was good enough but Hathaway's film was just as good as, if not better than the remake.
When JW picked up his Oscar for "True Grit" in 1970 he said, "If I'd known this I'd have put that patch on 35 years ago".
It was a not inconsiderable achievement seeing as he was up against the likes of Dustin Hoffman, Jon Voight, Peter O'Toole and Richard Burton. Not exactly a bunch of lightweights themselves, yet Duke beat all of them to the draw.
Definitely the best of the Wayne / Hathaway screen collaborations and it's a pity they didn't work together on more projects, seeing as this was their last film together.
Stay tuned for our next article in this series on the partnerships JW enjoyed with some of the most famous Hollywood directors of all time.
And let us know in the comments what collaborations you would be interested in.