The Magnificent Showman (aka Circus World) (1964)
Another John Wayne movie I saw as a kid when it first came out and I remember the spectacle of the circus boat keeling over in the harbour, and the climax at the end of The Magnificent Showman (aka Circus World) when the giant tent burns down.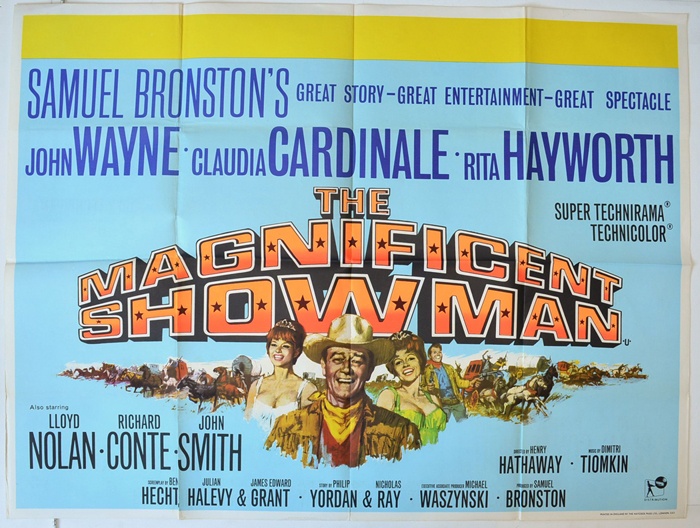 The intervening years, however, have erased from my mind how fairly dull it all was in between those sequences. This may be down to the fact that there were six writers involved in the story and screenplay, which is never a good sign, to begin with.
Among others, you get Hollywood veteran Ben Hecht and director Nicholas Ray but the minute I heard JW utter the line 'Make up your mind – or you're forever dead', you just know it could only be James Edward Grant.
The story, as such, involves circus manager Matt Masters (JW pf course), accompanied by his other alliteratively named associates Cap Carson and Aldo Alfredo, trying to rescue a European tour when their boat sinks in Barcelona harbour.
Alongside all this is an ongoing bit of domestic between JW and Rita Hayworth, Ms Hayworth playing the wayward mother of Claudia Cardinale, who I have to say looks absolutely splendid in her sequined trapeze costume.
In my opinion, they should have called the film The Magnificent Showgirl instead.
No wonder I experienced strange warm sensations in my nether regions when I first saw the film at the age of 12.
I reckon Wayne should have got his first Oscar here as there's one interminable sequence when he's watching the clowns do their bit and he's almost persuading me that he actually finds them funny.
Which of course they're not. Clowns are not funny. They're just… weird.
Speaking of which, the sight of Wayne kicking a dwarf – sorry, I meant small person -– in the backside would be enough to have today's PC brigade up in arms. Still, at least he didn't throw him across the ring. Now that would have been something to see.
As for animal welfare groups, they'd all drop dead from a heart attack at the way the circus animals are treated throughout the film.
The director Henry Hathaway helmed six JW films and they fall specifically into two groups. The Shepherd of the Hills, The Sons of Katie Elder and True Grit – good. Legend of the Lost, North to Alaska and The Magnificent Showman – not so good.
I think I'm right in saying that this film was also the last gasp from producer Samuel Bronston who specialised in financing star-laden widescreen epics such as El Cid and 55 Days in Peking outside of Hollywood before his production company underwent bankruptcy proceedings in 1964.
Too much circus and not enough drama.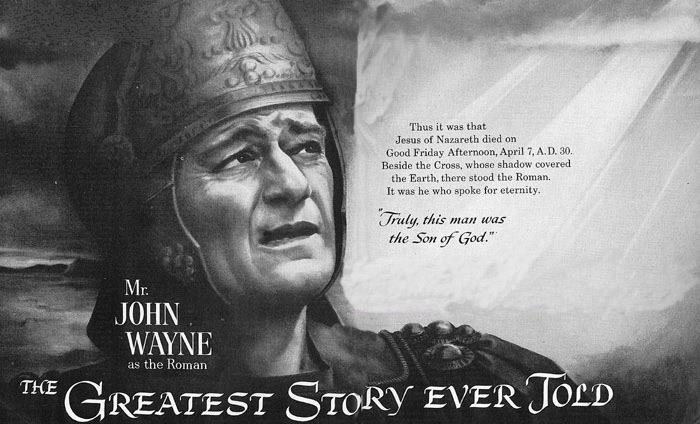 The Greatest Story Ever Told (1965)
I wasn't intending to actually include this film in my roundup of JW movies, mainly because he only has a – thankfully – small cameo role in this overwrought, overlong, misjudged Hollywood biblical epic.
I changed my mind when I realised that a lot of people my age, whenever John Wayne's name came into the conversation, nearly always referenced JW as the Roman centurion who, standing beneath the cross as Jesus dies, utters the immortal line, 'Truly this man was the son of Gad'.
I mean, this is the guy who starred in some of the most revered classic Westerns of all time, not to mention non-cowboy efforts such as The Quiet Man and Sands of Iwo Jima, but his legacy appears to revolve around the utterance of one line of dialogue in a film that bestowed the kiss of death, along with Monty Python's Life of Brian of course, on any more attempts by Hollywood to produce guest-star laden vehicles dealing with the life of Christ – Pat Boone as the Angel in the Tomb, anyone?
https://youtu.be/OM5kspKA4R4
With a running time of nearly four hours when originally premiered in 1965, it's just too long and just too boring to contemplate watching again. Which is a shame really, because the director, George Stevens, had of course previously helmed such highly revered Hollywood movies as Gunga Din, A Place in the Sun, Giant and the classic Western Shane.
This, his penultimate directing effort, was greeted with derision and poor box-office results upon its release, and Wayne's participation drew the most criticism of all. A bad day at the studio for everyone concerned I'm afraid.
Not even one for the most die-hard of JW fans.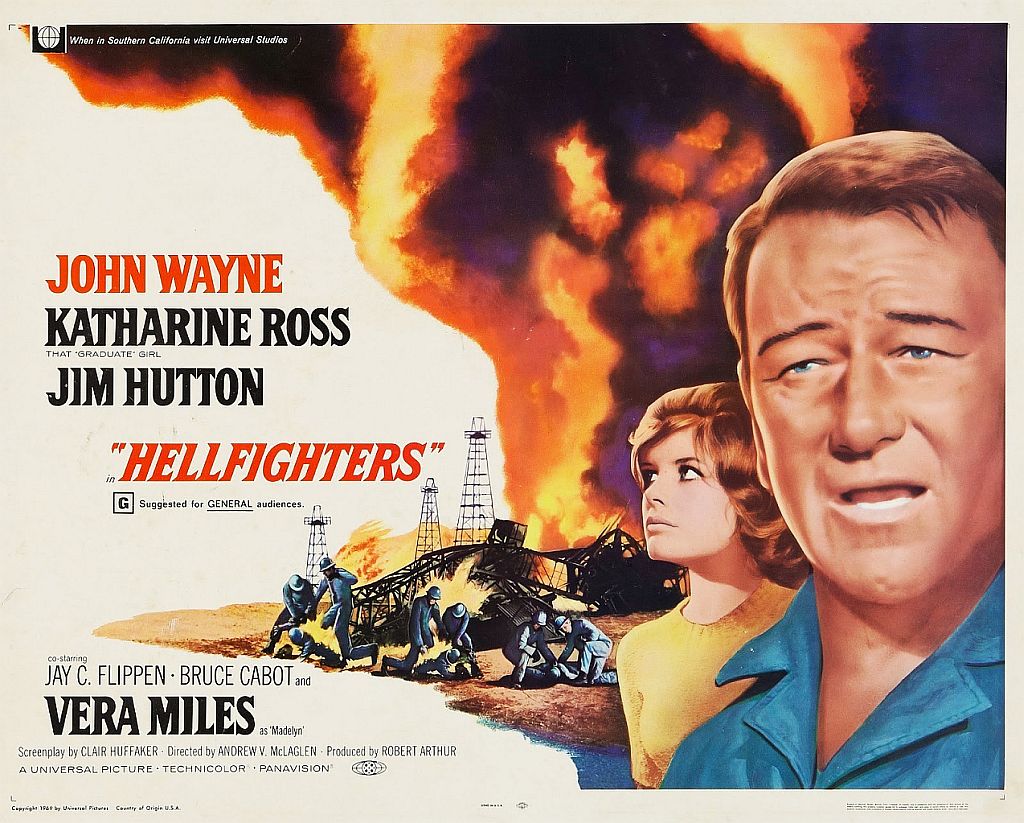 Hellfighters (1968)
Another one of those rare beasts, a John Wayne film I'd never bothered watching before.
I'd read a review of the film in Lee Pfeiffer's John Wayne Scrapbook which didn't really give it a glowing critique so I was expecting the worst.
Admittedly it's not the finest moment for those involved and is probably the least interesting of the five movies Wayne starred in for Andrew McLaglen.
The script isn't exactly up there with other JW movies scripted by Clair Huffaker such as The Comancheros and The War Wagon either, the story at times coming across more like The Jim Hutton and Katherine Ross Show than a Wayne vehicle.
The usual suspects – Bruce Cabot, Edward Faulkner, Cliff Roberson and even Pedro Gonzalez Gonzalez – help to round out the cast, with Vera Miles from The Searchers playing JWs estranged wife.
What unexpectedly elevated the film for me was the oil well action sequences, which I certainly didn't expect to be as realistically presented as they are here. Wayne's character, Chance Buckman (holy Rio Bravo), is obviously based upon the famous oil well firefighter Red Adair, who, along with his colleagues 'Boot's Mansen and 'Coots' Matthews, – love those nicknames – was special adviser on the film.
I'm not sure exactly how they created the oil fires seen in the movie – I should have asked McLaglen myself when I had the chance but I probably didn't want him to know I hadn't actually seen the film – but it's fair to say it really does look as though Wayne and his co-stars are in the thick of the action during these sequences.
There's not really that much else to say about Hellfighters if I'm honest.
At times it looks like a TV movie of the week, and Jim Hutton, playing Wayne's business partner, and Katherine Ross, as JWs daughter, are woefully inadequate when it comes to supposedly representing the generation of young hipsters that bloomed in America at the time the film was released.
On the other hand, it delivers the action as required, which sometimes is all you need in a Wayne movie.
As JW non-Westerns go not as bad as I thought it might be.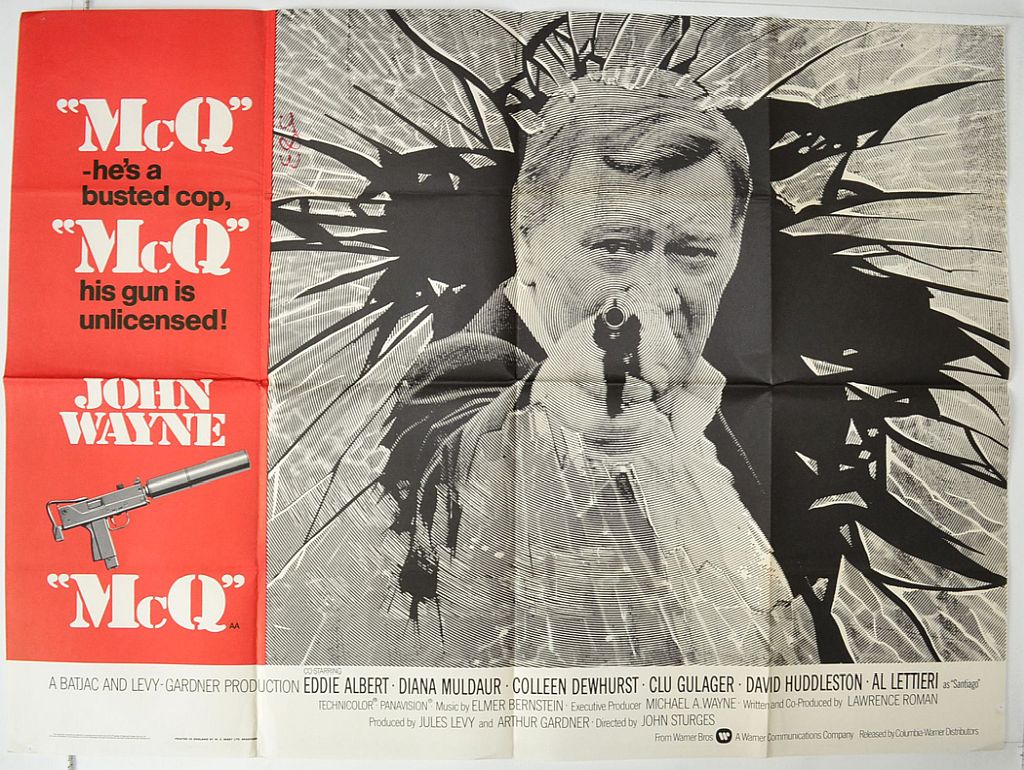 McQ (1974)
Not having seen this film before, I was expecting to be disappointed, what with 63-year-old Wayne playing a cop who obviously should have retired about twenty years before.
I'm glad to say, just like Hellfighters, it was much better than I expected, mainly due to a good supporting cast and a classic action director at the helm, John Sturges.
Strange to think that Sturges, mainly know for classic Westerns such as The Law and Jake Wade, Gunfight at the OK Corral and The Magnificent 7, finally got to work with Wayne on a police thriller, but the end result is fairly enjoyable as far as the cop genre goes.
JW plays Lon McHugh, a combination of characters usually associated with Steve McQueen's and Clint Eastwood's police capers – complete with lookalike Bullitt car and a Dirty Harry-style contempt for due process of the law.
The plot revolves around police corruption and there's a welcome noirish element to the film that lifts it out of the ordinary. Of course – spoiler alert – it was obvious the criminally underused Clu Gulager was a bad cop, otherwise there'd have been no use casting him in the film in the first place.
It's also refreshing to see Wayne playing opposite a woman nearly his age for once, in this case, Colleen Dewhurst as the ill-fated Myra, the bartender and junkie with a heart of gold. In fact, I'd go so far as to say that John Wayne himself delivers a finely nuanced performance in this film, something I find missing from his most of his late career movies.
You just know that any cop movie that has a 'Special Military Armament' credit in the opening titles is going to be somewhat over the top, and McQ does not disappoint in that respect.
The climactic set piece at the end of the film, a car chase on the beach, delivers the goods, JW blowing the baddies away in style with a machine gun that blasts 32 rounds in one and a half seconds.
This being the 70s there's a preponderance of stereotypical black jive-ass mofo's dropping in and out of camera range, and I wouldn't be at all surprised if Elmer Bernstein's derivative Shaft-like soundtrack didn't attract a plagiarism suit from Isaac Hayes.
On the whole, it's a movie I'd watch again if it ever turns up on TV so I can't say fairer than that.
8 out of 10 for all involved – but only 3 out of 10 for JWs awful toupee.
Branigan (1975)

Another one of those JW films I never got around to watching all the way through.
Luckily it turns out to be a bit more serious and hard-nosed than I originally thought. I quite liked the 'knock knock' joke at the beginning of the film, which was then revisited towards the end, and there's a bit of a comedic knockabout quality obvious in the saloon brawl scene in a London pub, but overall I was pleasantly surprised at how serious the film took itself.
Mind you, I never thought I'd get to hear JW use the expression 'cool', but then what with this being the 1970s and all, I guess the scriptwriters thought it was time for old Duke to get hep to the scene.
The film panders somewhat to a non-British audience brought up on the idea that London is still immersed in fog, with police officers who call their chief 'Guv'.
The only thing missing was a cheeky lovable 'gor blimey he's a real toff and no mistaken cockles and eels apples and pears' cockney character thrown into the blender to reinforce the stereotype of English characters that Americans in particular still know and love, but thankfully the scriptwriters refrained from going there.
Also, a strange one this, but according to JW / Brannigan, we were all eligible for free dental care back ion the 1970s. That's a new one on me although as I never visited the dentist on a regular basis back then I might have missed out.
Oh, and by the way, the English lady constable played by Judy Geeson would never have used the word felony to describe a criminal act.
There's quite a nice stunt shot at Tower Bridge in which a couple of cars leap across the gap as the bridge is raised, and a tense sequence in a rainy street where a killer attempts to blow Mr Brannigan away with a machine gun.
A rather elongated stakeout sequence filmed in Piccadilly Circus leaves you with the feeling that you're watching a travelogue rather than a movie but, having worked in and around London when the film was actually being made back in 1974, it brought back a lot of memories from over forty years ago.
I should say, however, that my knowledge of famous landmarks in our fair capital city means I was rather mystified that Brannigan was confronted with a view of the Albert Memorial, which is based in Hyde Park after the booby-trapped toilet blew out the wall of the flat he was staying in opposite Battersea Park.
Also – sorry, I'm in nitpicking mode right now – there's no way Richard Attenborough as the police chief would have had such a commanding view over the Thames from his office in Scotland Yard as it's nowhere near the river.
I liked the line when Judy Geeson picks JW up at the airport after being told to look for someone 'slightly smaller than the Statue of Liberty' in reference to John Wayne.
One question though; how the bloody hell did Brannigan manage to get what looks like a Smith and Wesson handgun past customs upon arrival in England? I know security can be somewhat lax on occasion in the land we call Blighty but I'd say that's a bit of a fantasy on behalf of the writers. I hope it is anyway.
There was another worrying moment when it looked as if reality was about to jump out of the window again when JW and Judy Geeson, who looks about twelve-years old in this film, appeared as if they were about to indulge in a spot of inappropriate snogging – a snog being British colloquial slang for suck face to the initiated – but luckily the moment made its excuses and left.
So, even though Duke is way-way too old at 67 years of age to be playing a fish-out-of-water hard-nosed Chicago cop adrift in old London town, he still manages to maintain a modicum of dignity.
One final comment. There's a sequence in which Brannigan tracks down the bagman who has fooled the police at the Piccadilly Circus stakeout – I'm not going to bother you with too many plot details as I assume I'm addressing the converted here.
To my complete surprise the guy in question, who Duke dunks in the water, is played by a famous English comedian who found celebrity on British television about twenty years ago in a comedy series called Blackadder, starring Rowan Atkinson.
The actor in question, Tony Robinson, is known throughout the land as Baldrick, Blackadder's ignorant and stupid sidekick. Baldrick being thrown into the Thames by John Wayne is like an American audience watching an unknown Woody Harrelson being beaten to a pulp by Roger Moore in a 70s Bond film.
All in all, a bloody good show.
---
Well, there you have it, ladies and gentlemen, boys and girls, cowboys and cowgirls, LBGT-ers, those, them and any of you gender fluid readers who may have wandered across my reviews of JW films over the last 18 months or so.
By my count, I've covered just over 80 of the films John Wayne appeared in since I started writing these articles last year, so I'm going to take a break for a while. One option is to go back and take a look at the movies John Wayne made in the 1930s in between The Big Trail and Stagecoach.
That's a lot of films to check out so I'm going to need to get match fit before taking that kind of task on.
I want to thank all of you who have posted comments – most of them positive I'm glad to say – since I wrote my first article back in March last year on the top 10 John Wayne westerns I saw as a kid.
The surprisingly positive reaction to that article spurred me on to continue writing about my favourite movie genre and here we are, approximately 32 articles and 80,000 words later, and I feel I've only just scratched the surface on the subject of Western movies.
I'll be revising my original article on the top 10 John Wayne Westerns at some point again soon as well as continuing work on a book I started to write a while ago that features John Wayne as one of the characters in the story.
[one_half_first][/one_half_first][one_half_last]I'd also like to take this opportunity to let those of you know who wanted a paperback version of my earlier book Connemara Days that it is now available in that format from Amazon should you still be interested in owning your own copy.[/one_half_last]
In the mean-time, until we meet again, happy trails, hasta la vista, vaya condios and adios to you all.