John Wayne appeared in over 160 films in a career that spanned the years 1928 to 1976 but according to the indispensable "John Wayne Filmography," the author Fred Landesmann lists an amazing 115 ' unrealized projects' in which JW was to have starred in at some point.
This article includes affiliate links. If you choose to purchase any of the products we have discussed in this article, we may receive a small commission.
Some of these he passed on for one reason or another, and some he lobbied hard to be in but was either unavailable or just didn't make the cut. This article will take a look at the films that fall into the first category and a later article will consider the latter.
Seeing as there are so many movies to consider I'm going to have to impose editorial control here and select my ten favourite titles that I think JW would have made quite an impact in if he hadn't passed on the opportunity to star in them.
The films are listed according to personal preference.
Dr. Strangelove (1964)
Scriptwriter Terry Southern supposedly wrote the part of Major T. J. "King" Kong specifically with John Wayne in mind who apparently turned the role down out of hand.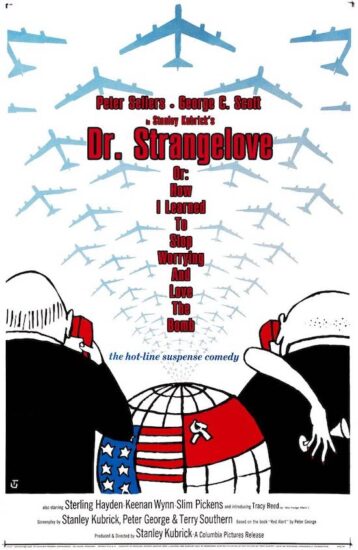 The character, as eventually portrayed by Slim Pickens, is so eager to drop a nuclear bomb on Russia that he rides the bomb from his plane all the way down to its target like a rodeo performer.
Most definitely a role that would have suited Wayne right down to the ground, particularly bearing in mind that a few years prior to this he'd found out that Russian premier Joseph Stalin had put out a contract on him because of his anti-Communist views.
Heaven's Gate (1980)
Originally submitted as "The Johnson County War", a real-life event that was touched on in "Chisum".
Surprisingly JW was offered the lead role in the mid-1970s, a part that eventually went to the much younger Kris Kristofferson, suggesting that the script underwent quite a sea change before it emerged in 1980.
The film notoriously sunk the United Artists studio so maybe Wayne knew something no one else did at the time.
Dirty Harry (1971)
The title role was originally offered to Frank Sinatra who presumably passed seeing as he'd already portrayed a no-nonsense policeman in "The Detective" back in 1968.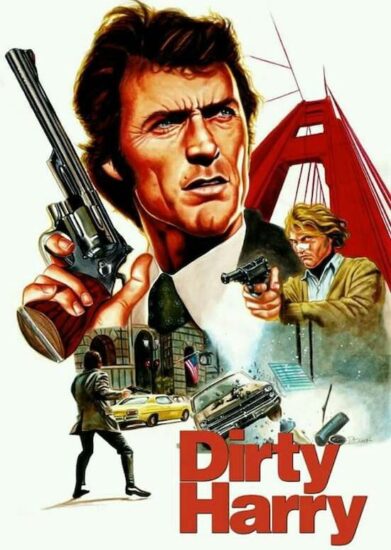 Wayne also passed, although it was a decision he apparently regretted according to biographer Scott Eyman, quoting the actor as saying "I made a mistake with that one".
To be honest, by this time in their respective careers both Sinatra and JW were just too old to be playing believable rogue detectives.
In fact, Duke would have been sixty-four years of age had he taken on the role of Harry Callaghan in 1971, a point reinforced by his uncomfortable looking performance a couple of years later in the title role of "McQ".
The fact is Clint Eastwood made a much more convincing cop than either JW or ole' Blue Eyes, going on to play Callaghan a further four times as the detective who shoots first and doesn't bother asking questions afterward.
The Dirty Dozen (1968)
According to JW biographers Randy Roberts and James Olson, Wayne was offered the lead role of Major Reisman, as eventually played by Lee Marvin, provided the producers removed a suggestion in the script that the character was an adulterer.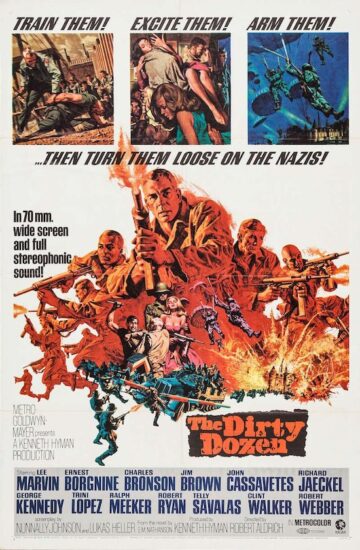 Despite the offending section of the script being rewritten Duke still passed, deciding he wanted to make "The Green Berets" instead.
Scott Eyman, however, contends that Duke turned it down "solely because it was going to be shot in Europe and [his wife] Pilar was pregnant and he was concerned that the shoot might run into Pilar's due date".
Considering how the critical reception to "The Green Berets" wasn't exactly all that positive at the time compared to "The Dirty Dozen" it probably wasn't the wisest choice JW ever made but, on the other hand, seeing as his own project turned out to be the fourth biggest box-office movie of his entire career it was probably enough to convince him he'd made the right decision.
High Noon (1952)
Stating that "'High Noon' is the most un-American thing I've ever seen in my whole life", JW ceremoniously passed on what turned out to be, depending upon your political leanings, either one of the greatest Westerns to ever come of Hollywood or agreeing with director Howards Hawks that "it was ridiculous.
The sheriff runs around like a wet chicken and eventually, his Quaker wife saves his guts. It was unprofessional".
Either way, it didn't really matter because both Wayne and Hawks eventually produced their own riposte to "High Noon", a film that was written by a previous member of the Communist party, Carl Foreman, and made what is definitively one of the best cowboy films ever, "Rio Bravo".
Just goes to show there's a reason for everything if you look hard enough.
All the King's Men (1949)
Based upon a Pulitzer-winning novel, the film charts the rise and fall of corrupt politician Willy Stark, a character that shared certain similarities with real-life politician Huey Long.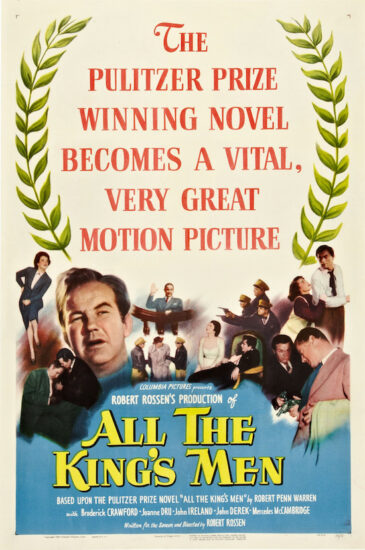 Taking that as a given Wayne, according to biographers Randy Roberts and James Olson, commented: "To make Huey Long a wonderful rough pirate was great but, according to this picture, everybody was sh*t except for this weakling intern doctor who was trying to find a place in the world".
So Duke passed, the lead role went to Broderick Crawford, who then went on to snaffle the Best Actor Academy Award in 1949 from right under JWs nose, who was nominated the same year for "Sands of Iwo Jima".
I think there's a moral to this somewhere.
Blazing Saddles (1972)
According to differing sources JW was either offered the part of the Waco Kid as eventually played by Gene Wilder or that of Taggart, a part that went to Slim Pickens.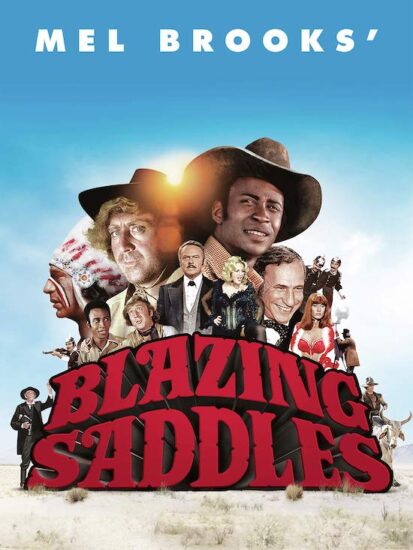 I personally would have given both arms to have seen John Wayne play Taggart, just to see JW let his hair down, what there was of it by this time anyway, and really enter into the spirit of the film.
Apparently Wayne is quoted as saying "I can't be in this picture. It's too dirty, but I'll be the first in line to see it".
I would have been as well if Duke had taken on the part but we can only mourn what would have been one of Duke's funniest performances if his decision had gone the other way.
1941 (1980)
Steven Spielberg personally approached Wayne to take on the role of General Stillwell, a part eventually played by his "High and Mighty" co-star Robert Stack.
It would have given JW the chance to show a softer side to his screen persona, something that he had only hinted at on occasion in films such as "She Wore A Yellow Ribbon" and '3 Godfathers".
The part of Stillwell would have required Duke to be moved to tears when he watches the sequence in the Disney cartoon "Dumbo" in which the imprisoned mother sings "Baby Mine" to her baby elephant.
Just thinking about it brings tears to my eyes as well but in a good way.
Wayne supposedly passed on the film because he thought it was unpatriotic. According to Spielberg, Wayne "was really curious and so I sent him the script.
He called me the next day and said he felt it was a very un-American movie, and I shouldn't waste my time making it.
He said, "You know, that was an important war, and you're making fun of a war that cost thousands of lives at Pearl Harbour. Don't joke about World War II."
Spielberg went on to make it anyway and it proved to be one of the rare missteps in the director's career. Duke had spoken and no one listened.
Lonesome Dove (1989)
How's this for a great cowboy film?
JW leading a trio of wizened cowboys consisting of him, James Stewart and Henry Fonda on a cattle drive every bit as action-packed and adventurous as "Red River" with Wayne as Woodrow Call, Stewart as Gus McCrae and Fonda presumably playing the ill-fated Jake Spoon.
Sounds like a real winner to me but again JW passed on what was originally a project pitched to him by the director and writing team of "The Last Picture Show", Peter Bogdanovich and Larry McMurtry.
Wayne was supposedly counselled by John Ford no less not to take part in the proposed film, which is just about the worst piece of advice anyone ever gave JW apart from the agent who suggested he play Genghis Khan in "The Conqueror".
I recall reading or hearing somewhere in the dim and distant past that Stewart also turned it down, suggesting that he found the story to be rather "patronising" but that might just be hearsay.
McMurtry subsequently reworked the script into a Pulitzer prize-winning novel, "Lonesome Dove", which then served as the basis for the acclaimed TV mini-series with Tommy Lee Jones as Call, Robert Duval as Gus and Robert Ulrich as Jake.
A missed opportunity if ever there was to combine the talents of three of the most revered Hollywood actors of all time.
The Hostiles (N/A)
Here's an interesting thought. John Wayne and Clint Eastwood together on the big screen for the first and possibly only time, and JW mixes what would have been a perfect opportunity to put the young pretender in his place and show Clint what a real screen cowboy is made of.
According to biographer Scott Eyman, Wayne was approached by Eastwood to star in a film entitled "The Hostiles", a Western in which "a gambler, (Eastwood) wins fifty percent of a ranch owned by an older man (Wayne).
The two men have to become partners, which is complicated by the fact that they can't stand each other".
In the end, JW returned the script with a "No. Thanks." To me, this is one of the biggest mistakes JW ever made, even if Wayne himself is quoted as saying "This kind of stuff is all they know how to write these days… someone like me and Eastwood rides into town, catch the big guys, and everyone else is a bunch of idiots". Malpaso indeed.
Part two of unrealised projects of John Wayne can be found in More Movies John Wayne Never Made.
Let us know of any interesting ones below in the comments.