There a number of elements that comprise a John Wayne film. In no particular order, it's plenty of action, a fight of some kind whether it be fists or guns (preferably both if possible), JW getting the better of the bad guys and even more popular, getting the girl too.
There is another aspect, however, that a lot of his movies have in common, namely the art of ingesting large amounts of alcohol whilst attempting to remain upright.
It's surprising that it takes up until "Flame of Barbary Coast" in 1945 before we actually get to see Duke really tying one on.
It's also not such a surprise that towards the end of JWs movie career he takes to the bottle more than usual, probably because by then he'd acquired a real taste for the finer things in life.
So, join us as we follow the trail of broken bottles and punch-drunk individuals that litter the screen in our top ten John Wayne's Happy Hour Movies. Mine's a JD on the rocks. Hold the Coke.
Flame of Barbary Coast (1945)
JW as Duke Fergus goes on a gambling spree in this melodrama set in the early 20th Century on the San Francisco Barbary coast and gets drunk in the process.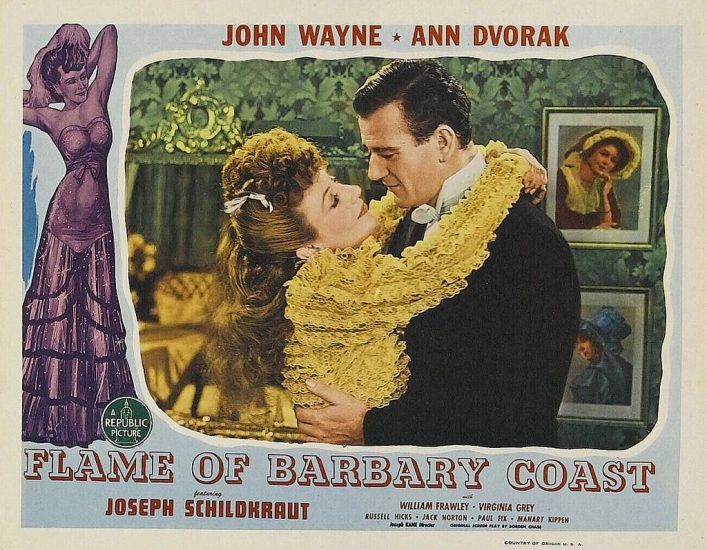 At one point he actually sings along with the crowd who follow him around from one casino to another but I was unable to catch exactly what the song was.
Anyway, in order to put a stop to Duke's winning streak, the dastardly villains who own the gambling dens challenge him to a game of stud poker no limit and of course, he loses all his money. Looks like he had a good time either way though.
Wake of the Red Witch (1948)
"Wake of the Red Mist" might have been a better title for this film seeing as that's what descends upon Wayne's character Capt. Rawlins whenever he imbibes too much.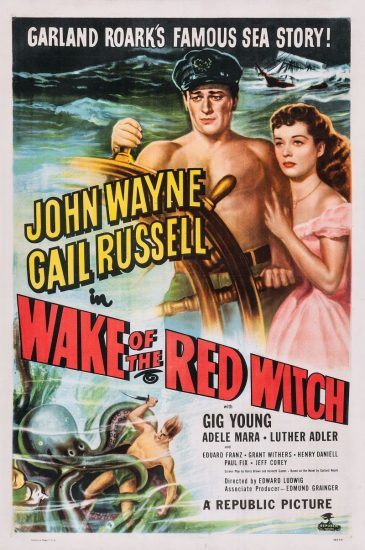 The crew refer to it as 'his strange black moods', moods that are mysteriously brought on by the transfer of alcohol from the bottle to the liver via the throat.
Rawlins plans to scuttle his ship which is carrying millions in gold bullion and then return at a later date to salvage it for himself but when his first mate, Mr. Loring, played by Jeff Corey, becomes suspicious of Rawlins behaviour the captain, under the influence, nearly beats the man to death.
One of the rare occasions in which JW plays a mean drunk. Thankfully.
The Quiet Man (1952)
JW as ex-boxer Sean Thornton is anything but quiet after engaging in a drinking bout with his new brother-in-law, 'Red' Will Danaher, played by Victor McLaglen.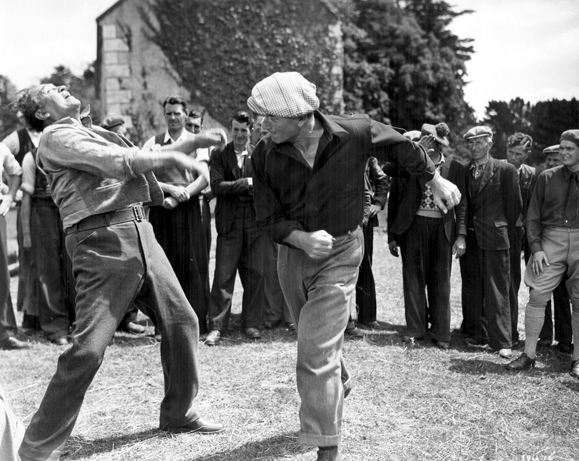 After settling a family domestic issue over his wife's dowry then punching Danaher through the door of Cohan's Bar, the two men patch up their differences and, after what was presumably a memorable drinking spree, turn up at the wife's house demanding tea.
In the process, they do their best to murder the popular Irish ballad "The Wild Colonial Boy" as opposed to each other.
The Wings of Eagles (1957)
There are a number of sequences played for comedic effect in which JW, as real-life navy man and scriptwriter 'Spig' Wead, indulges in an occasional drink or two with the boys.
Naturally, drink soon begets the need for fisticuffs with the Army taking on the Navy, the Navy coming out on top which is only right seeing as JW is on the team.
All good clean fun but with an underlying hint that sometimes maybe alcohol is not the answer when life doesn't go the way you want it to, Spig falling down a staircase, sober for once, and ending up temporarily paralysed after fracturing his neck.
According to some sources apparently a number of scenes alluding to the drinking habits of Wead and his wife Min, portrayed in the film by Maureen O' Hara, were removed from the film prior to release.
The Horse Soldiers (1959)
It takes a while before JW hits the bottle in this one but when he does he hits it hard, almost as hard as William Holden, playing an army doctor, Henry Kendall, who wallops him when they finally get around to a fistfight that's been promised from day one.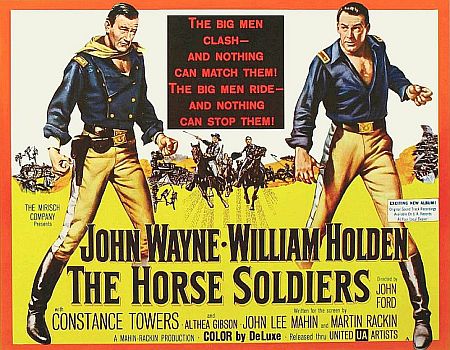 At one point JW as Col. John Marlowe gets stinking drunk, his inebriation signified by the throwing of drinking glasses and bottles, launched mainly in the direction of the bartender and the mirror behind the bar itself.
JW reveals that his wife died in a botched operation which explains why he doesn't like the medical profession in general, and Kendall in particular.
They win the war though so everything turns out fine in the end.
The Comancheros (1961)
It shouldn't come as any surprise that, in two of the three films Duke made with Lee Marvin, there was much imbibing of the devils' brew, so let's start with the first contender, "The Comancheros".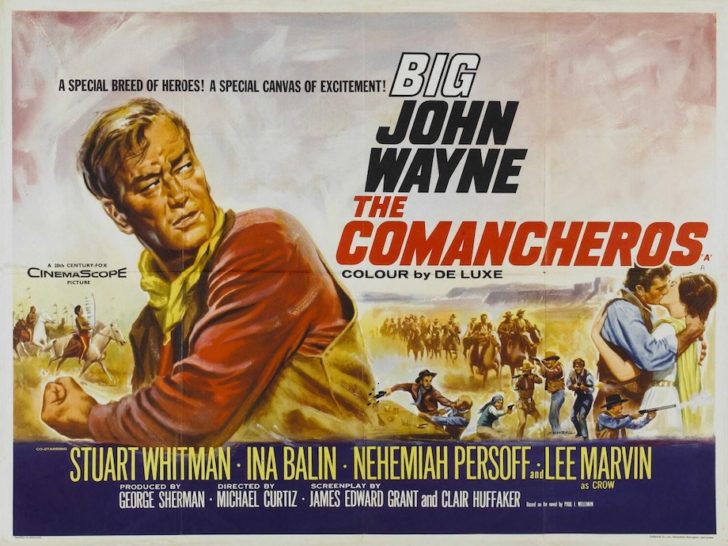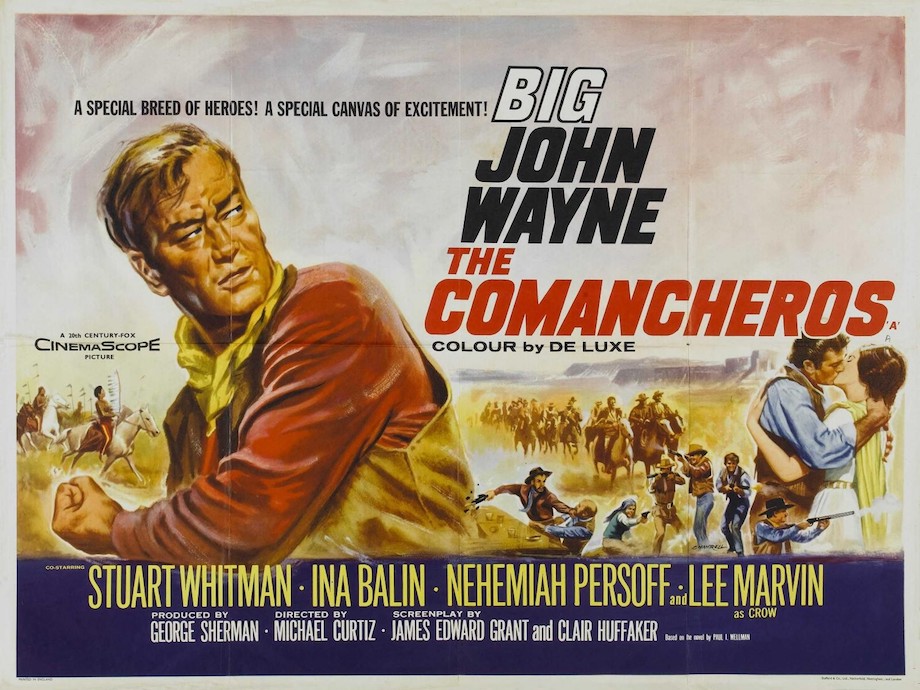 Going undercover and teaming up with killer Tully Crow, as played by Mr. Marvin, Duke gets well and truly plastered with his new friend, so drunk he sings a few choruses of his favourite song, "Pretty Redwing", which appears to be JWs go-to melody whenever he's had a few.
The pair decide to go off for a steak which, considering what happens to JWs meal in his next film with Marvin is one hell of a risk for a drunk man to take. Or is he really drunk? A suspicious Crow warns JW that "I'm only as drink as I wanna be, same as you". So in the end JW plugs him. Seems reasonable to me.
The Man Who Shot Liberty Valance (1962)
JW seems to get drunk awfully quick when he espies fiancée Hallie fussing over fancy Eastern lawyer Ransom Stoddard who has just finished polishing off Liberty Valance.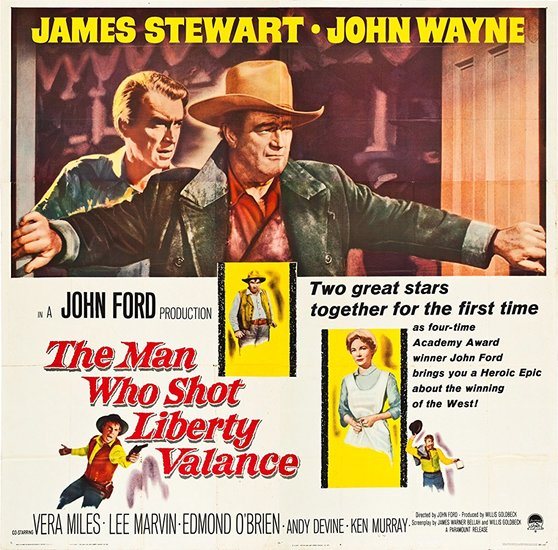 Or did he? Wayne as Tom Doniphon takes off to the nearest saloon and, after chugging down just a couple of slugs of whiskey he throws Valance crony no. 1, played by Strother Martin, clean through the swing doors, belts Valance crony no. 2, played by Lee van Cleef, across the head, smashes a glass on the bar then throws a handful of coins at the bar band before lurching out of the door.
After downing the whole bottle he then in a fit of drunken pique burns down the ranch house he was building for the woman he was hoping to marry.
All of this after JW shoots killer Valance in order to save Stoddard's life and this is the thanks he got. No wonder he was pissed, in every sense of the word.
McLintock! (1963)
It seems that whenever cattle baron G.W. McLintock ties one on he celebrates by throwing his Stetson into the air and hooking it on the weathervane atop his ranch house.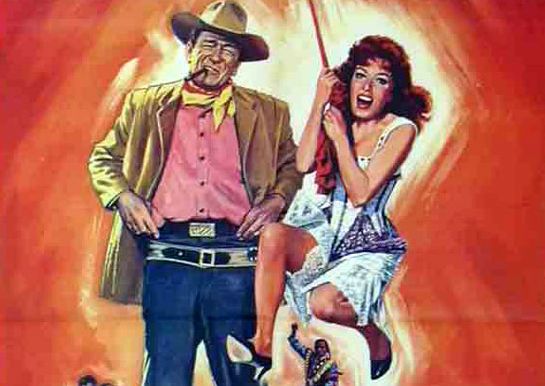 It's kind of a calling card as well as an indication that the presence of the hat indicates to all and sundry that he's going to wake up as mean as hell, illustrated by his greeting to Curly Fletcher, as played by Hank Worden, with the memorable warning "Don't say it's a fine morning or I'll shoot ya'".
The next time McLintock indulges and accomplishes the stetson-throwing trick (his three hundredth and ninth successful attempt), he arrives home singing "I Dream of Jeannie" and ends up in a drinking session with his beautiful housekeeper, played by Yvonne DeCarlo.
Not such a bad thing you might say, except his ex-wife, played by fiery Maureen O'Hara, gets all fiery at seeing the two of them together and bashes JW on the head with a whisky bottle.
Should have kept his hat.
True Grit (1969)
We first encounter Rooster partaking of a drink or three when he meets with Mattie Ross to discuss expenses for hunting her father's killer.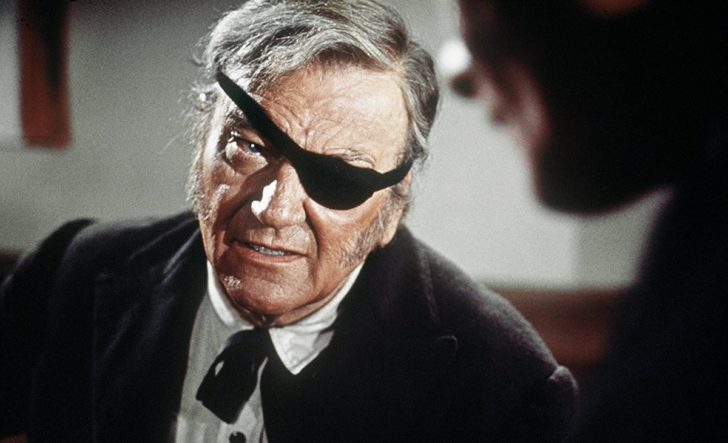 Rooster is sampling confiscated whisky or, as he likes to call it, "the real article, genuine double – rectified bust -head. Aged in the keg". He then shoots a rat for trespassing, telling his colleague Chen Lee that "I'm serving some papers".
Things don't improve much when Rooster gets so loaded he falls off his horse, blaming his steed, Bo, for putting his foot wrong.
Realising he's unable to stand up he decides to make camp in that spot. This piece of common sense, along with Rooster's comment that "a man will never work for a woman unless he's got clabber for brains" shows the efficacious effect that the constant absolving of the elixir of life has upon the Marshal's power of thinking.
We should all try it sometime. It might make the world a better place.
Rooster Cogburn (1975)
It's true to say that you get more of the same when it comes to Rooster's drinking habits in this sequel to "True Grit".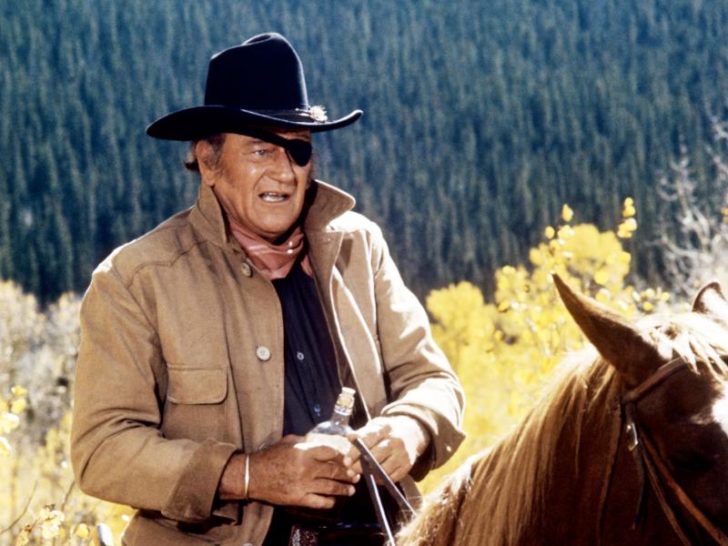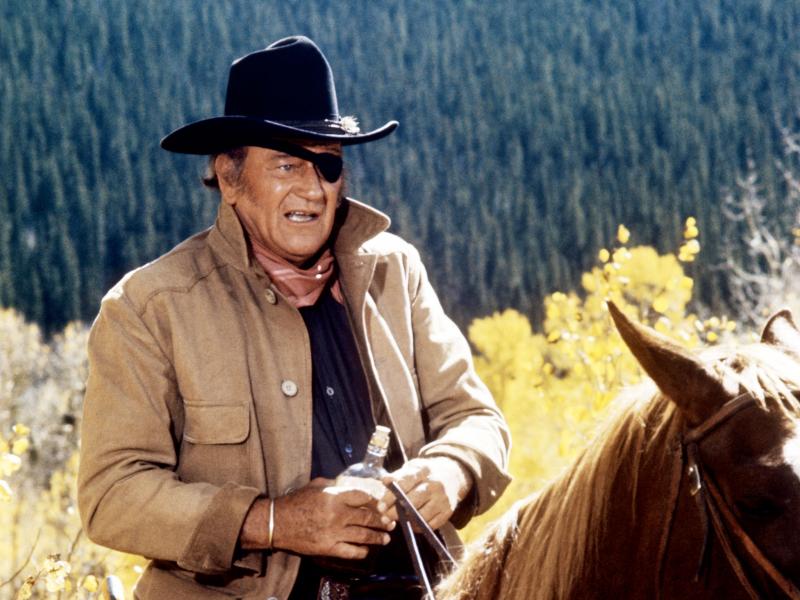 On being accused of drinking too much by a judge who then takes his badge and gun away for killing too many outlaws resisting arrest, Rooster informs the court that he "hasn't had a drink since breakfast".
Finding out subsequently that Chen Lee has been instructed by the judge to lock up Rooster's whisky the Marshall threatens to shoot his faithful companion, but the day is saved when the judge turns up and pleads with Rooster to take his badge back.
On the way out the Judge realises that even Rooster's cat is drunk.
And this even before he eventually gets to meet spinster preacher Katharine Hepburn.
It should hopefully have not escaped anyone's notice that nearly half of the films listed in this article were directed by John Ford, a man also known for his fondness for imbibing.
In fact, both he and Wayne were drinking buddies of the first order for quite a few years, even before JW was cast as the Ringo Kid in "Stagecoach".
The many tales of their drinking bouts on Ford's yacht, or to be more specific the floating saloon known as "The Araner", along with other heavy quaffers of the alcohol such as Ward Bond are now part of Hollywood legend, a time when men were men and mostly drunk all the time.
It makes you wonder how they ever found the time to get round to making all those films together. Now that's the real accomplishment.