John Wayne Western Movie Theme Songs
This is a list in ascending order of some of my favorite John Wayne western movie theme songs and tunes which I hope is going to stir a debate or two amongst JW fans out there.
There's one feature that I nearly always mention in passing when writing a review of a John Wayne movie, namely the music. There have been some great soundtracks written over the years for his films, but it's the theme tunes that tend to catch the ear.
How the West Was Won – Overture / The Ken Darby Singers & Dave Guard and the Whiskyhill Singers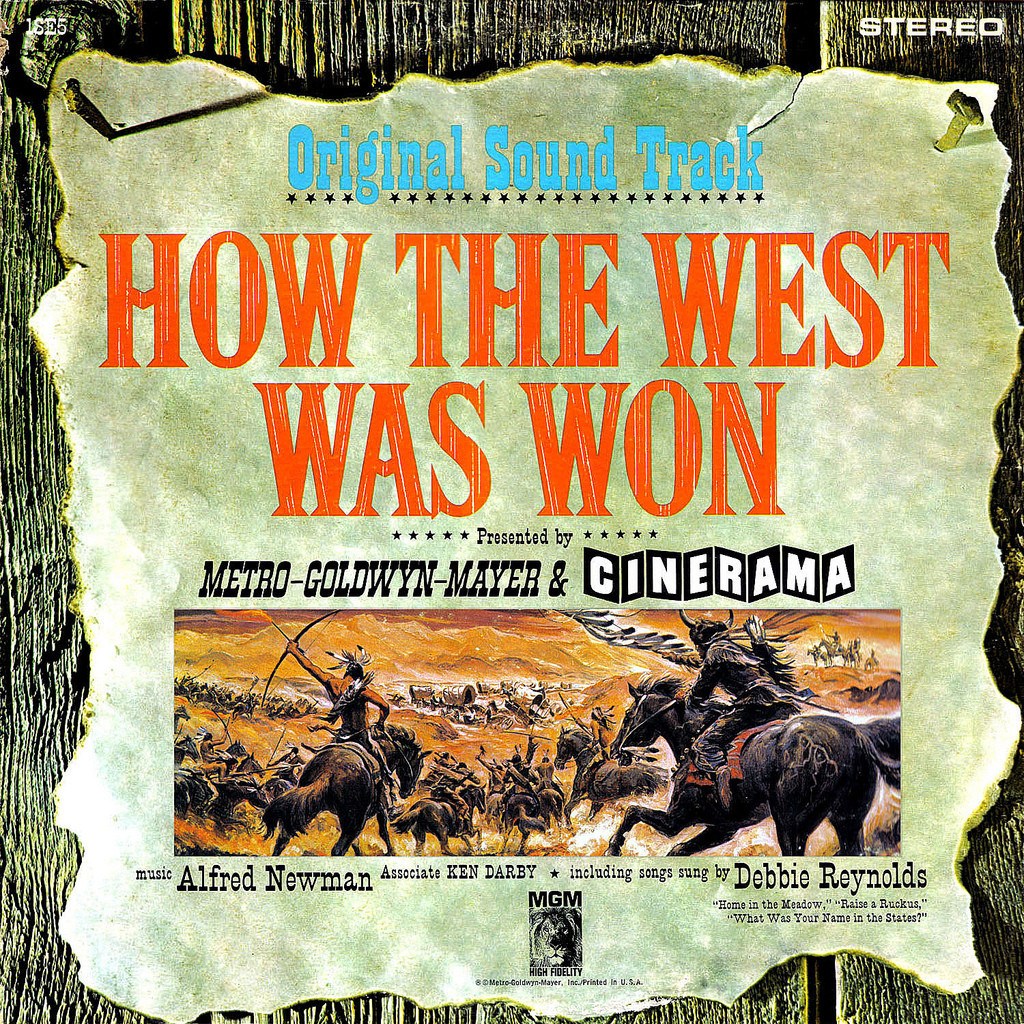 I'm assuming cinema audiences back in 1962 would not have heard the main overture unless they were attending a roadshow Cinerama screening of this epic movie but I'm including it here because, apart from a magnificent main theme by Alfred Newman, it features an intriguing medley of traditional songs such as I'm Bound for the Promised Land, Shenandoah, Endless Prairie and Ox Driver.
Not strictly a full-blown JW vehicle either, to be honest, but he does get to appear in the Civil War sequence as General Sherman, considered by some to be the best part of the film.
I'm afraid I can't recommend too many of the other songs that feature in the film, which eventually turns into the most expensive episode of the Debbie Reynolds Show ever made. Love that main theme though.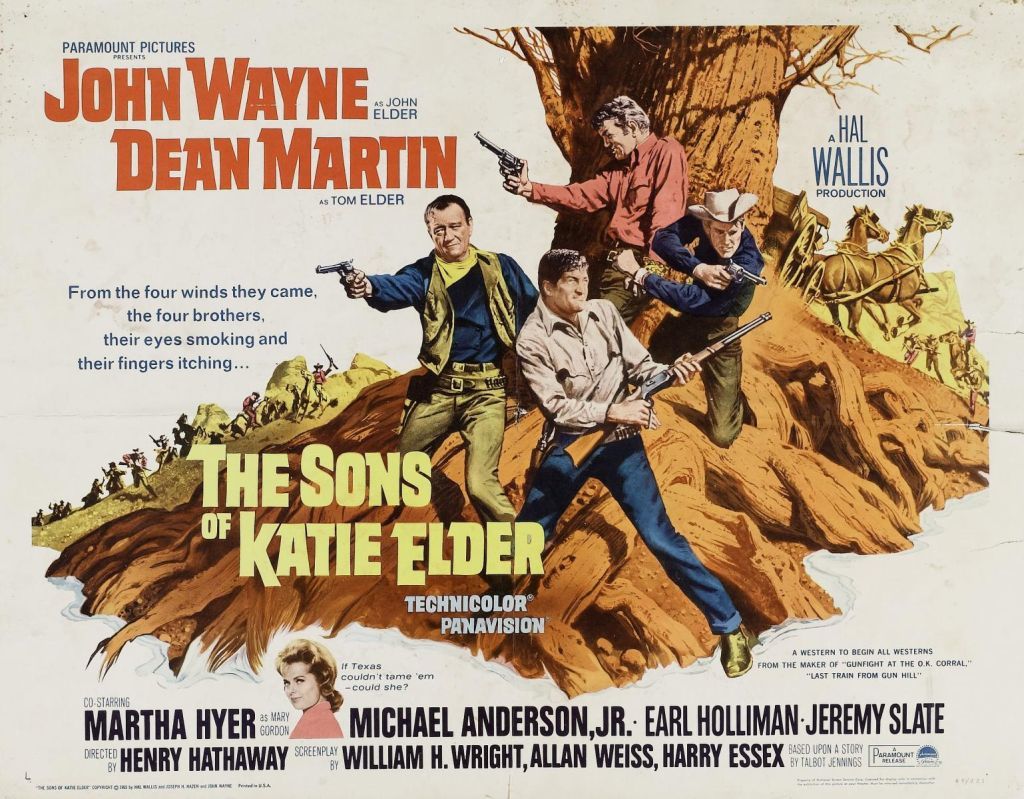 The Sons of Katie Elder – Texas is a Woman / John Wayne
Not so much a song, more a taster for what was to come when JW recorded America – Why I Love Her a few years later.
I'm fairly sure it didn't actually feature in the main film, but came as a bonus on the Elmer Bernstein sound track album. I'm aware that Bernstein wrote the melody behind the song, but not too sure who actually wrote the lyrics.
I actually prefer the subtlety of JW delivery on Texas Is A Woman to the somewhat overblown approach taken on the America album, but maybe that's just me.
I understand that the lyrics are based on some of Martha Hyer's dialogue from the film, so I guess strictly speaking they should be attributed to one of the three scriptwriters, William H. Wright, Allan Weiss or Harry Essex.
As a matter of interest, other vocal renditions for John Wayne Westerns that never made it into the films themselves include The Sons of Katie Elder by Johnny Cash, which can be found alongside Texas Is A Woman on the soundtrack album.
The Burt Bacharach / Hal David song for The Man Who Shot Liberty Valance, recorded by Gene Pitney, similarly didn't make it into the actual movie.
There's also a song entitled The Comancheros and inspired by the film which was recorded by one Claude King, and can be found on a limited issue of the original soundtrack.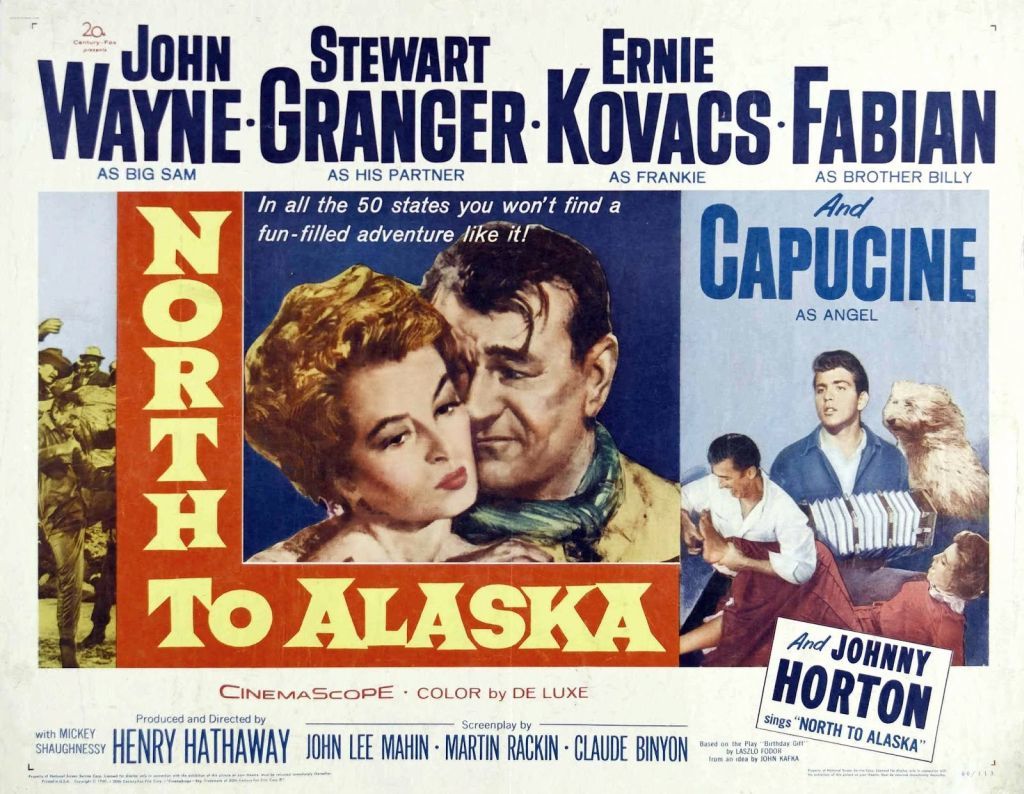 North to Alaska – Opening Credits Title Song / Johnny Horton
North to Alaska – Opening Credits Title Song / Johnny HortonThere are a lot of films that sometimes don't deserve the music written for them, and this is a case in point.
I found it hard to like the movie but Johnny Horton's rendition of the jaunty main theme tune, written by Mike Philips – the soundtrack was composed by Lionel Newman and Harry Sukman – gets the film off to a great start.
Then the film begins and it's downhill all the way from there.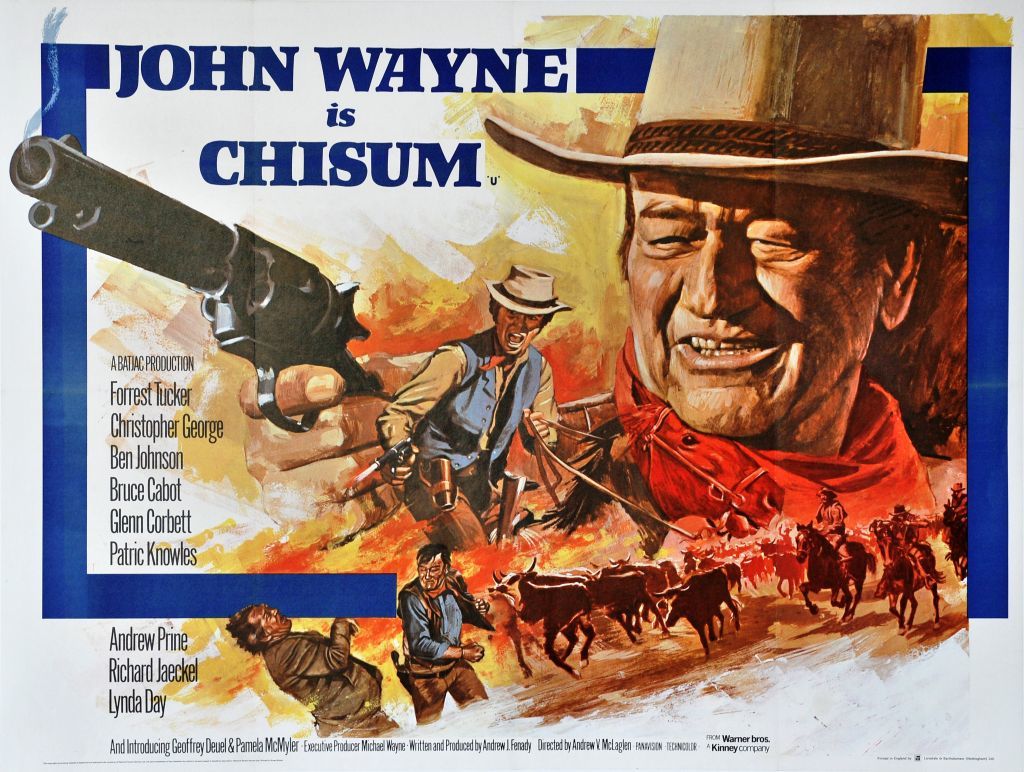 Chisum – Opening Credits Title Song / William Conrad
The beginning to this film resembles very closely the credits for El Dorado, both movies using a montage of paintings to accompany their main themes
William Conrad, the somewhat portly actor who rose to eventual fame as TV detective Cannon, here recites his lyrics whilst a gathering of anonymous studio singers provide the singing duties.
Andrew J. Fenady wrote the lyrics for Dominic Frontiere's composition but, musically speaking, Chisum is noted more for the fact that John Mitchum, who appeared in the film, persuaded Duke to record the album America – Why I Love Her. And that's a whole other story.
El Dorado – Opening Credits Title Song / George Alexander and the Mellomen
I think I've already mentioned somewhere else that this song was voted one of the best cowboy movie themes by the Western Writers of America Association.
I also said it was a pretty cheesy song, which it is, but on reflection that doesn't make it a bad song. Just cheesy.
George Alexander sings it so seriously – lyrics by John Gabriel and music by Nelson Riddle – you almost believe everything he says is true.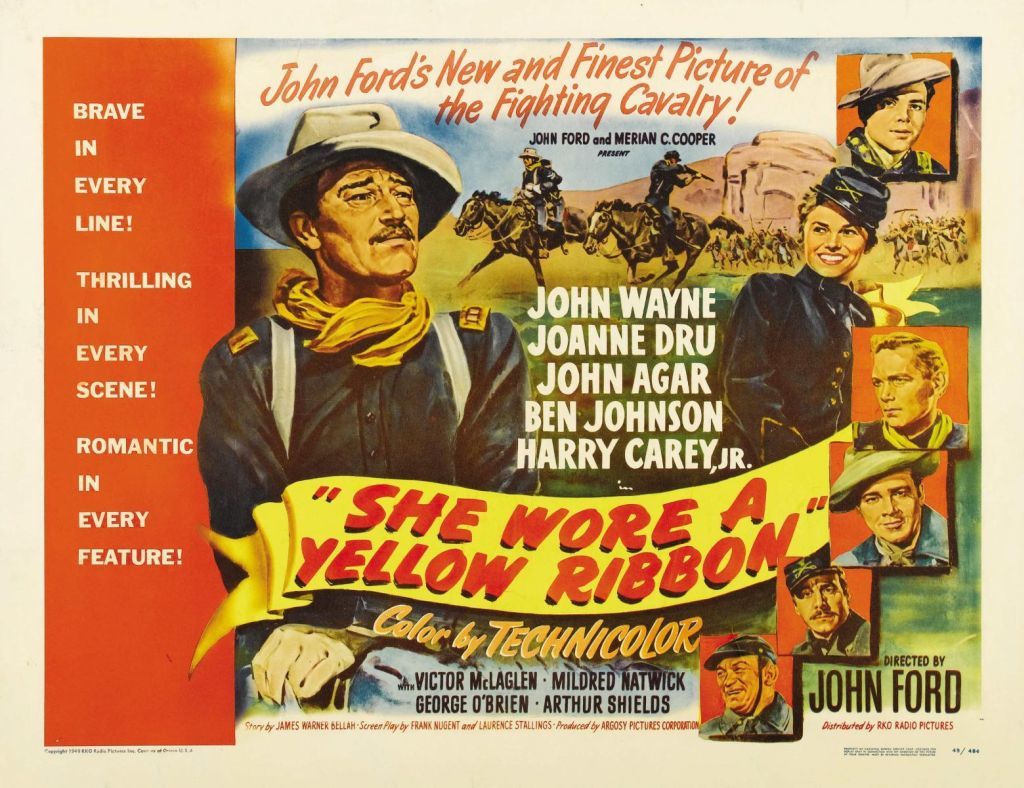 She Wore a Yellow Ribbon – Opening Credits Title Song / Anonymous
You think initially that the music to the opening credits is going to be orchestral only, then in comes the rousingly sung lyrics to the song She Wore a Yellow Ribbon, which turns into a medley with the addition of the equally exhilarating The Gal I Left Behind.
The soundtrack credits go to Richard Hagemen who pulled together a number of traditional early American pioneer songs for this and other John Ford films, including Stagecoach and Fort Apache.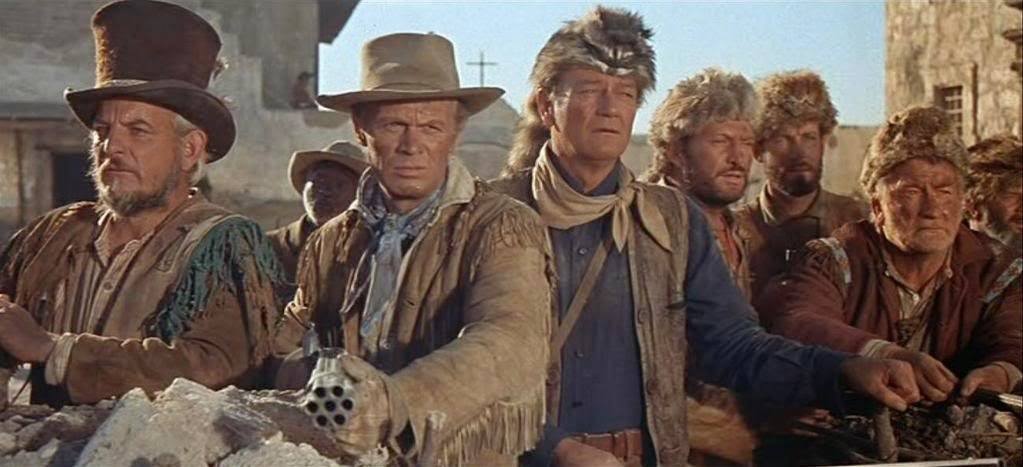 The Alamo – The Green Leaves of Summer / The Brothers Four
Not strictly a JW theme tune, as the main title music is an orchestral combination of De Guella and Green Leaves of Summer.
The Brothers Four had quite a considerable hit with the latter which, with lyrics by Paul Webster and music of course by Dimitri Tiomkin, was released in 1961 and nominated for an Academy Award.
I think this might be the most widely recorded of any John Wayne associated film songs, and also probably the most successful commercially. It's certainly one of the more memorable songs from any of Duke's films, and turned up nearly fifty years later as the main theme to Quentin Tarantino's wartime epic, Inglorious Basterds.
You can't keep a good song down, that's for sure.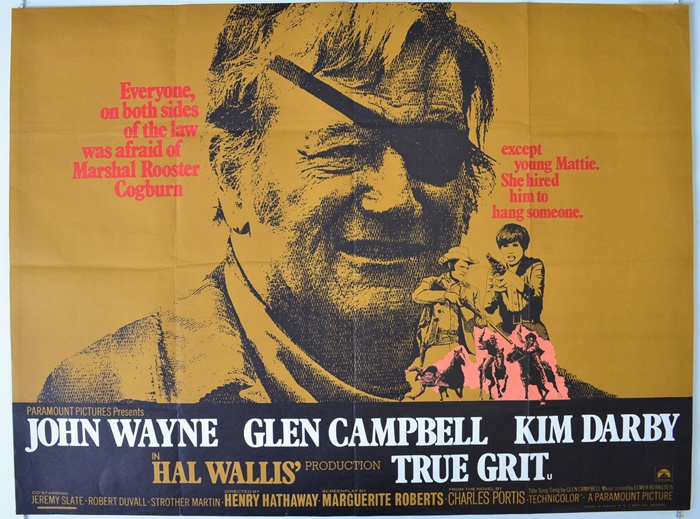 True Grit – Opening Credits Title Song / Glen Campbell
Another song I categorized as cheesy, but a good one just the same. The much missed Mr. Campbell, who also appears in the film, sings lyrics by Don Black, and the music is by Elmer Bernstein, here supplying a memorable musical score.
If memory serves me correctly it was quite a big hit back in the late 1960s in both America and the UK and it's certainly one of my all-time favourite JW theme tunes.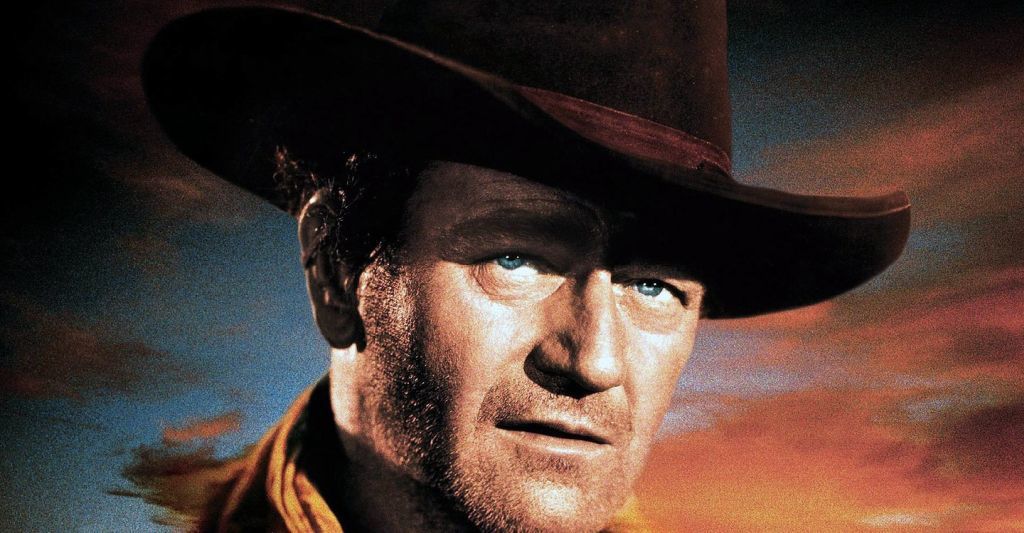 The Searchers – Opening Credits Title Song / Sons of the Pioneers
The opening music starts initially with a snatch of Max Steiner's score for the film then segues into the song Ride Away, written by Stan Jones.
Jones also wrote Ghost Riders in the Sky and the theme to the TV series Cheyenne, among many others. There's actually four verses in the song but we only get to hear the first, after which the film begins and the beautiful melody, Martha's Theme, kicks in on the soundtrack.
It's a great combination of Steiner, Sons of the Pioneers and traditional music that cannot be equaled. A truly magnificent musical opening to a truly magnificent film.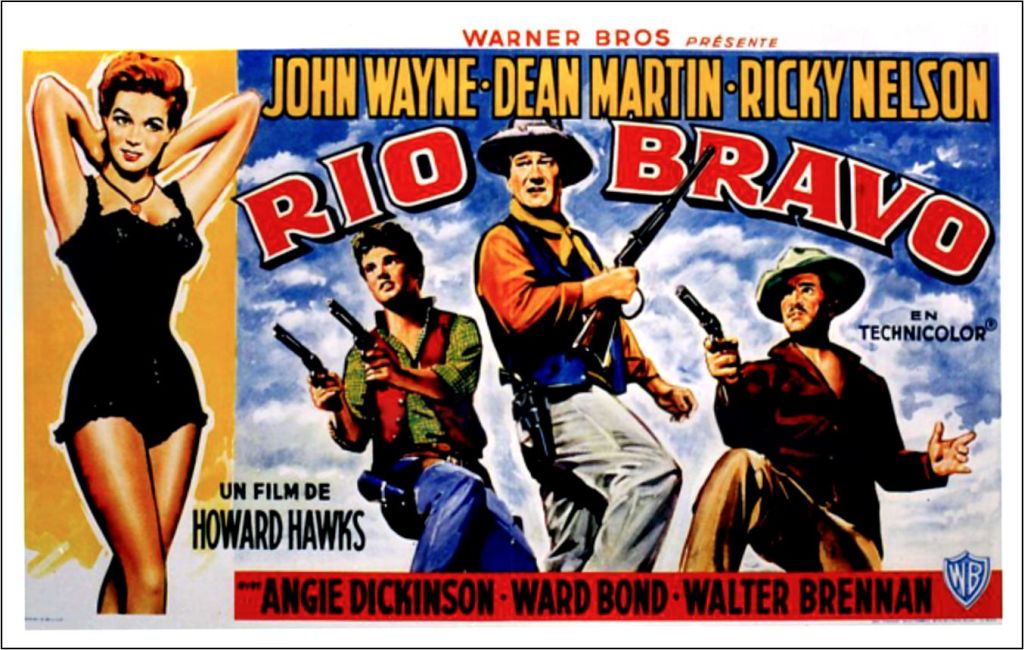 Rio Bravo – My Rifle, My Pony and Me / Dean Martin & Ricky Nelson
I am aware that the song Rio Bravo was recorded by Dean Martin only, and the tune you hear at the beginning of the film is an instrumental, but I'm talking about My Rifle, Pony and Me, which is actually my number one favorite piece of music from any John Wayne film – ever.
The sequence in which Dean and Ricky serenade Duke and Walter Brennan in the sheriff's office always leaves me with a big grin on my face every time I watch it, mainly because Wayne himself appears to be enjoying it so much himself.
The song, with lyrics by Paul Webster and music of course by the incomparable Dimitri Tiomkin, was first used in the opening credits of Red River but, brilliant though that is, I prefer the version in Rio Bravo.
In fact, I like the song so much I've stated that I want it to be played at my funeral, which is why conversely my wife hates it. There's no accounting for taste. And you get Cindy for an encore as well.
I'm also going to cover in later articles my favourite orchestral soundtracks to JW Westerns, as well as songs and themes from non-Western JW movies at some point. Meanwhile, I hope this article inspires some of you to put your own 'mix tape' together of some, if not all, of the songs mentioned here.