It's difficult to compile a totally accurate list of the Westerns John Wayne appeared in that make up the top 20 of his box office hits because there are so many variables to take into account.
For one thing, do we look at worldwide receipts or just the North America / Canada box office takings?
Do we attempt to adjust for inflation the films released throughout his career?
Can we work out the profitability of each film by comparing the box office figures against the original budget if no budget data is available?
On top of all this, various sources provide differing box office information on the same movie at any point in time.
It's like trying to hit a moving target so we're going to have to employ some artistic license in attempting to be as precise as possible on the subject of John Wayne's most profitable Westerns.
The first rule of thumb is not to include any of JWs films that did not hit the $4 million mark.
Secondly, we will only look at domestic USA and Canada box office figures.
Thirdly we will only use box office takings where two or more sources concur.
Finally, where budget data cannot be verified, as in "The Comancheros" and "The War Wagon", we will estimate as best as possible what the original cost of the film was based upon other recent JW movies of the time.
We've decided to compile two lists, both in ascending order, one purely based upon domestic takings and what we're assuming is inflated domestic takings, the other based upon profitability after taking the original budget into account. All figures quoted are in millions of dollars.
Top 20 JW Westerns by Original Box Office Earnings and The Equivalent Today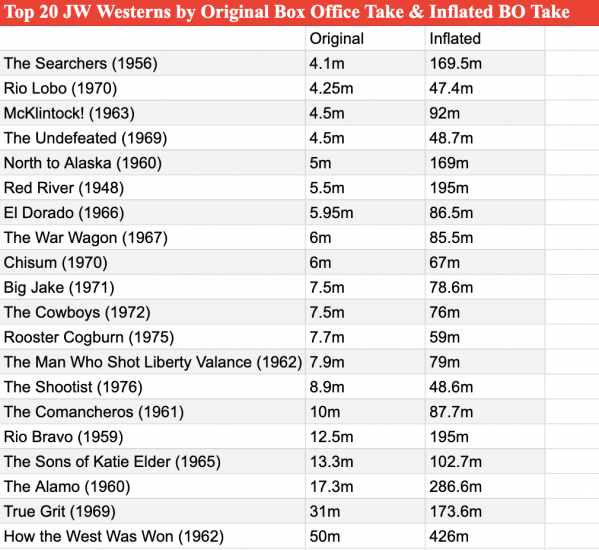 A few things worth pointing out.
Red River sticks out mainly because it's the oldest of the JW Westerns in the list yet still took a huge $5.5m at the box office back in 1948.
I don't think there are too many surprises in the top 10 seeing as there's quite a few of JWs most popular and well-known Westerns present.
If you exclude the top grossing film, "How the West Was Won", on the grounds that it was more of an ensemble effort rather than strictly a John Wayne cowboy movie then "True Grit" takes top box office honours, I guess that shouldn't surprise too many people bearing in mind Wayne finally got the Oscar that had eluded him for so many years.
When comparing the original box office take with the inflated box office data as shown above one needs to take into account the fact that "Red River" for example, was released quite a few years before all of the other titles so it has a few more years of inflation behind it than the other films.
This means that if the list were to be sorted by the inflated box office figures then "Red River" would be in the top four.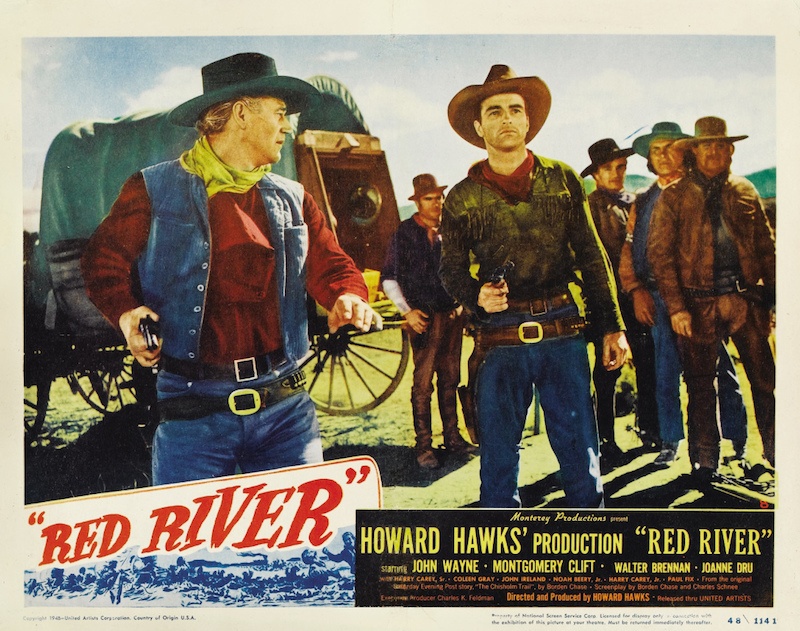 I'd say there's a fair split between the movies he made in the 60s and the 70s bearing in mind he obviously made fewer films in his last decade.
I'm personally glad to see "The Comancheros" in the top ten as I've always maintained it was one of JWs best and the figures back me up both in box office and profitability, as you'll see in the following list.
Top 20 JW Western Movies by Budget and Profitability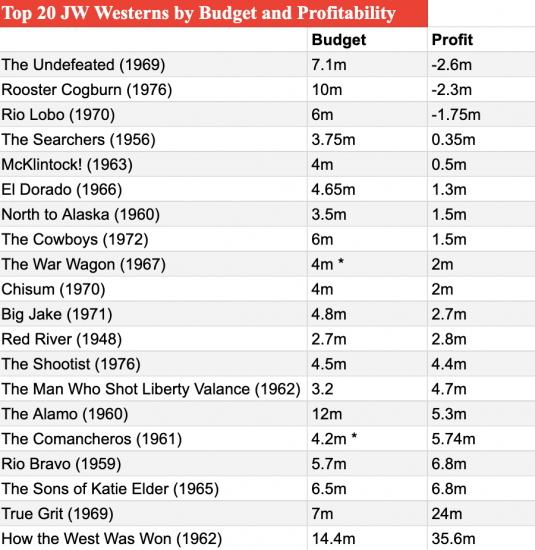 *Estimated
Take a look at how some of the big titles slip down the top twenty once profitability is taken into account. I'm a bit surprised that "Rio Lobo" went into negative figures but not so "The Undefeated" and "Rooster Cogburn". Good to see "Big Jake" just making it into the top ten for profitability as well. "The Alamo" slips down a bit mainly because of the huge budget of 12m. John Ford's late career classic, "The Man Who Shot Liberty Valance" has a pretty good showing in both lists which is helped by quite a low budget of 3.2m.
In the final analysis what can we surmise from these figures? 
The most obvious conclusion is that John Wayne's most popular period, if you're considering both box office and profitability, is the 1960s. 
The fact is he made more Westerns in that decade than he did in the 1950s even if that decade produced two of his finest efforts, "The Searchers" and "Rio Bravo".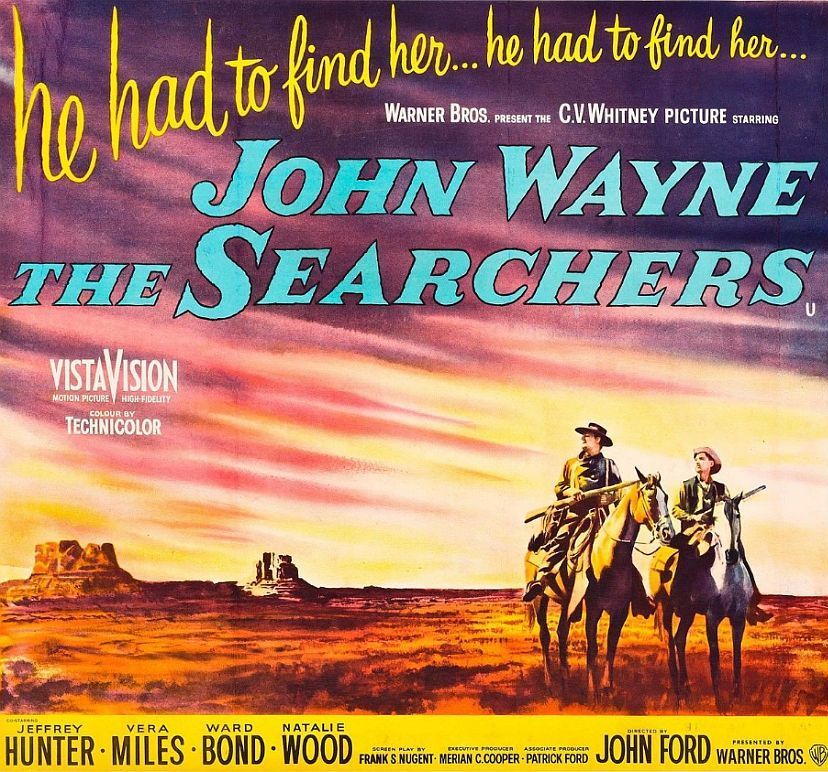 There was quite a bit of research involved in compiling this list from various sources on the internet but that hasn't put us off working on another article for later. Next time around though we'll be taking a look at JWs non-Western top twenty box office instead.