We thought we'd revisit one of our most popular articles which took a look at the subject of John Wayne's female co-stars. This time around we've put together a top ten list based on the number of appearances the lucky ladies made when appearing opposite JW.
Hope you enjoy it.
Joanne Dru – Red River (1948) / She Wore a Yellow Ribbon (1949)
The actress first appeared opposite John Wayne in "Red River", with JW playing ruthless trail leader Thomas Dunson, offering to sire children with her in the manner of a bull mating with a heffer.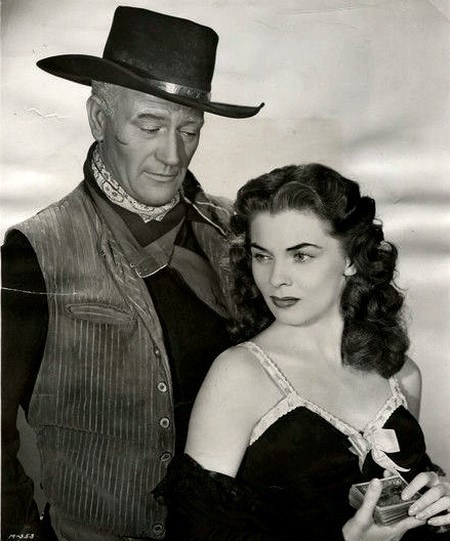 Not surprisingly Dru, as pioneer Tess Millay, spurns Dunson's offer and takes up with Dunson's orphaned friend Matt Garth instead, played by Montgomery Clift.
Our favourite scene in the film with Joanne Dru is when she gets pinioned to a wagon by an arrow through the shoulder but doesn't let on to anyone. A typically stoic Hawksian woman if ever there was one.
A year after the release of "Red River", the actress turned up in "She Wore a Yellow Ribbon", sharing a few scenes with Wayne who plays the ageing Captain Nathan Brittles, whilst Dru is the prevaricating love interest of both John Agar and Harry Carey Jr. Astonishingly she settled for the blank space that is Agar, and that is why Ms. Dru is last in this list.
Donna Reed – They Were Expendable (1946) / Trouble Along the Way (1953)
We're somewhat surprised Donna Reed isn't lauded as much as other actresses of her generation, seeing as she starred in two of the most famous Hollywood classics ever made, "It's A Wonderful Life" and "From Here to Eternity", the latter garnering her a Best Supporting Actress award in 1953.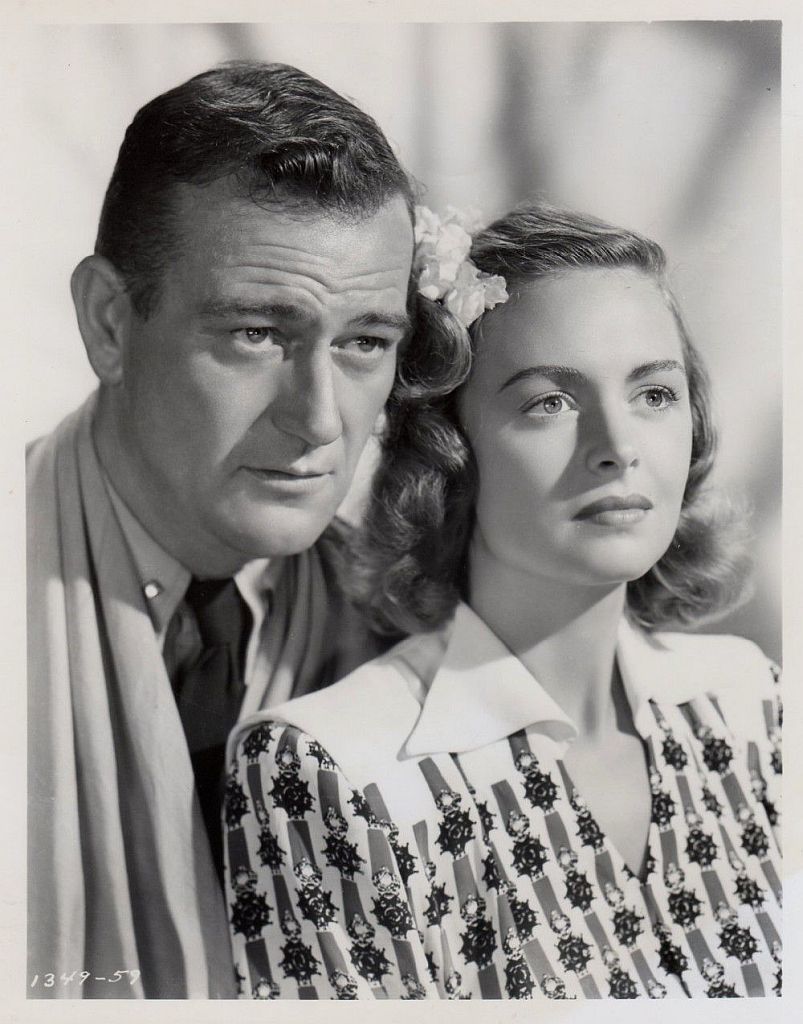 Along with those two films, her understated role as army nurse Sandy Davyss in "They Were Expendable" is also one of her best performances, romancing Wayne (as Lt. "Rusty" Ryan), both knowing their affair is doomed but taking it stoically as only lovers in war can.
Her role in "Trouble Along the Way", as a social worker prepared to split Wayne and his young daughter up, is rather more conventional. It's obvious she and her co-star will end up living happily ever after by the last reel but Reed is always worth watching, no matter what film she is in.
Gail Russell – Angel and the Badman (1947) / Wake of the Red Witch (1948)
Gail Russell was one of the most beautiful of Wayne's co-stars, but alas was also one of the most tragic, dying of alcoholism at the much too young age of 36. She really hit the big time in 1947 when she won the role of the young Quaker girl, Penelope Worth, in "Angel and the Badman", nursing wounded outlaw John Wayne back to health.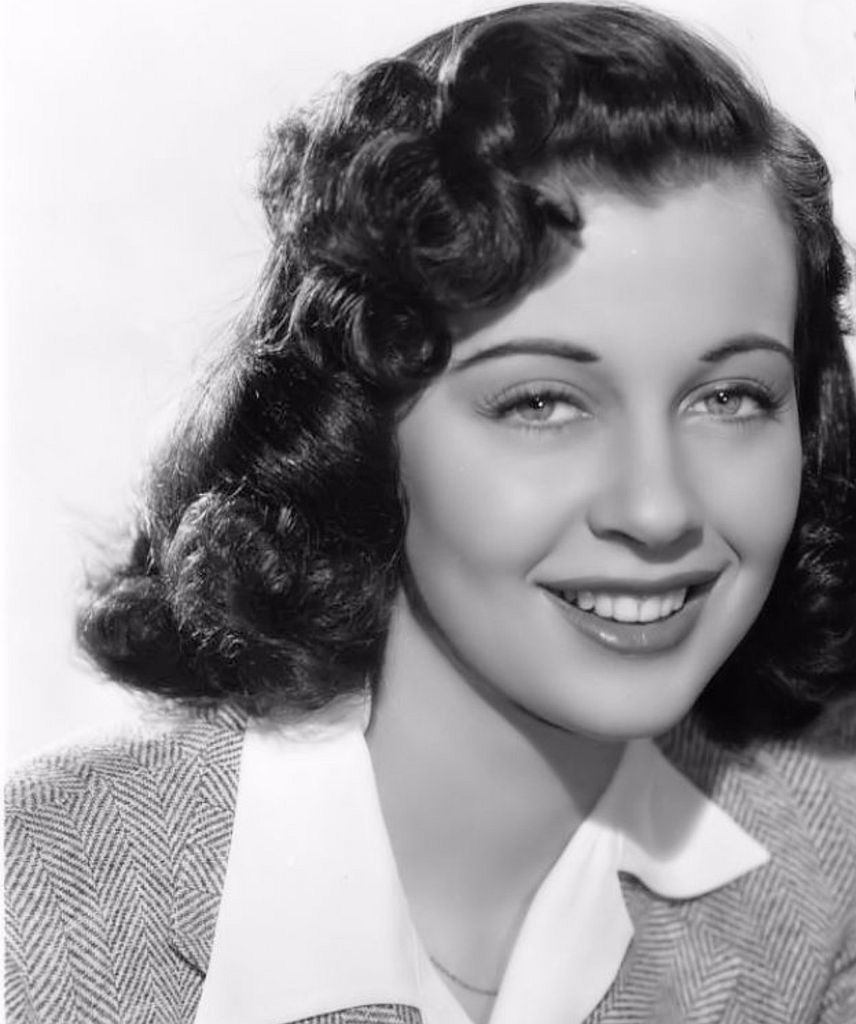 In the film, Russell comes across very well as the beguilingly innocent Quaker's daughter, possessing the acting ability to indicate there was something not so innocent stirring beneath the plethora of petticoats she sported.
A rumour went around that she and co-star Wayne were romantically involved once the camera stopped rolling, but both went to great pains to deny such a scurrilous accusation.
A year later, she teamed up once more with JW as the ill-fated Angelique in "Wake of the Red Witch", her teasing off-the-shoulder costume accentuating her smouldering onscreen appeal.
Her death in the film appears to spur Wayne's character to the point of madness, Duke carelessly throwing his life away and drowning in the last reel as he tries to salvage treasure from the very ship he himself helped to sink, and all for the love of a good woman.
A few years after her career went into decline Wayne, like the good guy he obviously was, threw the actress a career lifeline by giving her a co-starring role opposite Randolph Scott in the Batjac production of "Seven Men From Now".
She held her own amongst a cast that included a number of other later JW co-stars such as Stuart Whitman, Chuck Roberson and a particularly villainous Lee Marvin.
Sadly, her comeback was short-lived and Gail Russell eventually succumbed to the effects of alcoholism at the tender age of thirty-six. Her beauty is, however, forever preserved in her screen work, and especially in the two roles she played opposite John Wayne.
Patricia Neal – Operation Pacific (1951) / In Harm's Way (1965)
Next to Katherine Hepburn, Patricia Neal is probably the most award-laden of all Wayne's female co-stars with Academy, Tony and Global nominations to her name along with a BAFTA for her role opposite Duke in the Preminger war epic "In Harm's Way".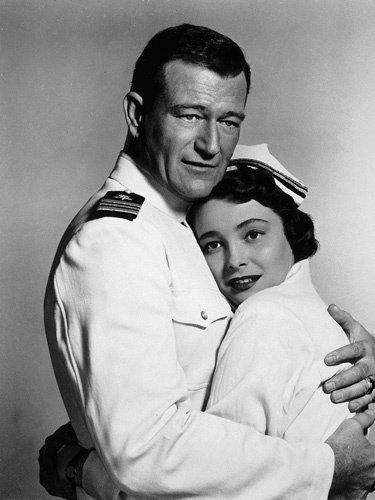 Prior to this, she appeared as Wayne's estranged wife in "Operation Pacific", giving a convincing performance as a Navy Nurse caught between the attentions of Duke as a submarine commander and Phil Cary as an annoying Navy pilot.
She's even better as a Navy Nurse – again – as Wayne's love interest in "In Harm's Way", strangely winning a Bafta award for Best Actress in a Foreign Film. There you have it. Back in the 1960s Americans were categorised as foreigners. Who knew?
Lauren Bacall – Blood Alley (1955) / The Shootist (1976)
Husky of voice and extremely easy on the eye, it was inevitable that Lauren Bacall would end up in the arms of John Wayne sooner or later, onscreen of course, appearing opposite JW for the first time in "Blood Alley".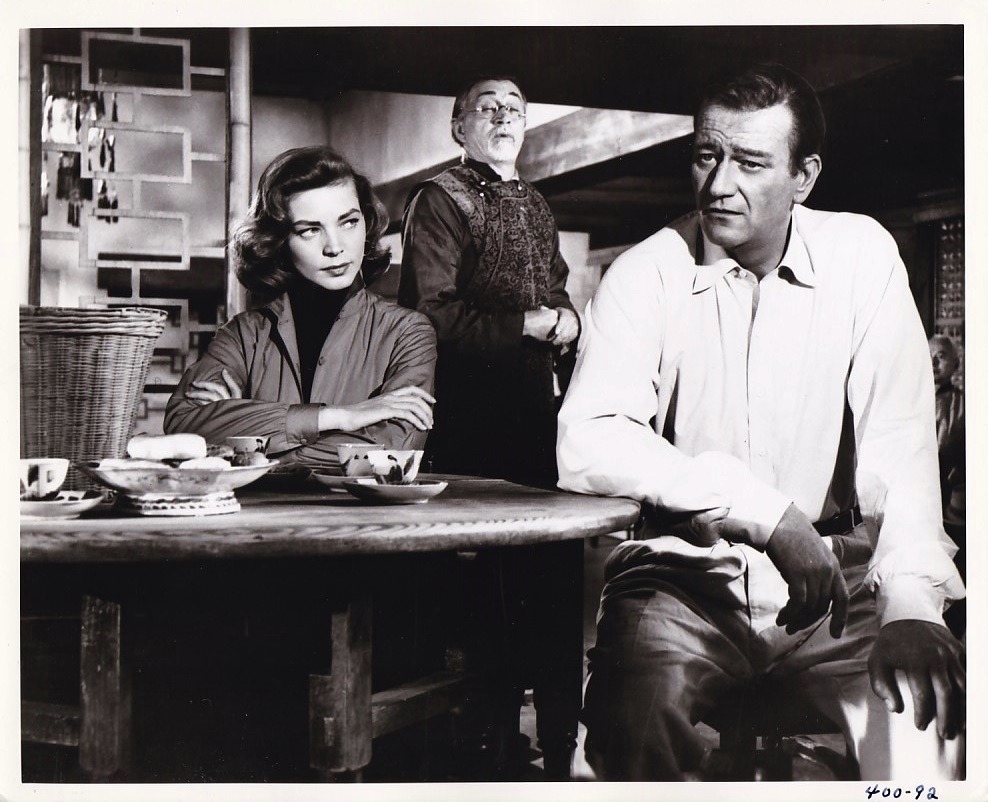 Wayne is in full commie-baiting mode as the captain of a steamer attempting to sneak a group of villagers out of communist-ruled China. On the way, he falls in love with medical missionary Bacall.
Unfortunately, this was another in a line of not-so-successful at the box-office movies that Duke managed to get involved in during the 1950s, along with other titles such as "The Barbarian and the Geisha" and "The Conqueror".
It's probably safe to say that it was her role as the widow Bond Rogers in Wayne's final movie, "The Shootist", that was definitely the better of the two films she appeared in opposite JW.
Although it's obvious she's not playing the love interest in this film, as one of our MostlyWesterns readers puts it, there is a "very strong affection, maybe even a love, that develops between gunfighter J B Books and Bond Rogers.
Book is clearly enjoying her company, and she his. When they go for the picnic, and the last time he leaves her home as they bid goodbye to each other, you know they're thinking that maybe in another time, another place, their friendship might've been different."
Bacall brings a quiet dignity to her role as a single mother attempting to keep her son, played by Ron Howard, who is enthralled by being in the company of a renowned gunslinger, on the straight and narrow.
We think her performance in "The Shootist" has been definitely underrated for far too long so it's time to put that right.
Susan Hayward – Reap the Wild Wind (1942) / The Fighting Seabees (1944) / The Conqueror (1956)
Hayward comes about six places down on the cast list for "Reap the Wild Wind", so her role is not that substantial.
She's just required to scream a lot as she drowns in the hold of a boat that has been scuppered by the dastardly Captain Jack Stuart, a rare villainous role for JW.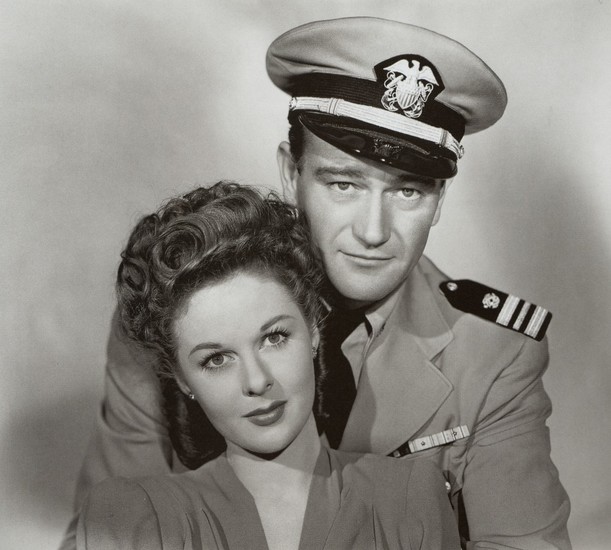 A couple of years later Hayward played opposite JW in "The Fighting Seabees", as a newspaper reporter. Although some of the posters and other promotional materials indicate that she's Duke's love interest, it appears as though her character isn't that interested in Wayne at all.
It's the blindingly boring Naval officer Dennis O'Keefe that she has the hots for, which works out well for everyone when Duke cops it in the climactic battle with the Japanese.
What can we say about "The Conqueror" that hasn't been said already?
It may be the worst film JW ever did but even the worst film has something to redeem it, and the presence of luscious-looking Miss Hayward goes quite a long way in compensating for the shortcomings of this misfired enterprise.
As Duke himself says in the film, 'I feel this Tartar woman is for me, and my blood says, take her'. We guess we'd feel the same way too if we were in Duke's fur-lined boots.
We won't go into the sad history of the fate of numerous members of the cast and crew, including Duke and Susan Hayward, most of whom it is suspected died prematurely due to the film being shot in the Utah desert near where above-ground nuclear weapons had been tested a few years before.
Suffice to say that, for various reasons, "The Conqueror" isn't exactly the most loved of John Wayne's films but Susan Hayward goes a long way towards making the film at least watchable in parts.
Marlene Dietrich – Seven Sinners (1940) / The Spoilers (1942) / Pittsburgh (1942)
It appears to be a matter of public record that Mr. Wayne and Miss Dietrich enjoyed a "meaningful relationship" for nigh on three years whilst Wayne was married to his first wife, Josephine Saenz.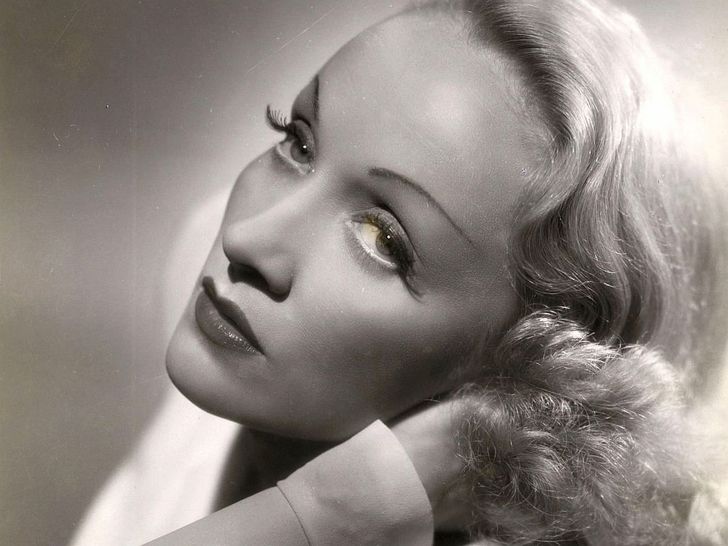 The couple first linked up, onscreen anyway, in "Seven Sinners", a comedy drama romance of sorts in which Dietrich played the improbably named torch singer Bijou Franche. She gets to perform a couple of musical numbers, one in which she indulges her onscreen penchant for cross-dressing, this time as a navy officer.
However, there's no kissing the girls in the audience, as she famously did in "Morocco".
Out of the three films that Dietrich appeared in opposite Wayne we reckon "The Spoilers" is probably the best, mainly because it's a Western with a good old punch up between Wayne and Randolph Scott.
In this one, she gets to play saloon owner Cherry Malotte. JW is third down the cast in a film that occupies much the same territory and story as "North to Alaska".
Wayne's a bit of a heel in this one, playing off one woman against the other, which gives the even-more villainous Randolph Scott, as a fraudulent gold commissioner, a chance to make a play for Marlene's Cherry. Now there's a double-entendre if ever I heard one.
The principal actors from the "The Spoilers" were reunited in "Pittsburgh", a rather heavy-handed saga based around the rise to success of a couple of coal miners, played by Wayne and Scott, who ends up helping the war effort once WWII breaks out.
It's also unintentionally hilarious, especially an early sequence in which Dietrich, dressed to the nines, as usual, helps to lift a huge wooden beam in a mine cave-in.
It turns out she's from a coal mining community as well, which is even more risible in a way. Still, the lady sure did know how to carry herself, even when dolled up for work on the coal face.
Claire Trevor – Stagecoach (1939) / Allegheny Uprising (1939) / Dark Command (1940) / The High and the Mighty (1954)
Claire Trevor qualifies as one of the most frequent leading ladies in the films of John Wayne, managing to get her man in three of the four films she appeared in with him.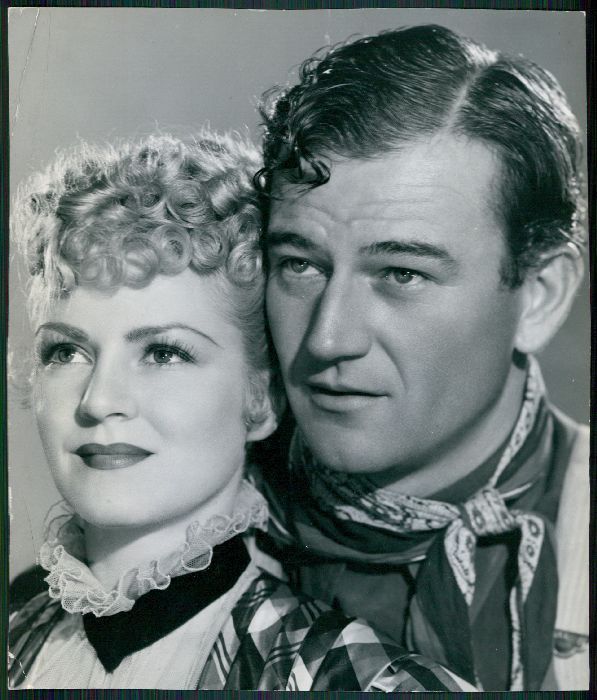 First up, of course, is "Stagecoach", in which she plays lady of the night Dallas, expelled from the town of Tonto for being too free and easy with her favours.
Although billed as the actual star of the film, Trevor is somewhat overshadowed by the rising fame of her co-star, in the role of the Ringo Kid.
That does not in any way diminish her performance in the film, as well as that of the other actors in "Stagecoach" such as Thomas Mitchell, John Carradine and Andy Devine. It's a great ensemble piece with both Wayne and Trevor complementing each other very well.
The billing situation also applies to the second Trevor / Wayne film they made in the same year, "Allegheny Uprising", although by now Wayne is most definitely the star of the show.
Miss Trevor is constantly kept out of the action and line of fire by JW in case she gets killed by the dastardly occupying British Army.
Next up, a year later, was "Dark Command", and damned if Claire Trevor still held bragging rights as the main star. However, it's still Wayne's show even if he isn't the star of it.
The pair met up one last time in "The High and the Mighty", another ensemble piece for which Trevor received her third Academy Award nomination, having won the Oscar for "Key Largo" in 1948. Claire Trevor was undoubtedly Wayne's best female co-star just before he hit the stardom trail in the mid to late 1940s, which is more than enough to place her near the top of our list.
Vera Miles- Rookie of the Year (1955) / The Searchers (1956) / The Man Who Shot Liberty Valance (1962) / The Green Berets (1968) / Hellfighters (1968)
Vera Miles is best known in the JW world for her role as Laurie Jorgenson in "The Searchers", the long-suffering girlfriend of Martin Pawley (Jeffrey Hunter), who leaves home to accompany JW on a five-year odyssey to help rescue the niece of Ethan Edwards from the Comanche chief Scar.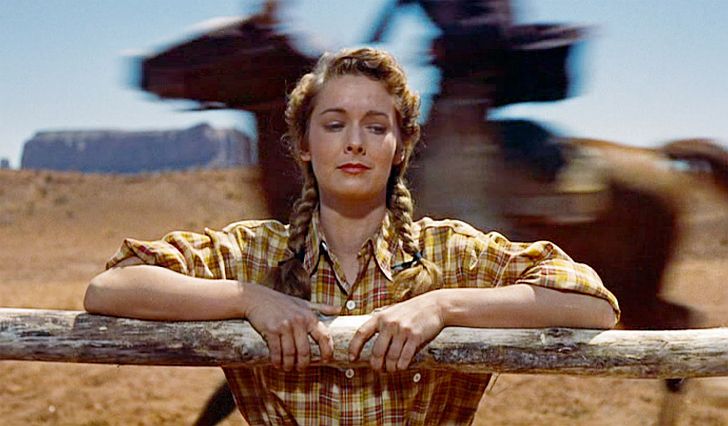 The actress had a much more robust role in "The Man Who Shot Liberty Valance" as Hallie Stoddard, forsaking Wayne's character, Tom Doniphon, for the more reserved, and by dint of having arrived from the East, civilised lawyer Ransom Stoddard, played by James Stewart.
It's only revealed right at the end of the film that Hallie did, in fact, love Tom Doniphon all along, taking home on the train the cactus rose that had been placed on his funeral casket.
Vera finally gets her man – sort of – in "Hellfighters", playing opposite Duke as the ex-wife of Chance Buckman, a character apparently based upon real-life oil-well firefighter Red Adair.
By the end of the movie, they realise they can't live without each other and everyone lives happily ever after. It's just a bit of a shame that her role didn't really give the actress enough opportunity to make that much of an impression in the film.
She also appeared in two other Wayne related productions, including "Rookie of the Year", a 30-minute TV movie directed by John Ford a year before she appeared in "The Searchers", with Wayne playing a sports reporter.
The actress was also cast as Duke's wife in "The Green Berets", and in a fair world she would tie with Maureen O'Hara for the number of times she appeared in a JW associated production, but unfortunately for Vera her scenes ended up on the cutting-room floor. In a list such as this though, there's no shame in coming second.
Maureen O Hara – Rio Grande (1950) / The Quiet Man (1952) / The Wings of Eagles (1957) / McLintock! (1963) / Big Jake (1971)
No prizes for guessing who occupies the number one slot in Wayne's list of leading ladies with whom he appeared with the most.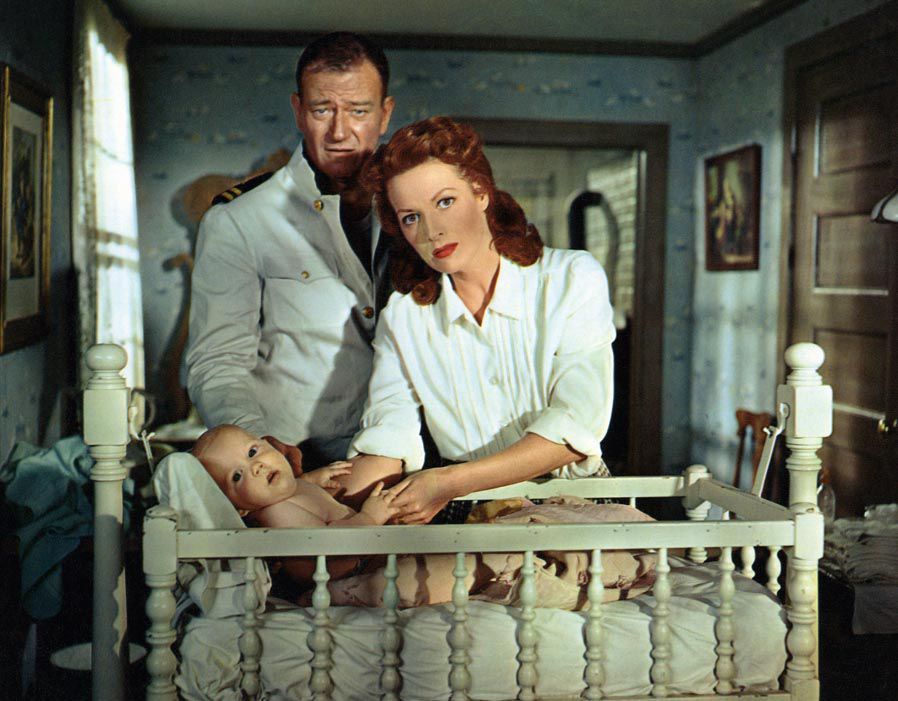 Maureen O Hara, once described, appropriately, as 'illegally beautiful', was also a very good actress and more than capable of holding her own onscreen opposite Wayne. Their first pairing was in John Ford's cavalry movie, "Rio Grande", in which O'Hara played the estranged wife of JW, here playing Capt. Kirby Yorke.
The couple are separated by the fact that Yorke fought for the North during the Civil War, whilst his wife owned a plantation in the South, which is always a recipe for disaster.
O'Hara's most enduring role opposite John Wayne is of course as Mary Kate Danaher in "The Quiet Man", the sparks that fly from their on-off romance in the film a real joy to behold.
It does seem to be Maureen O'Hara's lot though that the course of love with JW in all of the films she made with him never runs smooth.
In "The Quiet Man', even though the couple marry about halfway through the film, they still become estranged for a while until Wayne proves his love by whupping Mary Kate's thuggish brother-in-law, Red Will, played by Victor McLaglen.
The theme of estrangement also runs through "The Wings of Eagles", in which O'Hara plays the divorced wife of real-life script-writer Spig Wead.
It's a rare Wayne / Ford misfire, although O'Hara gets to share a few emotional scenes with her onscreen husband, but her character just kind of disappears from the story before the film reaches the end.
In "McLintock!", loosely based upon Shakespeare's "Taming of the Shrew", O'Hara and Wayne again start off as a broken couple until Wayne proves his love once more, this time by giving O'Hara a whupping instead.
The sexual politics of the film is not going to gain too many brownie points from feminists and the politically correct brigade of today, but back in the less enlightened early 1960s no doubt it was probably considered good clean fun.
In her last role opposite Wayne, "Big Jake", Maureen O'Hara's was cast yet again as the estranged wife, hiring her ex-husband to help retrieve their kidnapped grandson.
Her screen time doesn't add too much in the scheme of things but it was good to see the sparks still flying between the pair over two decades since they first appeared together in "Rio Grande".
Maureen O'Hara and John Wayne's popular screen partnership is up there with the likes of Hepburn and Tracy and Bogart and Bacall. Long may it continue to endure for many years to come.
You can read the original John Wayne's Leading Ladies.
More John Wayne Female Movie Co-Stars
Here's another addendum to one of the most popular articles on the subject of John Wayne's female co-stars.
Joan Blondell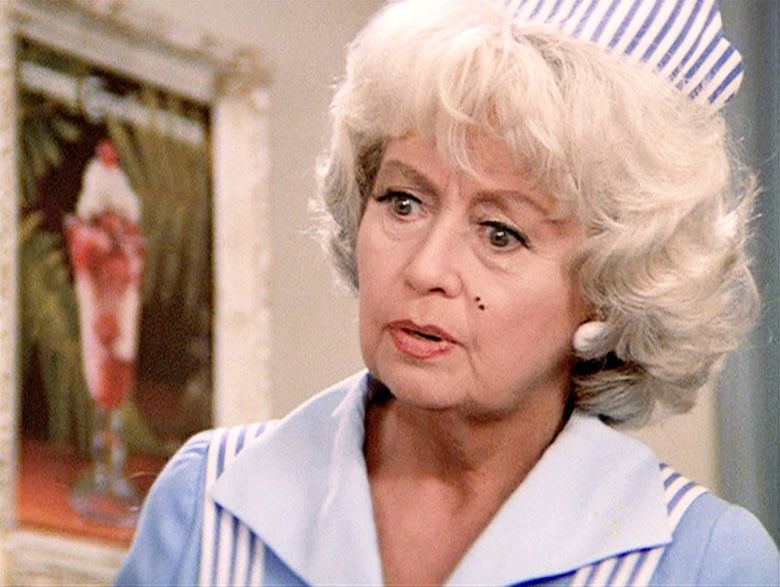 Joan Blondell will be recognised by some baby boomer cinemagoers for her cameo role as Vi, head waitress of the Frosty Palace in the hugely successful 1978 musical "Grease", but she had a few more impressive roles during a career that lasted for just over half a century. Born to a couple of vaudeville entertainers Blondell landed her first motion picture role in the romantic drama "The Office Wife", released by Warner Brothers in 1930. Under contract to the studio the actress climbed from bit-player to star over a period of just a couple of years, winning plaudits for her portrayal of singer Carol King (not that one) in the depression-era musical "Gold Diggers of 1933" in which she delivered a memorable performance of the mournful song "Remember My Forgotten Man".
She appeared in a variety of musicals, comedies and dramas for Warner Bros throughout the rest of the 30s, notching up four films with co-star James Cagney including the pre-code movies "The Public Enemy" and "Blonde Crazy".
Striking out on her own once her contract ended with the studio in 1939, the actress took on star roles in the comedy "Three Girls About Town" and then took the leading role in the drama "Lady for a Night" with John Wayne second in the cast as gambler and reprobate Jack Morgan, intent on ensuring that the light of his life, played by Blondell, is accepted into polite society. 
Blondell found herself in the august company of director Elia Kazan in the 1945 adaptation of the famous novel "A Tree Grows in Brooklyn" with the actress cast as one of the main characters, Aunt Sissy. Taking time out from the big screen in 1948 she trod the boards in musical theatre as well as reprising her role as Aunt Sissy in a touring version of the film.
In 1951 she returned with a bang and a nomination for Best Supporting Actress as a fading actress in the drama "The Blue Veil" although there was a five year break from acting before returning in the mid-1950s with supporting roles in the Tracy / Hepburn comedy "Desk Set" and "Will Success Spoil Rock Hunter?" which took a satirical swipe at the burgeoning influence of TV in America.
Combining movies as well as TV appearances in the 1960s in shows such as "The Untouchables" and "Bonanza" Blondell appeared in the Steve McQueen depression era drama "The Cincinnati Kid" for which the actress won a Golden Globe nomination for Best Actress. She also had a lucky escape the same year when she and Lucille Ball didn't see eye-to-eye when it came to replacing Vivian Vance as Ball's sidekick in "The Lucy Show".
Her TV and motion picture career continued for the next fifteen years with cameo / bit part roles in the Presley vehicle "Stay Away Joe", "Support Your Local Gunfighter" and the aforementioned appearance in "Grease" in 1978.
Joan Blondell died at the age of 73 on Christmas Day 1979.
Jennifer Jones
Phylis Isley aka actress Jennifer Jones made her film debut under her real name in 1939, starring opposite John Wayne in "The New Frontier". The film, in which Duke played Stony Brooke, is the last time he would appear as one of the Three Mesquiteers film, Jones playing settler Celia Braddock who falls for the charms of JW.
Having put aside her acting career for a few years to concentrate on her family, Jones landed the title role of the religious melodrama "The Song of Bernadette" in 1943 and, in only the third film she ever appeared in, walked away with a Best Actress Oscar. The following year, having now struck up a working and personal relationship with producer David O. Selznick of "Gone With The Wind" fame, Jones won a second nomination, this time for Best Supporting Actress in the WWII home front melodrama "Since You Went Away".
Her run of nominated roles continued in 1946 when she starred in "Love Letters", a film noir in which she played opposite Joseph Cotton and for which she received yet another Best Actress Nomination. The accolades continued into the following year when Jones was nominated for her portrayal of dusky half-Native American Pearl Chavez in the epic Western "Duel in the Sun" – or "Lust in the Dust" as it was famously dubbed by critics at the time.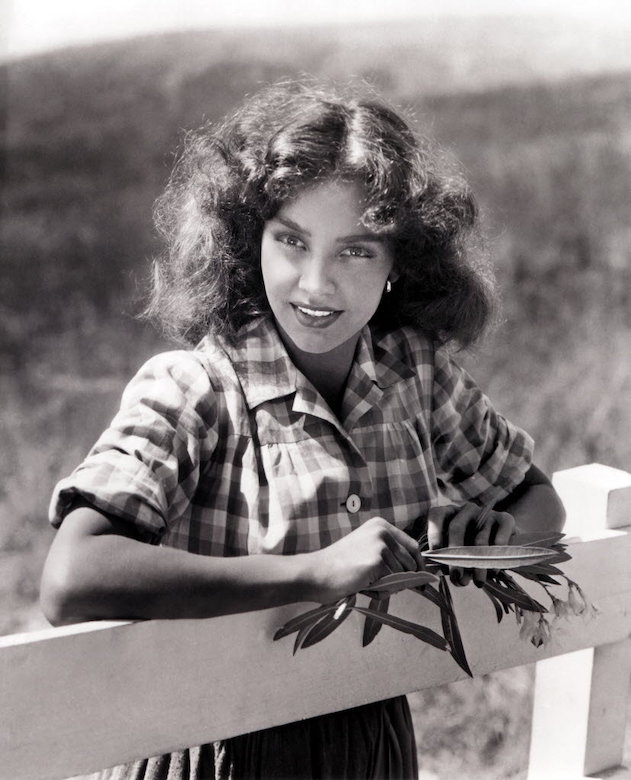 The role of devil-may-care Lewt McCanles, played by Gregory Peck, was supposedly offered to John Wayne at one point, although it was mooted the role of Pearl would have been taken by Hedy Lamarr.
Her box-office appeal continued over the next decade, starring in popular movies such as "Portrait of Jennie" and "Ruby Gentry". In 1956 she played yet another non-American role, that of Asian doctor Han Suyen in the hugely popular romance "Love Is A Many-Splendored Thing" opposite William Holden. It should come as no surprise that the actress walked away with yet another nomination for Best Actress.
After such a great run of box-office hits and the almost non-stop acting nominations, it all had to end sometime and it did when Jones starred opposite Rock Hudson in the 1957 remake of the WWI movie "A Farewell to Arms", based upon the novel by Ernest Hemingway and produced by David O' Selznick to whom Jones was now married. Whilst not exactly a box-office disaster the film attracted a lot of criticism for what some suspected as nepotism on behalf of Selznick for casting his wife in the main role of nurse Catherine Barklay, a character supposedly half the age of Jones.
After "A Farewell To Arms" the actress made only a further four appearances on the big screen before retiring for good. Her last film, however, gave her the opportunity to literally bow out in a blaze of glory, playing one of the doomed occupants of "The Towering Inferno" who falls to her death after being catapulted out of a broken elevator. It wasn't all bad news though seeing as she was nominated for a Golden Globe award for Best Supporting Actress.
Sheree North
Actress Dawn Shirley Crang aka Sheree North started her movie career in the Red Skelton comedy film "Excuse My Dust", released in 1951. As a supporting actress, she appeared in a number of films including the Dean Martin / Jerry Lewis movie "Living It Up" as a jitterbug dancer, after which 20th Century Fox signed her to a contract in 1954.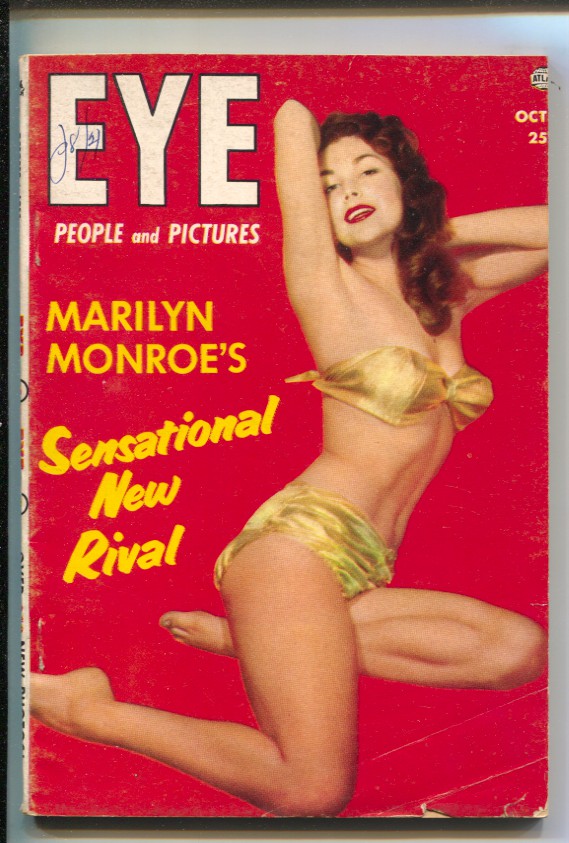 The studio considered her as a replacement for the occasionally unreliable Marilyn Monroe, offering the actress roles in two of Monroe's films, eventually replacing her in "How To Be Very Very Popular", a comedy in which she found herself second in the cast to Betty Grable, although the publicity materials might suggest Fox thought North might be the star rather than Grable. Her solo dance routine to the song "Shake, Rattle and Roll" was lauded at the time as one of the highlights of the film.
North was able to showcase her dancing skills in a couple of other Fox musicals such as "The Best Things In Life Are Free" and "Mardi Gras", which also starred Pat Boone, but after that her contract expired, leaving North to guest star in TV shows such as "The Untouchables", "Gunsmoke" and "Ben Casey". It would be another eight years before she got the chance to appear in a movie once more, finding herself further down the cast in films such as "Madigan", the Elvis Presley musical "The Trouble With Girls" and "Charley Varrick" in which she appeared opposite Walter Matthau.
In 1976 the actress was cast in the role of Serepta, a former girlfriend of gunfighter J.B. Books in John Wayne's last film "The Shootist", which also happened to be the third of four films she appeared in for director Don Siegel. North was very effective in a relatively short cameo role, attempting to persuade Books to marry her in order that she could benefit from the publication of a book on his former exploits. When the dying gunfighter makes it clear he doesn't want to be remembered "for a pack of lies", adding "a man should be allowed his dignity", Serepta reveals herself not to be the woman he loved all those years before, her last words to him being "I hope you rot to death".
During this period North clocked up appearances in numerous TV shows such as "Kojak" and "The Mary Tyler Moore Show", in the latter playing the girlfriend of Lou Grant in a couple of episodes. When her film career stalled once more, this time for nearly a decade, the actress found work mainly on TV right up until the late 90s, making her final appearance on the small screen in two episodes of "Seinfeld". Her last big screen role was in the comedy "Susan's Plan", released in 1998 and directed by John Landis.
Stefanie Powers
Actress and singer Stefania Zofya Paul aka Stefanie Powers is best remembered for her role as April Dancer in the TV show "The Girl from U.N.C.L.E.".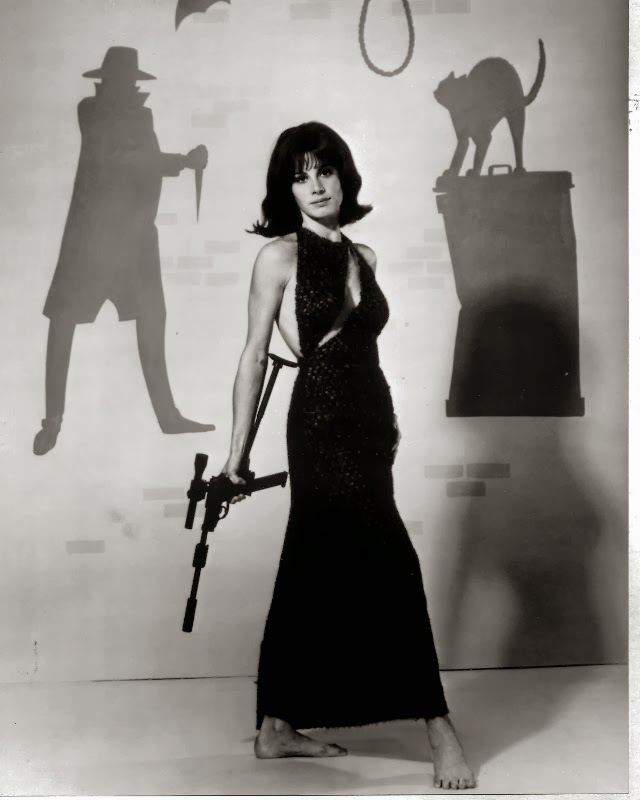 Prior to this, she made her motion picture debut in "Tammy Tell Me True", released in 1961. She took on a number of supporting roles over the next couple of years before finding herself cast as John Wayne's daughter Becky in the Western "McLintock!". Stefanie gets to duet with Jerry Van Dyke and show off her singing talents as well as her horse-riding skills, honed after being raised on a ranch as a child.
Having paid her TV internship dues early in her career with appearances in "Bat Masterson" and "Bonanza", the actress was cast in the aforementioned "Girl from U.N.C.L.E" series in 1966, the series running for just one season and 29 episodes. In the same year, back on the big screen she inherited the role of expectant mother Lucy Mallory in the remake of "Stagecoach", featuring alongside an all-star cast including Bing Crosby, Ann-Margret and newcomer Alex Cord as the Ringo Kid.
Shifting back and forth between the big screen and TV Stefanie notched up guest star roles in the 1970s in "McCloud" and "The Rockford Files" to name just a few. Well-deserved international fame finally came her way when she was cast opposite Robert Wagner in the popular TV series "Hart to Hart". The couple played married detectives Jonathan and Jennifer, the show running for four years and eighty-eight episodes, with a further series and eight TV movies following on in the 1990s. During the original run of "Hart to Hart," the actress garnered numerous Emmy and Golden Globe nominations for her role in the highly popular series.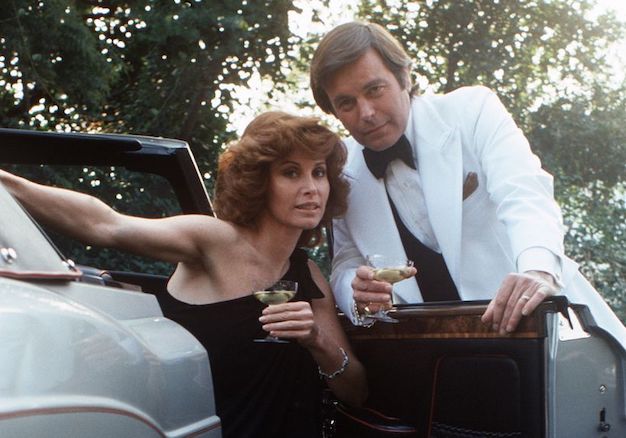 The actress's film and TV appearances began to slowly trail off as she threw herself into animal conservation work, inspired by the actor William Holden whom she dated for a number of years until his death in 1981. Powers made her last appearance on TV in the small screen movie "Love by the Book" in 2015. Her most recent big screen movie to date is "The Artists Wife", released in 2020.
She maintained the singing aspect of her career throughout the years, appearing in the London West End in the musical "Matador" in 1991 as well as touring later on in other musical productions including "The King and I" and "Applause". In 2003 she released her debut album "On the Same Page" in which Stefanie delivered her interpretation of American songbook classics such as "They All Laughed" and "Ten Cents A Dance".
Kim Darby
Actress Kim Darby got her big movie break when she won the role of the plucky and determined Mattie Ross opposite John Wayne in his Oscar-winning role as the one-eyed Marshall Rooster Cogburn in "True Grit". According to certain sources, it appears that director Henry Hathaway gave her a hard time during production and Wayne himself was supposedly not too happy with Darby's performance, but she certainly holds her own against JW onscreen.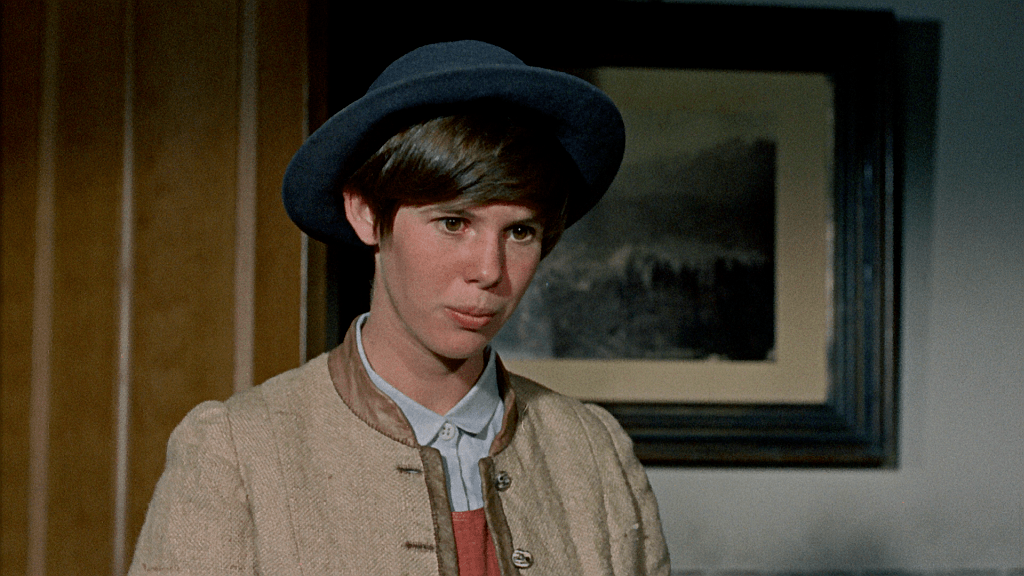 Prior to this, the young actress had already made a name for herself on the small screen, most notably playing the title role in an episode of "Star Trek" entitled "Miri". Her other TV appearances included stints on shows such as "The Man From U.N.C.L.E." and "Gunsmoke", in the latter starring alongside her first husband James Stacy of "Lancer" fame.
Darby went on to appear with her "True Grit" co-star Glen Campbell in "Norwood" as well as a high-profile role in the counter-culture movie "The Strawberry Statement", although neither of these films matched the popularity of the JW film at the time. Her role as Barbara Blandish in the gangster thriller "The Grissom Gang", an adaptation of the novel "No Orchids for Miss Blandish" required the actress to play a character somewhat more mature than the other roles she had played up until that point, Blandish having to succumb to the advances of her kidnapper in order to stay alive. Movie critic Roger Ebert maintained that the film was more of a "Gothic horror film" in which director Robert Aldrich, of "The Dirty Dozen" and "Ulzana's Raid" fame, exercised his "fine sense of depraved melodrama". After this Darby found herself consigned mainly to TV movies including the well-received horror film "Don't Be Afraid of the Dark".