John Wayne's Memorable Movie 'Magic Moments'
Back in the days before DVDs and YouTube I used to try to capture on VHS tape from the TV what I considered to be those 'magic moments' in a John Wayne movie when Duke gets to express himself either with a memorable speech, or a silent gesture, a piece of dialogue or a casual look that just stops you in your tracks and says 'yep. That's John Wayne alright'.
I thought I'd share some of the contents of that long-lost VHS tape.
There's invariably more than one example of a memorable moment in a John Wayne film worth highlighting but I'm choosing the one that impresses me the most. 
I don't have any particular favourite 'moment' so they're not in any specific order of preference, but they're all John Wayne, and that's good enough for me.

Red River
A lot of people have pointed out the almost balletic movement of Wayne's body when he shoots Cherry Valance prior to the climactic showdown between Dunson and his adopted son Matt in Red River.
It's all done in one take, so no cutting away or cheating with an edit by Howard Hawks in this sequence.
Valance calls Dunson out, Dunson just keeps on walking then pulls his gun, swivels, shoots Valance, gets hit with a bullet himself, grabs his side then turns and continues marching towards the man who took his herd away from him.
Pure Perfection.
The Quiet Man
Somewhere in a field in Ireland, just a few miles outside of the village of Cong in County Mayo, there still lies the remains of a stone wall that momentarily bore the weight of the great man himself.
After an argument, a very angry Sean Thornton has been abandoned by his wife, Mary Kate, and is left to walk a long way home.
He strides across a field, straddles the wall, then lights a cigarette. He takes a puff or two then, after a silent moment of contemplation, Thornton discards the barely-smoked object behind him with a dramatic sweep of his arms then carries on trudging across the field.
The small interlude on the wall with the cigarette serves to dissipate his anger, and Wayne signals that moment to the audience just by movement, body language and gesture alone.
Even so, I still wouldn't have wanted to be in Kate's shoes when he got home – although cross-dressing isn't exactly my cup of tea.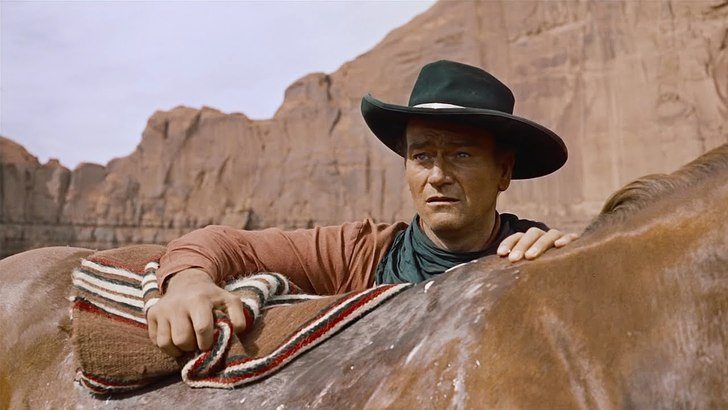 The Searchers
I could have made numerous observations on the gestures and silent facial expressions that Wayne utilises to communicate the emotional turmoil lurking just beneath the surface of Ethan Edwards.
But I pick this moment in the film because it signifies the point where life is never going to be the same for him again.
Ethan and his fellow compatriots have been lured away in pursuit of a stolen herd of cattle whilst Scar and his Comanche warriors attack the unprotected homesteads the men have left behind.
Whilst everyone rushes back to check on the fate of their loved ones, Ethan stops to tend to his horse first to make sure the animal can make the return journey.
As he wipes the animal down he looks sorrowfully off into the distance, both he and the audience knowing instinctively that he will be too late to save his brother's family.

The Alamo
Wayne as Crockett expends a lot of energy trying to convince his fellow Tennesseans that standing up to Santa Anna is the right thing to do, going so far as faking a letter from the Mexican despot himself in which he threatens to 'chastise' the defenders 'even unto death'.
Despite Crockett's protestations that he actually wrote the letter his men still decide to throw their lot in.
Later on a decision is made to leave the mission but Bowie backtracks and stands tall with Travis behind 'the line in the sand'.
It's at this moment that there's a refreshingly honest and quite believable reaction by Wayne as he sits on his horse, not realising that his men have already started to dismount in order to join Travis.
He looks to either side of him in complete surprise as he finds himself almost the last to dismount and stay with his men – 'even unto death'.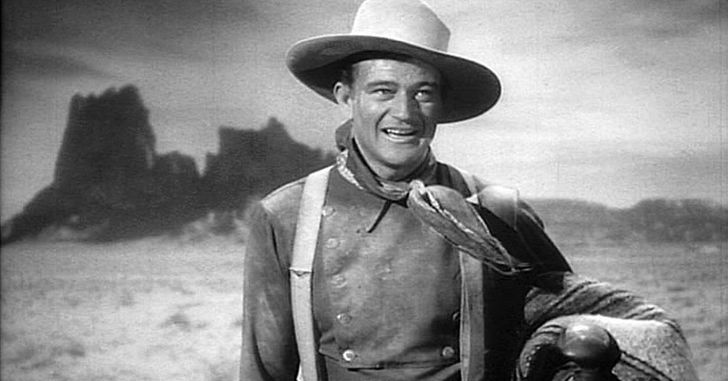 Stagecoach
The Ringo Kid emerges from the darkness, Winchester in hand, as he slowly moves towards a final confrontation with the Plummer Gang.
You can tell he's in no hurry as he waits to pick his moment.
There is no hesitation in his stride as he moves purposefully down the street of Lourdsburg, almost as if he relishes stalking the three men who killed his brother.
Ringo continues towards the gang then, bending his left knee, suddenly throws himself forward, firing even before he hits the ground. All it takes is three shots.
Justice has been served in true John Wayne style.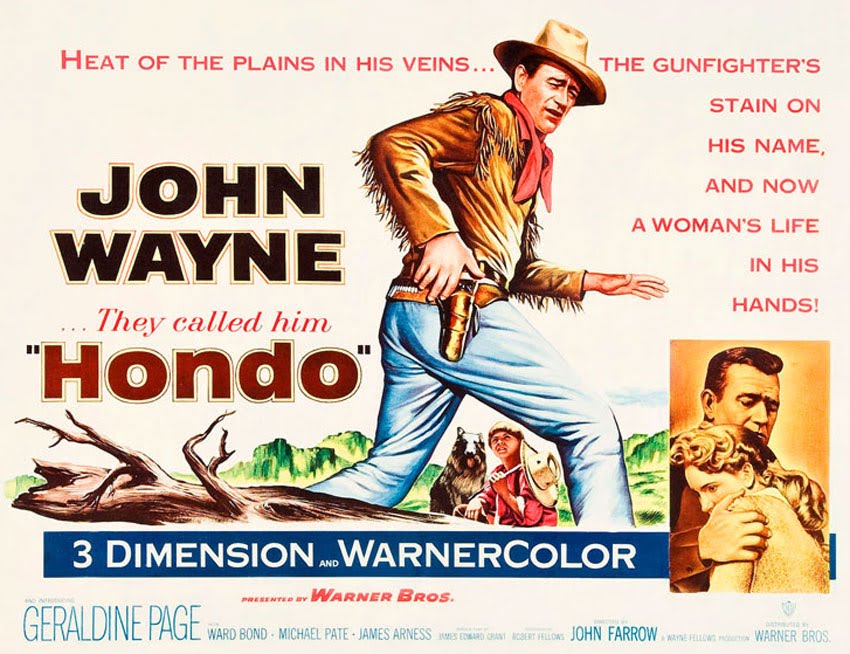 Hondo
The post-credit sequence to Hondo is very similar to the beginning of The Searchers, with Wayne appearing from out of the landscape as if from nowhere, then slowly moving towards a lonely cabin under the close observation of the woman of the house.
This time, however, JW isn't on horseback.
He's carrying his saddle and accompanied by a dog but there's a majesty to the way in which Wayne walks out of the desert towards the camera, an effect heightened for audiences who saw the film in 3D upon it's first release in 1953.
No words are required. All you need to know is that he's here to make things right, even if he does think a woman's place is in the kitchen.
Rio Bravo
I don't know if Duke ever studied at the Bolshoi ballet company, or if it was just Howard Hawks who encouraged our boy to bust some moves
But the way he smacks Job Burdette (Claude Akins) across the face with his rifle in Rio Bravo is almost as balletic as when he guns Cherry Valance down in Red River.
Having just been clumped by Dude (Dean Martin) in the previous scene, John T. Chance  (JW)  is in no mood to take prisoners.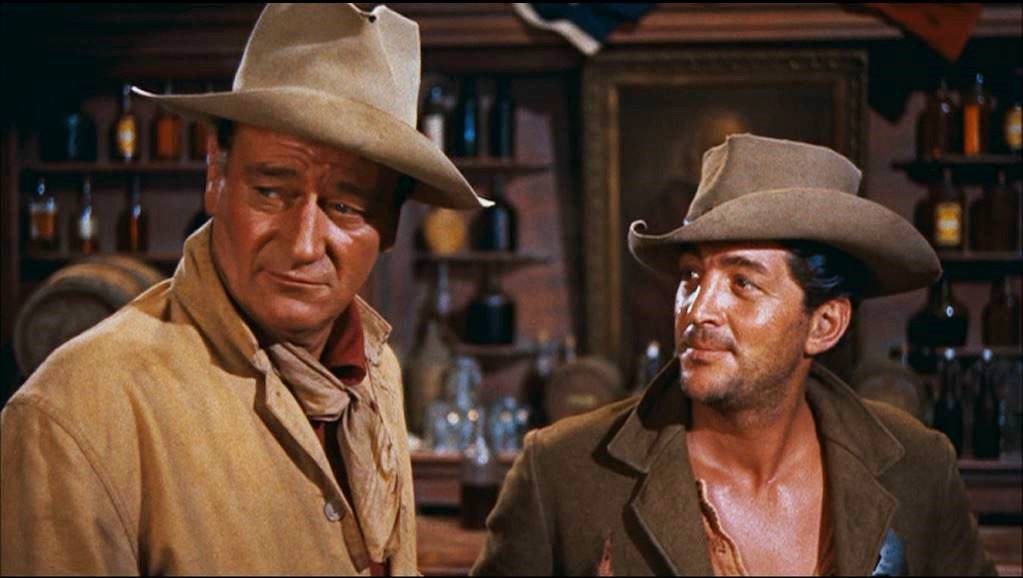 You just know he's aching to smack someone in the chops, and unfortunately for Burdette he's the victim of choice.
Goaded on by Dude, Chance swipes Joe with his rifle then, and this is the icing on the cake, literally pirouettes as he performs a graceful 360 degree turn, following the momentum of the weapon in his hands, as the man with the dented face crumples to the ground.
In reality Burdette suffers the full force of Chance's anger at Dude – but who ever said life was fair?
Coming soon – part 2 of this article in which we consider some of John Wayne's memorable magic verbal moments.