As I said quite a while back when tackling the subject of John Wayne's male co-stars, "I'm sure you're all going to have your own opinion on who did or didn't make it onto this list.
It's given me food for thought as well, so I'm going to take a closer look at some of Duke's other co-stars at a later date, both male and female. Let's not forget JW's leading ladies.
In the meantime, I hope you'll enjoy reading this article as much I enjoyed writing it."
I never break a promise so here goes with the first of a two-part addition to the earlier article featuring another ten male co-stars listed chronologically in terms of when they first appeared in a JW movie.
I'll get around to more female co-stars later in the New year.
Harry Carey Senior
Carey Senior was a famous silent cowboy movie star even before he teamed up with director John 'Jack' Ford to make a series of films, most of them Westerns, between 1917 to 1921. John Ford is quoted as saying that the actor, 'tutored me in the early years.
I learned a great deal from Harry Carey'. The director and Carey established a relationship that would serve as a template for Ford's later partnerships with actors such as Henry Fonda and John Wayne, with Carey embodying the archetypal 'good bad man' character that featured in Ford's later films.
Ford and Carey first worked together in 1917 on "The Soul Herder". By the time they made their last silent film together, "Desperate Trails" in 1921, they had collaborated on twenty-five known titles, the majority with Carey as a recurring character called Cheyenne Harry.
After their partnership ended Carey would not work with Ford again until he was cast as the commander of Fort Jefferson in "The Prisoner of Shark Island" in 1936.
Carey had a huge hit at the beginning of the thirties with "Trader Horn" and settled into a series of supporting roles which included the Frank Capra classic "Mister Smith Goes to Washington", for which he was nominated for a Best Supporting Actor Academy award.
In the 1940s Carey and John Wayne finally crossed paths with him playing JWs father in "The Shepherd of the Hills" in which Harry gets to gun Duke down, although not fatally.
They also appeared together in "The Spoilers", a film famous for the fistfight between Wayne and Randolph Scott.
It also features an ill-advised sequence in which JW, Carey and a couple of other gold miners black up in order to steal back their own money, a scene that would most definitely not make the cut in our more enlightened times.
They appeared together in two more films, "Angel and the Badman" and "Red River", the latter also featuring his son, Harry 'Dobe' Carey Jr., although they didn't get to share any scenes together.
After Carey Senior passed away in 1947 John Ford paid a poignant tribute to his old pal at the beginning of "3 Godfathers" in which his son Dobe worked with Ford for the first time.
The director filmed a short scene in which Cliff Lyons, a stuntman who went on to work as an assistant director on "The Alamo", doubled for Dobe's dad, sat astride Carey Senior's favourite horse, Sonny.
The film is 'Dedicated to Harry Carey, a bright star in the early Western sky".
Wayne was once quoted as saying that Harry Carey taught him everything he knew and to show that appreciation he famously clutched his lower right arm in his left hand at the end of "The Searchers", the gesture a tribute to Carey who was known to adopt the same pose in his early films.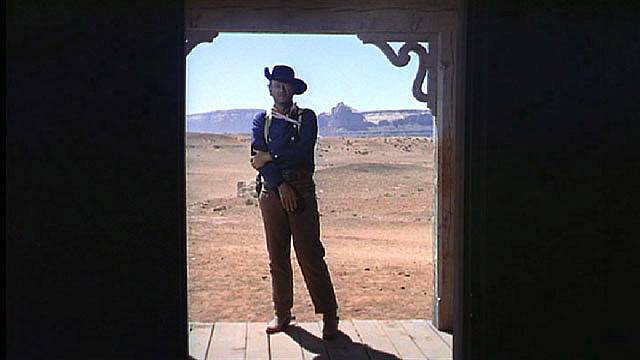 Just to keep it all in the family, Wayne does this just as Carey's widow, Olive, playing Harry Carey Junior's mother in the same film, walks off-camera into the darkened cabin.
Anthony Quinn
Mexican-American actor Anthony Quinn, or Antonio Rodolfo Quinn Oaxaca as he was known to his friends, appeared in two John Wayne movies, "Back to Bataan" and "Tycoon".
In the former film Quinn, a man of many faces but only one accent, played a Filipino resistance fighter who went by the elegant name of Captain Andrés Bonifacio.
In "Tycoon" he played a character by the name of Ricky Vegas, a name that suggests someone who could never be trusted, and Anthony Quinn as the man in question doesn't disappoint, refusing to line the tunnel being dug in the mountains with concrete which leads to even more death and destruction.
The actor played a myriad of different ethnic roles in an amazing movie career that ran for over 60 years, in the process winning two Oscars in the Best Supporting Actor category, one for his role as Mexican revolutionary Eufemio Zapata in "Viva Zapata!" released in 1952, and as French painter Paul Gaugin in "Lust for Life", released in 1956.
If ever an actor deserved an award for the most cultural appropriations onscreen then Quinn would be the main contender. His most famous role would probably be as "Zorba the Greek", for which he was nominated as Best Actor in 1964.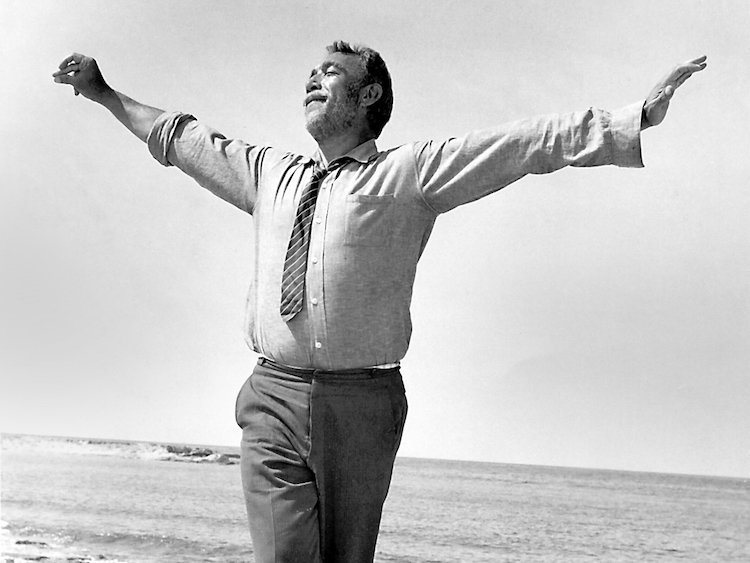 He is so closely associated with the part that over the years a lot of the characters Quinn played would sometimes be referred to as Zorba as in Zorba the Arab in "Lawrence of Arabia", Zorba the Greek Resistance Fighter in "The Guns of Navarone" and Zorba the Pirate in "A High Wind in Jamaica".
Quinn's ability to take on almost any kind of ethnic role lead him to one of his best-known performances as circus strongman Zampano in "La Strada", released in 1954 and directed by lauded Italian director Federico Fellini.
It also meant that the actor was never really associated with one particular type of movie, his acting CV covering multiple genres including sword and sandal peplum movies, Biblical epics, Westerns, gangster films and even a musical, "Cavalieri Rusticana" in which his voice was dubbed by opera singer Tito Gobi.
Footnote: Certain sources maintain that the actor served as inspiration for the Bob Dylan song "Mighty Quinn", the singer having caught Quinn's appearance as Inuk the Inuit in "The Savage Innocents", released in 1960. Yes. That's right. A Mexican American actor playing an Inuit. Nothing wrong with that. Happens all the time these days. Right?.
Robert Ryan
With a look that suggested he permanently bore the weight of the world on his shoulders, Robert Ryan landed his first Hollywood contract with Paramount in 1939, playing uncredited and minor roles before signing with RKO and appearing a fair way down the cast list in the WWII drama "Bombardier".
His climb up the ladder to higher-profile supporting parts was interrupted when he enlisted in the marine corps in 1944, returning to RKO in 1947 and co-starring with Randolph Scott in the Western "Trail Street".
That same year Ryan played the anti-Semitic killer in "Crossfire", a film noir drama directed by Edward Dmytryk, and a role that garnered the actor a nomination for Best Supporting Actor.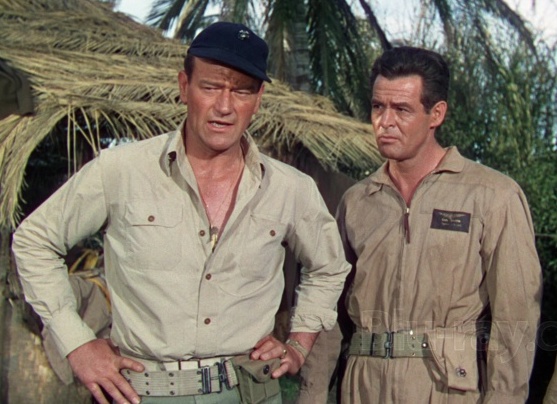 Whilst still at RKO he played one of his most memorable roles as boxer 'Stoker' Thompson in "The Set-Up", refusing to take a dive and suffering accordingly.
Although perfectly cast as the world-weary victim in a number of other classic noir thrillers such as "Act of Violence" and "On Dangerous Ground", Ryan could also be found in the early 1950s playing opposite John Wayne in the WWII drama "The Flying Leathernecks", Wayne's senior officer teaching his sentimental subordinate Ryan a thing or two about how to command a squadron of young daredevil flyers at Guadalcanal.
The main thrust of the beef they have with each other is down to Ryan being unable to take responsibility for sending men to their death.
It's only when he does actually cause a pilot to die in the usual futile gesture of war that he gets respect from JW and then eventual command of the squadron.
He was a particularly effective villain in "The Naked Spur", the third in a series of classic Westerns that James Stewart made with director Anthony Mann in the 1950s. Ryan stayed in villainous mode as the nasty Reno Smith in the modern-day Western "Bad Day at Black Rock", opposite Spencer Tracy.
He got the opportunity to display a hitherto rarely used talent for comedy as backwoodsman Ty Walden in "God's Little Acre" in 1958, constantly digging up his farmland in search of buried treasure.
Much in demand in the 1960s, Ryan played a number of cameo roles in big screen epics such as "King of Kings," The Longest Day" and "Battle of the Bulge".
He appeared as Ike Clanton in the Western "Hour of the Gun" in 1967 then rounded off the decade in what is probably his best remembered role, as far as cowboy fans are concerned anyway, as Deke Thornton, the tortured ex-gang member in "The Wild Bunch".
Over the years he also enjoyed a successful theatrical career, playing Antony to Katharine Hepburn's Cleopatra in the famous Shakespeare play as well as starring on Broadway in the musical "Mr. President", which ran for over 250 performances.
Possibly one of the most underrated actors of his generation, Ryan was sadly diagnosed with cancer in 1970. He soldiered on for another four years, mainly appearing in supporting roles, one of the best opposite Robert Duval in the crime thriller "The Outfit".
Robert Stack
Robert Stack, born January 13th 1919, has the distinction of being one of the few actors to have been taken to task by John Wayne both on and off screen.
Off screen Wayne wasn't too happy with Stack's performance in the Batjac production of "Bullfighter and the Lady", berating the actor with the statement "Bob, if you're going to say the line, say it with some balls".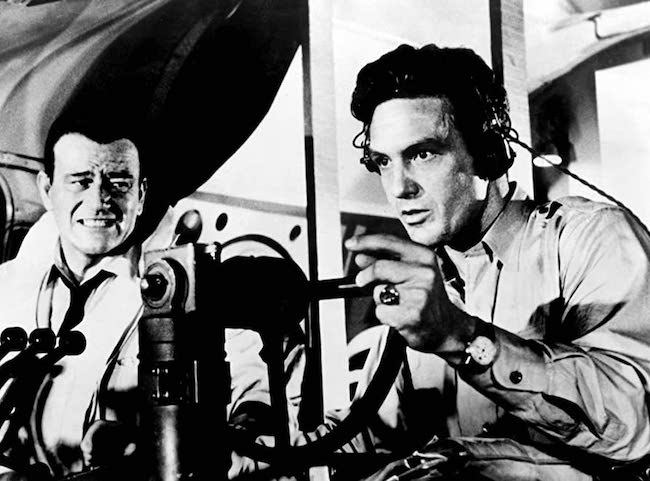 Judging by Stack's performance in the film I'd say he probably ignored JWs advice and did it his way, the actor never one who threatened to set the screen alight with histrionics when a quiet and more reserved approach might do.
In "The High and the Mighty" JW as pilot Dan Roman lashes out at Stack, playing Captain John Sullivan, for being "yellow" because he wants to dump their stricken passenger plane in the sea instead of trying to fly on fumes and make it in one piece to the airport.
Naturally, Duke is right and Sullivan ends up with egg on his face. At least he's alive though.
Making his first credited screen appearance in 1939 in the Deanna Durbin musical "First Love", Stack gained almost instant fame for being the first to kiss the popular young actress onscreen.
Playing a variety of secondary roles in the early 1940s in films such as "The Mortal Storm" and "To Be or Not To Be", Stack took up his acting career after WWII in which he served in the U.S.A.F as a gunnery officer and instructor.
His profile started to catch on in the early 1950s with his appearance in the aforementioned "Bullfighter and the Lady" and in the first full-length film to be shot in 3D, "Bwana Devil".
The actor got the opportunity to work with cult Hollywood directors Samuel Fuller and Douglas Sirk in "House of Bamboo" and "Written on the Wind" respectively, with Stack earning a Best Actor Academy Award nomination for the latter.
Worldwide fame finally came along in 1959 when he was cast in the popular TV series "The Untouchables", winning an Emmy for his portrayal of real-life crime fighter Elliot Ness, the man responsible for helping to take down crime lord Al "Scarface" Capone.
After the show finished in 1963 Stack resumed a big screen career that he alternated with other TV series such as "The Name of the Game" and as one of the hosts of the highly popular documentary show "Unsolved Mysteries".
In 1979 the actor played the role of General Stillwell in Steven Spielberg's WWII comedy "1941", a role originally intended for Wayne himself.
A year later, having played quite a few pilots throughout his career Stack appeared as airline Captain Rex Kramer in the hugely successful comedy "Airplane!", his character basically an older version of the pilot from "The High and the Mighty" but without John Wayne on the flight deck to insult him.
Jeffrey Hunter
Henry McKinnies Jr., or Jeffrey Hunter as he came to be known, is best remembered by John Wayne fans for his role as Martin Pawley in "The Searchers".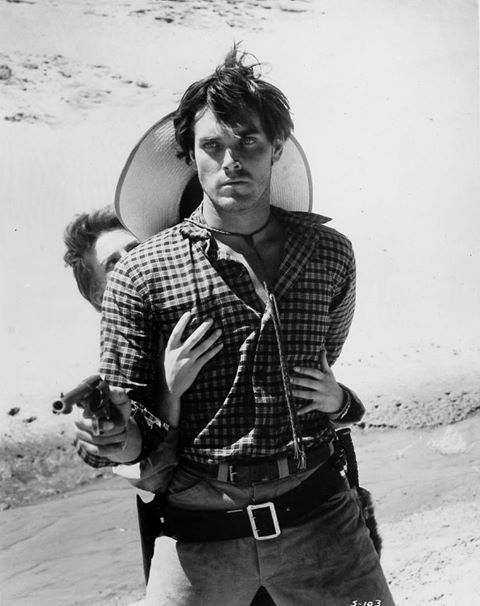 Up until that point, Hunter's screen career was shaky, to say the least, but after appearing in Ford's classic Western his star took off in a more positive direction, for a few years at least.
Hunter played the adopted son of the brother of Ethan Edwards, accompanying him on his search for his kidnapped half-sister Debbie, played by Natalie Wood. Martin Pawley's task is to keep Ethan from killing Debbie after she has been tainted by her association with the Comanche chief Scar, and it is Pawley, not Ethan, who rescues Debbie and kills Scar in the process.
Hunter went on to appear in two more John Ford movies, "The Last Hurrah" and "Sergeant Rutledge", before getting another big break as Jesus in the biblical epic "King of Kings", directed by Nicholas Ray.
Critics at the time dubbed the film "I Was a Teenage Jesus", mainly because Hunter's piercing blue eyes made him look younger than he actually was. Although not a big box-office hit when first released, it's actually quite a good retelling of the story of Christ, and the actor is very effective in the main role.
After a high-profile role as an ill-fated soldier in "The Longest Day", Hunter's career veered more towards TV and the European film industry.
In 1964 he was cast as Captain Pike in the Star Trek pilot "The Cage", but refused the next pilot episode, in the process gifting the part of commander of the starship Enterprise to William Shatner who went on to fame and fortune as Captain Kirk.
Not long afterward he played what is probably his last decent role as Major Benteen in the Spanish production "Custer of the West". 
Never really managing to capitalise on the promise he demonstrated as an actor in films such as "The Searchers" and "King of Kings", Jeffrey Hunter sadly died at the very young age of 42 whilst undergoing brain surgery following a fall at his home.
---
Ten More Leading Male Co-Stars – The Next 5
William Holden
William Franklyn Beadle aka William Holden shone early on in his career in only his third movie, "Golden Boy", released in 1939, in which he played – don't laugh – a violinist turned boxer who eventually retires after killing an opponent in the ring.
After such a great start it took some time before Bill would have the opportunity to prove his acting skills on screen, Holden interrupting his career to serve in the U.S. Army Air Services during WWII. 
Returning to Hollywood after the war Holden appeared in high-profile roles for films including the Westerns "Rachel and the Stranger" and "Streets of Laredo". 
Hitting his stride in the early 1950s the actor took on the part of screenwriter Joe Gillis in "Sunset Boulevard" in which his character is first seen lying face down and dead in a swimming pool.
A couple of years later the actor and "Sunset Boulevard" director Billy Wilder teamed up once more for "Stalag 17", a WWII POW drama with Holden playing unlikeable scrounger J.J. Sefton, a role that won him a Best Actor Academy Award.
The box-office hits just kept on coming after that, Holden taking on more of a romantic lead in films such as "Love Is A Many-Splendored Thing".
In 1957 he hit paydirt playing Major Shears in the WWII epic "The Bridge on the River Kwai", directed by David Lean. Holden's deal with producer Sam Spiegel included ten percent of the gross which made the actor a very rich man indeed.
In 1959 he starred opposite John Wayne in the John Ford Civil War drama "The Horse Soldiers", Holden playing disillusioned army doctor Major Henry Kendall to Wayne's gung-ho cavalry commander Colonel John Marlowe.
The film failed at the box office, mainly due to the $750,000 salaries for Wayne and Holden, as well as maybe because the on-screen animosity of the main characters never really exploded into the proper showdown the audience was expecting. 
Holden cut back on his work load during the 1960s, appearing in only half the number of films he'd made in the previous decade in order to concentrate on his burgeoning role as a wildlife activist, an off-screen vocation that eventually lead to the creation of the William Holden Wildlife Foundation a year after he passed away.
Out of all the movies he starred in during the 1960s, the one that stands head and shoulders above the rest is as the ageing world-weary outlaw Pike Bishop in the Sam Peckinpah classic "The Wild Bunch".
It's certainly one of the best roles Holden ever played, a late-career triumph that he went on to consolidate in 1976 as TV news president Max Schumacher in "Network", a black comedy that garnered Holden yet another Best Actor nomination, although he lost out to his co-star Peter Finch who died before he could pick up the award.
Stuart Whitman
Sturdy of chest and granite of jaw, not to mention also being blessed with classic movie star looks, it was obvious that Stuart Whitman was destined to make his mark on the big screen sooner or later.
A contract with 20th Century Fox studios in 1958 also helped as well. Prior to this Whitman's screen career throughout the 1950s remained mostly in the land of uncredited roles in films including "When Worlds Collide" and "War Drums".
Within a year or two of signing with Fox, his career took off when he was nominated for the Best Actor award for his role as a suspected child abuser in "The Mark", released in 1961.
Later that year he took on a more audience-friendly role opposite John Wayne in "The Comancheros" as gambler Paul Regret.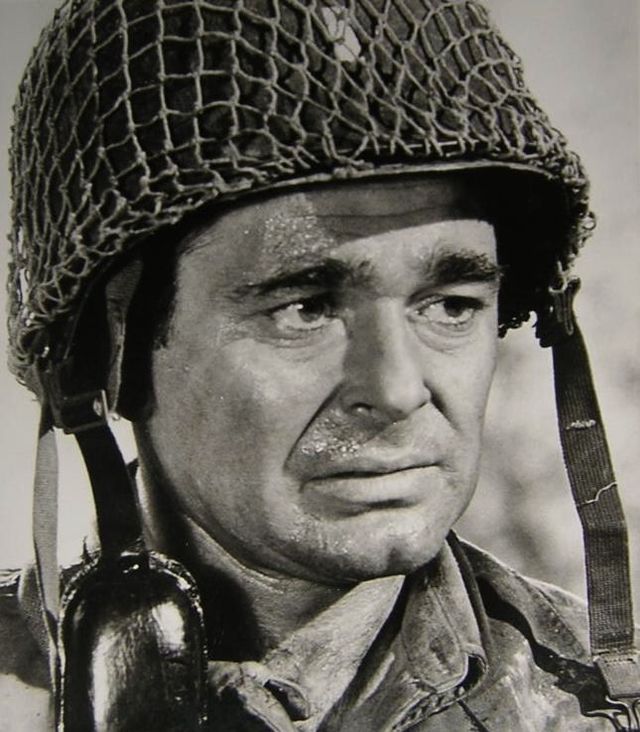 A year later Whitman could be found once again in JWs company in the WWII all-star epic "The Longest Day". One of his best roles during this period was as the cavalry captain tasked with seeking out a rebel commander who is supplying guns to the Apaches in "Rio Conchos", released in 1964.
The following year Whitman played the lead in the air race comedy "Those Magnificent Men in Their Flying Machines", which proved to be very popular at the box office. However, it also proved that maybe comedy wasn't necessarily the actor's forte especially when you bear in mind the role of aviator Orvil Newton had originally been offered to Dick van Dyke. 
Returning to the he-man roles for which he was best known Whitman starred in "Sands of the Kalahari", a desert adventure story in which he played a big game hunter who turns to killing off the other survivors after their plane crashes miles from civilisation.
A couple of years later the actor took the lead role in the Western TV series "Cimarron Strip" as Marshal Jim Crown which ran for 23 episodes from late 1967 to early 1968. Despite an amazing array of guest stars including the likes of Robert Duval, Jon Voight, Michael J. Pollard and Warren Oates the show was cancelled due to high production costs.
From then on Whitman was relegated mostly to a career playing guest cameos in various TV shows such as "Streets of San Francisco" and "Fantasy Island" as well as an occasional appearance on the big screen in films including "Crazy Mama" and "The Treasure Seekers".  Luckily for him, he didn't really need the work, having made a personal fortune outside of his day job as a property developer.
Trivia note: Some years ago a director by the name of Kevin Connor worked with a crew member who happened to be Stuart Whitman's son.
He relayed to the director the story of how when he was a young boy he and a friend, invited on to the set of "The Comancheros" by his dad, both got a bit bored and wandered off down to the nearest river to throw stones in the water – I guess kids were easily pleased in those days.
Somehow or other they managed to get themselves caught in the mud on the riverbank and started sinking deeper and deeper into the water. Screaming for help, their rescuer eventually turned up on horseback, threw them a rope and dragged the kids to safety. And the man on the horse was none other than John Wayne himself. 
It doesn't get any better than that.
Rock Hudson
Devilishly handsome Roy Harold Scherer aka Rock Hudson rose to prominence at a time when actors with one-syllable names such as Troy, Chad and Tab were all the rage.
After a couple of uncredited roles and a few blink-and-you'll-miss-him parts in films such as "Winchester 73" at the beginning of the 1950s, Rock took on leading man status in "Gun Fury" and "Taza, Son of Cochise" only a few years later.
During his early heartthrob years, Rock proved his acting chops in a quartet of melodramas directed by influential film maker Douglas Sirk, "Magnificent Obsession", "All That Heaven Allows", "Written on the Wind" and "The Tarnished Angels".
He also picked up his one and only Oscar nomination in 1956 for his role as "Bick" Benedict in the epic modern Western "Giant", which also featured James Dean's final screen performance.
By the end of the decade, Hudson was playing opposite Doris Day in "Pillow Talk", the first of three highly popular romantic comedies he and Dot appeared in together into the early 1960s.
Alternating between comedy and drama throughout the rest of his career he was particularly effective in the John Frankenheimer sci-fi drama "Seconds", the actor playing a man looking for a new identity which doesn't end well for him. The film is now duly recognised as a cult classic.
In 1969 Hudson appeared in "The Undefeated" alongside John Wayne, the actor perfectly cast as the leader of a defeated Confederate brigade who, in the aftermath of the Civil War, joins forces with a bunch of ex-Union boys commanded by JW himself.
A few years later Hudson found TV fame in the celebrated police show "MacMillan and Wife" which ran for a total of six years from 1971 to 1977.
Working steadily on and off over the years in film and TV, Hudson took on a prominent role in the popular melodrama "Dynasty" in 1984. Within a year the actor was diagnosed with AIDS, his high profile helping to raise awareness of the disease, the actor sadly passed away in 1985 at the age of 60.
Richard Attenborough
Richard Attenborough, or Dickie as he was known throughout the film industry, was the quintessential British actor, on a par with his friend and colleague John Mills, whom Attenborough appeared with in his screen debut in an uncredited role for the WWII propaganda classic "In Which We Serve".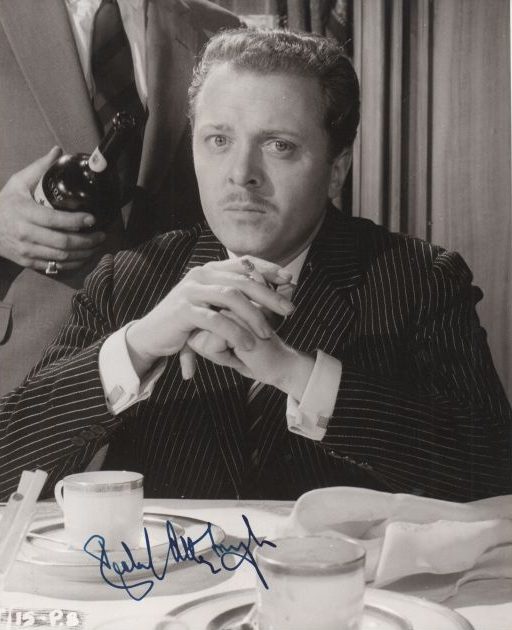 It was as the sadistic gangster Pinkie Brown in "Brighton Rock", released in 1948, that the actor got his first taste of stardom, appearing in numerous British comedies and WWII movies for over a decade and a half before international stardom called with his role as Roger 'Big X' Bartlett in "The Great Escape".
This led to high-profile parts in other Hollywood movies such as "The Flight of the Phoenix" and "The Sand Pebbles", the latter for winning him a Golden Globe Best Supporting Actor award.
Attenborough hankered after a job behind the camera as well, directing his first movie "Oh What A Lovely War" in the late 1960s before enjoying big box-office success in his second outing as director with "Young Winston" in 1972.
In between all of this, he found the time to star opposite John Wayne in the London-set police thriller "Brannigan" as Commander Sir Charles Swann, a character who appeared to enjoy an office with magnificent second-to-none views over London and the river Thames at the cost to the British tax payer.
At the end of the 1970s, Attenborough put the day job of actor on hold and concentrated solely on getting on to the screen probably his most successful film as a director, "Gandhi", in the process winning himself an Academy Award for Best Director in 1982.
After nearly a decade in which he worked purely behind the camera, Attenborough returned to acting in the role of John Hammond, mastermind dinosaur cloner extraordinaire in Steven Spielberg's "Jurassic Park", a part he would also reprise in a short cameo in the sequel "The Lost World".
Ron Howard
Thespian-turned-director Ron Howard started out acting as a youngster, appearing in all episodes of "The Andy Griffith Show" from the age of 5 as Andy's son Opie in a show that ran from 1960 to 1968.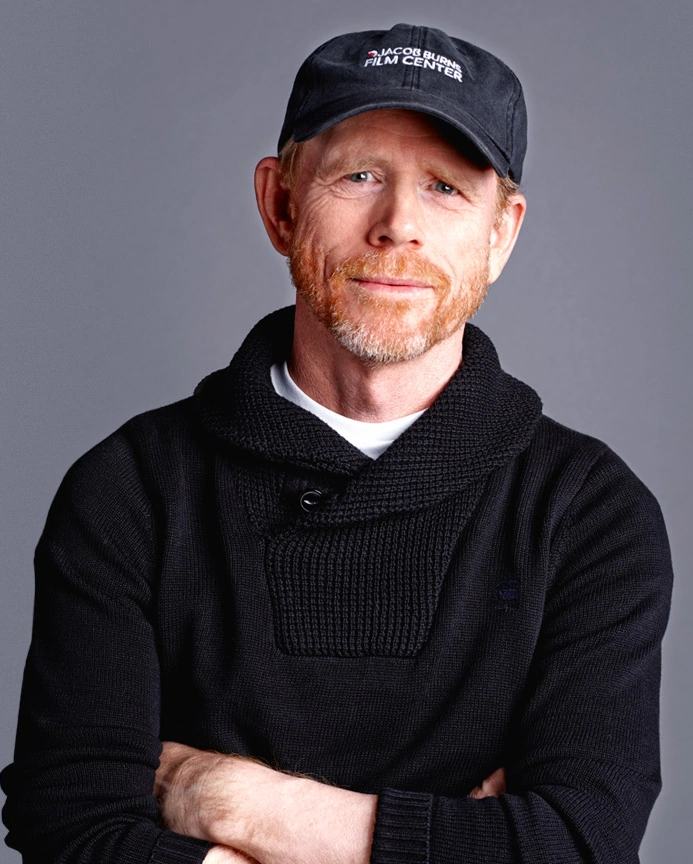 Working mainly in TV for a few years he then took one of the leading roles in "American Graffiti", released in 1973 and directed by a pre-Star Wars George Lucas.  
A year later Howard appeared on TV in what is his most famous role as Richie Cunningham in "Happy Days", his clean-cut all-American character in stark contrast to Henry Winkler as "The Fonz".
Whilst appearing in "Happy Days" Howard got the acting gig of his life opposite John Wayne in Duke's final film "The Shootist" in which he starred as Gillom Rogers, the son of widow Bond Rogers, played by Lauren Bacall.
On working with Wayne, Howard is quoted as saying "He couldn't have been nicer. He talked a lot about television, about how it's such a good training ground sort of like the one- and two-reelers Wayne made when he was young." 
Whilst still playing Richie Cunningham, Howard directed his debut film "Grand Theft Auto" in 1977 for low-budget producer Roger Corman.
Leaving Richie Cunningham behind Ron then took a shot at TV directing before going on to his second big screen film, a comedy entitled "Night Shift" featuring his old friend Henry Winkler and released in 1982.
After this, his directing career really took off. By not aligning himself with one particular genre Howard has successfully delivered comedies such as "Splash" and "Parenthood", historical dramas including "Far and Away" and "In the Heart of the Sea", as well as the space drama "Apollo 13".
He also turned his hand to the Western with "The Missing", starring Tommy Lee Jones and considered by some to be one of Howard's best films, a critically well-received revisionist cowboy movie with echoes of "The Searchers". 
That's all on John Wayne's male co-stars for the moment but be sure we'll be returning to the subject at a later date.