The following actors are listed in order of birth date as opposed to either how well-known they might be or how many films they appeared in.
Chief John Big Tree
Born in 1877 and a member of the Seneca Nation tribe, Chief John Big Tree appeared in nearly sixty films over a thirty-year period starting with an uncredited role in the silent movie "The Spirit of '76" in 1917.
From then on he played a variety of mainly uncredited roles such as 'Cheyenne Chief' in John Ford's 1924 epic "The Iron Horse" as well as 'Indian Chief' in the early John Wayne Western "The Telegraph Trail", released in 1933.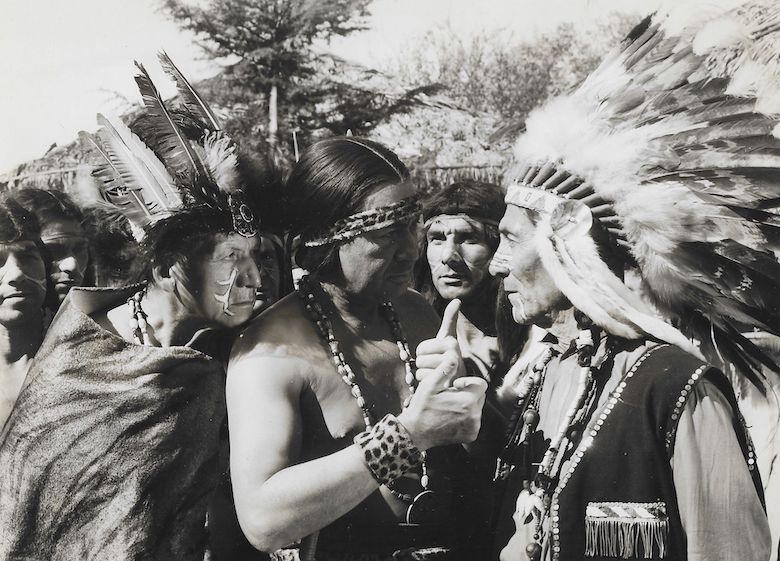 His career continued in a similar vein throughout the rest of the decade, the chief teaming up with Ford again as (uncredited) Apache Scout in "Stagecoach", with Big Tree the recipient of that rarest of cinematic features, namely a close-up in a John Ford film.
He stares impassively at the camera whilst a cavalry captain and a scout try and decide if Big Tree's character is telling the truth about Geronimo stirring up the Apaches to which the scout suggests "Naw – he's a Cheyenne. They hate Apaches worse than we do".
On the assumption that Chief Big Tree's screen appearances were mostly of the silent kind ie. no dialogue then he finally got to stretch his vocal chords in the John Ford classic "She Wore A Yellow Ribbon", released in 1949.
As Chief Pony That Walks he and John Wayne as Captain Nathan Brittles engage in a discussion as to how to avert a fight between the army and the combined tribes of Cheyenne and Arapaho who are on the warpath. Pony That Walks tells Brittles it's "too late, Nathan.
We hunt buffalo, get drunk together. Hallelujah! Hallelujah!"
It would be the chief's penultimate big screen appearance, going out on a high in the Native American friendly Western "Devil's Doorway", directed by Anthony Mann and released in 1950.
Despite being hobbled by Robert Taylor playing a member of the Shoshone tribe, Lance Poole aka Broken Lance with suitably darkened skin, it does put the argument for disenfranchised Native Americans at the top of the agenda, Chief Big Tree as Thundercloud speaking through an interpreter as to the plight of his homeless fellow warriors.
A very dignified end to a dignified screen career.
Chief John Big Trees passed away at the grand old age of 90 on July 6th, 1967.
Jim Thorpe
Athlete and actor Jim Thorpe, a member of the Sac and Nation tribe, was born in May 1887 and proved to be an excellent American football player in his youth.
In 1912 Thorpe became the first Native American to win gold at the Olympics, picking up a couple of gongs in the event held in Stockholm for his proficiency in both the Decathlon and Pentathlon events.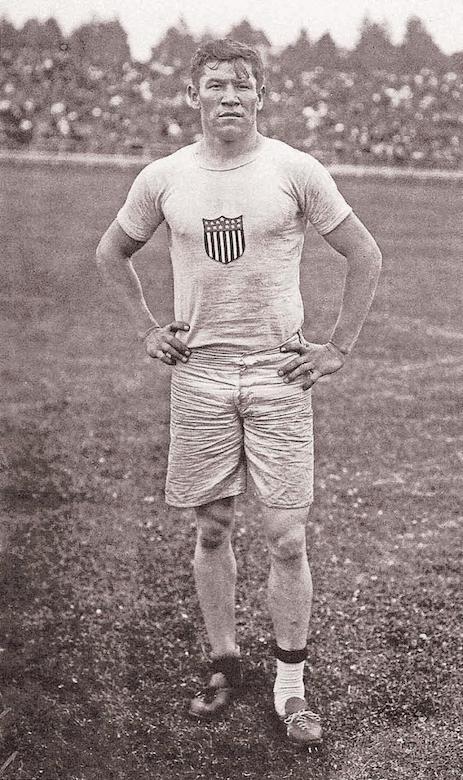 Despite being stripped of the medals at a later date due to a violation of the amateur rules imposed at the time, Thorpe went on to try his hand as both a professional baseball and football player.
After retiring from football and apparently also having a go at playing basketball as well Thorpe spread his wings even further in an attempt to succeed on the silver screen, appearing as himself in a comedy short entitled "Always Kickin'", released in 1932.
In the same year he was cast in the John Ford movie "Air Mail", his role listed as 'Indian', a part Thorpe would be restricted to taking on numerous times throughout his acting career.
In the 30s and 1940s, Thorpe appeared in a number of classic Warner Brothers movies including "Captain Blood", as a pirate, "They Died With Their Boots On", in which Thorpe, cast in yet another uncredited role apparently punched Errol Flynn offscreen, and as an inmate in the James Cagney gangster film "White Heat".
In 1950 he was cast yet again as an Indian, this time as a member of the Navajo tribe in the John Ford Western "Wagon Master".
Hollywood finally came to the conclusion that Thorpe's real life exploits were made for the screen and released "Jim Thorpe – All American" in 1951, with Burt Lancaster taking on the role of the athlete.
Thorpe appears in the film as a coaching assistant, another in a long list of uncredited parts. It was also possibly his last film appearance as Thorpe passed away at the age of 65 a couple of years later in 1953.
In 2022 Thorpe was officially reinstated as sole winner of the events he participated in during the 1912 Olympics. There has been talk in recent years of a planned movie on his, this time with a Native American Actor playing the famous athlete.
Watch this space.
Chief Yowlachie
Somebody had to come forward and take on the occasional role of the comedic Native American, a character best referred to as He-Who-Must-Be-Laughed-At, and it looks as though that job mainly fell to Daniel Simmons aka Chief Yowlachie, born August 15th, 1890, and a member of the Yakima tribe.
The Chief appears to have enjoyed probably the longest career in film attributed to a Native American actor so far, starting out in the silent period in 1925 and appearing in approximately seventeen movies in various roles as Indian Scout, Modoc Joe and Brown Beaver.
He took a break from acting in 1933 to concentrate on his singing career, one of the highlights being an appearance at the White House in which he serenaded Franklin D. Roosevelt with his sonorous deep-baritone voice.
Returning to acting in 1939 with various uncredited roles in Westerns such as "North West Mounted Police" and "The Round Up" he appeared in his first sound comedy as Chief Tomahawk in the 1942 Abbot and Costello film "Ride 'Em Cowboy".
Other comedy Westerns followed including "Singin' In the Corn" and "Bowery Buckaroos" before appearing in the Howards Hawks / John Wayne cowboy classic in 1948, playing Two Jaw Quo, cook to Walter Brennan's character Groot.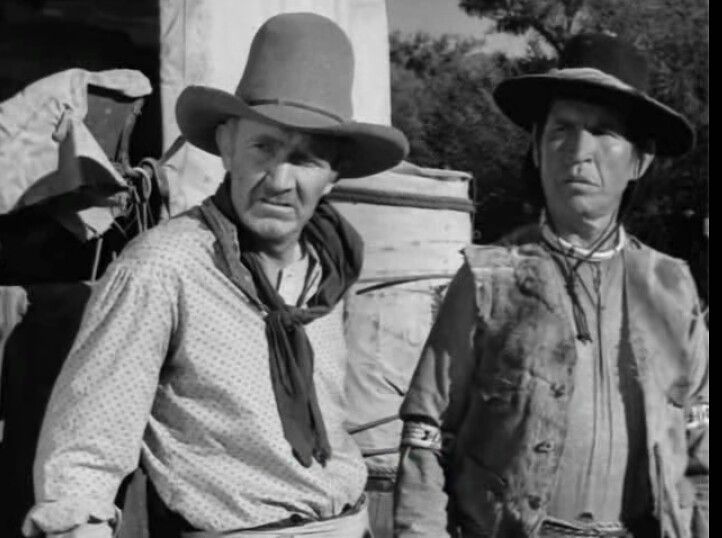 In the same year, Yowlachie featured in a prominent role as Chief Yellow Feather in the Bob Hope comedy "The Paleface".
Other comedy films followed including a small role in the first Dean Mart and Jerry Lewis movie "My Friend Irma", released in 1949. He took a break from funny films in the 1950s when he played Bald Eagle in "The Painted Hills", applying his veterinary skills to helping Lassie out of a tight spot.
It's apparent from his filmography that Chief Yowlachie was hardly ever off the screen after his return to acting back in 1939 with the 1950s being his most prolific decade, clocking up appearances in nearly thirty films including "Winchester '73", "The FBI Story" and "Yellowstone Kelly".
TV also came calling with guest star roles in shows such as "The Lone Ranger", "The Range Rider" and "The Virginian".
He took a six-year break after yet another uncredited role, this time in the (some say) comedy Western "Heller in Pink Tights", featuring Sophia Loren in her only cowboy film.
The chief took another break from acting and returned for one more film appearance as an (uncredited) medicine man in the Steve McQueen Western "Nevada Smith", released in 1966.
Chief Yowlachie passed away at the age of 75 on March 17th, 1966.
Chief Dan George
A genuine chief of the Tsleil-Waututh Nation tribe, Chief Dan George to acting fairly late in his life.
His first acting role was in 1960 when, at the age of 60 he appeared in the Canadian TV series "Cariboo Country" playing a character by the name of Antwine.
After reprising the same role of Antwine, in a Disney film released in 1969 called "Smith", Chief Dan was showered with plaudits and various other accolades for his portrayal of the Cheyenne tribal leader Old Lodge Skins in the Western "Little Big Man", released in 1970.
Starring opposite Dustin Hoffman he almost stole the film from right under him, especially in the scene in which his character has decided "it is a good day to die".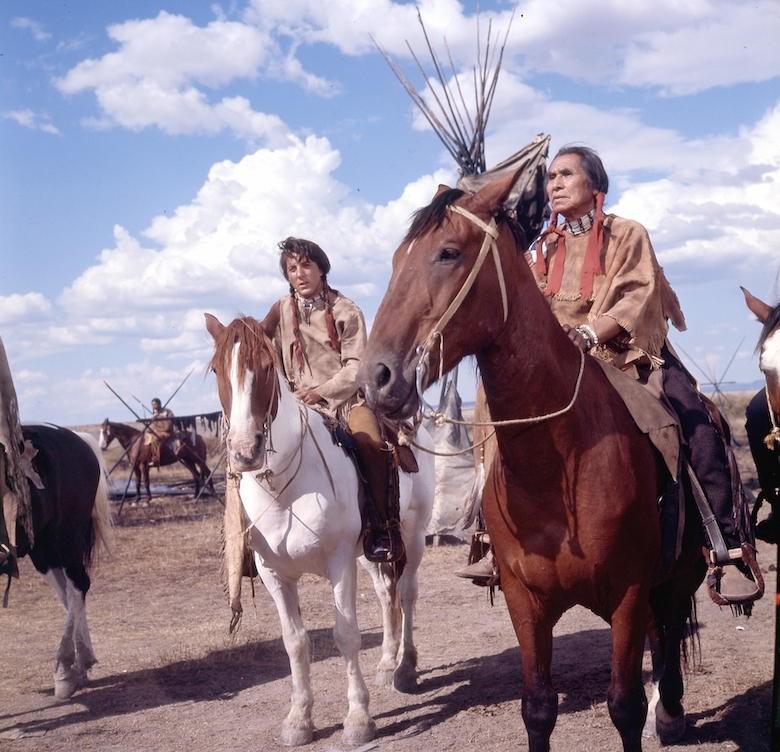 In 1971 his performance in "Little Big Man" won him a nomination for Best Supporting Actor, the first time such an honour had been offered to an Indigenous actor, although he lost out to John Mills who won for playing an Irish goblin in "Ryan's Daughter".
Turning to television he appeared in shows including "Kung Fu", "Bonanza", "The Beachcombers" and "McCloud" before landing the role in 1976 as the aged and yet still somewhat randy Cherokee warrior Lone Watie in the Clint Eastwood Western "The Outlaw Josey Wales". One of the Chief's best scenes, and there are quite a few to choose from, occurs after he has helped Wales out in a gunfight.
Wales tells him he never paid no mind to one of the gunslingers because "you were there", to which Lone Watie replies, with a suitable pause, "I could have missed". Classic.
Chief George followed up with an appearance in a not very well received Canadian horror film called "Shadow of the Hawk" then it was back to TV in the miniseries "Centennial", an epic American saga that ranged across the years from the 1790s to the 1970s.
The chief played a character listed in the secondary other cast section only as Old Sioux so it sounds as though he didn't get very much airtime in that one.
It's doubtful that this bothered the chief that much seeing as he carved out another career as a writer of poetry and memoir with two acclaimed books, "My Heart Soars" and "My Spirit Soars", published in 1976 and 1983 respectively.
His final film appearance was in the romantic comedy "Nothing Personal", released in 1980. Chief Dan George passed away at the age of 82 on September 23rd, 1981.
One can only assume that It was a good day to die.
Jay Silverheels
Born a Mohawk Aboriginal on the Canadian Six Nation's Reserve on May 6th, 1912, Harold Jay Smith aka Jay Silverheels was possessed of a mesmerising voice that came to the fore during his time playing Tonto, the reliable sidekick to the Lone Ranger on TV and in film.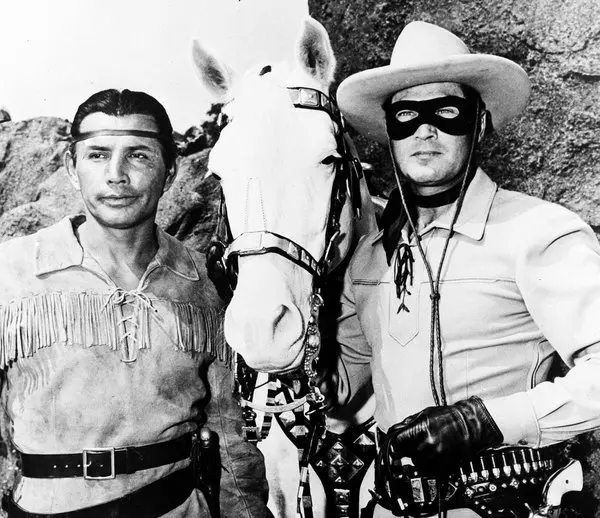 In his mid-twenties he enjoyed considerable success as a professional lacrosse player and got his start in film after a screen test in 1937, finally making his big screen film debut with an uncredited role in "The Sea Hawk" in 1940.
According to one source, the name change to Jay Smith Silverheels came about when his lacrosse team "won new white shoes for playing good and Harry ran so fast all you could see was flashes of white at his heels. They couldn't very well call him Whiteheels, him being Mohawk and all, so they called him Silverheels."
As an actor, he remained firmly in the land of the uncredited character actor in movies such as "Western Union" and "Unconquered" until Silverheels landed his most famous role in the TV series "The Lone Ranger" in 1949.
This, in turn, led to more high profile roles in which he was cast as Apache chief Geronimo in the James Stewart Western "Broken Arrow" in 1950, a role he reprised twice in the 1950s, first of all, two years later in "The Battle of Apache Pass" and again in the Audie Murphy oater "Walk the Proud Land" in 1956.
Apart from "The Lone Ranger" Silverheels also made guest appearances in other TV Western shows including "Wanted: Dead or Alive", "Wagon Train", "Rawhide" and "Branded".
He also joined co-star Clayton Moore in a couple of films based upon the further exploits of the famous masked man and his faithful companion in "The Lone Ranger" and "The Lone Ranger and the Lost City of Gold", released respectively in 1956 and 1958.
After a final big screen appearance as Tonto in the Bob Hope comedy "Alias Jesse James" in 1959 Silverheels worked almost exclusively on TV, taking time out in the mid-60s to co-found the Indian Actors' Workshop with fellow Native American actor Will Sampson.
In 1969 Silverheels found himself uncredited as Condemned Man at Hanging in "True Grit", the closest the actor came (unless I stand to be corrected) to sharing the big screen with John Wayne.
He was listed fourth in the cast list for his final film appearance as John Crow in the Glenn Ford Western "Santee", released in 1973.
Jay Silverheels died at the age of 67 on March 5th, 1980. He was posthumously inducted in 1997 into the Canadian Lacrosse Hall of Fame under the name Harry 'Tonto' Smith.
Native American Actors Part 2
Will Sampson
If there's just one moment in any film Will Sampson appeared in that he will always be remembered for it's when he suddenly speaks for the very first time in "One Flew the Cuckoo's Nest", released in 1975, and quietly utters "Thank you" when offered a piece of chewing gum by fellow mental institution inmate McMurphy, played by Jack Nicholson.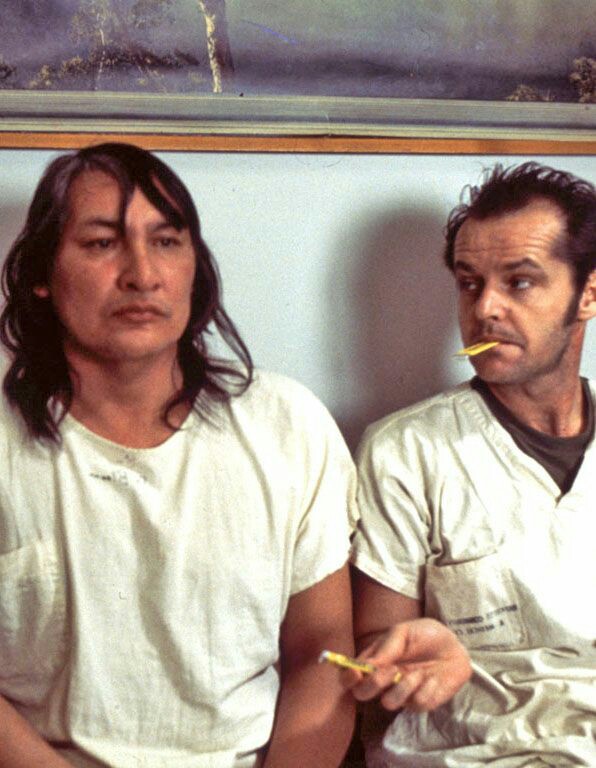 William Sampson, a member of the Muscogee tribe, was born on September 27th, 1933. He came to acting late in life and was working as a rodeo rider when he was cast as the apparently mute Chief Bromden in "Cuckoo's Nest" at the age of 42.
The aforementioned scene is one of the highlights of the film, both Nicholson's character and the audience finding out at the same time that the supposedly mute can actually speak, chowing down on the chewing gum with a sight of "Ah –  juicy fruit".
Prior to this, It appears that Sampson's screen debut was with an uncredited role in "Crazy Mama", a comedy gangster movie released the year before, but after his appearance as Chief Bromden, the acting offers came pouring in.
In quick succession, Sampson notched up a role as interpreter Halsey in the Robert Altman Western "Buffalo Bill and the Indians or Sitting Bull's History Lesson" followed by a turn as Comanche tribal leader Ten Bears in the classic Clint Eastwood Western "The Outlaw Josey Wales".
Other high profile roles followed in films including the Charles Bronson Western "White Buffalo" with Sampson portraying legendary warrior Crazy Horse, and "Fish Hawk" in which he played the title character, an alcoholic mourning for his family after they were struck down by smallpox.
TV came calling with the actor appearing in a number of programmes including the mini-series "From Here to Eternity" as well the Michael Mann produced crime drama "Vega$" in which Sampson enjoyed a recurring role as Harlan Twoleaf, enforcer and friend of detective Dan Tanna, played by Robert Urich.
Whilst away from the screen Sampson indulged his talent for painting, stating that "I am first, last and always a painter".
Over the years Sampson produced a body of work consisting mainly of images of the old West, somewhat akin to that of Frederic Remington and Charles Russell in terms of subject matter, his work focusing on the role of the Native American during the 1800s.
Following his final film role in the TV movie "The Gunfighters" in 1987 Sampson, suffering from a degenerative condition, underwent a heart and lung transplant but sadly passed away at the age of 53 on June 3rd of that year from complications after the surgery.
Despite his early death, Will Sampson's name lives on through the creation of the American Indian Registry for the Performing Arts in Hollywood, set up by Sampson and personal assistant Zoe Escobar in 1983, a 'non-profit organization that encourages the film and television industries to hire Indians".
Wes Studi
Born a member of the Cherokee Nation tribe on December 17th, 1947, Wes Studi served in Vietnam at the age of seventeen after which he became an activist for the rights of American Indians, taking part in the Wounded Knee occupation of Pine Ridge in 1973.
Blessed, if that's the right word, with a screen presence so opaque the viewer is left wondering what might happen next, with a strong suspicion that what follows will not be very pleasant for all concerned, he started his acting career in the pate 1980s and went on to appear in some very cool movies over the following years. 
Studi first came to the attention of cinema audiences in the epic 1991 Western "Dances With Wolves", or "Lawrence of the Plains" as it is referred to in certain quarters. His role as Toughest Pawnee is that of a mainly silent assassin who murders as many non-Pawnees that have the misfortune to cross his path.
He eventually finds his voice as he is about to die, singing his death song before perishing in a hail of bullets.
When he did speak on screen Studi himself says that he came up with the idea of part-singing and part-speaking whatever native language he was required to deliver, a method he then went on to use in some of his other roles.
After a short cameo in "The Doors" Studi took on the role of Huron villain Magua in "The Last of the Mohicans", a character who if possible was even more ruthless than Toughest Pawnee, promising to kill the daughters of an English commander before removing his heart whilst the poor man is still alive.
Later on, Magua kills Uncas, the son of Chingachgook, only to be dispatched himself by Unca's vengeful father.
He completed a triple of wonderful performances the following year when he played the title role in the Walter Hill Western "Geronimo: American Legend", Studi portraying the legendary Apache chief as an activist crusading to live his life free from the influence of his conquerors.
When faced with inevitable defeat Geronimo retains his honour as he and the remnants of his tribe are removed from their land and shipped off to Florida, never allowed to go home again.
Supporting roles followed in films including "Heat", the Michael Man heist thriller starring Al Pacino and Robert DeNiro, as well as appearing in numerous TV shows over the years such as "Bury My Heart at Wounded Knee" and a recurring role in the horror series "Penny Dreadful".
In 2009 Studi participated in what would eventually turn out to be the biggest Hollywood box-office hit of the time, the sci-fi adventure "Avatar", directed by James Cameron.
Barely recognisable under a surfeit of CGI effects Studi played clan leader Eytukan, meeting his demise at the hands of the mining corporation that has invaded his home on Pandora.
In a role similar to that of Geronimo, Studi delivered an impressive performance as Comanche chief Yellow Hawk in the 2016 Western "Hostiles", directed by Taylor Sheridan.
Suffering from terminal illness, Yellow Hawk is escorted by an old enemy of his, Captain Joseph Blocker, played by Christian Bale, back to the Comanche tribal home in Montana.
The two men eventually reconcile just before Yellow Hawk dies, Studi's quietly graceful performance in the film creating a renewed interest in his work as both an actor and as an activist, leading to him winning an Academy Honorary Award in 2019 and in the process becoming the first Native American to receive such an honour.
As Wes Studi said in his acceptance speech – "It's about time".
Graham Greene
You wouldn't be blamed for thinking Graham Greene is not the kind of name you'd associate with that of a Native American member of the Oneida Canadian tribe but ours is not to question why.
Born on June 22nd, 1952 the actor made his feature film debut in the 1983 Canadian sports film "Running Brave" and after a couple of more supporting roles landed the part of Kicking Bird in "Dances With Wolves".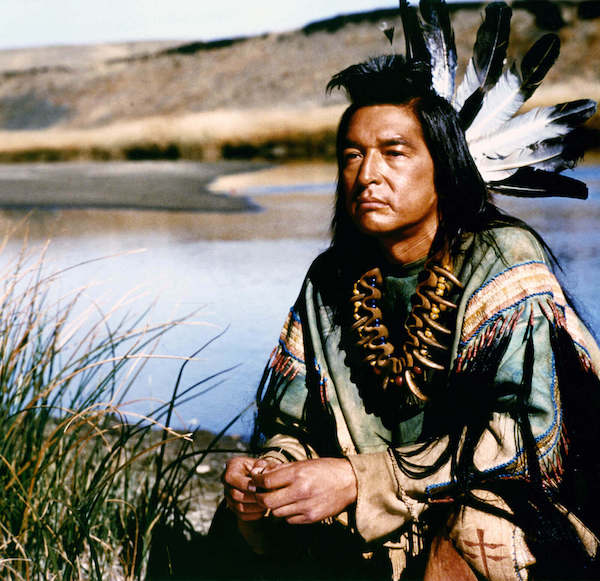 His performance as the impassive Sioux medicine man with a wry sense of humour won Greene a nomination for Best Supporting Actor the following year, losing out to Joe Pesci but initiating a successful film and TV career that continues to this day.
His prolific TV appearances include recurring roles in the comedy drama "Northern Exposure", the Canadian children's show "The Adventures of Dudley the Dragon" and the modern day Western series "Longmire" for which he won an Outstanding Supporting Actor award in 2016.
Over the years Green has featured in numerous one-off TV roles, most recently in "1883", a spin-off from the hugely popular Kevin Costner series "Yellowstone". 
Big screen appearances include "Maverick", in which Greene plays a cameo as Joseph, an old acquaintance of the title character and as a New York detective in "Die Hard With A Vengeance", released in 1995.
In 2000 he played condemned prisoner Arlen Bitterbuck in the death row prison drama "The Green Mile", his character the first to take the long walk to the execution room and the electric chair.
One of Greene's more recent high profile roles was as Tribal Police Chief Royo in the 2017 feature film "Wind River", a critically well-received modern day Western thriller.
Taking some time away from film and TV Greene trod the boards in 2007 as Shylock in a British production of the Shakespeare play "The Merchant of Venice".
Like a number of other Native American actors, Graham Greene is not always automatically cast as an American Indian. As he himself pointed out when asked if he thought he was typecast, "I've played all kinds of things.
I played an old Jewish man in a furniture store in theatre, I played the ghost of a black transvestite. I've also played British Soldiers and French soldiers. I've also played New York cops and lawyers, so… no".
Eric Schweig
Ray Dean Thrasher aka Eric Schweig, born 19th June 1967, is a mixed race Native Canadian actor best known for playing the character Uncas in the Michael Mann version of "The Last of the Mohican", released in 1992 and in which he meets his demise at the hands of Wes Studi.
Schweig, however, went on to demonstrate his remarkable acting range when he later underwent an astounding change in appearance in a later Western which we will get to in a moment.
Playing the doomed Mohican who is dispatched, "The Last of the Mohicans" was Schweig's third film appearance and like a lot of the other indigenous actors discussed so far his acting career was somewhat erratic to say the least, possibly due to the fact that, in his own words, he wasn't entirely sober until 2000.
In that year he appeared in "Big Eden", a romantic comedy with Schweig second billed as a character called Pike Dexter, a performance for which he won a Grand Jury Award for Outstanding Actor. 
It was in the Ron Howard 2003  Western "The Missing" that Schweig went all badass and transitioned from good to bad guy with the help of prosthetics and a scary performance as the deranged Apache medicine man Pesh-Chidin.
The actor said at the time that "I guess it's like a western horror movie… my character is so reprehensible. He's meaner than a hyena… and his face is all scarred up and he looks like he's been in 50 knife fights". Schweig is as far removed as he could possibly be from the character of Uncas in "The Last of Mohicans" to the point where he is virtually unrecognisable.
Schweig's CV also includes a number of TV appearances in shows such as "Blackstone", a Canadian production centred around a number of indigenous families living on a fictional reservation for which the actor was nominated for Best Lead Performance.
He also appeared in the TV adaptation of "Bury My Heart At Wounded Knee" and the Lou Diamond Phillips crime series "Longmire".
Away from the screen, Schweig developed a sideline in carving, something he reckoned he just fell into as a kid. Most of the work revolves around traditional Spirit mask carvings, a pastime that he describes as a way to connect to his Aboriginal cultural roots.
Whilst still a working actor Schweig is also happy making his carvings, claiming "I'm my own boss" and, unlike acting "I call the shots".
Adam Beach
Born on November 11th, 1972, Adam Beach is a Native Canadian of both Plains Ojibwe and Anishinaabe heritage.
After a tragic childhood in which he lost both his parents at a very early age, he later admitted that he went a little wild and that he "lashed out, didn't want to be a part of anything".
Beach joined a theatre company whilst in his teens and began his professional acting career in 1993, landing roles in numerous Canadian productions such as "Squanto: A Warrior's Tale" and "Dance Me Outside" as well as graduating to American cinema with an appearance in "A Boy Called Hate" in 1994. 
In 1998 Beach landed the lead role in "Smoke Signals", a coming-of-age movie in which he played an angry young man living on a reservation in Idaho, both Beach and the film winning rave reviews.
His first high-profile part was as Private Ben Yahzee in the WWII drama "Windtalkers" in which Beach, playing the lead role alongside Nicolas Cage, took on the role of a Navajo code talker assigned to a Marine unit in the Pacific.
Released in 2002, the film was based on the true story of how members of the Navajo tribe were trained to send and receive coded messages in their own tongue. 
The actor's next prominent role was in another WWI drama, this time "Flags of Our Fathers", directed by Clint Eastwood and released in 2006. Beach played real-life Native American soldier Ira Hayes who, after famously helping to raise the American flag on Iwo Jima is assigned to take part in a war bond drive.
Encountering racism back in the country he fought for, Hayes descends into alcoholism and is eventually sent back to his unit. His performance as Hayes won Beach a number of accolades including a nomination for Best Supporting Actor from both the Film Critics Association.
His career continues with roles in well-received movies including "Cowboys and Aliens", "Suicide Squad", "Hostiles" and the recent critically acclaimed modern day Western "The Power of the Dog".
Beach is active offscreen attempting to push for more Native American roles in film to be played by real Natives. As he himself put it in an interview in 2017, "We are tired of others telling us who we are.
We know who we are and what we look like as Native people. After all we've overcome, being able to represent ourselves is not too much to ask."