John Wayne Memorabilia and Collectibles
Owning a piece of John Wayne memorabilia, it doesn't get much better if the item was actually used in the making of a John Wayne movie or better still that he was actually known to have handled or worn it.
There are always personal things that JW may have owned and had gotten into general ownership but to me, that is moving towards intruding on the Wayne family.
Sometimes these rare items become available for admirers of John Wayne but because most of these items are unique, they can be very sought after and beyond the budgets of most of us.
There is something exciting about owning a piece of JW history knowing that he was doing what he does best using or wearing the item.
Then there is the issue of provenance – is what you may be paying a lot of money for really the hat that John Wayne wore in Rio Bravo or the navy cuff links he used in In Harm's Way? 😀
There needs to be a convincing story and even paperwork such as a Certificate of Authenticity behind the item to prove it is what it's meant to be.
John Wayne memorabilia at auction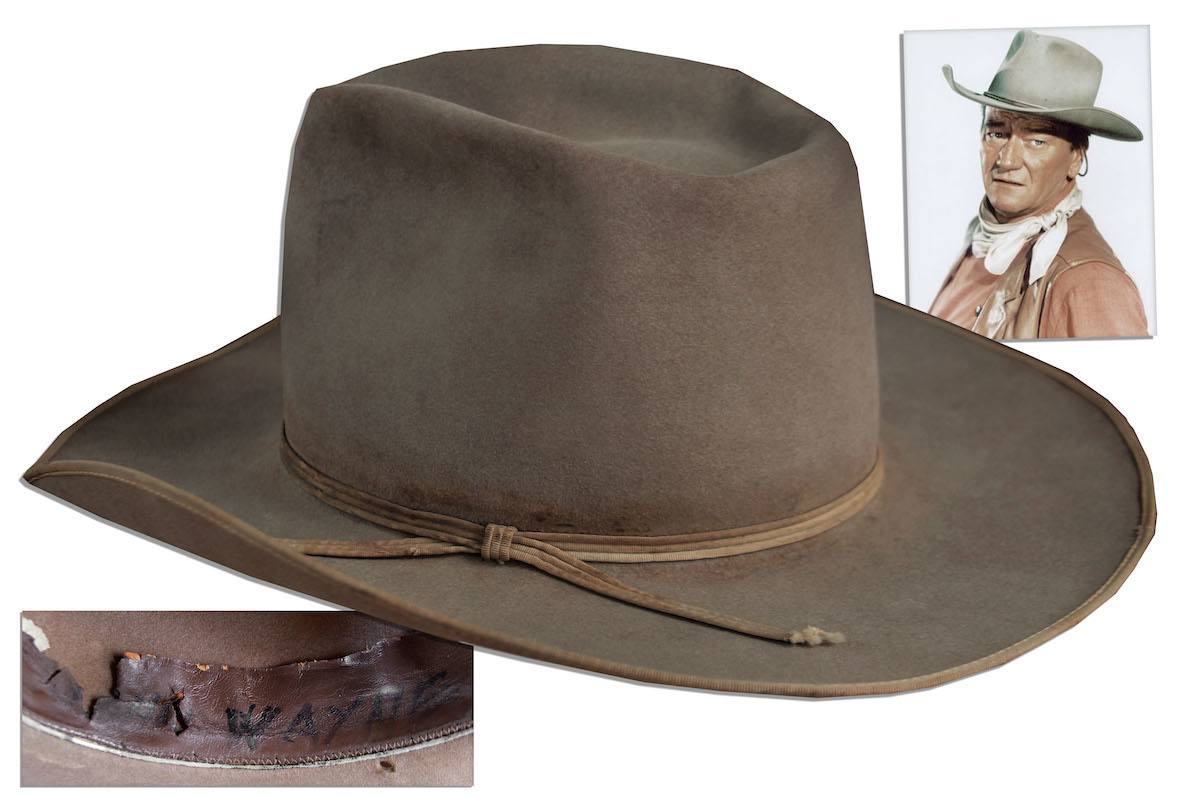 Here are the results of some rare John Wayne items that went under the hammer in 2016. Taking the hat example, for the one he wore in 6 of his movies, this one at auction went for a tidy $37,500.
These nuggets of history come up rarely and many people are happy to own similar but modern representations. Again, using the JW hat as an example, one can be picked up at a reasonable price and you can feel happy about actually wearing it rather than keeping it wrapped in cotton wool worried that it'll get damaged. 
Auctions sites for John Wayne memorabilia and collectibles
For original collectibles such as comics and movie posters, you have to hunt around a bit.
But in these days of online auctions like eBay.com and live auction site facilitators like liveauctioneers.com and the-salesroom.com, it's a lot easier to find and snag that original John Wayne movie poster you were always after.
These sites provide the platform for multiple real auction sites that may have been around for 100 years the interface for anyone from the comfort of their home to bid on lots against people in the room, telephone or commission bidders.
That means, of course, that auction bidding is more accessible to everyone and so the demand and therefore the price can soar especially for those rare items.
Most live auction sites allow you to add alerts. You define a keyword and if that appears in upcoming auctions in the title or description you will get a notification to your inbox. So adding the term 'John Wayne' or 'Wild West' will get you some relevant results. (This is all good until you add an ambiguous term which can lead to a lot of annoying notification emails.)
For these auction site platform providers, you will have to sign up and register a credit card with them. Don't forget the auction house will charge it's normal fee and the platform provider will too, normally between 15 – 25% and 3 – 5% respectively.
As I'm writing this a quick search for 'John Wayne' in the US site liveauctioneers.com produces some really interesting items like…
And part of the description…
This rifle's use is photo documented in two very popular John Wayne motion pictures. The first, RKO Studio's 1939 release of the motion picture "Allegheny Uprising" starring John Wayne and Claire Trevor. Set in the pre-Revolutionary War time period, " Allegheny Uprising" illustrates the American unrest with the British, especially as it was exhibited on the fringes of the wilderness. This exact rifle was used again by John Wayne ten years later in 1949 when Republic Pictures produced the motion picture "Fighting Kentuckian" which also starred the comedic talents of Oliver Hardy. It is also said to have been used in "The Alamo"…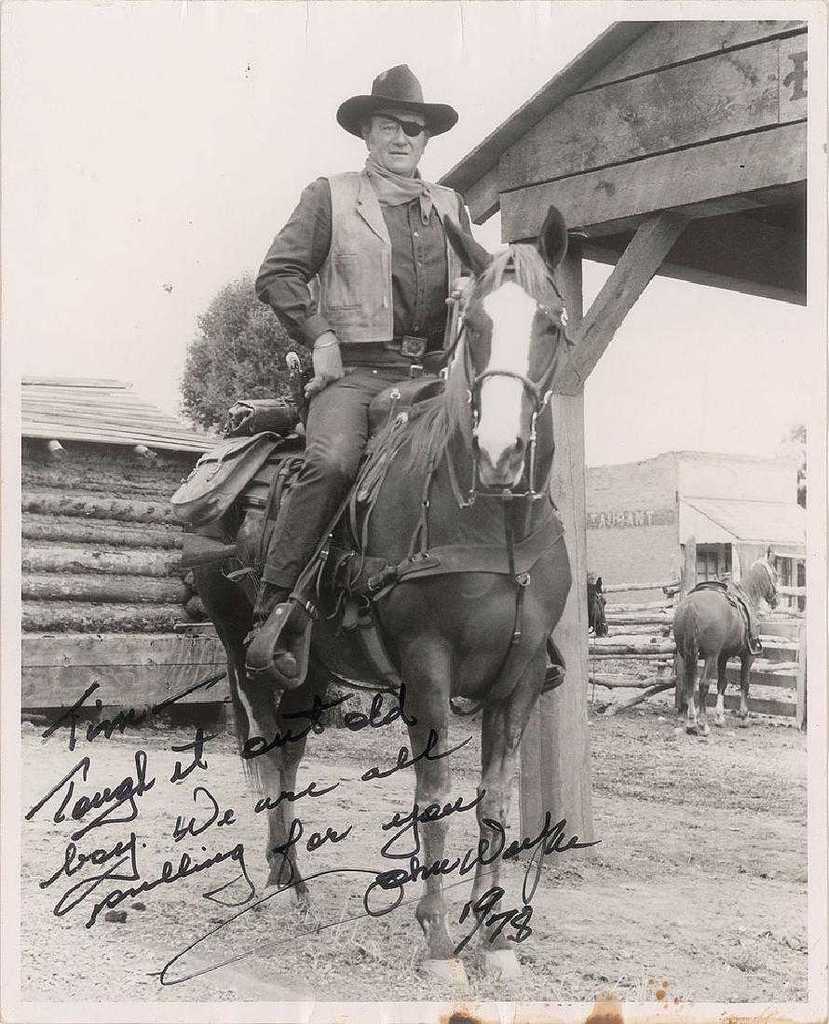 The estimate is $5000 – $10000 starting price $2500 – wow I want it but hmmm think I'll leave it.
If that's a bit out of your league like it is mine what about a signed photograph of the man himself from, of course, the classic True Grit although with an estimate of $1000 – $1500 and not being a lover of signature items that too is a bit pricey.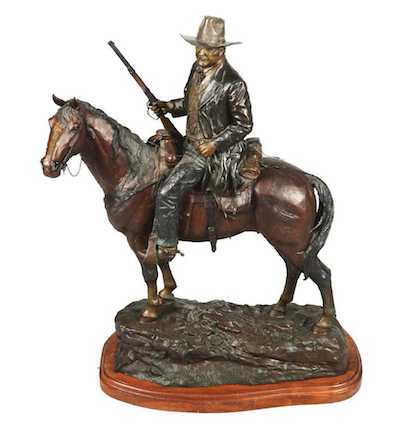 It's not just old collectibles that come up. Here is rather a fine looking John Wayne sculpture, again not for me but with an estimate of $400 – $900 could be a good deal. For your information, the description reads as follows…
"This extraordinary bronze sculpture was designed and created by American artist, David Manuel born 1940. Carved in extreme detail, with a keen eye for detail with elements that extend out from the sculpture such as the resemblance of a pocket watch and chain attached to Wayne's undercoat. "An American Legend" is inscribed along the bottom with the number 26 of 35 stamped onto the horses rear. The sculpture a has nice patina and sits atop an oak base. Condition: (Excellent). Dimensions: 33″T x 30″W."
John Wayne movie posters, comics & ephemera
More affordable and items I prefer is this selection of John Wayne comics from a UK auction house specialising in old original comics with an estimate of £80- £120. Yep, I might have a go at that one.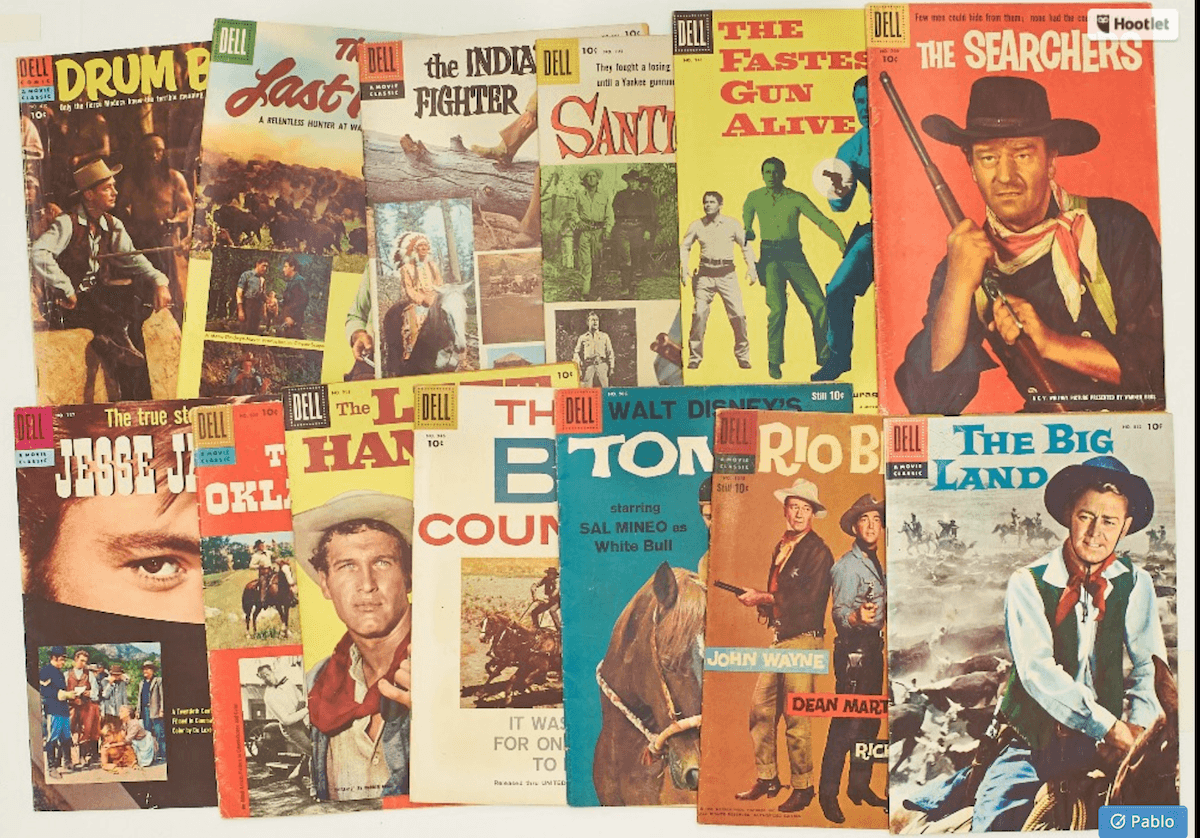 John Wayne's movie career spanned many decades and apart from the obvious conflict of the 1940s there was a splurge of tobacco and trade card production from the 1930s to the 1960s and on.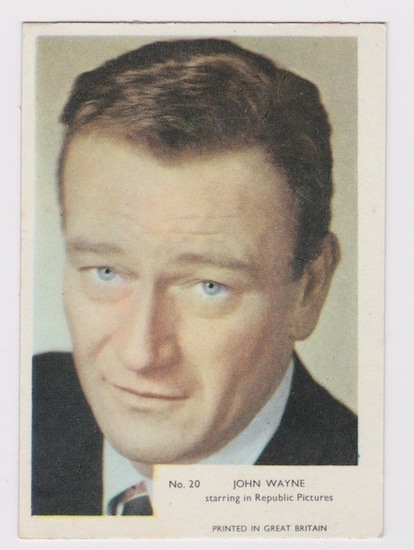 With the golden age of Hollywood from the late 20s to the 1960s, there was also a huge interest and popularity in movie stars which meant tobacco companies were printing thousands upon millions of beautiful cards with lots of interesting stuff on the backs of film stars.
Also popular were cards aimed at children's confectionery market, in particular gum. This one is from a set of 72 by makers of gum Kane.
But cards came with all sorts of products and when it was a periodical like a children's comic then it was almost mandatory.
A series of famous film stars was a shoe-in to maintain a loyal readership.
Movie posters are another huge source of John Wayne memorabilia.
From The Big Trail in 1930, his first starring role until The Shootist in 1977 he did make a lot of films and for everyone that was made, there were many variations of posters. There were different sizes, languages, re-releases, remakes and teasers.
There are also lobby cards, window cards, inserts and so the field for movie poster collectibles is almost endless.
Original movie posters that were distributed to cinemas and other poster venues (like subways and bus stops) by the studios were never meant to be sold directly to the public.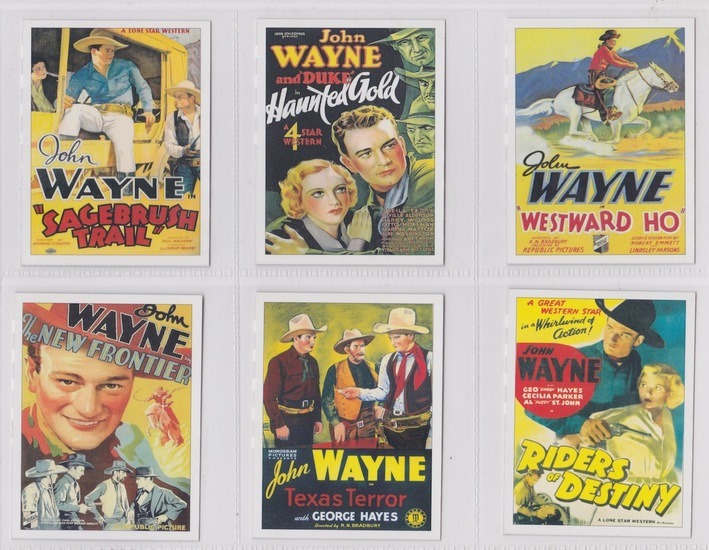 Modern posters are produced cheaply in large quantities and become available for purchase by collectors indirectly through various secondary markets such as eBay. Accordingly, most modern posters are not as valuable.
However, for the John Wayne era prior to 1985 (when the National  Screen Service stopped its printing and distribution), his movie posters are a finite proposition and there is a thriving collectibles market for John Wayne movie posters, especially on eBay where you'll have a good chance of finding that movie poster gem.