Despite a claim by at least one reviewer that they actually watched the film back in 2004, it would appear that "Adventure's End" is now considered to be missing in action, along with "The Oregon Trail", which was released a year before in 1936.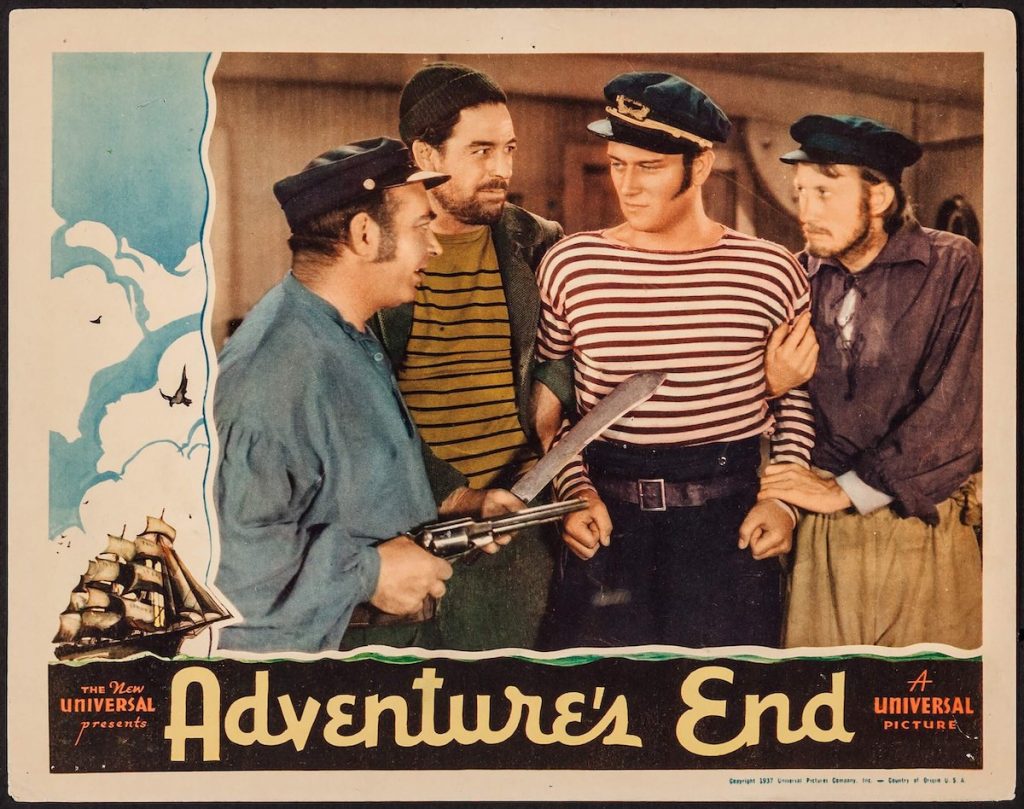 Adventure's End (1937) Universal, Dir: Arthur Lubin, b/w, 63m
Cast: John Wayne, Diana Gibson, Moroni Olsen, Montague Love, Ben Carter, Maurice Black
This article includes affiliate links. If you choose to purchase any of the products we have discussed in this article, we may receive a small commission.
Luckily there appears to be quite a lot of promotional material available on the internet to give a good idea as to what the film actually looked like. I also have a copy of "The John Wayne Filmography" by Fred Landesman close at hand from which I will use as the basis for this review.
Wayne plays self-styled adventurer Duke Slade who embarks on a quest to dive for pearls in the Pacific. Upon arrival he saves a young man, Kalo, played by Paul White, from death by shark, the grateful Kalo in turn helping Slade in his search for pearls.
Forced to terminate their efforts after being threatened by the locals for attempting to hunt in a sacred oyster bed they do a runner and end up signing on as part of the crew of a whaling ship, The Mary Drew.
The captain, Abner Drew, played by Montagu Love, has a daughter, Janet, played by Diana Gibson, who has eyes for first mate Rand Husk, played by Moroni Olsen.
Drew, by now ill and on his way to meet his maker, does not think Husk would be a good match for his daughter seeing as he is older than Janet.
Drew, therefore, hatches a plan to keep the couple apart by arranging for Janet to reluctantly marry Duke instead, she telling Duke that once they get back to Massachusetts with their cargo of whale oil she intends to annul the marriage.
Kalo lets slip to the crew members that Duke and he know the location of a huge oyster bed replete with pearls.
Blackie, a particularly sadistic matelot played by Maurice Black, attempts to persuade Duke to take the ship by force in order to look for the pearls.
Meanwhile, Rand's dislike for newcomer Duke, who is now hitched to the woman he loves, moves him to give his competitor in love a damned good thrashing, his actions thwarted by Duke who gives as good as he gets.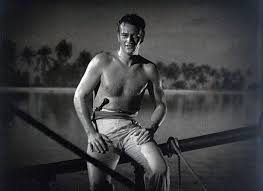 Whilst attempting to catch a whale Rand ends up nearly drowning, only to be saved by Duke. With Rand out of action whilst recovering from the ordeal Duke takes over as interim captain of The Mary Drew.
Blackie eventually shows his hand and attempts to organise a mutiny, his efforts thwarted by Duke, his new friend Rand and the faithful Kalo.
When the ship finally docks in Massachusetts Janet realises that she's been in love with Duke all along and not Rand. The two of them end up as co-owners of the ship and sail off into the sunset.
Contemporary reviews on the one hand suggest that "it is evident from special effects and background scenes that producer Trem Carr increased the budget usually allotted to the Wayne series" and that Wayne is given the opportunity to "display acting talent as well as expose his physique in passive and active combat".
On the other hand, the verdict is that "impossible situations, poor dialogue and valueless marquee both on cast and title, leave little worthwhile. John Wayne flounders in the role", another review stating that the film is "a pale reflection of several recent Hollywood epics".
We're never really going to know how good or bad "Adventure's End" is in terms of the rest of JW acting CV but it's fairly obvious, taking into account the low budget of $90,000, that it won't be up there with Wayne's later classic films. Still, it would be great to find a copy on DVD one day and judge for ourselves.