Get your hankies out for this one. The bad guys want someone else's gold mine so bad they even kill a little girl. Lansakes, have they no heart?
Santa Fe Stampede (1938) Republic, Dir: George Sherman, b/w, 55m
Cast: John Wayne, Ray Corrigan, Max Terhune, June Martel, William Farnum, Le Roy Mason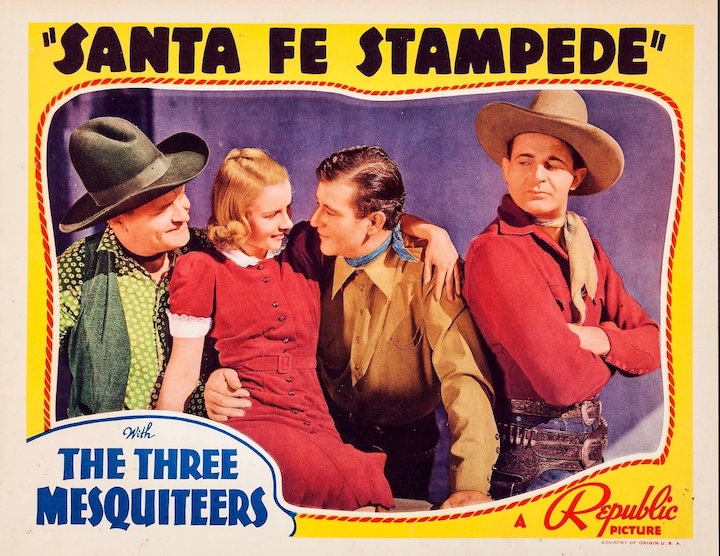 The Mesquiteers grubstake their friend Dave to work a gold mine on their behalf. When they turn up to say 'hi' to Dave his kids, Billy and Julie, fire at the Mesqs then come out from behind a rock brandishing a rifle each.
Lucky this wasn't "El Dorado" or they'd both have gone the way of Johnny Crawford and ended up gut shot, kids or no kids.
Stony and the boys find out that Dave hasn't got around to filing the claim yet on account of the corrupt mayor of Santa Fe Junction, Byron.
Meantime the trigger happy kids scare off a couple of hombres attempting to steal the Mesqs' horses. Our heroes give chase and take one of them, Joe Moffatt, off to jail.
The other hombre meets up with Byron and shows him some samples from Dave's mine which Byron intends to use in order to claim ownership of the mine for himself.
As usual, the town is a nest of corruption with the sheriff and the judge in hock to the mayor. When Stony tries to get Moffatt sent to jail his efforts are side-tracked by Byron and a false witness.
Moffatt goes free and the Mesqs demonstrate their contempt for the lack of justice by trying to beat up everyone within reach. They end up being fined a hundred dollars each.
Lucky for Lullaby he left the dummy at home otherwise he'd have had to pay twice.
Instead of going down the vigilante route and running those dad-blasted hornswagglers out of town on a rail, Rusty urges them to do it legal like and issue a "right of appeal under the constitution". Sounds kind of boring to me.
Cue a montage of lots of signed petitions and men riding around on horses for no particular reason, then something really bad occurs. Lullaby turns up with that peckerwood dummy, Elmer.
Meanwhile, Julie, the little girl with the loaded gun, starts lollygagging and lets on to one of Byron's gang that she and JW and her daddy are off to lodge a petition of protest with the state governor in order to run the bad guys out of town.
I don't know who's sporting more wood for a brain, the dummy or the kid.
The judge gets an attack of conscience when he realises that Byron is going to try and steal the mine from Dave and also stop Sandy and Dave from taking the petition to the governor, even if it means endangering the little girl. You know. The one with the gun.
Moffat and another crony kill Dave and his daughter Julie and get the petition back, not realising that Stony has ridden off earlier to file a claim on the mine himself in Dave's name.
The dastardly Byron decides to frame Stony for Dave's murder, making sure Stony doesn't live to stand trial.
After filing the claim Stony is arrested by a friendly sheriff for the murder of Dave and the kid. Realising their friend is about to be railroaded the sheriff deputises Tucson and Lullaby and they accompany Stony back to Santa Fe Junction, much to the disappointment of Byron and the boys.
Byron then cooks up an idea to ensure that Stony doesn't live to stand trial by spreading word around town that he's going to go on trial elsewhere. This results in the townsfolk transformed from law-abiding citizens into a mob of torch and pitchfork-wielding thugs straight out of a Universal Horror movie.
Ironically this is the exact thing Stony argued against in the first place. Not so much hung by his own petard as about to get just plain hung.
The judge is also transformed but in the opposite direction, eventually rediscovering his moral compass and ordering the corrupt telegraph operator to send a telegram asking for help for the beleaguered sheriff who is trying to protect Stony.
What more can I tell you?
Billy the kid comes to the rescue, riding off to find Stony's hapless companions and untying them so that they can then beat up their captors and ride back to town to help their boss.
Meanwhile, Stony starts looking more nervous than Joe Burdette whilst he sweats inside the jailhouse and the town mob grow uglier and uglier.
They eventually set fire to the place with JW still inside but a helpful stick of dynamite thrown into the mix blows out the back of the jail and he escapes, rescuing the unconscious Nancy, played by June Martel, who hasn't really figured all that much up until now, and won't do for much longer seeing as the flick is nearly over.
It's a bit of a lame ending with Stony confronting the bad guys, ending in the usual fistfight. Byron gets away and for a moment, bearing in mind the film has broken the taboo of having a child killed for plot purposes, I thought that maybe little Billy might be skulking somewhere in the dark shadows ready to blast the villain with that gun of his, but it is not to be.
Stony punches Byron in the face instead and everyone lives happily ever after.
On a scale of one to ten I'd give this a seven. It would have been higher but that creepy dummy is beginning to really freak me out.