Welcome to the first of three, possibly four part article on what I hope will be a definitive list of the numerous co-stars of JW who were also known for their singing careers.
This will also include singers/actors who appeared in a John Wayne film but did not actually play any scenes with him such as Frank Sinatra who performed a cameo role in "Cast A Giant Shadow" as well as Paul Anka and Tommy Sands who graced the screen in "The Longest Day".
This, the first part will deal with what I term the pretty boy gang of performers that came to prominence from the late-1950s / early 1960s before dying a professional death, musically anyway, at the hands of the British invasion initiated by The Beatles.
The following are listed chronologically in terms of their appearance in a John Wayne film.
Tab Hunter – "The Sea Chase"
I'm cheating a bit here because Tab wasn't actually a recording artist at the time he appeared in "The Sea Chase" but hopefully you'll forgive me for this little piece of artistic license.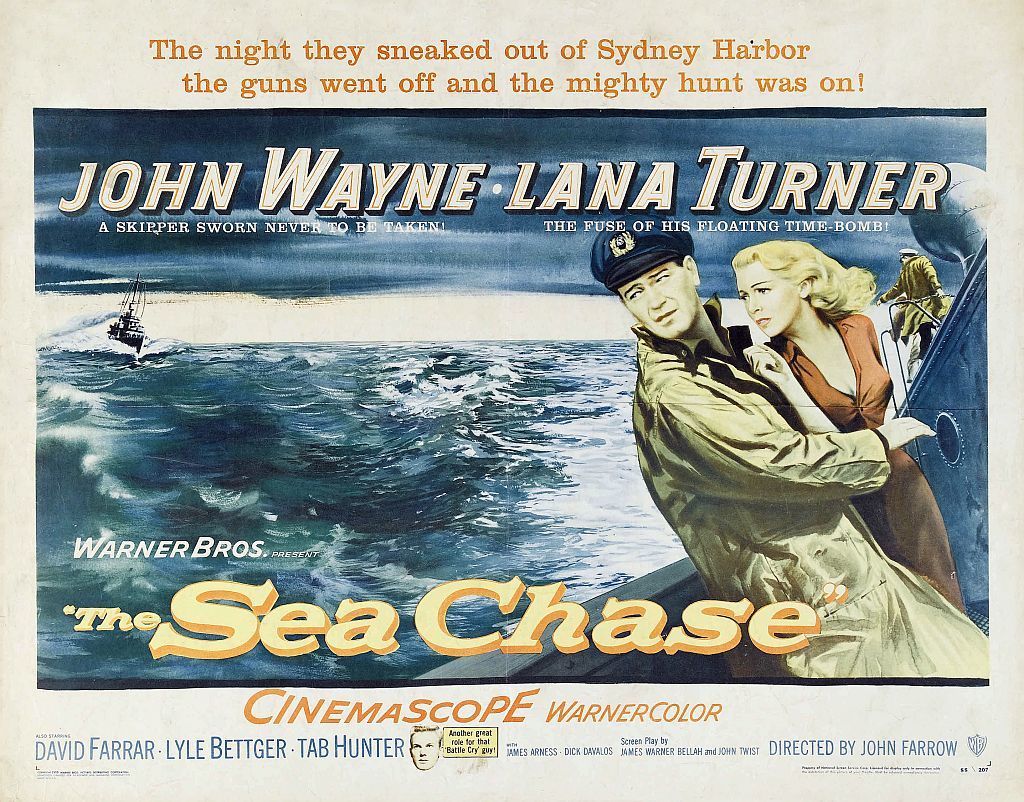 After a few screen appearances in movies such as "Gun Belt" and "Track of the Cat", Tab made quite a splash in the war movie "Battle Cry", released in 1955.
Warner Bros took note and signed him to a contract, adding him to the cast of "The Sea Chase" in which he found himself playing German crew member cadet Wesser.
He was essentially on board in order to attract the teenage audience but, despite being listed fifth in the opening credits, it's hard to remember exactly how much of an impact he made in a supporting cast that also included James Arness, Claude Akins and Paul Fix, but it was a step in the right direction for Hunter's acting career.
During the period from 1955 to 1959 in which Hunter was the most popular star on the Warner Bros roster, it was decided he would make an ideal singing idol.
His very first record, "Young Love", released in 1957, hit the top spot on the Billboard chart, selling over two million copies in the process and adding another string to Tab's bow. In the same year he had another hit with "Ninety-Nine Ways" which got to number eleven in the charts but after that, his singing career never really hit the heights again.
He still cut a dash on the big screen though, hitting a career peak towards the end of the 1950s in movies such as "Gunman's Walk" and the musical "Damn Yankees, before his leading man status was revoked and Tab ended up as more of a supporting actor than anything else.
Still, it must have been good while it lasted.
Ricky Nelson – "Rio Bravo"
Ricky was still only eighteen years old when he won the role of cool gunslinger Colorado Ryan opposite John Wayne and Dean Martin in the classic Western "Rio Bravo", released in 1959.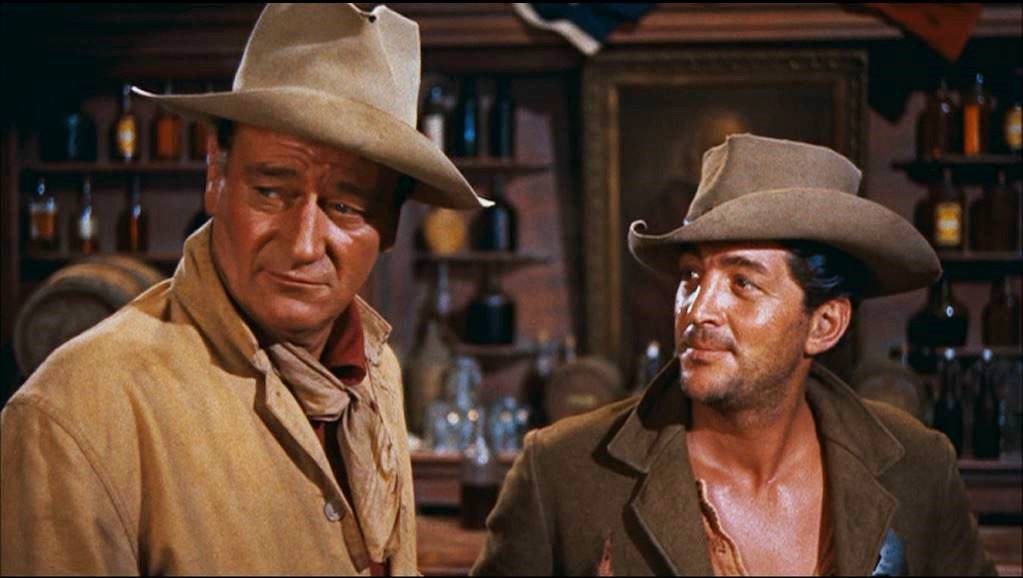 By the time he was cast Ricky as Colorado, he was not only already established as a TV star in "The Adventures of Ozzie and Harriet Show", a popular American sitcom featuring the real-life Nelson family which ran for fourteen years but had also enjoyed chart success as a teen singing idol, starting in 1957 with "A Teenager's Romance", which went to number two in the charts.
According to Todd McCarthy, author of the Howard Hawks biography "The Grey Fox of Hollywood", Hawks "realised that Nelson had no special skills as an actor [so decided] to give him something to do with his hands, , notably rubbing the side of his nose … to show he was thinking".
McCarthy goes on to write that "Nelson's awkwardness is evident in the stiff, posed way he stands…, but Hawks felt Nelson did well enough in the picture and was convinced that his presence added enormously to its box-office draw", so it should come as no surprise that Ricky is listed third in the opening credits to the film.
It was inevitable that Ricky would get to sing in "Rio Bravo", Colorado being at the centre of one of the most memorable scenes in the film in which he enjoys a singing session with Dude (Dean Martin) and Stumpy (Walter Brennan).
It serves to emphasise the solidarity between the three of them and John T. Chance (JW) who watches the performance with a beaming smile on his face.
Ricky and Dean croon "My Rifle, Pony and Me" together before Brennan joins in with "Cindy", a song that Ricky had apparently already covered the year before in an episode of "Ozzie and Harriet". He also later recorded "Restless Kid", a song written for the film by Johnny Cash but which didn't feature in the movie.
Apart from guitar-slinging, Colorado also shows some fancy moves with his gun when he helps Chance out in a street fight outside the aptly named Alamo Hotel.
Ricky continued with his successful singing career after appearing in "Rio Bravo", going on to score another sixteen top ten hits including two number one singles, "Poor Little Fool" and "Travelin' Man".
His last big hit was "Garden Party" which was released in 1974 and reached number six in the charts. By then Ricky's acting career had taken second place to recording and live performances, his last notable big screen appearance being in the romantic "Love and Kisses", released in 1965.
After that his acting career was mainly confined to various TV movies and shows such as "McCloud" and "The Streets of San Francisco".
Frankie Avalon – "The Alamo"
Next up in the list of teen heart-throbs shoe-horned into John Wayne movies of the time in order to appeal to a younger audience is actor and singer Frankie Avalon.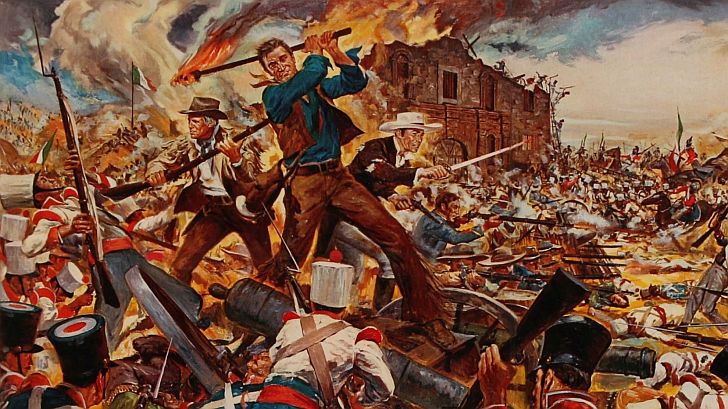 Despite being grouped together with other manufactured teen idols of his generation such as Fabian, Tommy Sands, and Bobby Rydell et al, Frankie was also a genuine child prodigy, his expertise with the trumpet garnering him a recording contract at the age of fourteen with RCA.
Avalon played the role of Smitty in "The Alamo", the youngest of Crockett's Tennesseans, and one of the few to make it out alive.
Wayne was so sure that Avalon would pull in the teenage audience just as Ricky Nelson did with "Rio Bravo" that he had the singer placed prominently in fourth place on the opening credit list.
Wayne was quoted as saying "We're not cutting any bit of any scene in which Frankie appears. I believe he is the finest young talent I've seen in a long time".
Frankie recorded four songs from the film on an EP: "Ballad of the Alamo", "Tennessee Babe", "The Green Leaves of Summer" and Here's to the Ladies".
Avalon was also filmed singing "Here's to the Ladies" for the movie but the scene was deleted from the roadshow version of "The Alamo".
Prior to his appearance in the Wayne epic, Frankie enjoyed his biggest chart success with two singles, "Venus", the song he will forever be associated with, and "Why" in 1959.
Juggling singing and acting over the ensuing years, Frankie achieved ever-lasting cult status in a series of innocuous teen-surf movies alongside pneumatic co-star Annette Funicello with titles such as "Muscle Beach Party" and "Pajama Party".
He also teamed up with his singing "rival" Fabian in the 1966 stock car movie "Fireball 500", with Annette also along for the ride.
Frankie's career received a significant boost when he appeared in the hugely successful 1978 movie musical "Grease", his character Teen Angel scoring big with a new generation of teenagers singing a song entitled "Beauty School Dropout".
Fabian – "North to Alaska" / "The Longest Day"
Prior to his appearance as lovelorn Billy Pratt, younger brother of panhandler George Pratt (Stewart Granger) in the turn-of-the-century gold rush comedy, "North to Alaska, Fabian, or Fabian Forte as he was known in some circles, had already dented the charts with three top ten singles, "Turn Me Loose", "Tiger" and "Hound Dog Man".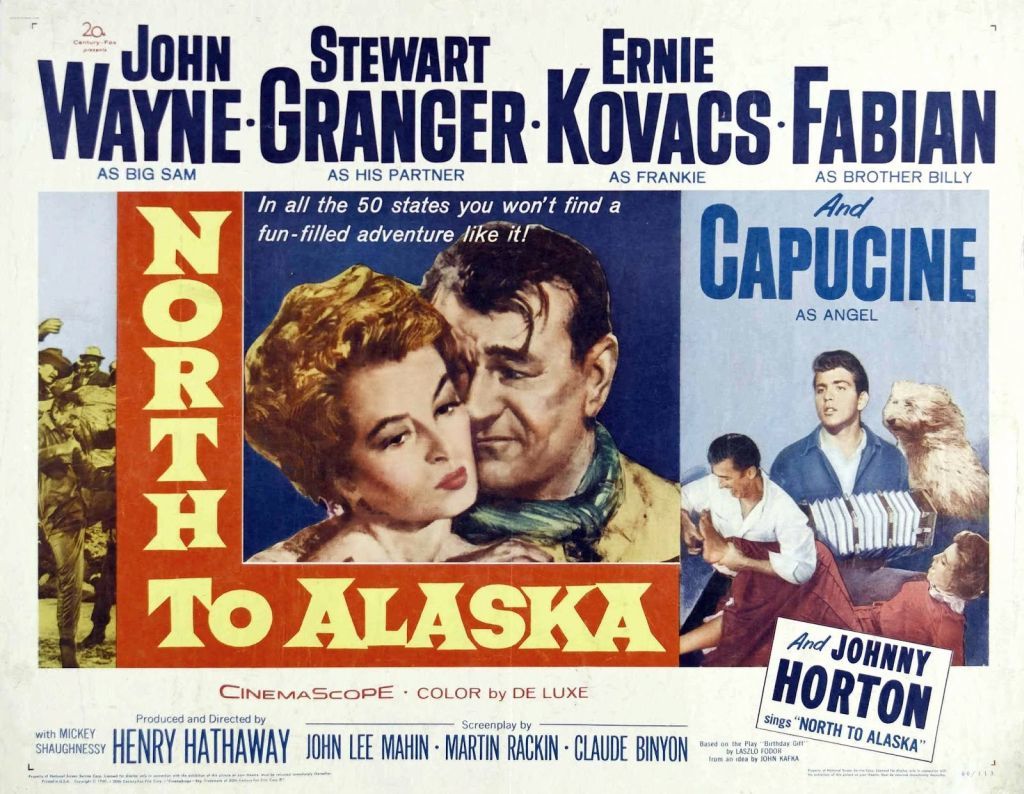 This last single served as the theme tune to a movie of the same name, directed by no less than Don Siegel, with Fabian cast opposite Stuart Whitman.
Now under contract to 20th Century Fox, Fabian was a shoo-in for the role opposite John Wayne, and naturally, he got to sing.
The song is called "If You Knew", a lachrymose tune Fabian warbles to the captive audience of Capucine, who sits in a bath whilst being serenaded from behind a curtain.
The song, which should have been subtitled "If You Knew (the Kid Couldn't Sing Why Is He Even In This Movie)" plus the occasional worried frown from Capucine tells you all you need to know about Mr. Forte.
As a singer, he was a passable actor, as he showed later on in his career, but he is definitely not in the league of Ricky or Frankie.
Fabian didn't actually get to sing the main theme tune to the movie which, as recorded by Johnny Horton, was quite a big hit at the time, reaching number four on the Billboard Hot 100 chart in America. I wonder why.
I've only caught this film a couple of times and each time I watch it I'm captivated more by Fabian's immovable quaff than I am anything else.
It appears to have been cemented to the front of his head, stubbornly maintaining its shape despite numerous punches to Fabian's face whilst rolling around in the mud.
The singer also played a cameo role in the WWII epic "The Longest Day", his character listed in various sources as Private Forte, which was obviously someone's idea of an in-joke. He shared no scenes with John Wayne.
Although enjoying limited chart success for a few more years Fabian worked on his acting career and, along with appearances in TV shows such as "The Rat Patrol" and "The Virginian" made a pretty good account of himself in movies including "The Longest Day", although he and JW didn't actually share any screen time, and "A Bullet for Pretty Boy Floyd", released in 1970 and in which he played the title role of the infamous real-life gangster.
Tommy Sands / "The Longest Day"
Known as the "Singin' Idol" with a number one hit in 1957 entitled "Teen-Age Crush", Tommy Sands eventually became more famous for marrying Nancy Sinatra in 1960, two years before he appeared as Private Hunt in "The Longest Day".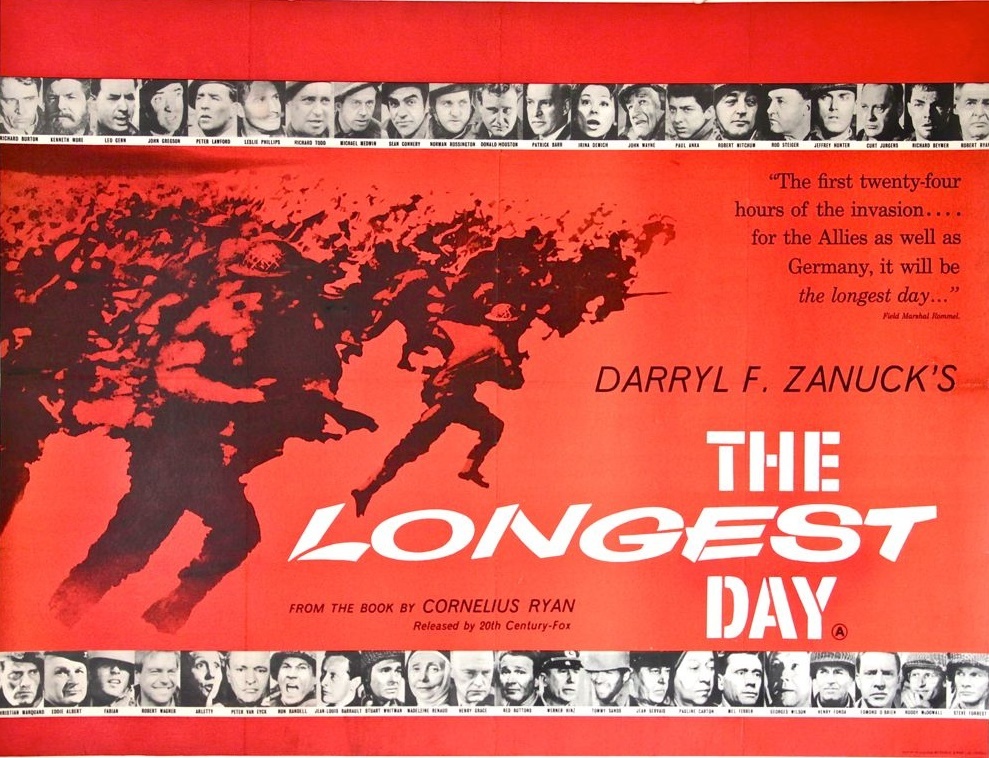 The couple divorced in 1965, Sands appearing that year in the Frank Sinatra WWII movie "None But the Brave".
His singing career eventually took precedence over his acting, although Sands appeared on occasion in TV shows including "Combat!" and "Hawaii Five-O". He still featured in the charts but did not enjoy that much success after the 1960s.
Paul Anka / "The Longest Day"
Paul Anka was a real genuine teen idol, hitting the top of the charts at the callow age of sixteen in 1957 with his self-penned hit "Diana", which reached number two in the American charts as well as becoming a number one hit in the UK.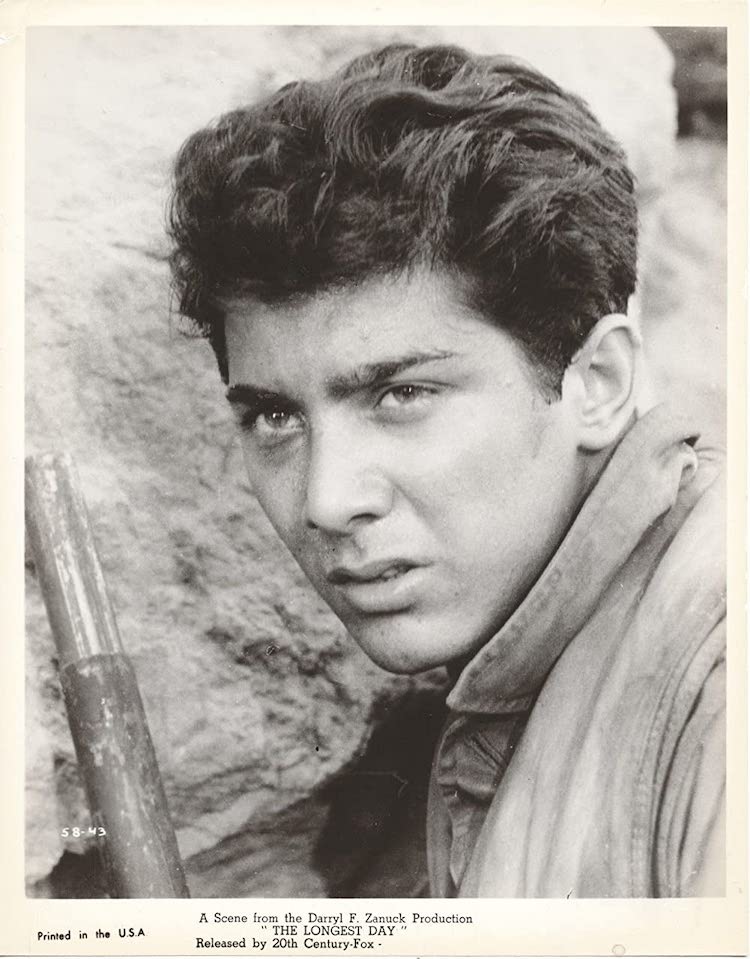 His appearance as Private Lowell in "The Longest Day" was the highest profile role of his acting career, never reaching the heights of success he enjoyed as both a singer and a songwriter.
Anka clocked up a total of ten top ten singles in the following years including two number one hits with "Lonely Boy" and "You're Having My Baby", as well as writing "It Doesn't Matter Anymore" for Buddy Holly.
To top it all off Anka created a huge hit for Frank Sinatra in 1969 when he rewrote the French lyrics to a song called "Comme d'habitude", now better known as "My Way".
Bobby Vinton – "Big Jake" / "The Train Robbers"
More of a lounge singer than a bona fide teen idol Bobby Vinton scored approximately nine top ten singles of which four, including "Roses Are Red My Love" and "Blue Velvet", made it to the number one spot.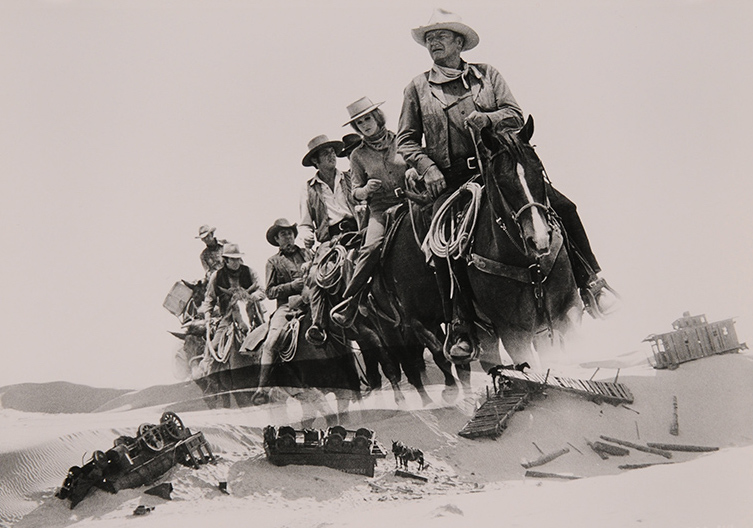 Not having appeared on the big screen for six years Vinton then landed the role in 1971 of Jeff McCandles in "Big Jake", his character the son of Jake McCandles, as played by John Wayne.
Jeff's son, Little Jake (Ethan Wayne) is kidnapped at the beginning of the film by the notorious Fain gang, led by John Fain (Richard Boone).
During the attack, Jeff is seriously wounded but he still manages to kill two of Fain's gang. After that Vinton remains out of the picture until he and Little Jeff are reunited at the end.
Vinton must have impressed Wayne one way or the other because two years later he pops up in another JW Western, "The Train Robbers", in which the singer, as Ben Young, takes off into the desert with Lane (JW) and several of his compatriots to recover half-a-million dollars of buried gold at the behest of a mysterious lady known as Lily Lowe (Ann-Margret).
Although Vinton gets to share a bit more screen time with JW than he did in "Big Jake" both his role and the film itself proved to be fairly inconsequential.
Vinton's singing career is definitely more noteworthy than that of his occasional stint as an actor, the singer maintaining a fairly successful profile as a crooner after the British invasion in 1964 and eventually notching up more number one hits than any other American singer in the decade from 1962 to 1972.
He enjoyed his last big hit in 1974 with "My Melody of Love" which climbed to number three in the charts. As an addendum Vinton's son Robert played the role of his father in the gangster epic "Goodfellas" in 1994, singing "Roses Are Red My Love" in a nightclub sequence.
---
JW Singing Co-Stars Part 2
We're now going to take a look at what I consider to be middle-of-the-road singers as opposed to those revered solely by a teenage audience. These artistes also enjoyed various levels of success in terms of chart hits.
Walter Brennan – "Two Fisted Law", "Texas Cyclone", "Baby Face", "Dakota", "Red River", "How the West Was Won", "Rio Bravo"
Researching this article has brought up a number of facts I was previously unaware of and one of them is that Walter Brennan had a hit single in 1962 that peaked at number 5 in the American charts called "Old Rivers", backed by the Johnny Mann singers.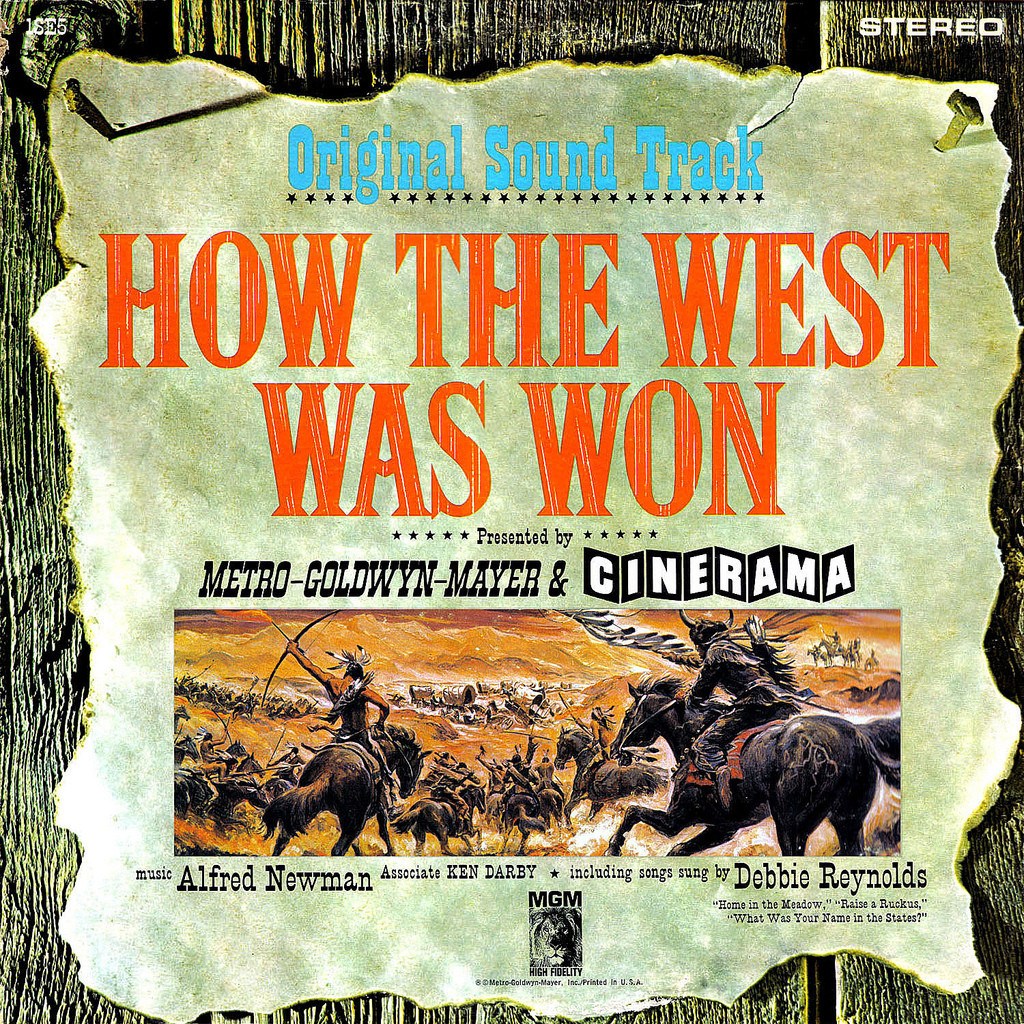 To be fair ole Walt doesn't exactly sing so much as croak out the lyrics in that wonderfully distinctive old-timer's voice of his but the words most definitely seem to come from the heart.
Prior to this Brennan made his chart debut with the single "Dutchman's Gold", released in 1960 and reaching number 30 in the charts.
He followed up "Old Rivers" with "Mama Sang a Song" which peaked at 38 in the charts and, apart from "Houdini" which only got to chart position 100, that was it hit-wise for Walter.
Despite all of the aforementioned recordings being more spoken-word than crooning, Brennan could actually sing when required, hitting the high note at the end of "Get Along Home, Cindy" from "Rio Bravo" in harmony with Dean Martin and Ricky Nelson.
Roy Rogers – "Dark Command"
As lead vocalist and rhythm/lead guitarist with the Sons of the Pioneers, Roy, or Leonard Sly as he was known back then, enjoyed early success with "Tumbling Tumbleweeds" which hit the charts of 1934 at number 13.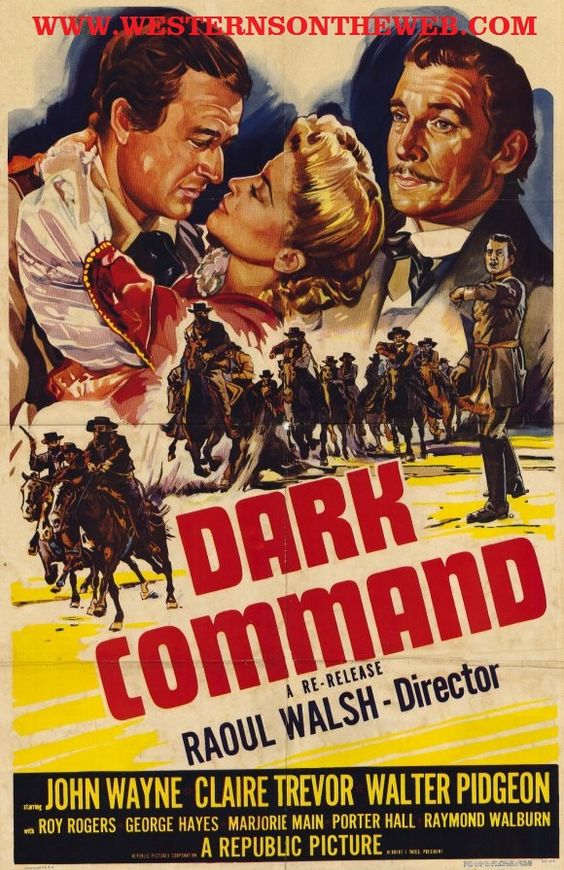 Required to leave the group in order to fulfill his film contract with Republic in 1937, Roy struck out on his own and, over the following decades, dented the country charts with four top ten singles including "Blue Shadows on the Trail" and "Pecos Bill", in which he was reunited with the Sons of the Pioneers, as well as "My Chickashay Girl" and "Stampede".
In 1974 his single "Hoppy, Gene and Me" reached number 15 in the country charts, although for some strange reason what was probably his most famous recording, "Happy Trails", appears not to have charted anywhere at all.
The song, in which he duets with his wife Dale, who also wrote it, played over the end credits of their popular TV show back in the 1940s / 1950s.
Other well-liked non-chart songs by Rogers include "Don't Fence Me In", "The Yellow Rose of Texas" and "Way Out There".
Roy only got to appear with John Wayne once in the film "Dark Command", released in 1940, in which he played against type as a killer and a racist.
Despite this bold move on the singer and actor to show a darker side to his screen persona Wayne wasn't too impressed, stating years later that "Roy Rogers.. wasn't a cowboy.
He was a goddam country singer from Ohio… Rogers wasn't any actor. He was barely a singer". I reckon there are an awful lot of people out there even now who would take JW to task on that last sentence of his.
Dean Martin – "Rio Bravo" / "The Sons of Katie Elder"
Dino Paul Crocetti aka Dean Martin aka "The King of Cool" was possessed of a singing persona that can at best be described as relaxed to the point of unconsciousness.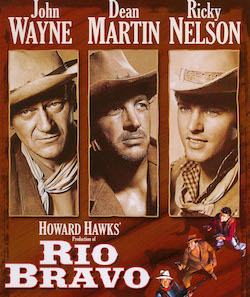 However, he gave his peers such as Frank Sinatra and Tony Bennet a run for their money when it came to his ability to deliver a song. In a singing career that spanned four decades, Dino enjoyed fourteen top twenty American hits of which four were posthumous, indicative of the continuing popularity he enjoyed even after his death.
Most of his chart successes can be divided into two categories, those he recorded for the Capitol label between 1948 to 1961 and the records he made for Reprise from 1962 to 1973.
His most popular Capitol hits include "Memories Are Made of This" which hit the number one spot in 1955 and the earlier "That's Amore", a number two hit from 1953 which featured the same year in the Martin / Lewis movie "The Caddy".
Striking out on his own after the split from Jerry Lewis in 1956 he went on to deliver a memorable portrayal of a man wrestling with alcoholism in the classic Howards Hawks Western "Rio Bravo", serenading a grinning John Wayne as he and Ricky Nelson duetted on "My Rifle, Pony and Me", as well as recording the main theme to the film.
Although Martin's performance as an alcoholic was extremely convincing, his off-screen love of the hard stuff was apparently all an act, Sinatra once remarking that he "spilt more than Martin ever drank".
In 1965 Martin teamed up with Wayne once more in "The Sons of Katie Elder", playing Duke's younger brother Tom. No singing this time though. Just pure action.
His popularity soared even more when "The Dean Martin Show" aired on TV the same year, running for nine years, with Wayne among the many famous guests to make an appearance.
By this time he had signed with Frank Sinatra's Reprise label, topping the American charts in 1964 with "Everybody Loves Somebody Sometime", in the process knocking those British upstarts The Beatles from the number one spot they had occupied with "A Hard Day's Night".
Other hits for Reprise included "The Door Is Still Open to My Heart" and "I Will".
PS The aforementioned four posthumous hits were all the same song, "Let It Snow! Let It Snow! Let It Snow!" which charted four years running from 2019 to 2022.
Legend.
Lee Marvin – "The Comancheros / "The Man Who Shot Liberty Valance" / "Donovan's Reef"
Lee Marvin enjoyed a drunken harmony-free duet with John Wayne in "The Comancheros" when they serenaded each other with the song 'Red Wing', a contemporary review in the New York Times stating that Marvin's singing was "so noisy he just has to be shot".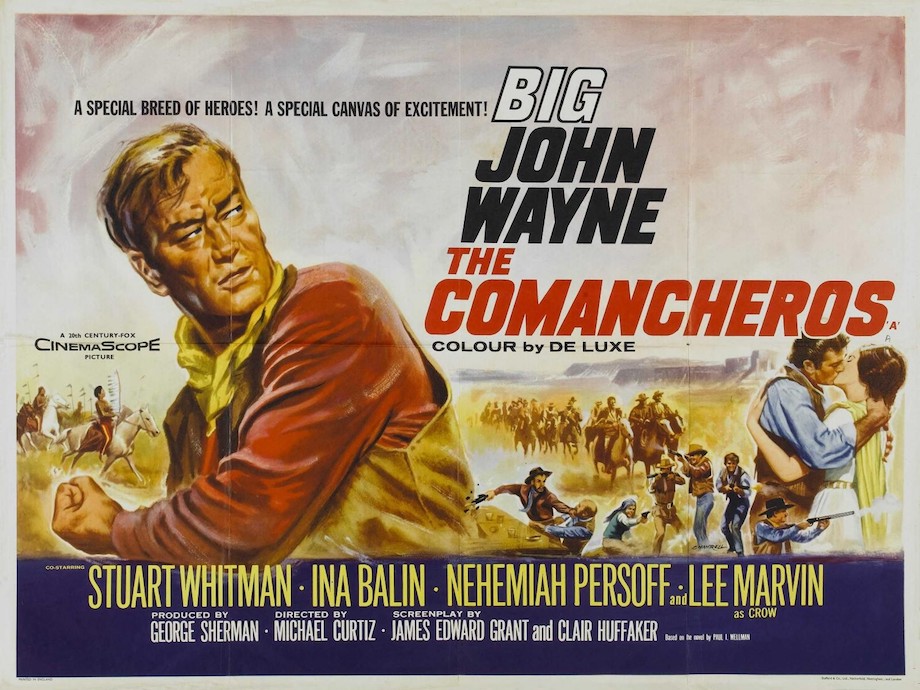 Wayne duly obliged, an indication of his own feelings when it came to hearing his co-star murder a song that was presumably close to his heart on having previously sung it himself in the 1943 movie "In Old Oklahoma" aka "War of the Wildcats".
No one, however, could have predicted he would eventually enjoy a huge UK number one hit single with the song "Wandrin' Star" that featured in the screen musical "Paint Your Wagon". According to his co-star Jean Seberg, his voice was "like rain gurgling down a rusty pipe" but record buyers over here in England were so enamoured of Marvin's croaking rendition of the song that upon its release in March of 1970 it knocked the Beatles and their final single "Let It Be" off the top of the charts.
As if that wasn't enough to take on board the B-side featured Clint Eastwood crooning "I Talk to the Trees". The less said about that the better.
Marvin had occasionally warbled a song or two in some of his previous movies including an ensemble version of "Bye Bye Blackbird" in "Pete Kelly's Blues", released back in 1955 and a solo rendition of "Happy Birthday" in the comedy Western "Cat Ballou", Marvin winning an Oscar for Best Actor for his twin roles as drunken bum Kid Shelleen and murderous gun for hire Tim Strawn.
If you're interested he also sang what can only be described as a rehearsal for "Wandrin' Star" with his interpretation of "Down in the Cane Break" from the WWII movie "Hell in the Pacific, released in 1967.
It has to be said that as a singer, Lee Marvin was a great actor.
Robert Mitchum – "El Dorado" / "The Longest Day"
Having exercised his singing pipes in a few of his earlier films actor Robert Mitchum tickled the US charts in 1958 with his recording of "The Ballad of Thunder Road", the theme tune to the crime drama "Thunder Road".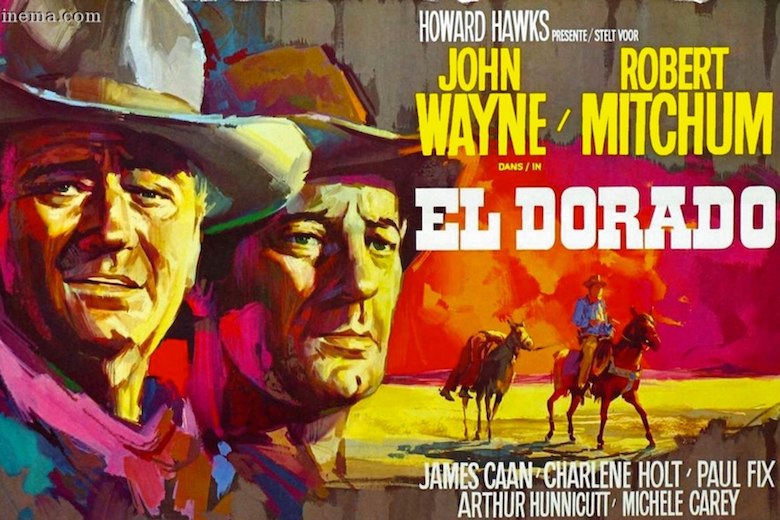 Mitchum supplied the lyrics with music composed by Jack Marshall, the record charting at position 62 with a bullet, returning again to the charts upon its re-release four years later at number 65.
The year before, in 1957, the actor went into the studio and recorded an album of calypso songs entitled "Calypso… Is Like So…", the LP the result of Mitchum's enthusiasm for the musical form whilst on location in the Tobago Islands for the film "Heaven Knows Mr. Alison".
Songs such as "Coconut Water" and "Mama, Looka Boo Boo" are delivered in the actors rich baritone complete with the idioms and accent associated with calypso music, something that would in this day and age be condemned as cultural appropriation and also something the famously laid back actor wouldn't have given a damn about one way or the other.
Bob also issued an album in 1967 entitled "That Man, Robert Mitchum… Sings", which includes his number 6 country chart hit "Little Old Wine Drinker Me" which was also covered the same year by Dean Martin. Dino's version outsold Mitchum's but I'm assuming they still stayed friends.
If you also check out Bob's films you'll hear him singing in quite a few, most notably in "Rachel and the Stranger" where he duets with co-star `Loretta Young on two songs, "Just Like Me" and "Summer Song". A 78rpm record was issued of the soundtrack to the film which included the aforementioned tunes and four more songs that featured in the movie.
As the murderous Reverend Harry Powell in the classic 1955 thriller "Night of the Hunter" Mitchum serenades two children hiding in a house protected by a kindly woman played by Lillian Gish with the gospel song "Leaning on the Everlasting Arms".
Halfway through the song, it turns into a weird duet with Gish and Mitchum singing in harmony, he trying to figure out how to get his hands on the children whilst Gish sits in the house with a loaded shotgun.
Other films featuring his singing include "Pursued", a Western film noir released in 1947 with Mitchum crooning "Danny Boy" and the classic cowboy song "Streets of Laredo". He also sang the theme tune to the 1969 Western "Young Billy Young".
According to Todd McCarthy, author of the Howards Hawks biography "The Grey Fox of Hollywood", a pre-release version of "El Dorado" featured "a musical number reminiscent of Rio Bravo" which was cut after the director's son, Gregg Hawks, told his daddy that "a sheriff shouldn't sing".
Seeing as Mitchum played the sheriff then he must have contributed to the now lost on the cutting room floor group singalong, which is a real shame. It's also probably why Gregg Hawks never made it as a film director.
---
JW Singing Co-Stars Part 3
I was going to do a spot here at the beginning on Frank Sinatra, seeing as he played a cameo in "Cast A Giant Shadow" but I figured what else could you write about him that hasn't already been written?
The guy had more chart hits and success than most of the other singers mentioned so far all put together.
Suffice it to say he really was 'Chairman of the Board', 'The Voice', 'Swoonatra' – you name it, he was it and he did it his way whether anyone else liked it or not.
James Stewart – "The Man Who Shot Liberty Valance" / "The Shootist"
As already mentioned it's amazing what you find when researching for articles such as this and I was somewhat amazed myself to find out that James Stewart was actually once seriously considered to be a potential singing romantic lead.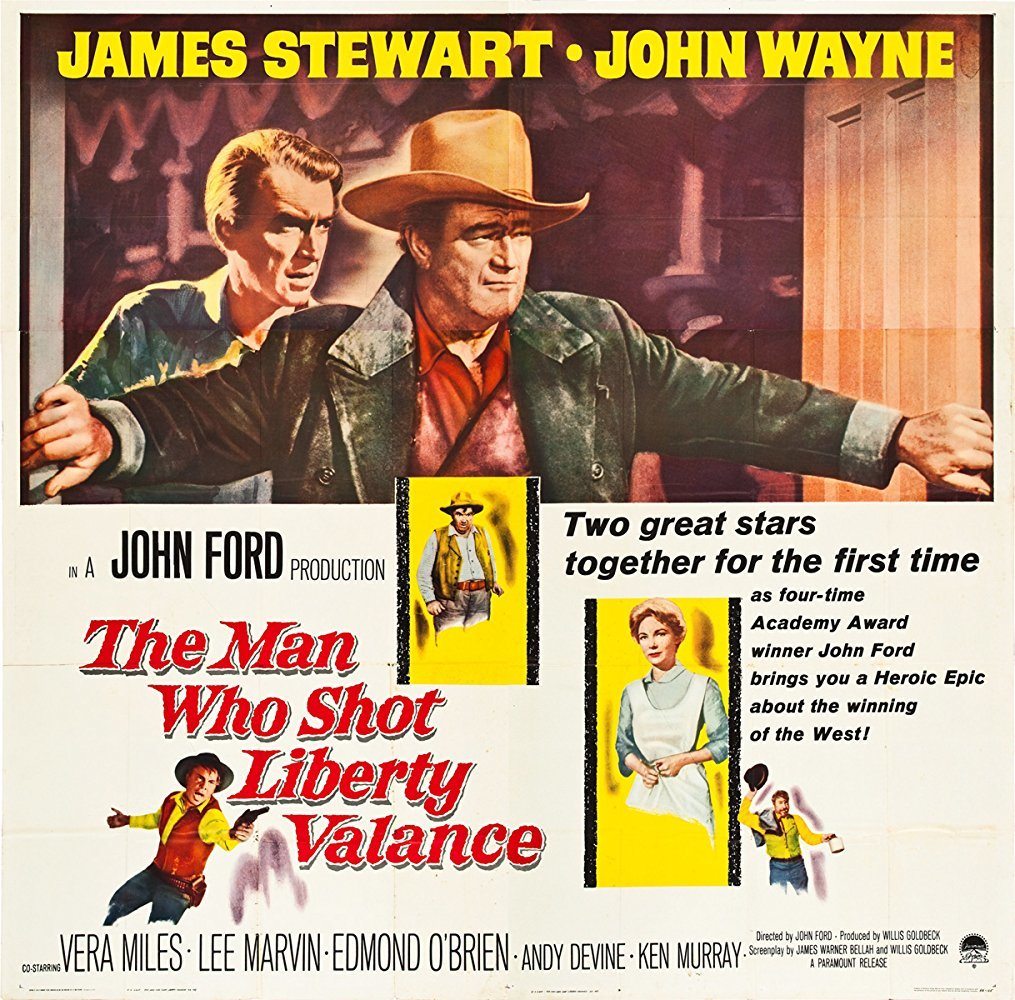 He can be found warbling his way through the song "Easy To Love" in the 1936 MGM musical "Born to Dance", Mr. Stewart demonstrating his rug-cutting expertise was even worse than his singing.
On that subject, according to the composer Cole Porter, who wrote the songs for the film, "he sings far from well, although he has some nice notes in his voice".
Luckily for Stewart, as well as the audience, most of the other songs he sang in the film were
cast ensemble efforts. Prior to this, whilst a student at Princeton, Stewart recorded a single entitled "Day After Day", issued on the Columbia label.
It was put out to publicise the production of a play entitled "Spanish Blades" that Stewart appeared in as a member of the Princeton Triangle Club.
There is no evidence it dented the music charts in any way whatsoever.
Apart from appearing in a supporting role in the Nelson Eddy / Jeanette MacDonald musical "Rose Marie" in 1936 that was it for the actor's singing career, at that point anyway.
He did risk alienating his audience in the classic 1940 comedy "The Philadelphia Story" though, drunkenly delivering his version of "Somewhere Over the Rainbow".
The following year he took the lead in the musical "Pot O' Gold" and sang the song "When Johnny Toots His Horn".
He also sang a short duet with Donna Reed in "It's A Wonderful Life" with the song "Buffalo Girls (Won't You Come Out Tonight"), Ms. Reed demonstrating her musical inability to carry a note at the same time. In between
There is a suggestion that Stewart's screen partnership with Anthony Mann, in which actor and director delivered classic Westerns such as "Winchester '73" and "The Man from Laramie", was derailed when Stewart insisted on singing in the 1957 Western "Night Passage", Mann eventually being replaced by James Neilson.
An accomplished accordion player, Stewart sang and played the instrument in two songs, "Follow the River" and "You Can't Get Far Without A Railroad", the latter performed twice in the film.
The actor released a single entitled "The Legend of Shenandoah", a song 'inspired' by the movie "Shenandoah", directed by Andrew V.McLaglen in 1965.
Issued on the Decca label Stewart delivers the song in more of a spoken-word style with backing from a chorus singing the tune to the traditional song of the same name.
Finally, the actor stretched his singing voice in the 1978 musical film "The Magic of Lassie". Stewart got to sing "That Hometown Feeling" which featured on the soundtrack album of the same name.
He didn't sing at all in either of the films he co-starred in with John Wayne, "The Man Who Shot Liberty Valance" or "The Shootist". Probably a good idea.
Stanley Holloway – "In Harm's Way"
One of John Wayne's more surprising singing co-stars was the English actor and comedian Stanley Holloway, probably best known to American audiences for his performance as Alfred Doolittle in the screen adaptation of "My Fair Lady".
In what appeared to be more of a cameo than anything else the actor was cast in Otto Preminger's nigh-on three-hour WWII epic "In Harm's Way" as an Australian coastal watcher by the name of Clayton Canfil who assists Wayne in a military operation against the Japanese.
Playing the father of Eliza Doolittle (Audrey Hepburn), Holloway got to sing one of the best-known songs in the musical, "Get Me To the Church On Time".
The actor won a Best Supporting Oscar as the father of Eliza. It wasn't too much of a stretch for him seeing as Holloway had already played the role in the original stage musical in both the London West End and on Broadway.
Although Holloway released a number of albums featuring comedy monologues such as "The Lion and Albert" and "Guarding the Gasworks", the actor/singer does not appear to have actually scored a hit song in the charts.
Kirk Douglas – "In Harm's Way" / "Cast A Giant Shadow" / "The War Wagon"
As far as I can make out Kirk Douglas sang for the first time on the big screen in the Howard Hawks Western "The Big Sky", released in 1952 and in which he duets with Dewey Martin on the song "Whiskey, Leave Me Alone", a tune which coincidentally also featured in the JW / Howard Hawks film "Hatari!" a decade later.
A few years later he appeared in the Western "Man Without A Star", strumming a banjo and singing a verse from a song called "The Moon Grew Brighter". Douglas recorded a full version of the song which was later appeared as the B-side of a single, the A-side featuring a song entitled "A Whale of A Tale".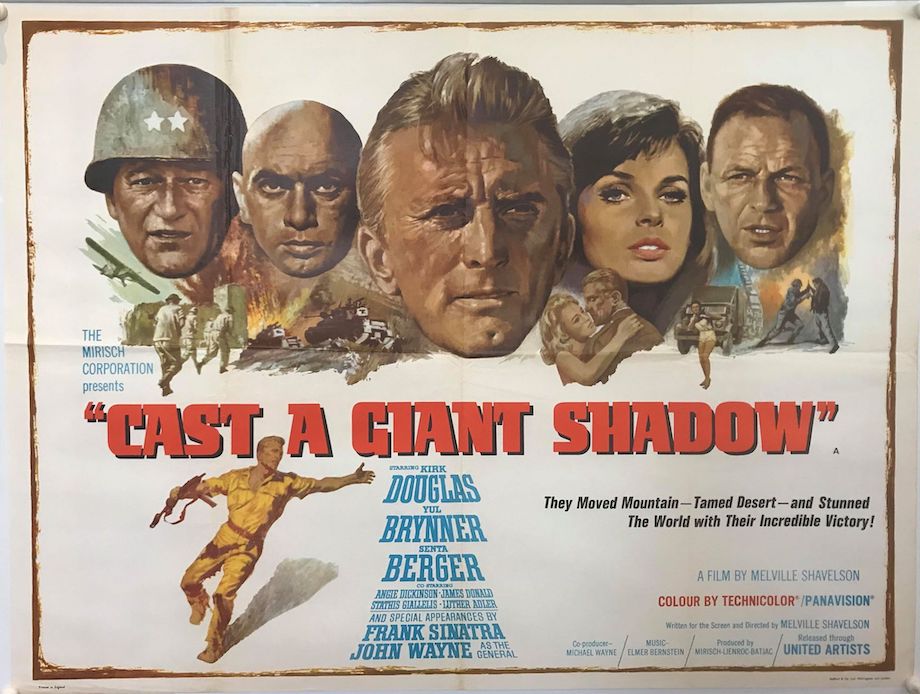 Walt persuaded Kirk to sing the song in the underwater epic "Twenty Thousand Leagues Under the Sea", released in 1954.
The studio issued the recording along with the theme tune from the film and Kirk's effort was apparently very popular on the kiddie charts of the time.
In an interview quite a few years later the actor is quoted as saying "I've made 76 movies, and I sang in only a few of them… but 'Whale of A Tale' was the most wonderful song I ever sang. It was a really rollicking song that everyone liked".
Whenever Kirk Douglas appeared over here in the UK on TV either as a talk-show guest or on an awards show he would invariably break into song, usually with a tune entitled "Maybe It's Because I'm A Londoner", which of course Mr. Douglas most definitely wasn't.
He did like the sound of his own voice though, that's for sure, giving his tonsils a work whenever the opportunity came along.
Kirk first got to team up with JW in the Otto Preminger WWII Naval film "In Harm's Way". Typically, he played an emotionally unstable character who, after raping a young nurse who then commits suicide, redeems himself by discovering the whereabouts of a huge seaborne Japanese task force and dying in the process.
Duke played a cameo role and helped to finance a pet project of Kirk's with the film "Cast a Giant Shadow", in which Douglas played Mickey Marcus, a real-life character who helped organise the defence of Israel when it was attacked by various Arab factions in 1948.
A couple of years later the two actors co-starred in "The War Wagon", a Western in which Douglas played gun for hire Lomax. By a neat coincidence, the following singer also appeared in the same film…
Howard Keel – "The War Wagon"
Howard Keel was a thigh-slapping baritone singer known mainly for his roles in some of the most popular Hollywood musicals of the 1950s.
Prior to this, he had made his name on Broadway in "Oklahoma!" before graduating to the big screen with an offer of a contract with MGM.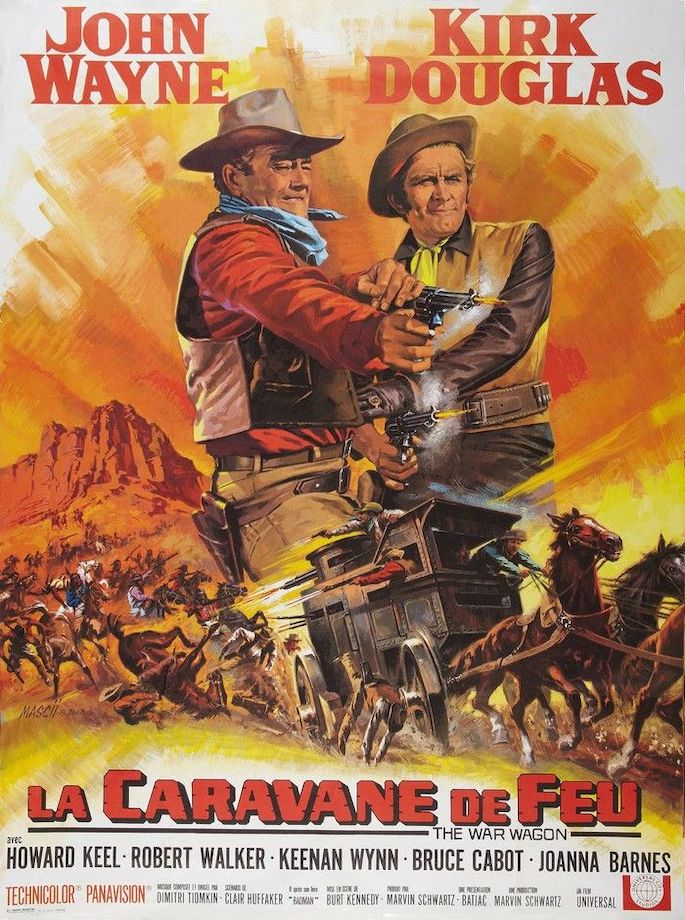 He starred in no less than a dozen musicals for the studio including "Annie Get Your Gun", "Calamity Jane", "Kiss Me Kate" and the ever-popular "Seven Brides for Seven Brothers".
In between the musicals, Keel also got to display his serious acting skills in dramas such as "Ride Vaquero!" and "Desperate Search".
In 1967 he turned up in a non-singing supporting role as a Native American by the name of Levi Walking Bear alongside John Wayne and Kirk Douglas in "The War Wagon".
Obviously going for laughs rather than credibility, at one point in the film Keel ends up trying to avoid a bullet between the eyes as Emilio Fernandez, playing a murderous Mexican Bandido, attempts to shoot bottles of tequila placed precariously upon Walking Bears' head.
Amazingly Keel didn't actually embark on a solo recording career until he was in his sixties, returning to the stage in the West End of London as well as embarking upon a series of tours and capitalising on his newfound fame oil baron Clayton Farrow in the popular TV series "Dallas".
He proved so popular in the role that Keel stayed with the show for ten years and over 200 episodes.
Keel never had a hit single in the charts but he did fairly well album-wise, hitting the UK charts at number six with the LP "And I Love Her So" in 1984.
The following year his follow-up album "Reminiscing: The Howard Keel Collection" also charted in the UK at number 20, coincidentally also spending 20 weeks in the UK charts.
Popular songs recorded by Howard Keel, specifically from his MGM musical days include "Bless Your Beautiful Hide", "Anything You Can Do", a duet with Bettie Hutton and "Oh What A Beautiful Morning".
Glen Campbell – "True Grit"
Singer and musician Glen Campbell joined the club of John Wayne co-stars known more for their musical fame than acting skills when he was cast as Texas Ranger La Boeuf in "True Grit", released in 1969.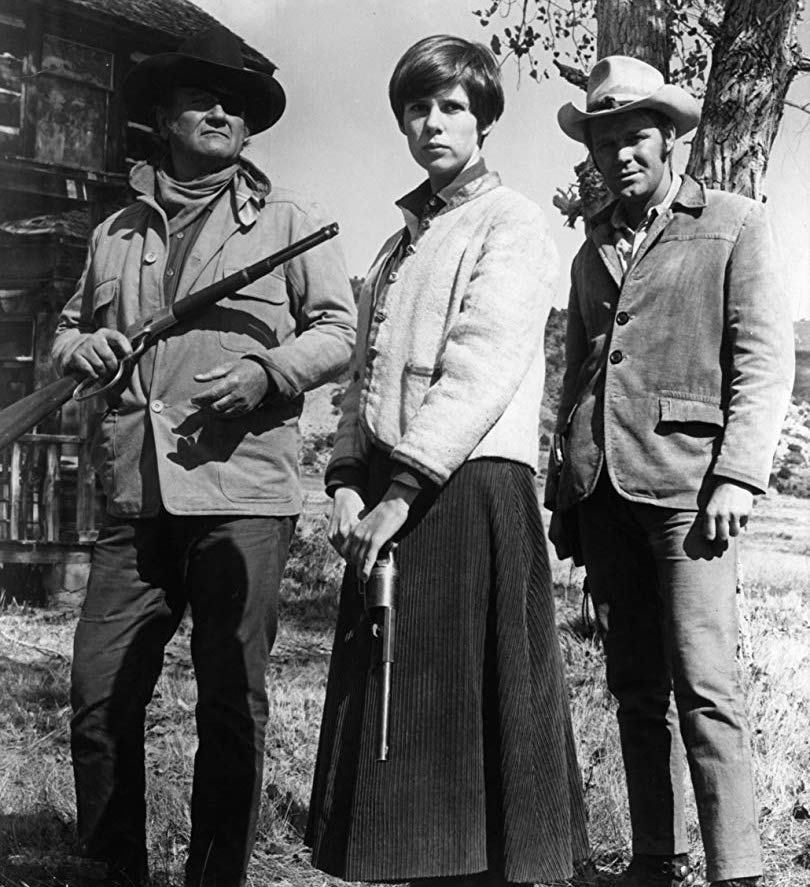 Prior to this Campbell had made his name as a much-in-demand session guitarist, playing on numerous recordings for the likes of Frank Sinatra, Elvis Presley and the Beach Boys as a member of the legendary LA based studio session group known as the Wrecking Crew.
At one point, Campbell even got to join the Beach Boys for a few months in late 1964 / early 1965, replacing group leader Brian Wilson on tour.
Campbell had his first solo hit in 1965 with the song "Universal Soldier" and two years later his recording of "Gentle On My Mind" initiated a string of hits that took him to the top of the charts, winning Glen Campbell worldwide fame as one of the most popular singers of his generation.
The singer scored numerous hits on both the Billboard Country and Billboard Hot 100 charts, totalling thirty-four top ten hits across both charts over a twenty-two year period from 1967 to 1989.
Some of his most famous songs were penned by Jimmy Webb, Campbell recording evergreen Webb classics such as "By the Time I Get To Phoenix", "Galveston" and of course "Wichita Lineman".
In 1975 he had one of his biggest hits with "Rhinestone Cowboy" and continued to drift in and out of the charts over the next couple of decades, notching up numerous Grammy and Best Country Singer awards and nominations along the way.
Glen's acting career prior to "True Grit" consisted of a handful of TV appearances in shows such as "The F.B.I." and "The Cool Ones", but by the late 60s, he was still riding high in the charts so it was inevitable that Hollywood would eventually come calling.
His portrayal of Texas Ranger La Boeuf didn't exactly set the screen alight but it's true to say he held his own alongside Wayne and Kim Darby and, of course, he got to sing the theme tune which made it into the top ten on the Billboard Charts in late 1969.
Campbell was fairly self-effacing about his role in the film, stating "'True Grit' was fun to do, but I wasn't cut out to be an actor.
I made John Wayne look so good, he won his only Oscar". Nevertheless, Campbell went on to play the lead in "Norwood" opposite his "True Grit" co-star Kim Darby, a comedy based upon a novel by Charles Portis, who also authored "True Grit", but the film was not a success and Campbell's acting efforts took second place to his singing career.
The singer got his own TV show, "The Glen Campbell Goodtime Hour" in late 1969 which ran for three years and featured guest stars such as Johnny Cash, Ray Charles, Dionne Warwick and Willie Nelson.
John Wayne even put in an appearance, guesting on the show with Glen in 1971.
---
John Wayne Singing Co-Stars Part 4
The discerning reader might have noticed in this series of articles on John Wayne's singing co-stars so far that I have yet to include any female singers so we're going to correct that right here and now.
Shirley Temple – "Fort Apache"
As far as I can work out famed child actor Shirley Temple only ever bothered the record charts once, in 1935 to be exact, with her recording of "The Good Ship Lollipop", which reached number 4 in the American charts of the day.
She first sang the song at the age of five in the film "Bright Eyes", and it would forever be recognized as her signature tune, selling over half a million sheet music copies in the mid-1930s.
Other popular songs associated with Temple include "Animal Crackers In My Soup", "Polly-Wolly-Doodle" and "Cotton Candy Skies". She appeared in two films directed by John Ford, singing "Auld Lang Syne" in the 1937 film "Wee Willie Winkie" and then in 1947 she played the grandly named Philadelphia Thursday, daughter of Lieutenant Colonel Owen Thursday, as played by Henry Fonda, in "Fort Apache".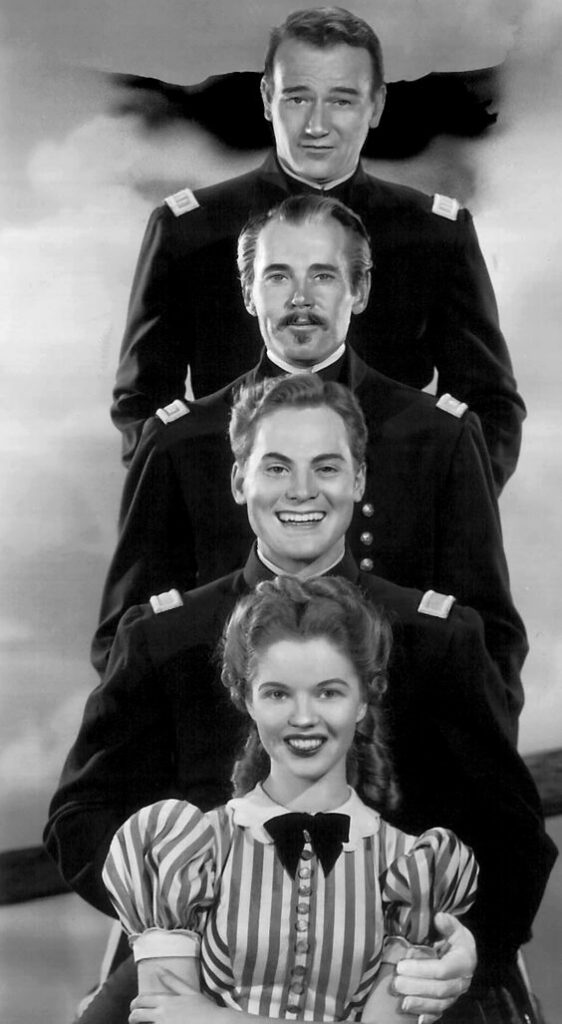 Temple effectively retired from screen acting the following year, releasing the occasional album over the years featuring Disney songs in the main.
Marlene Dietrich – "Seven Sinners" / "The Spoilers" / "Pittsburgh"
Probably more famous for her work as a film actress and singer rather than purely for her recordings, Dietrich sang her most famous song "Falling In Love Again" in the 1930 film "The Blue Angel", directed by Josef von Sternberg.
Dietrich and Sternberg were then lured to Hollywood where they partnered up on six films with the actress singing in three of them.
In 1939 she appeared in the comedy Western "Destry Rides Again" opposite James Stewart, singing what would become the second signature song of her career, "See What the Boys in the Backroom Will Have".
Dietrich partnered with John Wayne in three films in the early 1940s, "Seven Sinners", "The Spoilers" and "Pittsburgh".
In the first of these, she played a saloon entertainer by the name of Bijou Blanche, singing a number of songs including "The Man's in the Navy Now" and "I Can't Give You Anything But Love, Baby". In 1945 she released a single of another evergreen Dietrich song "Lili Marlene", which reached number 51 in the American charts.
As her acting career declined Dietrich began to tour her stage show, partnering up with Burt Bacharach as her musical arranger in the mid-1950s.
They went on to make a number of albums together, one of them featuring her version of the protest song "Where Have All the Flowers Gone?" which was released along with a recording of the Bob Dylan tune "Blowin' in the Wind" as a single in 1965.
Maureen O'Hara – "Rio Grande" / "The Quiet Man" / "The Wings of Eagles" / "McLintock!" / "Big Jake"
Now I knew that Maureen O'Hara actually did her own singing in "The Quiet Man" performing "The Isle of Innisfree", the instrumental version of the song serving as the main theme to the film.
What has surprised me, however, is the number of other films in which the actress also sang, including the Disney 1961 release "The Parent Trap", in which O'Hara sang a song entitled "For Now, For Always".
She also sang "In the Garden" in the funeral sequence for the film "Spencer's Mountain", released in 1963 and an early adaptation of "The Walton's".
O'Hara's first two films, "Kicking the Moon Around" and "My Irish Molly", both released in 1938, were musicals, although I'm still trying to find out if she actually sang in them, and in 1941 she appeared in "They Met In Argentina" with a score written by Rogers and Hart.
Unfortunately, it failed miserably at the box office, killing off any possibility of the actress appearing in another screen musical.
Intriguingly she was seriously considered for the role of Anna in the screen version of "The King and I" in 1956 but lost out to Deborah Kerr, despite Kerr having to be dubbed whilst O'Hara was obviously able to do her own singing.
She recorded two albums, "Maureen O'Hara Sings Love Letters", released in 1953 and "Favourite Irish Songs" released in 1962.
The first of these albums featured popular songs of the time such as "I Only Have Eyes for You" and "The More I See You" whilst on the second album she covered more traditional Irish fare including "Danny Boy" and "Come Back to Erin".
Two years before in 1960 O'Hara appeared in her one and only Broadway musical, "Christine". Despite a score by Webster and Fain who wrote the songs for the film musical "Calamity Jane" it didn't find an audience and closed after only twelve performances.
Ever the trooper, O'Hara would still burst into song with her distinctive soprano voice and made singing appearances on TV with famous performers such as Andy Williams and Perry Como.
According to O'Hara herself, "The Dinah Shore Show launched me as a musical guest star. I sang a solo and then joined Dinah and Shirley MacLaine in a song-and-dance number."
Television producers took notice after that, and it marked another turning point in my career.
"I spent the next few years making the rounds on every top variety show. I appeared many times on The Perry Como Show, The Andy Williams Show, The Garry Moore Show, The Bob Hope Show, the Hallmark Hall of Fame and the Ed Sullivan Show…to name a few. My favourite performance was singing songs from the 1940s on The Tennessee Ernie Ford Show."
The episode was called "The Fabulous Fordies". In this episode, O'Hara sang "A Nightingale Sang in Berkeley Square."
Finally, it's worth pointing out that not only did the actress star in "The Deadly Companions", Sam Peckinpah's first big screen Western and released in 1963, she can also be heard performing a song entitled "Empty Dawn" over the opening and closing credits as well.
Lauren Bacall – "Blood Alley" / "The Shootist"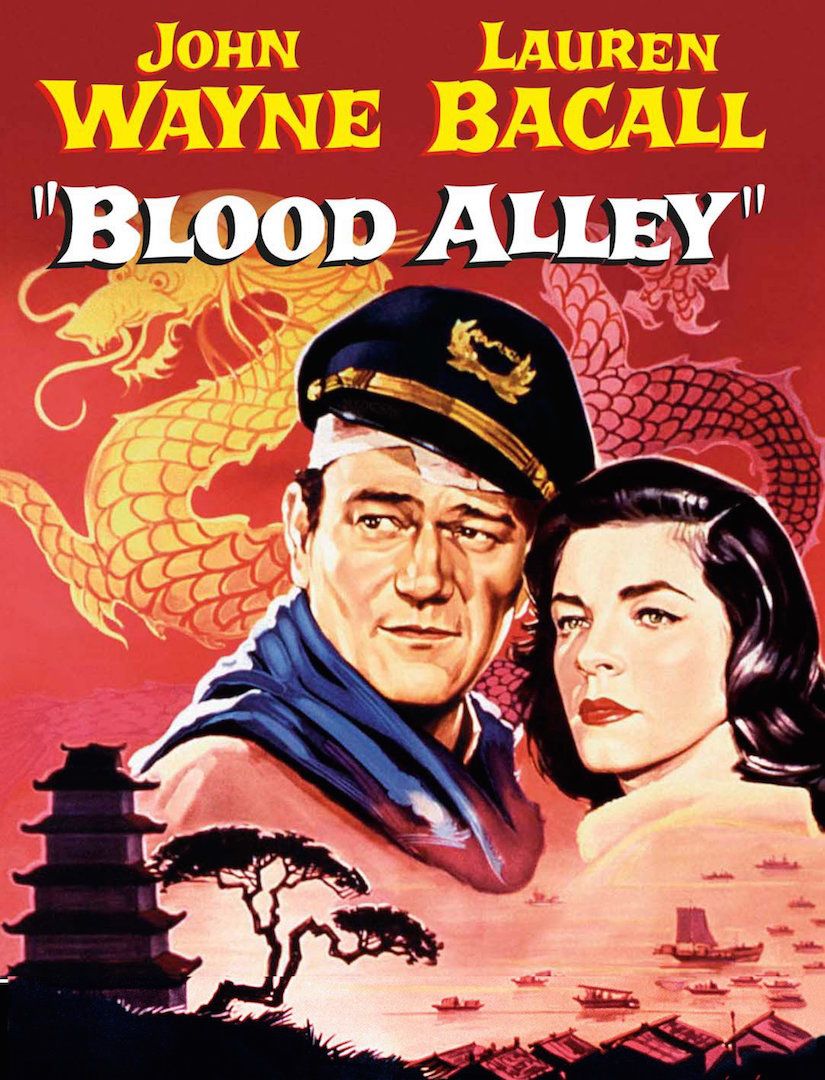 A rumour has persisted over the years that Lauren Bacall's voice was dubbed by a very young Andy Williams for the song "How Little We Know" in the Howards Hawks 1944 Movie "To Have and Have Not". Here's Andy's take on the subject:
"Bacall's singing voice wasn't quite good enough for a number she had to do in the film. [Musical director Dudley Chambers] had been auditioning scores of women, including Bob Hope's wife, Dolores, to sing for Bacall, but because she had a low, husky voice, none of the singers he auditioned had the sound he was looking for."
He had now decided that a sixteen-year-old boy whose voice had only recently changed was the perfect match for Bacall.
[Years later] Bacall admitted that I dubbed the song ['How Little We Know'] for her but said that they wanted to use her own voice saying part of the lyric … and because my voice didn't match her speaking voice well enough, in the end, they decided to use her recording, not mine, as originally planned.
I'm not sure what the truth of it was, but I'm not going to argue about it with the formidable Ms. Bacall!
Either way, Bacall went on to do a small duet with Hoagy Carmichael on the song "Am I Blue" in "To Have and Have Not".
She also exercised her pipes in another Hawks movie, "The Big Sleep", singing "And Her Tears Flowed Like Wine".
Bacall stayed mainly devoted to non-singing roles in her films albeit occasionally bursting into song in films such as "Sex and the Single Girl" in which she sang "What Is This Thing Called Love" and "The Fan" released in 1981 with Bacall performing "Hearts Not Diamonds". 
Also, let none of us forget the brief exchange of a few lines of "Willow, Tit Willow" between her and John Wayne before he meets his maker in "The Shootist".
Bacall initiated a musical career off screen when in 1970 she took on the lead role in the Broadway musical "Applause", based upon the film "All About Eve", Bacall winning a Tony Award for Best Performance By a Leading Actress In a Musical. J
ust over a decade later she repeated that triumph in another Broadway musical, "Woman of the Year", based on the earlier Spencer Tracey / Katharine Hepburn movie of the same title.
Constance Towers – "The Horse Soldiers"
Ms. Towers is a genuine all round entertainer, having carved out a successful career in film, TV and theatre. And she sings as well.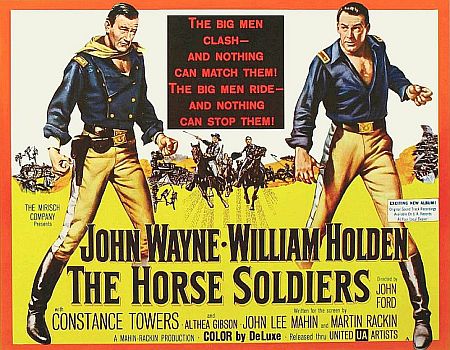 The actress only appeared once opposite John Wayne, in John Ford's Civil War saga "The Horse Soldiers", playing Southern belle Miss Hannah Hunter of Greenbriar, who starts out spying on JWs as he discusses his behind-the-lines guerrilla raid then falling for him as we all knew she would in the end.
She went the extra mile on the film and sang on a tie-in album as well entitled "Constance Towers Sings to The Horse Soldiers". 
The album is a mix of songs relevant to the subject matter of the film such as "There's Something About A Soldier" and "Lorena" which, for those of you in the know will recognise as the basis for both "Martha's Theme" from "The Searchers" as well as featuring on the soundtrack to "The Horse Soldiers". A promo single featuring "The Prayer" was also released alongside the album.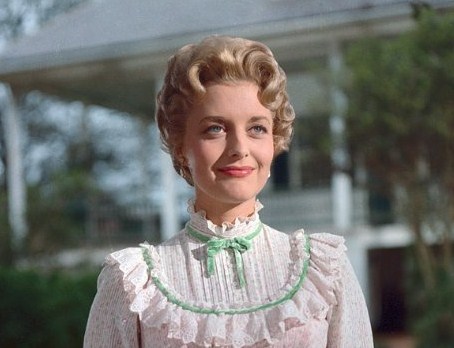 Towers showcased her singing talent on the stage in New York productions of musicals such as "Camelot", "Show Boat" and "Carousel". In the mid-1970s Towers played Anna to You Brynner's King in a touring revival of the musical "The King and I".
Stefanie Powers – "McLiintock!"
Actress and singer Stefanie Powers first shot to worldwide fame and is best remembered for her role as April Dancer in the TV show "The Girl from U.N.C.L.E." which debuted in 1966, running for one season and 29 episodes.
Prior to this, she made her motion picture debut in "Tammy Tell Me True", released in 1961.
She took on a number of supporting roles over the next couple of years before finding herself cast as John Wayne's daughter Becky in the Western "McLintock!". In the film, Stefanie gets to duet with Jerry Van Dyke on the song "Just Right for Me".
She maintained the singing aspect of her career throughout the years, appearing in the London West End in the musical "Matador" in 1991 as well as touring later on in other musical productions including "The King and I" and "Applause".
In 2003 she released her debut album "On the Same Page" in which Stefanie delivered her interpretation of American songbook classics such as "They All Laughed" and "Ten Cents A Dance".
Yvonne DeCarlo – "McLintock!"
Here's a lady that I never even thought about when it comes to singing (and dancing). It turns out, however, that Miss De Carlo really delivered the goods.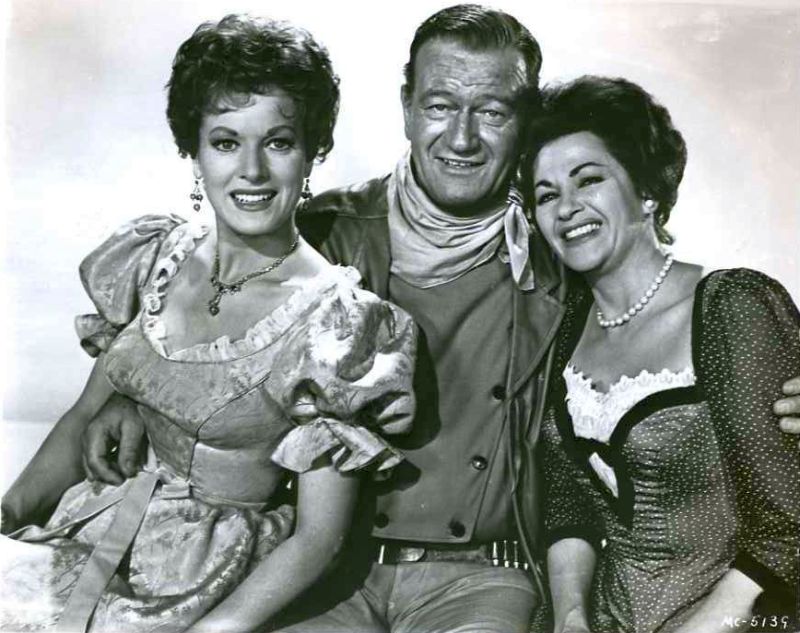 She was only an actress capable of performing serious roles but, possessed of a mezzo-soprano voice, she was also at home in Hollywood musicals of which the following, along with the songs she sang, are just a few:
"Louie Sands and Jim McGee – "River Lady" (1948)
"For Every Man There's A Woman" – "Casbah" (1948)
"Frankie and Johnnie" / "Clancy Lowered the Boom" – "The Gal Who Took the West" (1949)
"I'll Follow You" – "Fort Algiers" (1953)
"You Belong To My Heart" (Duet with Vittorio Gassman) – "Sombrero" 1953 (Cut from film)
In the mid-1950s she released a number of singles including "Take It Or Leave It" in 1955 on the Capitol label and "That's Love" in 1957 on Imperial.
The latter song and the B-side "The Secret of Love" indicate De Carlo had the talent to make a hit record if only the labels she recorded for had only put in a bit more effort.
In 1957 De Carlo put out an album entitled "Yvonne De Carlo Sings", an 'incredibly cool' recording by some accounts in which she applied her voice to contemporary classics such as "Blue Moon" and "One for My Baby".
De Carlo was accompanied on the album by John Towner and his orchestra, Towner being the middle name of the now overwhelmingly famous film soundtrack composer John Williams.
Like a lot of her contemporaries, Yvonne De Carlo eventually turned her attention to Broadway and in 1970 she took appeared in the original production of "Follies", a musical in which De Carlo got to sing the show-stopper song "I'm Still Here". She continued her stage singing career in other musicals such as "No No Nanette" and "Applause".
Ann-Margret – "The Train Robbers"
Ann-Margret made an impressive dent in the charts in 1961 with her recording of the song "I Just Don't Understand", reaching number 16 in the Billboard Hot 100 charts.
There are two claims to fame for the song, one being that it was apparently the first record to feature a fuzz-tone guitar. The other is that two years later in 1963 The Beatles covered it for a live radio performance in the UK, their version eventually released on "Live at the BBC Volume 1" in 1994.
The actress/singer was a bona fide recording star right from the beginning of her career, releasing her first LP "And Here She Is… Ann-Margret" in 1961.
Dubbed the 'female Elvis' at one point, she appeared in three screen musicals in the early 1960s, "Bye Bye Birdie", "State Fair" and the Elvis vehicle "Viva Las Vegas".
Straight acting parts took centre stage after that with the occasional appearance in other screen musicals such as "The Swinger", released in 1966, and the screen version of "Tommy", based on the famous rock opera by The Who in which Ann performed the song "Beans and Champagne" whilst covered in erm… champagne and beans.
In the mid-1960s she played Vegas and over the years appeared in a number of TV specials that show-cased her singing skills.
To date, the actress has recorded over a dozen albums with her last recording, "God Is Love: The Gospel Sessions 2" released in 2011.