This is the last of my John Wayne westerns round ups. These round ups all started because of the response from the first article which was The 10 Best John Wayne Westerns of My Childhood a nostalgic look at the Duke's western films I remember seeing when growing up at the actual time I saw them. 
Good news though – but you have to read to the end…

The Train Robbers (1973)
I'm not sure what to make of this film if I'm honest. It has a pretty good pedigree in terms of other JW Westerns what with it being directed by Burt Kennedy and co-starring old reliable character actors such as Ben Johnson (always worth watching) and Christopher George but it's a bit patchy in places and comes across almost as a throwaway effort in John Wayne's Western canon.
It's obvious from the opening sequence that director Burt has been watching too many Sergio Leone films, the first five minutes highly reminiscent of Once Upon a Time in the West, complete with no dialogue, creaking windmills and various characters standing around awaiting the arrival of a train.
And what happens when the train finally arrives and Wayne, as a character called Lane, gets off at the station? I can't speak for anyone else but I just could not take my eyes off of Dukes wig – or syrup as we call it over here in the UK as in syrup of figs – wig. Admittedly he'd been wearing one almost since the early 1950s but the one he's got in The Train Robbers is so obvious it almost becomes a character in its own right.
After that the film never really recovers.
It's slow-paced, with not a shot being fired until nearly an hour into the film, and lots of scenes in which faceless riders traverse back and forth across the desert landscape in order to give the impression there's something about to happen.
On top of this, the plot is laboured to say the least. Ann Margret has hired Wayne and his companions to help her retrieve a box of gold left in an abandoned wagon in the middle of the desert in exchange for a reward of $50,000. Apparently the gold was stolen by her late husband and she wants to return it to the authorities to clear his name. It eventually turns out – spoiler alert – that Miss Ann is actually going to keep the gold for herself and double cross Wayne and the boys.
Now, Ann Margret, no matter what age she is, can rob my train any time she wants – and yes, that is a euphemism – but I have to say that she, along with Wayne, Rod Taylor and Ricardo Montalban et al, are really quite wasted in this vehicle.
There is one redeeming feature about the film and that is the screenplay, also penned by Kennedy. 'Don't get old, you'll live to regret it' was one memorable line but my favourite is when Ann Margret starts making (duplicitous) eyes at Wayne. His riposte is to inform her that 'I've got a saddle that's older than you'. I also quite liked the score by Dominic Frontierre but in my opinion the film only really starts to pick up right at the end when it turns out the lady is a good old-fashioned femme fatale. By then it's little, and certainly too late.
Cahill US Marshal (1973)
If Wayne had worn an eye patch in this film then it would have been a more than worthy sequel to True Grit – as opposed to Rooster Cogburn (more of which later) – but he doesn't so it's not. Instead he plays an ill-tempered one man killing machine who expects his two, surprisingly young, sons to not stray from the path of righteousness, which of course is exactly what they do.
I must confess that this, the last in the partnership between Wayne and director Andrew V McLaglen, is much better than I thought the first time I watched it a few years ago.
There's a good cast for a start, including Gary Grimes as Wayne's eldest son, George Kennedy as a no-good lying killer and Neville Brand taking the reins from Bruce Cabot as a Native American scout who, just like Cabot in Big Jake, doesn't live long enough to collect his pension. Accompanied by Wayne / Ford stalwarts Harry Carey Jr., Paul Fix and Hank Worden, a typically violent script from Harry and Julian Fink – of Big Jake and Dirty Harry fame – plus a reasonably memorable Elmer Bernstein score and I'd have to say this is one of Duke's better late Westerns.
A lot of the action takes place at night, bestowing an almost film noir tone on the whole proceedings.
Kennedy plays his part just right, giving it a real Night of the Hunter Robert Mitchum vibe when it comes to terrorising Wayne's kids. In this film, just like as in Big Jake, Wayne's character more than matches that of the morally compromised villains, even using his sons as bait to draw Kennedy and his gang out into the open before perfunctorily dispatching everyone and reconciling with his two boys.
They've ended up on the wrong side of the law by aiding and abetting Kennedy in a bank robbery, the moral of the film being that parents ignore what their children get up to at their peril.
I'd say staking your own kids out in the open to lure a bunch of killers to their death leaves a lot to be desired as far as parenting skills go but then this is a John Wayne film, so whatever he does to get justice done gets a pass from his dedicated audience.
There's a scene in which Wayne loses his horse and ends up riding a mule which prompted a story I heard a few years ago when I visited the Grand Canyon back in 1998.
In those days, provided you booked far enough ahead, you could join a group of like-minded tourists in riding a mule halfway down the canyon to a promontory that overlooked the Colorado river.
According to one of the tour guides John Wayne pitched up unannounced one day and signed up for one of these rides, only to be told that he was too big for the mule.
Apparently Wayne offered to buy one of the mules outright for cash but he still wasn't allowed to ride it down into the canyon. I don't know where they buried the guy who had to give Duke the bad news but I'm sure wherever he lies it must be a great view.
I nearly forgot. Another bad wig day for Duke. He should have found his inner Tom Jones and just kept his hat on. Good film though. I liked it.
Rooster Cogburn (1975)
A belated sequel to True Grit, this partners Wayne with Katharine Hepburn for the first time onscreen and they make quite an adorable couple, if I may say so.
Both actors were 68 at the time, and they match each other perfectly in their respective roles as ageing lawman and spinster Bible-basher.
The thing is, I can't make up my mind about Wayne's performance as Rooster, or Reuben as he turns out to be called, in this film.He obviously won the Oscar when he played the part in the earlier film but to my mind Duke strays over the line into broad comedy a bit too much in this sequel.
I think on the whole I prefer the curmudgeonly bad-tempered irascible deadly killer characters such as Big Jake and Cahill, and Chisum as well, as opposed to Wayne rolling around on the ground drunk and singing at the top of his voice, but then maybe that's just me. As for Katharine Hepburn, she's… well, she's Katharine Hepburn I guess, but a damned sight more proficient with a rifle than she was in Guess Who's Coming to Dinner.
Stuart Millar directs competently for a first time feature film director, and the score by Leonard Rosenthal is highly reminiscent at times of Elmer Bernstein's score for True Grit.
You could have knocked me down with a feather, however, when I found out that the script was written, under the pseudonym Martin Julien, by the actress Martha Hyer, who starred with Wayne in The Sons of Katie Elder. I guess being married to the producer of the film, Hal Wallis, helped a little bit but nonetheless that came as a bit of a surprise.
The supporting cast isn't culled from the usual suspects this time, although Strother Martin, who played a small role in True Grit, gets the chance to do a little riff on his tobacco-chewing character from Butch Cassidy and the Sundance Kid. Richard Jordan makes a convincing psycho and Anthony Zerbe inherits the mantle of the thankless role of Native American tracker from the likes of Bruce Cabot and Neville Brand, and yes, he doesn't get to draw his pension either.
The story is fairly uncomplicated; Rooster off in pursuit of a gang of outlaws who have stolen a wagon-load of nitro-glycerine which they're going to use to rob a bank. Miss Hepburn's father is murdered by Jordan so she joins Wayne, along with a young Native American boy, to bring the no-good swine to justice.
I think it's fair to say that the last third of the film take's it's cue from The African Queen, which also starred Miss Hepburn back in 1951, and Wayne compares favourably with Bogart when it comes to playing the role of the inebriated hero.
I just wish it was a bit more memorable than it actually turns out to be, considering this was Duke's penultimate Western prior to his classic role as the dying gunfighter, J.B. Books, in The Shootist.
The best I can say is it's a good film to watch on tv on a rainy Sunday afternoon – unless they're showing Rio Bravo or The Searchers of course.
Well, that's it, pardners. The final roundup of John Wayne Westerns that I didn't include in my childhood top ten article from way back in March. It's been a very revealing and stimulating experience watching these JW films in chronological order, some I have never watched before, some I've not seen for many a year.
I tried to pace myself when it came to viewing some of these films over the last 5 or 6 months but, after having watched Chisum, Rio Lobo and Big Jake on consecutive days I suddenly found myself standing in the garden not long afterwards with both hands on my hips whilst leaning back on my right leg and trying to hold my paunch in at the same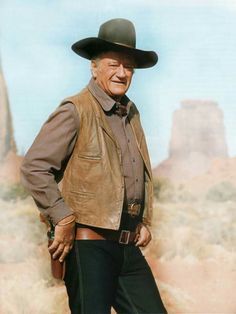 time.
I think that was God's way of telling me it was time to get to the end of the trail real quick before I ended up turning into the very thing I was writing about.
Do not despair though. We intend a final but immense climax on John Wayne's Westerns that will include a revised and expanded top 20 of favourite Duke cowboy films at some point very soon (let the discussions begin – sign up below to get the lowdown). In the meantime, for all you cowboys and cowgirls out there, remember – never squat when you're wearing spurs.