John Wayne Male Character Actors – The Top 5
This is a follow on from our look at the top 15 John Wayne male character actors. To see the first part, 15 to 11 go HERE.
This list is a purely personal appreciation, just as the leading male actors article was, but please don't let that stop you making your feelings known by commenting below or on our FB page.
So let's continue with the last part of our look at John Wayne's male supporting actors starting at number 5.
5
Barry Fitzgerald
The diminutive Irish actor appeared alongside Wayne in two Ford productions, The Long Voyage Home and The Quiet Man.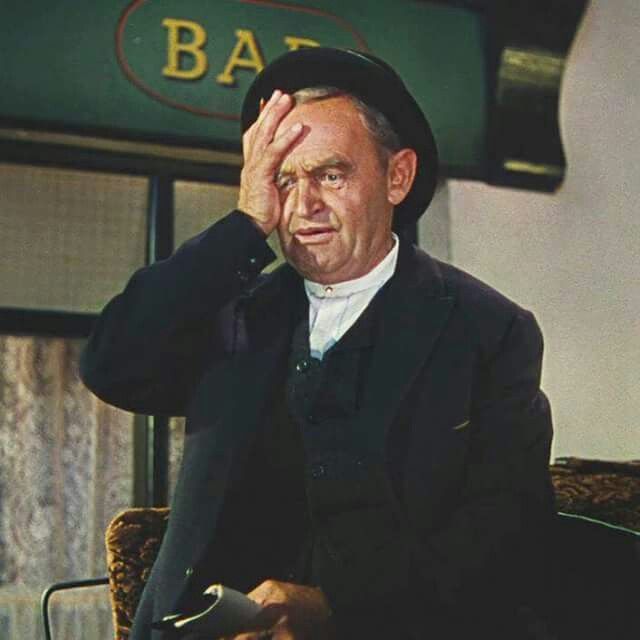 I think all John Wayne fans would agree that his role as village match-maker, bookmaker and permanent drinking house fixture, Michaeleen Flynn, in the latter is the performance he will most fondly be remembered for.
Fitzgerald, along with his younger brother Arthur Shields, who played the Reverend Playfair in the same film, were enticed by Ford to leave the famous Irish Abby Theatre actors group and travel to Hollywood to appear in his movie version of The Plough and the Stars in 1936.
Both actors stayed in Hollywood and Fitzgerald went on to win an Academy Award as Best Supporting Actor in Going My Way in 1944.
A lot of the criticisms aimed at The Quiet Man reference the Fordian sentimentality and the overall Hollywood 'Oirishness' of the film.
Whilst contemporary audiences may decry some of the now outdated aspects of Ford's raucous depiction of Irish country life, I maintain that the presence of genuine Irish actors such as Maureen O'Hara, Jack MacGowan, Arthur Shields and of course Fitzgerald himself, helps to dilute the director's romanticised view of 'the old country' that contemporary audiences may find problematic.
Michaeleen is the elder statesman of the village, a man who enforces the cultural traditions that lie at the heart of the community, whether it is discouraging Sean Thornton from becoming too familiar with Mary Kate so early on in their courtship ('no patty-fingers if you please'), or branding Ignatius Feeney as a traitor for betting against his boss, Red Will, in the climactic fist-fight.
It is Michaeleen who has the authority to interrupt the fight to insist that both contenders uphold the Marquis of Queensberry rules, and who tells Thornton earlier on that he is going to join his comrades and 'talk a little treason'.
It's nuances of character such as this that leads me to conclude that Fitzgerald probably has the second best part in the film, after Wayne.
I think Fitzgerald knew intuitively that The Quiet Man was not a film to be taken too seriously, which is probably why he appears to depict Michaeleen for the leprechaun he so obviously is, a mischievous sprite always in the middle of the action.
He is also somewhat of a home-grown philosopher, pronouncing to Mary Kate upon being offered water with his whiskey that 'when I drink whiskey I drink whiskey, and when I drink water I drink water', a piece of advice that has stood me in good stead over the years, and hopefully for many more to come.
4
Walter Brennan
I'm in the process of reviewing a lot of the early John Wayne films from the 1930s and I see that the JW / Brennan partnership started way back in the day with Texas Cyclone and Two-Fisted Law, both released in 1932.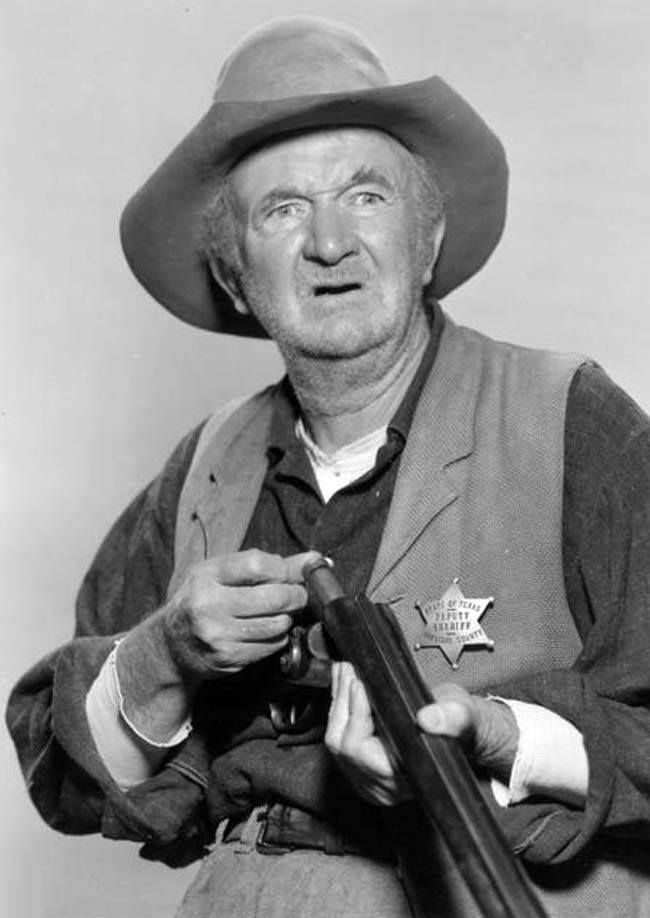 In one he plays a sheriff, in the other he's the villain. In both, despite only being in his late 30s, he looked older than I am now, which must be some kind of a feat.
Despite his longevity in the film business, Brennan only played opposite Wayne in a handful of films, five in all, but two out of the five were a couple of the best films Wayne ever made.
Brennan is essentially JWs sidekick in Red River, playing Nadine Groot, a strange amalgam of a name that comes across as the bastard child of a Chuck Berry song and a Marvel comics character.
Groot is both a trail hand and a cook, kind of an early version of Wishbone from the TV series Rawhide.
When Wayne, as cattle king Thomas Dunson, loses his herd to his adopted son Matt, played by Montgomery Clift, because of anger management issues, Groot's conscience dictates that he should side with Matt, realising that Dunson has gone way too far over to the dark side.
After that, Brennan's character kind of gets lost in the mix, but the chemistry between him and JW in their early scenes together anticipates the partnership they will enjoy in the later Rio Bravo.
I'm inclined to think that you'd like to see more of Stumpy in Rio Bravo than you actually get in the finished film, mainly because Brennan's character is a joy from beginning to end.
He's funny, grumpy, stupid – nearly blasting Dean Martin's Dude because he doesn't recognise him after Dude's had a shave – brave, ornery and, much to everyone's surprise, a dab hand with the mouth organ.
Unfortunately, he's not that great a singer, as he demonstrates when hollering the final note to Cindy, Cindy in the jailhouse musical interlude sequence, but he's still a pure delight to watch as he joins in with Dean and Ricky.
As I think I've mentioned before, his broad impression of Wayne appears to catch Dean Martin by surprise, and is one of many Stumpy 'moments' that make's the film such a delight to watch, over and over again.
Despite a career in which Brennan appeared in approximately 250 feature films, beating JWs record of 169 by a wide margin, and winning an Academy Award three times as best supporting actor, it's surprising on the face of it that he only ever made one film with John Ford.
He played the villain Ike Clanton in My Darling Clementine in 1946 but they never worked together again.
I recall reading somewhere a few years back that Walter called the director a 'mean son-of-a-bitch', or words to that effect, so I'm guessing on that basis theirs was never going to be a partnership bound for longevity.
On balance, I'd say it was Ford's loss, rather than Brennan's.
3
Ben Johnson
Like a lot of the other actors in this list, Johnson carved out a very impressive career for himself over and above his work with JW and John Ford.
Originally working as a stunt-man, he appeared in some of the greatest non-JW Westerns ever to come out of Hollywood, including Shane, the underrated Brando vehicle One-Eyed Jacks and, my personal favourite, The Wild Bunch.
His quietly-spoken performance as Sgt. Tyree in She Wore a Yellow Ribbon and Rio Grande is an acting master class in understatement when it comes to his work with John Wayne and Ford.
If you check Johnson's list of films with Ford, there's a gap of fourteen years between his appearance in Rio Grande and Cheyenne Autumn.
According to Harry Carey Jr., Johnson and Ford either fell out during the filming of Rio Grande or because Johnson's agent asked Ford to raise the actor's salary.
Whichever story is true, they both went their separate ways for quite a while, but when you consider Johnson's work after Rio Grande then you have to conclude, just as with Walter Brennan, that it was Ford's loss rather than his.
He went on to appear in some of Duke's late career Westerns, most notably in Chisum, despite having also played in The Wild Bunch a couple of years before, a film JW slated as 'distasteful' in his 1971 Playboy interview.
Johnson's 1971 Oscar-winning performance as Sam the Lion in The Last Picture Show at the age of 53 indicated how much he had matured as an actor by then.
As he said himself when receiving the award, 'It couldn't have happened to a nicer fella'.
Apart from his turn as the villain in Sam Peckinpah's The Getaway, my favourite performance of his from that era is as FBI agent Melvin Purvis, hunting down Warren Oates in Dillinger, directed by John Milius (we'll draw a diplomatic veil over The Swarm).
The more you observe Ben Johnson on screen, the more you begin to appreciate that he comes across as the real deal.
There's a genuine truthfulness to his performances that instil a believability in the characters he plays, which means that he was not only a very good actor, his peers thought so too.
Time to put that right…
2
Harry Carey Jr.
I'm going to be honest here and put my cards on the table.
I was going to nominate 'Dobe' Carey in the number one spot in this list mainly because he was so nice to me when I met him back in 2007.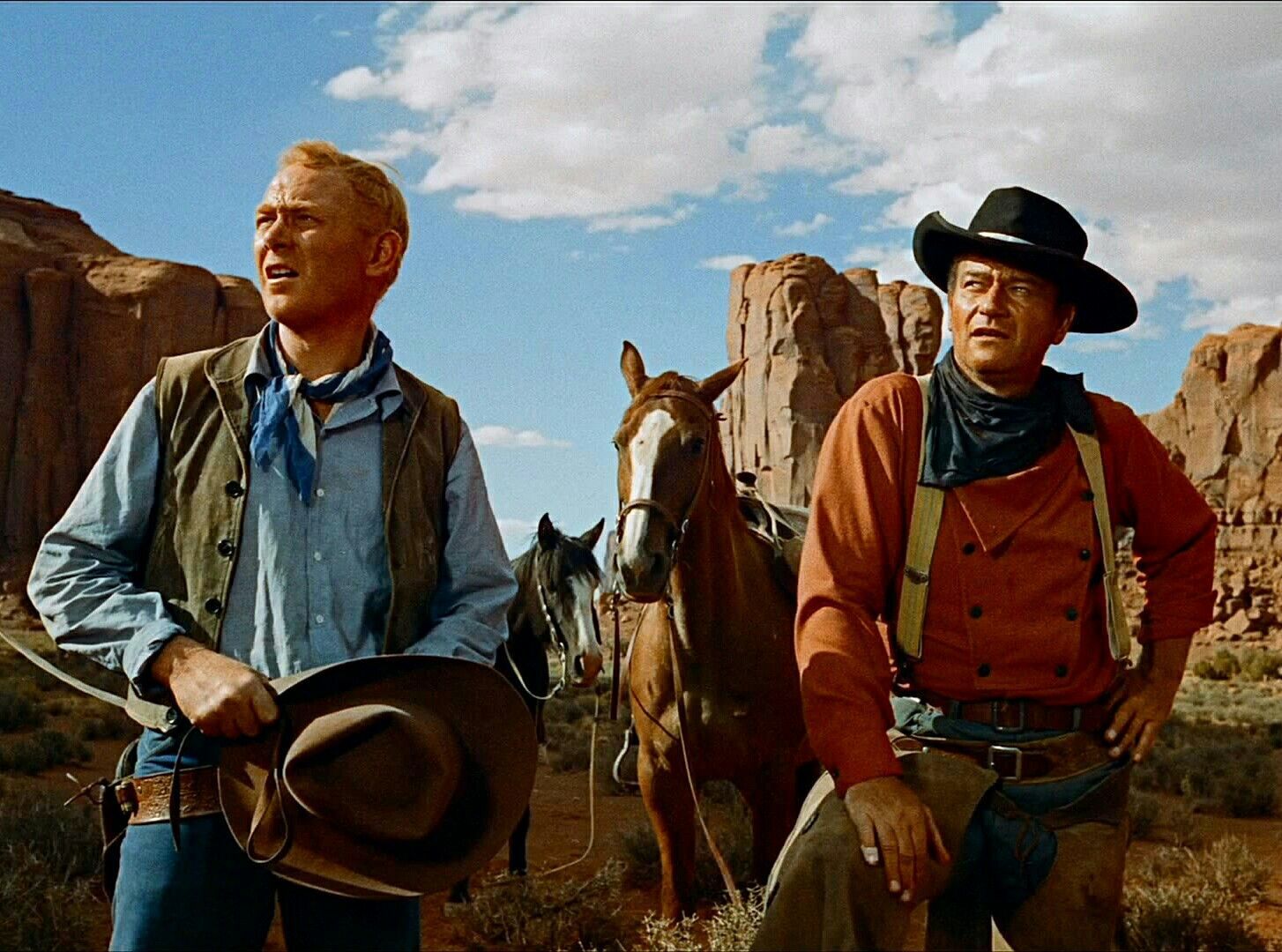 I thought it would be unkind of me not to do otherwise. He was full of so many tales about Ford and Wayne that I could have spent a whole week with him and his wife Marilyn and still come away not having heard half of the stories he could still recall, even at the age of 86.
However, I feel I should bow to the overwhelming opinion of our readership regarding as to who is considered everyone's favourite character actor when it comes to JW films, or risk an invite to a necktie party of my own.
Dobe's greatest moment with Wayne – something he also concurred with – was in The Searchers when, to quote Carey himself, he 'went nuts' and rode to his doom off-screen after he finds out his fiancé has been murdered.
He told me where that scene had been filmed, apparently just a short walk away from the visitors centre in Monument Valley, but I was unable to locate it exactly when I went there back in 1998.
It's such a powerful sequence – despite Ward Bond's attempt to sabotage it – that someone should put up a sign there telling the visitors that this is where Dobe Carey monetarily stole the film.
His Wayne / Ford debut was eight years before as the Abilene Kid in 3 Godfathers, which Ford had originally filmed back in 1919 with Dobe's dad, Harry Carey Senior, as Three Marked Men (just to confuse matters, in 1916 Carey Senior also played in an earlier version of the same film called The Three Godfathers).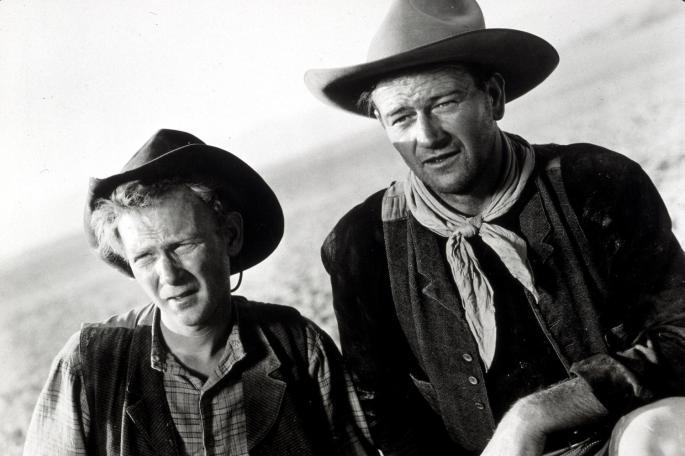 I'm not going to repeat the stories of how Ford treated him when filming 3 Godfathers because that would rob you of the pleasure of reading Company of Heroes yourselves, but suffice to say Dobe got both barrels a number of times during the shoot.
A few years before, Carey Jr. excelled in Red River, he and Wayne engaging in a memorable scene early on in the film where Duke encourages Carey's character to speak out, even though he has a stutter.
Sounds like an early rehearsal for a similar scene in The Cowboys.
I found his turn as Lt. Pennell in She Wore a Yellow Ribbon a bit limp, giving up too easily to John Agar – an 'actor' who will never make it on to any 'best of' list of mine – when it came to romancing the lovely Joanne Dru.
After taking a break from working with Ford and Wayne in the mid-50s to star in the Disney TV series Spin and Marty, Dobe was back in the Western saddle on the big screen, first with Ford in Two Rode Together and Cheyenne Autumn, then joining Wayne in The Undefeated.
Dobe tended to play it safe as a character actor so it therefore came as a bit of a surprise to see him cast against type in Big Jake as Pop Dawson, the child-shooting member of Richard Boone's outlaw gang.
This turned out to be the last time he featured in a JW film, but he did not go meekly into the night, earning kudos for performances in such films as The Whales of August, The Long Riders and, my personal favourite, Tombstone, in which poor old Dobe as the doomed Marshall fails yet again to make it to the end credits.
Now he's gone to that great cowboy movie set in the sky, along with nearly everyone else who made it on to this list. Rest in peace.
Drum roll,
please