Laramie
"Laramie" first aired in America in September 1959 with the main role in the show going to John Smith as Slim Sherman who, along with his brother Andy, played by Robert Crawford (younger brother of actor Johnny "The Rifleman" Crawford") ran the relay station for the Great Central Overland Mail Company from the Sherman Ranch.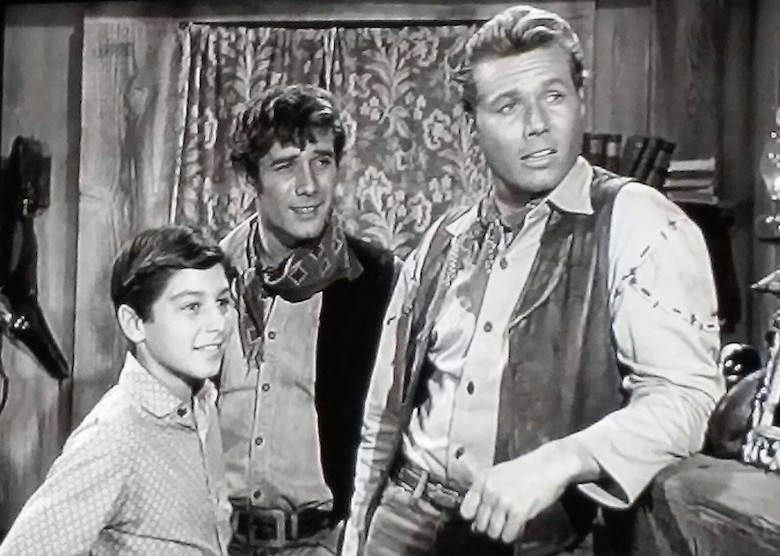 Unusually for the time, the pilot show was filmed in color but then reverted to black and white for the first three seasons. The final two seasons were then transmitted in colour.
Robert Fuller"s character Jess Harper, an old Civil War Union Army buddy of Slim, was initially relegated to third string alongside the Sherman brothers but as the series developed Fuller took on more of a significant role, his shoot-first-ask-questions-later approach in opposition to that of Smith"s more measured attitude to life in general.
According to certain sources Fuller was originally cast as Slim and Smith as Jess Harper. Apparently Fuller expressed a preference for the wayward Jess so they switched roles. 
The first series also featured singer-songwriter Hoagy Carmichael as ranch housekeeper Jonesy but his character didn't return after the end of the first series.
Rumour has it that Carmichael had to travel a long way to and from the set and decided he wanted to play more golf instead so bailed after the first season.
The younger brother Andy was also eventually phased out of the picture until "Laramie" eventually became a two-hander between Fuller and Smith, their respective characters taking the lead on alternative episodes.
Other semi-regular characters that came and went throughout the run included Stuart Randall as Sheriff Cory, Spring Byington as widowed housekeeper Miss Daisy Cooper and Dennis Holmes as Mike Williams.
The show ran for a total of six seasons and one-hundred and twenty-four episodes from September 1959 until May 1963.
From a personal perspective I don't remember too much about the series other than it didn't really appear to have as much action as some of the other TV Westerns of the time although I do specifically recall wondering where Hoagy Carmichael fit into the scheme of things. 
Having said that it looks as though "Laramie" attracted it's fair share of notable guest stars including Ben Johnson, Dan Duryea, Warren Oates, Ernest Borgnine, Gena Rowland, Charles Bronson, Vera Miles and Claude Akins, who appeared in the show four times.
The only directors of any note associated with the show include Tay Garnet and Ted Post.
"Laramie" is a show that's fallen under the radar a bit over the years and probably deserves another airing at some point.
I probably checked out after the first season seeing as the series lost the character of the younger brother Andy early on, after which it didn't really have the pull that other shows such as "Bronco" and "Boots and Saddles" had for me at the time.
It had quite a good theme tune though, written by Cyril Mockridge:
Bonanza
Debuting on American TV on September 12th 1959, "Bonanza" introduced some of the most famous TV Western characters of all time, a generation of baby-boomers enthralled each week by the adventures of the Cartwright family consisting of brothers Little Joe (Michael Landon), Hoss (Dan Blocker)and Adam (Pernell Roberts), as well as Ben (Lorne Greene), the patriarch of the family.
The Cartwrights ran a huge half-a-million-acre ranch known as the Ponderosa, with a lot of the action taking place in the nearby town of Virginia City.
Regular cast member Ray Teal played Sheriff Roy Coffee with deputy Clem Foster, played by Bing Russell, to help back him up.
One other long-term character who appeared infrequently throughout the run of the show was Chinese cook and general comedy relief Hop-Sing, played by Chinese American actor Victor Sen Yung.
As was the way with long-running TV programs the cast changed over the thirteen years and the more than four hundred hour-long episodes that the series ran for up until the final season in 1973.
First to jump ship was Pernell Roberts, who left after series five to pursue a career in the theatre. Sadly, Dan Blocker, who to a lot of viewers was the most popular character in "Bonanza", suddenly passed away following complications after an operation to remove his gall bladder.
New cast members throughout the years included David Canary as ranch foreman 'Candy' Cannaday, Tim Matheson as ex-convict turned ranch hand Griff King and a short-lived appearance by Guy "Lost in Space" Williams as Ben Cartwright's nephew Will.
Featured guest stars throughout the run featured actors such as Adam West, Robert Vaughan, Ron Howard, Sally Kellerman, Lee Marvin, Zsa Zsa Gabor and veteran character actor Harry Carey Jr. Celebrated directors who helmed some of the episodes over the years included Robert Altman, Jacques Tourneur, Tay Garnett and Joseph Sargent.
You can't talk about "Bonanza" without mentioning the theme tune, composed by Ray Evans and Jay Livingstone, which to this day is still instantly recognisable all around the world. In the 1991 film comedy "City Slickers", Billy Crystal and his fellow dude ranchers gallop across the plains whilst giving their own unique rendition of the music to the series.
Lorne Green obviously liked the theme so much he recorded his own version complete with lyrics that, at best, seem to be an afterthought, but stirring just the same.
"Bonanza" made it into the top 50 list of the greatest TV shows of all time. It was quite popular over here in the UK as well.
Here's the theme tune just in case you've never heard it before (with guest star Everett Sloane):
The Range Rider
Back in the early 1960s Saturday teatime was heralded from our small -twelve-inch TV with a quick blast of "Down Home on the Range" followed by the excitable announcer asking "And who could be more at home on the range than – The Range Rider! With his thrilling adventures of the great outdoors, his exciting experiences – (?) – rivalling those of Davy Crockett, Daniel Boone, Buffalo Bill and other pioneers of this wonderful country of ours. And Dick West, all-American boy".
Yes, it was time for our weekly dose of "The Range Rider", starring stuntman turned actor Jock Mahoney who with his sidekick Dick, played by Dickey Jones, finally managed to shoot their way onto the airwaves of British TV a full nine years after having initially aired in the States back in April 1951.
By this time, of course, we'd already been treated to the likes of "Cheyenne", "Bonanza", 'Maverick" and a whole heap of other TV oaters blasting away seven days a week but "The Range Rider" was obviously aimed at a younger audience which was why it remains a particular favourite of mine.
There is a suggestion that the program was purchased to be shown on British TV back in 1954 but as far as I can tell it didn't actually appear on the BBC over here until 1960.
Filmed in black and white with each episode clocking in at approximately thirty minutes, "The Range Rider" debuted in America in April 1951 and ran for seventy-eight episodes up until September 1953.
Produced by Gene Autry"s company Flying A, the show, set in the 1860s, featured the adventures of "a tough fighter for good on the American frontier of the 1860s" who along with Dick West rode from one adventure to the next on their respective steeds Rawhide and Lucky, the Range Rider and Dick taking down bad guys whenever the opportunity presented itself. Which it did. Every week.
Mahoney and Jones did a lot of their own stunts and went on tour a number of times even after the show had finished on TV putting in personal appearances at various rodeos and outdoor shows and sustaining real injuries to themselves on a number of occasions.
The show was a low-budget affair to say the least but it still attracted a number of interesting guest stars during its run including the likes of Denver Pyle, Alan Hale Jr., Lee Van Cleef and Robert Wilke.
Trivia Note: Dick Jones provided the voice of Pinocchio in the famous Disney full-length cartoon.
Rawhide
Based upon a number of sources including the Borden Chase novel "Chisholm Trail" which served as the basis for the Howard Hawks Western "Red River", director and producer Charles Marquis Warren was hugely influential in helping to bring "Rawhide" to the small screen.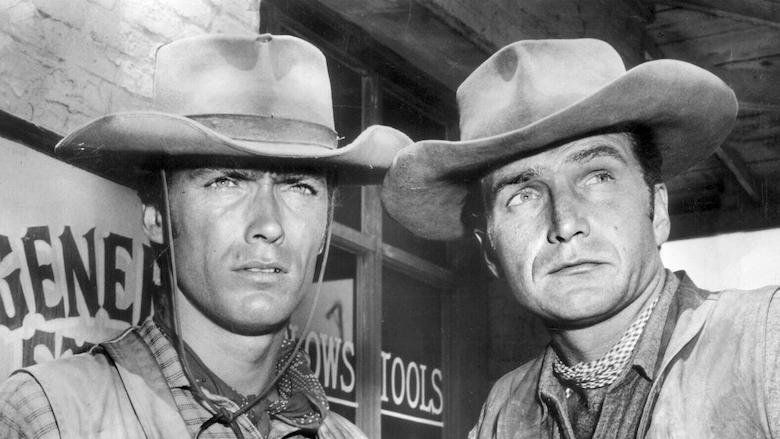 The show aired in January 1959 and ran for a total of two-hundred and seventeen one hour episodes for over seven years until its cancellation in December 1965. Without doubt one of the most popular TV cowboy shows of all time, "Rawhide" was admired by audiences alike in both America and Europe.
This was mainly down to the charismatic actor Eric Fleming as trail boss Gil Favor, the presence of a gangly unknown actor by the name of Clint Eastwood as ladies' favourite Rowdy Yates and THE most famous TV Western theme of all time (over here in the UK anyway), written by Dimitri Tiomkin and Ned Washington and a huge hit for Frankie Laine on both sides of the Atlantic.
Fleming was the initial star of the show, helping to guide huge herds of steers through countryside bedevilled by Indians, rustlers, bandits and the like, he and the other cowboys needing to keep "them dogies rollin" through rain and wind and weather" come what may.
Favor and Yates were accompanied on their various adventures by regular cast mates including Paul Brinegar as trail cook Wishbone and Sheb Wooley as scout Pete Nolan.
Various other recurring characters came and went throughout the eight-year run but Brinegar was one of the few, along with Steve Raines as drover Jim Quince, to make it all the way through to the end of the trail.
One almost constant feature of the show was the habit of labelling most episode names with the word "Incident" as in "Incident With An Executioner" and "Incident at Royo Canyon" until series six when a new production team arrived in town.
The list of notable guest stars numbers as many as the huge herds of cattle that ran across the screen each week but some of the most famous include John Cassavetes, Mickey Rooney, Brian Keith, Linda Crystal and Bruce Dern.
Directors associated with the show included the aforementioned Charles Maquis Warren, Andrew V. McLaglen, Ted Post, George Sherman and Jack Arnold.
All good things must come to an end and for "Rawhide" it was two "incidents" that eventually contributed toward its decline and cancellation. 
The first one worth noting is that during the seasonal hiatus of "Rawhide" in 1963 Clint Eastwood took off for Italy and snaffled the starring role in the Italian Western "A Fistful of Dollars", a part that had apparently been offered to Eric Fleming among others.
Although this did not immediately affect the success of "Rawhide" the die was now most certainly cast, and the show was eventually cancelled after the end of season eight.
The second "incident" occurred when a newly appointed producer of the show decided to replace Eric Fleming with Clint Eastwood, Fleming leaving "Rawhide" just before season eight aired in September 1965.
It became quickly apparent by the drop in ratings that the character of Gil Favor was the glue that held the series together but the damage had already been done, and the show was eventually cancelled after season eight finished. 
Eric Fleming sadly died a year later at the age of 41 in a boating accident whilst filming in Peru.
Trivia Note: Andrew V. McLaglen directed a number of episodes for "Rawhide" and was once asked if he ever had to give any instructions to Clint Eastwood. "Yes, I did", he replied. "I used to tell him all the time to SPEAK UP".
Not sure Clint ever got the memo on that one. 
And finally – best ever Western TV theme bar none:
Gunslinger
This is going to be a fairly short review seeing as "Gunslinger" was one of a number of TV cowboy shows from back in the day that barely managed to make it out of the corral before being gunned down by the network, in this case, CBS.
The program stretched to only twelve one-hour black and white episodes before being cancelled after debuting in the States in February 1961 but what it had going for it was a really great theme song, penned by the song writing duo of Dimitri Tiomkin and Ned Washington and, icing on the cake, sung by Frankie Laine.
Another show from producer Charles Marquis Warren of "Rawhide" fame, maybe "Gunslinger" failed to connect with contemporary audiences on account of actor Tony Young, playing gunslinger Cord, deciding his character had one expression only, mainly indifference, so by the time the show hit British TV screens it had quite possibly already been cancelled back in America.
The other thing"Gunslinger" did have going for it though, apart from the theme tune, was a decent collection of guest stars including Jim Davis, Jack Elam and Harry Dean Stanton. Busy TV director Andrew V. McLaglen helmed five of the episodes, continuing his association with "Rawhide" producer Warren.
As Forrest Gump might have stated, "That's all I want to say about that". Apart from the theme tune of course:
We hope you've enjoyed our look back at some of the TV Westerns that captivated us back in the 1950s and early 1960s. Suffice it to say this is a subject we will definitely be revisiting in the not too distant future.