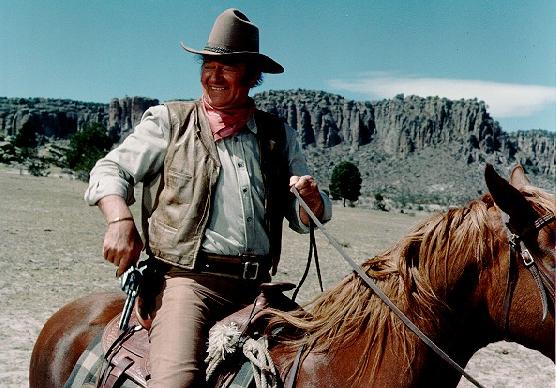 The idea originally was to see if we could match all of JWs "three good companions" – his weaponry, the horse he rode in on and the hat he wore – for the majority of his big-name Westerns. There is so much information out there to work with but trying to collate and match that info by film alone was always going to be a bit of an ask. Instead, we've decided to take a look at each item separately, matching hardware, horse and hat by title wherever possible.
John Wayne's rifles and handguns
A Colt handgun appears to have been Duke's weapon of choice throughout his gun-totin' days, whether it be a Colt 1878, an 1851 Navy, 1860 Army or the ubiquitous Single Action Army model.
All told the Colt featured in over twenty-five of JWs Westerns from "The Big Trail" all the way down the line until his final movie, "The Shootist", with the Single Action Army taking a starring role in all but one of those films.
It's difficult to work out how many scum-sucking-dirt-bag cowboys bit the dust at the business end of Duke's flaming Colt without going through all of the movies in question and counting the dead bodies.
Seeing as we're talking about films such as "The Sons of Katie Elder", "True Grit", El Dorado", "The War Wagon", "Big Jake" and "Rooster Cogburn", in which Duke promoted frontier justice with extreme vigour, we'll take a guess and just say quite a lot.
JW sure did like his Winchester as well, particularly in conjunction with the Colt. In fact, he was so enamoured of the combination of these two weapons that he paired them in approximately ten of his Westerns from "Red River" right through to his final film, "The Shootist".
Duke sported four separate models of Winchester in all, the Model 1892 which he used in eight films, the Model 1892 Saddle Ring Carbine, the services of which Ringo offers to Curly in "Stagecoach" and which he used in five of his movies, the model 1894 in two films, and the Winchester 1866 "Yellow Boy" which he used once only, in "Fort Apache".
He seemed to favour a smaller hand gun every now and then, employing a Remington 1866 Derringer in "Rio Bravo", "Big Jake" and "The Shootist", using it to sneaky effect in the last title on a bushwhacker who picks on the wrong man.
John Wayne's horses
Horse-wise there would appear to be about seven four-legged friends that mainly appeared with Duke over the years.
First onto the race course would appear to be a white thoroughbred called Starlight who did the honors for JW in ten of his 1930s oaters, including titles such as "West of the Divide" and "Santa Fe Stampede".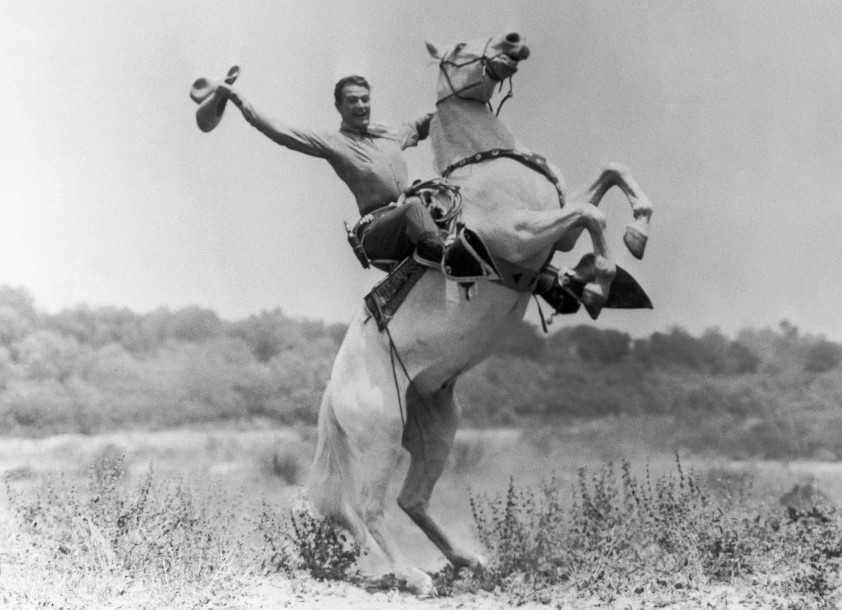 Second runner in the field is another very memorable white thoroughbred called Duke, which kind of complicates things a bit, although his real name apparently was Sheik, also appearing with the two-legged Duke in six movies back in the 1930s.
Duke / Sheik first propped JW up in "Ride Him Cowboy" (1932), in which the horse stomps the villain to death. Later that same year Duke also pushes another villain over a cliff to an equally deserved fate in "Haunted Gold".
Not only is this horse psychotic, it turns out to be extremely intelligent as well, working out who the villain was in "Ride Him Cowboy".
He also saves the day at the end of "Somewhere in Sonora" (1933) by ringing a bell to warn the local townsfolk they're about to be attacked by an outlaw gang, and then later on later getting the same townsfolk to help save JW.
This is all done of Duke's own volition without the aid of whistled commands or instructions. Thinking about it, all of this should have been obvious seeing as he was billed as "Duke – The Miracle Horse" but either way it's downright spooky, which might have made a better name than Duke, thus avoiding a lot of confusion in the first place.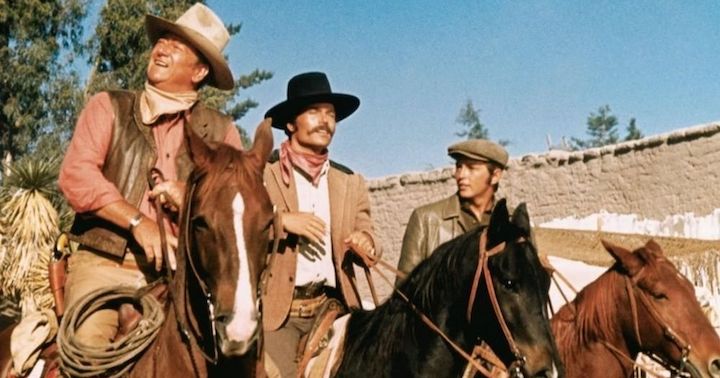 Third-placed is Dollor, a sorrel distinguished by a strip of white down the face who held the big man up in the saddle towards the latter days of Wayne's career in six of his movies, "Big Jake", "The Cowboys", "The Train Robbers", Rooster Cogburn", The Shootist" and "True Grit".
John Wayne actually rode two horses in "True Grit", the fourth-placed Beau, who also possessed a white stripe on his face but not as wide as the one sported by Dollor, who was used for JWs fence-leaping stunt right at the end of the film.
In fourth place alongside Beau is Banner who appeared in four JW films, "Angel and the Badman", "She Wore a Yellow Ribbon", 3 Godfathers" and "Hondo".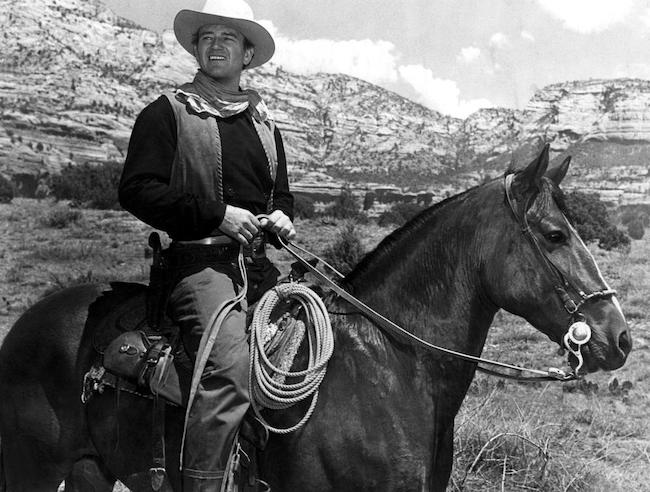 Beau served in the cause for "The Comancheros", "The Sons of Katie Elder", The War Wagon" and "True Grit".
Second-to-last runners are Alamo and Steel, Alamo being a horse actually owned by Wayne himself which he rode – naturally – in "The Alamo" as well as "McLintock".
Steel matches Alamo's total of two appearances, first off for "Tall in the Saddle" and secondly for "The Conqueror", a film Steel decided might not look best on his CV. The rear is brought up by Sammy and Zip, these last two appearing in just one film each, "A Lady Takes a Chance" and "El Dorado" respectively.
Whilst ridin' and a shootin' bad men and pesky Injuns, Duke also had to contend with keeping his hat on at the same time.
John Wayne's hats
There is a suggestion that Wayne always wore the same hat in each of his Westerns but although this is disproved simply be checking out the films themselves, he did appear to wear the same hat on numerous occasions.
For example, you can see him sporting the same headwear, a cavalry hat with a pinched front, in both "Hondo" and "Rio Bravo". I think he may have worn it first in "Rio Grande" and, by the time he uses it in "Rio Bravo," it's looking pretty battered.
Wayne also apparently wore the same hat in at least six films, including "The Sons of Katie Elder" and "The Comancheros", although in the latter he also wore two other hats as well.
He also wore two different hat designs in "The Searchers", a black one adorned with a hatband which he wore for most of the film, and a wide-brimmed white hat in a couple of other scenes.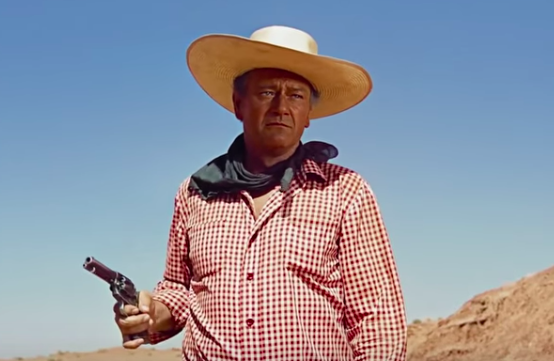 Not being an expert on headwear I have to assume that some of the hats JW wore would come under the heading of a Stetson, which presumably might include some of the headgear already mentioned as well as those he wore in "The Shootist" and "The Man Who Shot Liberty Valance". The only hat I know I can definitely be sure of in terms of make and style is the coonskin one he wore in "The Alamo".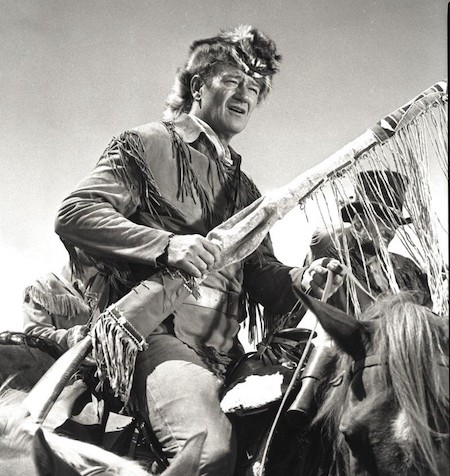 Information Sources
Rifles and Handguns
http://www.imfdb.org/wiki/John_Wayne
Horses
http://www.b-westerns.com/hoss-jwayne.htm
https://www.johnwayne-thealamo.com/forum/viewtopic.php?f=16&t=1861
Hats
https://www.thefedoralounge.com/threads/john-waynes-akubra.58130/page-3