John Wayne Western Movies of the 1930s – Somewhere in Sonora
As these John Wayne western movie reviews are an ongoing work-in-progress. I'm hoping at some point that someone decided Leon Schlesinger wasn't really a good fit as a producer for these early 1930s JW cowboy vehicles.
Let's hope we get to the end of that particular trail as quickly as possible because the Wayne / Schlesinger movies are just not that good. Anyway, on with the show.
Duke the horse is back and JW plays another John, this time John Bishop, as opposed to John Drury / Steele / Mason etc.
They should have just called him Duke and christened the horse John instead.
The plot, what there is of it, revolves around JW being framed for fixing the opposition in a stagecoach race which takes place at a modern-day rodeo, so not strictly a genuine Western.
Two of his idiot friends, who appear to be an early incarnation of Abbot and Costello – and I never found those guys funny either – decide to rescue their friend by blowing up the jail, only to be told they'll probably end up blowing our hero to bits as well.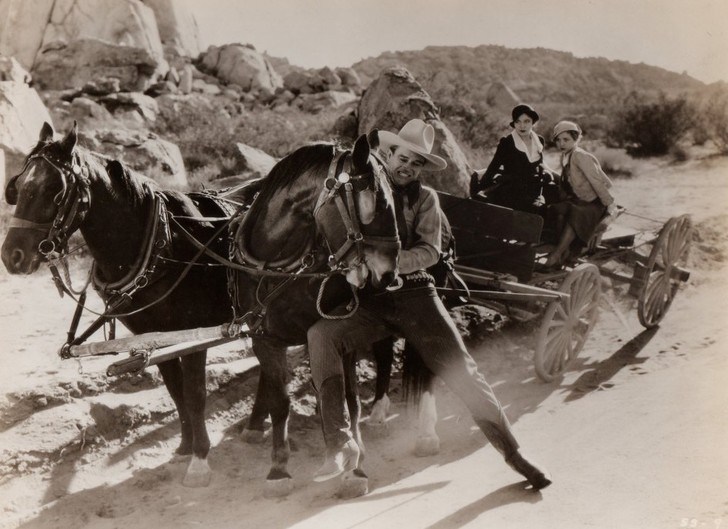 JW is exonerated and goes down to Sonora to help find the wayward son of his boss, the son played by none other than Paul Fix, appearing onscreen for the first time with his future drinking partner and occasional meal ticket.
Duke – not the horse – sets off via the "Trail of Missing Men" to find Mr. Fix who has joined a gang led by villain Monte Black. JW is determined to reunite father and son before the son gets wiped out alongside the gang by the Mexican army.
And that's just about enough plot to get you through to the end of this review.
Shirley Palmer plays love interest Mary Burton, who has a hankering for JW. I'm not sure whether her acting career developed into anything substantial after this film because she's a dead ringer for the younger sister of Margaret Dumont, foil to the Marx Brothers.
J.P. MacGowan, as Monte the villain, doesn't even have that going for him. He really is a very bad actor, so bad the rest of the cast come across like the Royal Shakespeare Company.
Duke the horse isn't really required to do anything until right towards the end of the film, whereupon he alone gets to save the day. In quick succession, he rings a bell to warn the good guys that Monte's gang is about to slaughter them.
He also rides back into the same town, later on, to let them know JW is in a fix.
Nowhere in either of these sequences is any clue given to just how the horse figures out exactly why, where or what he's supposed to do. Still, it's a whole lot better than stomping someone to death I suppose.
I have a feeling this one will fade quite quickly in the memory. I hope so anyway.