As a kid growing up in the 1950s, I only saw two John Wayne westerns in the cinema – The Searchers and Rio Bravo – which I'd say is a pretty good starting point when it comes to sampling the oeuvre of the man.
Suffice to say Hollywood produced plenty of other classic examples of the genre at this point in time, and I got to catch a few of them either as they were released or on re-release.

This article concentrates on those memorable Westerns I actually got to see in the cinema back in those long-lost halcyon days of innocent youth.
So, prepare to travel back in time with me as I revisit those bygone days of double bills, the mesmerising sight of cigarette smoke as it swirled in the light of the projector, smartly uniformed female usherettes accompanying you to your seat, long queues for the ice cream lady and auditoriums filled with the groans of disappointed filmgoers as the film broke down yet again.
Shane (1951)
I must have seen this when it was re-released back in the late 50s, and when you're watching a movie with a ten-year-old kid in it and you're only a few years younger than the kid up there on the screen then it tends to stay in the mind.
Someone once commented that the film is almost telling the audience they're watching a classic Western, and defying you to think otherwise. Therefore, all the standard conventions of the cowboy film are present and correct from lone gunfighter to land-grabbing hornswagglers, evil hired killers, fistfights, showdowns – you name it, this one's got it.
To me, however, just like The Searchers and Rio Bravo, it's also one of the many cowboy films my dad took me to see when I was growing up which is why it means so much to me.
Viewing it again in later years I started to realise how brutal the film is, especially the scene in which Elisha Cook Jr., as a dirt farmer, is shot to death by Jack Palance.
I wonder. Is there ever a film in which Cook actually makes it through to the final reel in one piece? Anyway, when Palance, or Walter Jack Palance as credited in the film, playing hired gun Wilson, beats the eternally doomed Cook to the draw, the film breaks with Hollywood Western tradition by showing both killer and victim in the same frame.
Normally the convention is to cut back and forth between the protagonists before showing the killer firing his gun, then cutting to the victim as they react to being shot. In his biography on Sergio Leone, Christopher Frayling maintains that this cinematic taboo was first broken in A Fistful of Dollars. I suggest otherwise.
Like a lot of 1950s westerns, there is a great supporting cast, including Ben Johnson, Edgar Buchanan, John Dierkes and the aforementioned Elisha Cook.
Victor Young's score is right up there with the likes of The Big Country, The Magnificent 7 and The Searchers.
If you haven't seen this film yet, I will personally drum you out of the Mostly Westerns Cowboy Movie Appreciation Society, of which I have decided to become the founding member. (MWCMA – hmmm has a nice ring to it)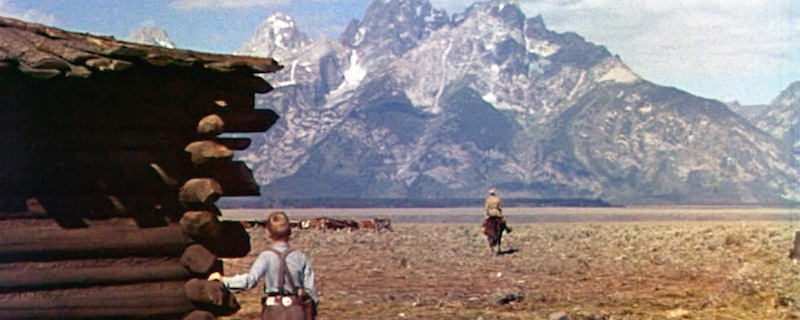 One other thing. At the end of the film the little kid with the bad haircut, played by little cross-eyed Brandon DeWilde, famously runs after Shane, calling out to his gunfighter hero to come back. Wounded in the climactic shootout with Wilson, Shane heeds the call of those faraway hills instead.
There's been an ongoing discussion over the years as to whether he's actually alive or not.
As far as I'm concerned, if you look real close at the last shot of Alan Ladd, or his stand-in, riding up the mountainside towards the heavenly clouds above, the guy looks distinctly dead to me. Definitely Ladd's finest performance.
The Battle At Apache Pass (1952)
Another film I obviously caught on rerelease in the late 50s, I was unaware at the time that it was a loose sequel to the James Stewart Western, Broken Arrow, in which Jeff Chandler played the famous Apache chief, Cochise for the first time.
It's a genuine old-fashioned cavalry and Injun movie, short on fact but full of enough action to keep a seven-year-old-kid enthralled for 85 minutes.
I remember quite clearly a scene in which the supposedly benign Cochise kidnaps a friendly rancher and has him tied to the back of a horse as a hostage. When negotiations with the army fail, Cochise whips the horse and sends the poor man to his death. Not that benign, then.
The supporting cast includes the likes of Richard Egan, Hugh O'Brian, Jack Elam and James Best. Jay Silverheels, the perennially friendly and wholesome Tonto in The Lone Ranger TV series, is this time cast as the villainous Apache, Geronimo, a part he also played earlier in Broken Arrow.
The Battle at Apache Pass is apparently famous for being the first time the army used artillery against those pesky Native Americans when they selfishly fought to keep the invading white settlers from stealing their land. I won't insult you by revealing who wins.
Chandler went on to play Cochise a third time, opposite Rock Hudson in a cameo role for Taza, Son of Cochise.
His star has faded somewhat over the years but back in the day, he was obviously quite popular, appearing in nearly 40 movies during the 1950s, 10 of them Westerns.
Dying unexpectedly at the early age of 42, I'd venture Chandler is probably due some kind of belated reappraisal as an actor, but then that's just my opinion.
For those of you interested in the personal stuff, Jeff was not a) a cross-dresser or b) the brother of Frankie Laine.
Escape from Fort Bravo (1953)
A couple of Hollywood directors, in particular, stand out from the rest when it comes to the Westerns of the 1950s. Delmer Daves is one and the other is John Sturges, both of whom figure more than once in this article.
Escape From Fort Bravo is one in a number of Westerns that have dealt with the incarceration of defeated Confederate soldiers by the Union army, other examples of this Western sub-genre stretching from Two Flags West in 1950 right through to Major Dundee in 1965.
In this relatively little-known Sturges opus, William Holden plays Union martinet Captain Roper, tasked with overseeing a prison camp host to rebel soldiers anxious to escape and get back to fighting on behalf of the South.
The Confederate captain, John Marsh, played by John Forsythe, engineers an escape but is captured by Roper who intends bringing him back to the fort and punished accordingly.
This is where the fun really starts because as they make their way towards the fort the group is set upon by a bunch of Apache warriors who don't give a damn which side is Union or Confederate. They just want to kill everyone.
The main set-piece of the film has Roper, his fellow soldiers and prisoners boxed in behind a ridge from which neither they nor the Apaches can see each other.
The Apaches decide the only way to flush their victims out is to estimate where the group is, then shoot their arrows into the air, picking off the least-known members of the cast first before hitting pay-dirt with Forsythe.
Naturally, the cavalry comes to the rescue just in the nick of time to save the good guys which is par for the course in this kind of film.
I used to get really excited as a kid when a cowboy film had cavalry and Indians in it and this was definitely one of the best. If you haven't seen it then I thoroughly recommend it, even though it's nearly as old as I am.
Drum Beat (1954)
I vaguely recall the hero of the film, Alan Ladd, facing down Charles Bronson, as the villain of the piece, with Ladd presumably standing on the ever-present orange box in order to give him more stature than his supposed height of 5 foot 7 inches would allow.
By a strange coincidence that happens to be my height too. Apart from that, I don't really remember anything else, what with me being only about three-years-old at the time.
However, I'm pretty sure I knew enough to know it was a Western, with lots of accompanying cowboy / Indian action, so it obviously stayed in the memory.
Catching it again recently on TV, I was surprised to find it was (loosely) based on real events.
Bronson's character, Modoc renegade chief Captain Jack, did actually murder a cavalry general during peace negotiations, for which he was hanged alongside three of his compatriots.
The director, Delmer Daves, also managed to make a few other real classic Westerns in the same decade, including 3:10 to Yuma, Broken Arrow, The Last Wagon and Jubal, so if you haven't seen Drum Beat yet then check it out.
It's not very often you see a film later in life that turns out to be as good as you think you remembered it to be, but this is an exception to that rule.
Wichita (1955)
On the face of it, this is just another in a long line of 1950s shoot-em-ups barely distinguishable from the literally hundreds of cowboy films Hollywood turned out in the 1950s.
What makes Wichita memorable to me, though, is the scene in which a young boy, watching a shoot-out in the street below from an open window, suddenly catches a stray bullet and is thrown backward by the force of the shot.
I can clearly recall feeling very frightened for the poor kid, this still being that period in my life when I had yet to appreciate the concept of film and how it actually worked.
To my young and impressionable mind, I saw a little boy being killed, and I didn't like it one bit.
The film is yet another retelling of the story of Wyatt Earp, as played by Joel McCrea.
It stands up very well to other Westerns of the same period, and I've watched it on TV and DVD a number of times in recent years.
Jacques Tournier, the director, was not one normally associated with the cowboy genre, his most famous film prior to this being Cat People, a horror film that made quite an impression on audiences back in 1942.
Like a lot of these 1950s Westerns, there's quite a nice little supporting cast to luxuriate in, including Jack Elam, Robert J. Wilke, and a certain Sam Peckinpah as a bank teller. I wonder whatever happened to him?
Join me in my trip down memory lane of Best Westerns of the 1950 Part 2.