Idol of the Crowds (1936) Universal
Dir: Arthur Lubin, b/w, 60m
Cast: John Wayne, Sheila Bromley, Billy Burrud, Russell Hopton, Huntley Gordon, Charles Brokaw
In a world where characters with names such as Swifty, Hank and Spike shout insults at each other whilst sitting on the edge of a desk chewing on a cigar like characters from "The Front Page", the manager of the New York Panthers ice hockey team sends two of his scouts, Kelly and Garber, played by Robert Hopton and Frank Otto, to go find some fresh blood for his ailing team.
Before you know it they're on their way to Metonsic "The fastest growing town in Northern Maine". They're on the lookout for former members of a legendary hockey team called the Crushers, only to discover that most of them have been put out to pasture whilst one poor soul now only has one leg.
Their tobacco-spitting chauffeur in Metonsic, played in a wonderful cameo by Clem Bevans, tells the scouts the best hockey player in the area is none other than chicken farmer John Hansen, played by John Wayne, who was not only in the Crushers, he was the Crusher. John Wayne as a hockey-playing chicken farmer. This I've really got to see.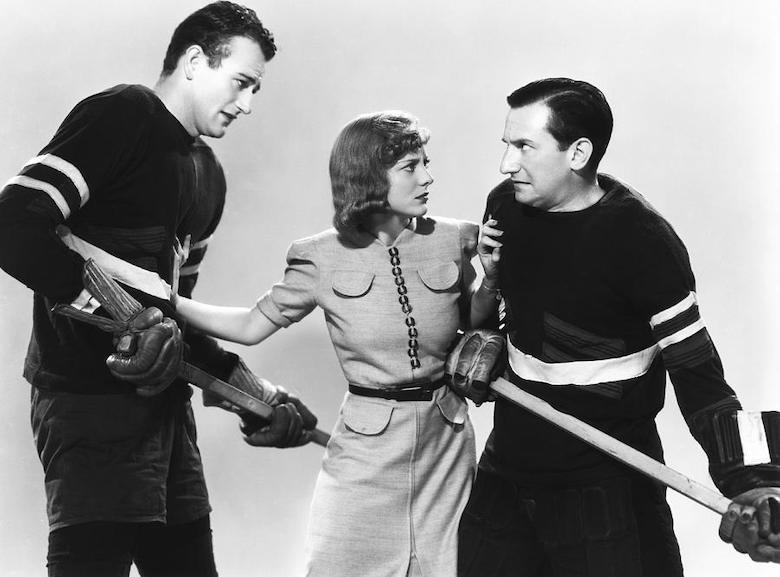 They find Hansen trying to scratch a living on his farm along with his twelve-year-old brother Bobby, played by Billy Burrud. Bobby is all for his big brother to go play hockey in New Yoik, but Hansen demurs, until he discovers his prize cluckers have checked out to that great big battery farm in the sky.
The next thing you know he's off to the big city ready to play with the professionals. After a baptism of fire training with his fellow teammates, Hansen shows he can give it as well as take it, the newspapers proclaiming the success of the team now Hansen has joined with headlines such as "Hansen Saves Bacon for Panthers", "Panthers Take Third in a Row" and "Dragons Clubbed by Panthers".
After just having to come to terms with seeing John Wayne performing on ice, the audience is then granted the spectacle of seeing him on roller skates for possibly the first and only time in his screen career.
Hansen, Billy and Garber take in a visit to a local Rollerdrome for no particular reason plot-wise other than to stage a scene in which Hansen accidentally trips over attractive Helen Dale, played by Sheila Bromley. Helen's employer, Jack Irwin, played by Charles Brokaw, is the crooked owner of the roller skating establishment and persuades Helen to cosy up to Hansen in order that Irwin can persuade the rube from Metonsic to go over to the dark side.
Hansen and Helen bond over their mutual enthusiasm for chickens, Hansen all for farming them whilst Helen is all for eating them. A match made in heaven. What could possibly go wrong?
Then things take a turn for the worse, Irwin trying to get Hansen to throw the upcoming big ice hockey game in return for $5,000 Hansen needs for his chicken farm. When our boy refuses, Irwin arranges an "accident" for little Bobby which turns out to be not so little, and putting the kid in hospital.
Helen then admits to Hansen that she was asked by Irwin to play nice with him after which Hansen walks off in a huff, unaware Bobby is in hospital.
Finding out halfway through the game that his kid brother has been hurt Hansen starts to lose his edge, even more so when one of Irwin's cronies threatens he "won't walk off the ice alive" if he doesn't throw the game. All of this is rendered moot when Hansen is injured and ends up in hospital himself – but – it's all a bit of a scam with Hansen pretending to be injured so that Irwin will be tricked into thinking Hansen no longer plays for the Panthers. Clever.
Just to up the emotional ante even further Bobby takes a turn for the worse and has to be wheeled off for surgery. Hansen hangs around the hospital room until he knows his brother is going to make it before making a surprise appearance at the game, winning it for the Panthers and leaving Irwin nursing a $200,000 hole in his pocket.
The film ends with our hero, Bobby and new wife Helen making a new life for themselves on a chicken farm in Metonsic USA. And why not?
Whilst JW isn't exactly convincing as an ice hockey player the script by George Waggner and Harold Buckley helps make "Idol of the Crowds" more enjoyable than expected.
Also, the writers seem to have had fun coming up with names for some of the characters, in particular Wayne's teammate Squat Bates.
Reviews at the time were mixed, from the positive – "John Wayne appears in another athletic role [as] a hockey star… and gives a pleasing performance" to "Old fashioned hokum, used in many an action melodrama".
Should this be one of those early Wayne films you might not yet be familiar with then check it out if you can get hold of a copy on DVD. You may be pleasantly surprised. I know I was.