Here's another John Wayne Western in which Yakima Canutt plays the bad guy again, this time around a character called Henchman Pete. Don't those outlaws ever have a surname?
King of the Pecos (1936) Republic, Dir: Joseph Kane, b/w, 55m
Cast: John Wayne, Muriel Evans, Cy Kendall, Jack Clifford, Arthur Aylsworth, Herbert Haywood
Villain Alexander Stiles, played by Cy Kendall, has a habit of wandering into new territory and claiming it to his own under a concept known as "right of discovery".
He soon discovers though that the locals don't exactly appreciate this wanton act of land-grabbing, in particular, Ma and Pa Clayborn, who stand up for their rights and end up on the wrong end of a gun.
In a particularly brutal scene for the time their young son John, who grows up into a strapping young man with a heck of a resemblance to John Wayne, gets punched and whipped to the ground by one of the villains, Henchman Ash, played by Jack Clifford, for standing up to them.
A quick flash forward to ten years later shows JW practising his gun skills whilst at the same time revealing he's been studying law with one intent – to try the case of John Clayborn versus Alexander Stiles. I know who my money's on.
Traveling on the stagecoach to the town of Exposition, JW hears that Stiles now owns the whole town of Cottonwood and million acres of land as well.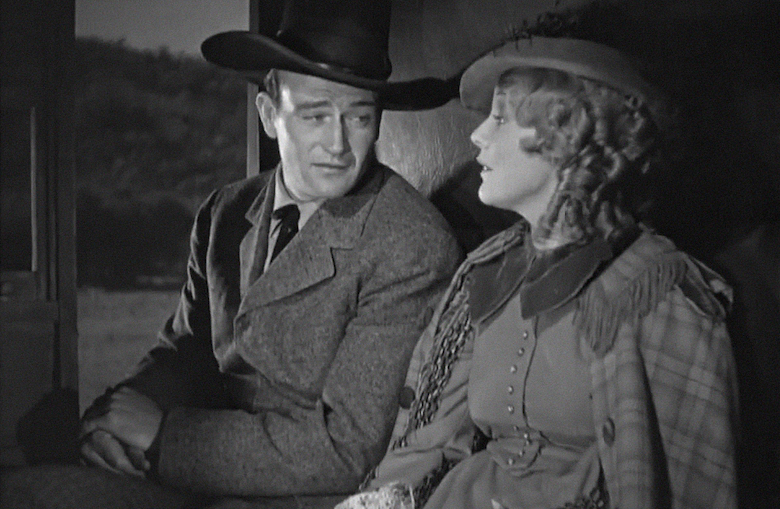 In fact, in the last ten years, he's become "the richest cattle king of the Pecos". And Duke's on his way to take the fat cat down, either with a law book or a gun. Or both.
Oh, and there's a pretty girl by the name of Belle on the stage as well, and we all know how that's going to turn out too.
Within two minutes of hitting Cottonwood, JW finds himself face-to-face with the man responsible for the death of his parents and takes on his first case for a couple of locals who have been swindled by Stiles.
The court case never happens on account of Stiles being powerful enough to railroad the local sheriff and the county judge so JW decides to get his two clients to round up all the people who've been swindled seeing as he now has a case against Stiles which he's going to pursue legally. For a while anyway.
JW "Perry Mason's" bad boy Stiles in court and paves the way for the swindled ranchers to get their water rights back.
Being the villain Stiles gets all the best dialogue, issuing the command to one of his minions to "Take the shortcut to Red Rock Canyon", in order to waylay the crowd on their way to file for water rights.
To cut a long sequence short, JW and the good guys outsmart Stiles and the bad guys and manage to successfully file their claims. Stiles decides to fire his lawyer who lost the court case on his behalf, and when we say fire we mean fire, on account of the lawyer getting shot full of lead in an out of court settlement.
The upshot of all this legal toing and froing is that the local ranchers are now very rich seeing as they can water and feed their cattle and sell them for twenty dollars per head.
Henchman Pete overhears them loudly agreeing to herd all of the cattle together and drive them to the cattle market in Abilene.
Stiles decides to deprive the cattle drinking facilities seeing as he owns the town and all water rights through which the herd will travel.
Belle's dad gets a bullet after remonstrating with the Stiles gang when they try and relieve him of his cattle, which for some reason not explained he's decided not to sell just yet.
There's a big shoot-out at the end between the opposing parties with Stiles making a run for it and getting shot in the process. JW catches up with Henchman Ash and settles the score with him in a genuine "High Noon"-type showdown at the end of the film.
The comedy duo of Hank and Josh, played by Arthur Aylsworth, Herbert Haywood respectively – one of them is profoundly deaf and can't hear what his partner has to say – grows a bit tiresome by the end but on a scale of one to ten, I'd give this effort an eight.
It is, without doubt, the best so far of all the films John Wayne appeared in during his exile from stardom after the box-office failure of "The Big Trail" six years before.
Wayne still has a long way to go before he gets to the point where he appears comfortable in his own skin onscreen but the storyline is quite compelling and the locations in Lone Pine are magnificently captured by cinematographer Jack Marta.
One to watch for that small band of Western fans who have yet to see all of the films John Wayne ever made.