Whilst writing numerous articles and posts for Mostly Westerns over the years I would occasionally come across little snippets of information from various sources relating to some of the roles John Wayne played in his films. On closer examination there appear to be quite a few movies in which Duke's character has some basis in reality, although you may find one or two examples in this list somewhat tenuous, to say the least. We, therefore, ask you to please feel free to comment and add to the information in this article should you be so inclined. On with the show.
This article includes affiliate links. If you choose to purchase any of the products we've discussed in this article, we may receive a small commission.
Allegheny Uprising (1939)
Based upon the book "The First Rebel", which was also the title of the film as released outside America, Wayne's character is itself based upon James Smith, or Jim Smith as he is referred to in the film.
The main thrust of the story, set in 1765, ten years before the American War of Independence, revolves around the antagonism between Smith's colonialist followers and the British army as to the manner in which the British traded goods such as alcohol and gunpowder with the local Native Americans.
The real Smith headed up a group known as the Black Boys on account of blacking up their faces in order to avoid detection when intercepting and destroying goods bound for delivery to the Indian tribes in the region.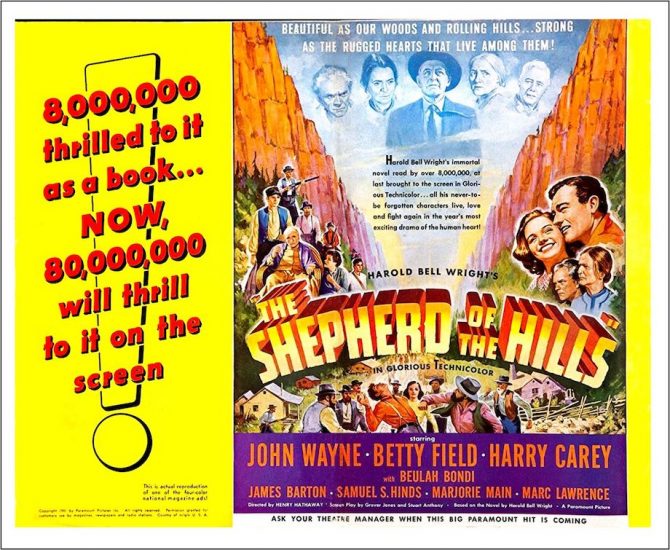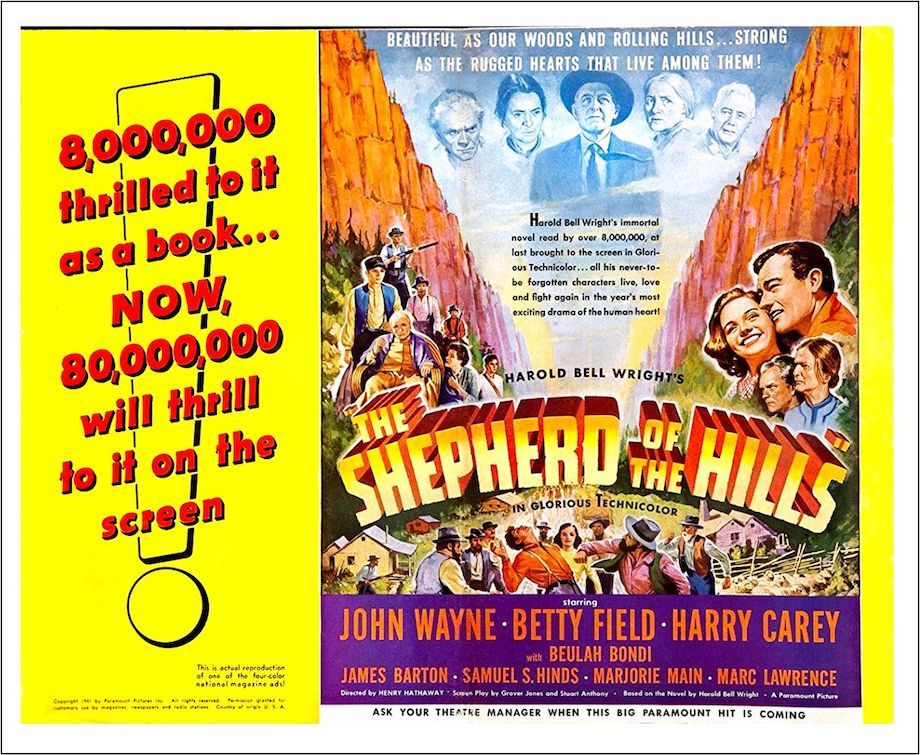 The Shepherd of the Hills (1941)
Although published as a work of fiction, the novel upon which the film is based concerns real characters that the author, Harold Bell Wright, encountered when he camped for a number of years in and around the Ozark Mountains in the late 19th / early 20th Century. Wayne's character in the book, Young Matt, is the son of Old Matt, played in the movie by James Barton.
In the film, JW turns out to be the son of the shepherd of the hills himself, as portrayed by Harry Carey Senior, which is kind of unfortunate seeing as Duke ends up being blasted by his dad in a gunfight, although he lives to fight another day.
Either way, Young Matt in real life was potentially the son of a couple that author Bell met on his travels called John and Anna Ross, who were renamed as Old Matt and Aunt Mollie in the book, suggesting JW's role may, therefore, be based upon a real person.
Back to Bataan (1945)
There are a couple of suggestions out there on the internet that Duke's character in this film, Col. Joseph Madden, is inspired by real-life Col. George S. Clarke, who also served as a technical advisor on the film.
Set during the Japanese siege of the Philippines in 1942, Madden heads up a guerrilla outfit to complement a Filipino resistance group, whilst Clarke commanded the 57th Infantry Regiment of the Philippine Scouts during the Battle of Bataan. According to one source, the 57th "was the first unit on the II Corps line to come under heavy infantry attack."
There is a thread on a forum that maintains the badge sown onto Wayne's cap that he wears in a publicity shot for the film indicates his association with the 57th Infantry group, thus suggesting that his Col. Clarke was Wayne's real-life counterpart.
They Were Expendable (1946)
Still finding himself fighting the Japanese in the Philippines, Duke played Lt. J.G. "Rusty" Ryan who, along with his commander Lt. John "Brick" Brickley, played by George Montgomery, command a squadron of US Navy PT boats known as Motor Torpedo Boat Squadron Three.
The film is based on a novel by correspondent William White who fictionalised some of the real events encountered by a group of Navy PT boat personnel in 1942. Apparently, both Wayne and Montgomery's characters are based upon real-life Naval officers Robert Kelly and John D. Bulkeley.
Kelly served in the Philippines in Motor Torpedo Boat Squadron Three, just as Wayne's character does in the film. Rusty's squadron is sent to help with the evacuation of General MacArthur which Kelly also took part in back in 1942. Kelly and Bulkeley were also involved on a PT boat attack on a Japanese cruiser, another real-life incident which is also portrayed in the film.
Island in the Sky (1953) / The High and the Mighty (1954)
I'm going to go out on a limb a bit here seeing as the scriptwriter for both films, Ernest K. Gann, was also a pilot himself who maintained in his autobiography "Fate is the Hunter", that both films are based in one way or another upon actual events. The script for "Island in the Sky" relates a true story about a flight that went missing in 1943. Gann was "one of the search pilots whilst serving with Air Transport Command at Presque Isle Airfield. [He] had been scheduled to fly the mission that ran into trouble, but was bumped off the flight by a more senior pilot."
As for "The High and the Mighty", 'the plot of the fictional book, also written by Gann, bears some resemblance to one of the true stories in "Fate is the Hunter"'. If this is indeed the case then potentially Wayne's character in "Island in the Sky", Captain Dooley, and his role as First Officer Dan Snow in "The High and the Mighty" are probably both based upon real-life characters.
Resources:
https://en.wikipedia.org/wiki/Island_in_the_Sky_(1953_film)
https://en.wikipedia.org/wiki/Fate_Is_the_Hunter
The Conqueror (1956)
It's probably best not to dwell on what is generally regarded to be one of the worst films John Wayne ever appeared in, the actor woefully miscast as Mongol warrior Genghis Khan, so let's just concentrate on fiction versus real life instead.
In the film, Khan, known by his birth name of Temujin, falls head over heels for the beautiful Börte, played by Susan Hayward, who in the famous words of the Mongol leader, is "beautiful" in her wrath. According to legend, Temujin and Börte were actually betrothed to each other as young children when they were nine and ten years old respectively and were married about seven years later.
At some point, just as in the film, Börte was kidnapped by a rival tribe then rescued a few months later by Temujin and his brother Jamukha, called Jamuga in the movie and played by Pedro Armendáriz.
The film covers the real-life rift between the brothers in which Jamukha apparently attempted to wrest leadership of the Mongol tribes from Temujin, in turn leading to a huge fight known as the Battle of the Thirteen Sides.
Finding himself on the losing end, Jamukha decided he would rather die than form an alliance with his brother, and was executed by having his back broken. Jamuga's death is not shown in the film, only implied at the end.
After uniting all of the Mongol tribes, Temujin, eventually known as Genghis Khan, went on a huge power trip and conquered what was then known as Eurasia via the large-scale slaughter of anyone who got in his way. John Wayne eventually went on a conquering quest of his own at the box-office and never looked back.
The Searchers (1956)
It's a well-known fact that the source novel for "The Searchers", written by Alan Lemay, is based upon the real-life abduction of nine-year-old Cynthia Ann Parker, who, along with four other people, was kidnapped by Kiowa Comanches in 1836. According to author Glenn Frankel, who wrote a superb book of his own on the making of the film, "The Searchers: The Making of an American Legend", the character of Amos Edwards, or Ethan Edwards as he was known in the film, is "modelled a bit" on Cynthia Parker's uncle, James.
James Parker spent nine years, along with a number of other family members, tracking down his kidnapped relatives which included his daughter, grandson and step-sister, who were eventually returned to the fold after being ransomed by their captors. Cynthia and her brother were eventually rescued from their Comanche kidnappers by a group of Texas Rangers in 1860. By this time Cynthia was fully assimilated into the tribe, having been married off and then given birth to three children, one of whom grew up to be the Comanche war leader Quanah Parker.
One other thing worth mentioning is that James Parker's wife was called Martha, and of course, Martha is the wife of Ethan's brother, Aaron, in both the film and the Alan Lemay novel. Whether that is coincidence or not is yet to be decided.
If you're interested in reading further on the subject then check out the book "Empire of the Summer Moon".

and the aforementioned Glenn Frankel book here:
---
The Wings of Eagles (1957)
"The Wings of Eagles" is a good old-fashioned bio-pic starring John Wayne as the Navy aviator turned screenwriter turned Naval commander, Frank 'Spig' Wead. Spig and director John Ford had worked together on "Air Mail" and "They Were Expendable", the writer also producing screenplays for quite a few other war and air based melodramas such as "Ceiling Zero" and "Test Pilot". Ford obviously decided Spig's life story was eventful enough to turn into a film and this is the result.
Although partly fictionalised, it does relate to the fact that Wead's son died when he was only one year old, but apparently a number of scenes were cut that alluded too strongly to the drinking habits of Wead and his wife Min, portrayed in the film by Maureen O' Hara.
The film also documents the accident Wead suffered in 1926 that interrupted his Naval career when he fell down a staircase and ended up paralysed after fracturing his neck. In the movie his pal "Jughead" Carson, played by Dan Dailey, invents a new type of physiotherapy in which he miraculously cures Spig's broken neck by strumming a banjo and singing "I'm gonna move that toe".
Wead was fifty-two when he passed away so Wayne, who was fifty himself when he appeared in the film, was just about the right age for playing his counterpart on screen. Wead was invalided out of the Navy due to ill health and the final scene in which an old-looking Wayne is hoisted across the water from his battleship to a cruiser that will take him home almost brings tears to your eyes.
Resources:
https://en.wikipedia.org/wiki/Frank_Wead
https://airandspace.si.edu/stories/editorial/hollywood's-representation-naval-aviation-frank-w-"spig"-wead-and-john-ford's
The Barbarian and the Geisha (1958)
I think it would be fair to suggest that John Wayne is somewhat miscast as the real-life figure Townsend Harris, an American diplomatic consular tasked by the President of the United States in 1856 with attempting to ratify a treaty with Japan. It's also true to say, however, that Wayne was correctly cast in terms of age seeing as Harris was fifty-four years old when he finally managed to negotiate what became known as "the Harris Treaty" in 1858, the actor himself only a few years younger than that when he appeared in the film.
The movie features a number of incidents for which there appears to be some historical basis of truth, but the supposed affair with Harris and the Geisha of the title, Okichi, as played by actress Eiko Ando, were fabricated for dramatic effect. In reality the young lady in question, Kichi Saitou, was only seventeen and apparently worked as a housekeeper for Harris for all of three weeks before she was fired.
One other sequence in the film for which there appears to be no historical basis is when Harris inadvertently allows a bunch of sailors with cholera to land on Japanese soil, resulting in the village having to be burnt down in order to stop the disease spreading any further. Also, the sight of Duke being thrown around by a small vertically challenged Japanese person is, happily, something you don't get to see very often. Besides, in real life we all know who would have come out on top in a match such as that.
The film is really only of interest for those JW fans who want to see their hero as an Ambassador of all things sporting an outlandish set of sideburns and appearing in Naval commander getup complete with a Navy tricorn hat.
Resources:
https://en.wikipedia.org/wiki/Townsend_Harris#In_Japan
https://en.wikipedia.org/wiki/The_Barbarian_and_the_Geisha#Cast
The Alamo (1960)
Davy Crockett was forty-nine when he died during the siege of the Alamo in 1836. Duke was only a couple of years older than that when he played the famous wild frontiersman in 1959, a part that he hadn't intended to take on mainly because he was also directing and producing the epic saga as well.
There was quite a lot for Wayne to live up to in taking on the part, seeing as in the 1950s alone Crockett appeared as a character in at least two major film productions, "The Last Command" (1955) and "The First Texan" (1956), Arthur Hunnicutt and James Griffith respectively taking on the role. In between this came the famous Disney TV miniseries starring Fess Parker that ran for five episodes which were then combined into two theatrical releases, "Davy Crockett, King of the Wild Frontier" (1955) and "Davy Crockett and the River Pirates" (1956).
For anyone growing up as a kid in the 1950s, Fess Parker WAS Davy Crockett and probably still is to a lot of us boomers, but to JW fans "The Alamo" is both a quintessential John Wayne film and his performance as Crockett the one against which all other actors will be forever compared. Duke plays Crockett as the legendary backwoodsman of little words but great deeds, yet the film takes the time to reveal a more thoughtful persona below the surface.
However, seeing as there is scant information relating to Crockett's last days trapped inside the mission and the exact manner of his passing, the last few weeks of his life are obviously a matter of conjecture no matter which cinematic version of his demise we consider. Did he die fighting to the last or was he captured then eventually put to the sword by his Mexican captors?
We'll never really know so for my money I'm happy to go with what is probably John Wayne's greatest and most memorable death scene of all, mortally wounded as he stumbles into the magazine with a lit torch and going out in a blaze of glory as he blows himself and the Alamo to kingdom come.
Resources:
https://www.historynet.com/davy-crockett
The Longest Day (1962)
Duke's role in what I consider to be one of my all-time favourite WWII films that just happens to have John Wayne in it is based upon the real life genuine war hero Lieutenant Colonel Benjamin H. Vandervoort. Although he only has about twenty minutes of screen time in a film that runs for two hours and forty minutes, JW makes the most of his portrayal of Vandervoort, even if Wayne was playing at the age of fifty-five someone who was actually only twenty-seven at the time of the D-Day landings in 1944.
As shown in the film, Vandervoort, who was the Commanding Officer of his battalion when he participated in the D-Day operation, did actually break his ankle when parachuting into Normandy. He apparently ordered his boot to be tightly laced whilst participating in pushing back a counterattack by German forces before then going on to help defend the French village of Saint-Mere-Eglise.
A few months later he was back in action helping to lead an assault on a bridge in Nijmegen as part of the Operation Market Garden offensive in Holland, a battle depicted in another WWII movie, "A Bridge Too Far", released in 1977. Sadly, Vandervoort didn't make it onto the list of characters depicted in this particular film.
If I had to pick Wayne's best moment in "The Longest Day" it would be the speech he makes to his troops just before the Allied invasion takes place, telling his men that "Your assignment tonight is strategic. You can't give the enemy a break. Send 'em to hell…. That is all'. It's probably more of a "Wayne moment" than something Vandervoort himself might have said, but either way, you have to love this guy, right?
Resources:
https://www.casematepublishing.co.uk/col-ben-vandervoort.html
How The West Was Won (1962)
Two years earlier, John Wayne, credited under the pseudonym Michael Morris, made a fleeting guest appearance in the TV series "Wagon Train" as Union General William Tecumsah Sherman. The episode, entitled "The Colter Craven Story", was directed by John Ford who then went on to use Wayne in the same role in the Civil War sequence he helmed for "How The West Was Won". This time around you get to see a bit more of Wayne, albeit for only about two minutes of screen time, playing opposite Harry Morgan as Major General Ulysses S. Grant during the battle of Shiloh, on the evening of April 6th, 1862
In the film the two Generals, watched from the side-lines by a Reb deserter (Russ Tamblyn), and a disenchanted Union soldier (George Peppard), Grant confesses to Sherman that if his fellow officer had not held the flank that day the Union would have been whipped.
In a crisis of confidence he then tells Sherman that he's going to resign his command win or lose, on account of being accused, among a number of things, of being drunk whilst in command. Sherman berates Grant, telling him that a man only has the right to resign if he's wrong. Grant sees the error of his ways – after all, this is John Wayne talking to him – and decides to stay on.
There appears to be some historical evidence to suggest that Grant and Sherman did indeed converse with each other at the end of the first day of fighting, their exchange recorded as follows:
Sherman: "Well, Grant, we've had the devil's own day, haven't we?"
Grant: "Yes. Lick 'em tomorrow, though."
Also, in reality, Sherman received two unspecified minor wounds on the first day of battle, although there's nothing to suggest that in the film. Bearing the brunt of the initial attack from Confederate sources on the morning of April 6th, his role as commander of four brigades of the 5th Division was a defining moment in his military career.
Resources:
https://en.wikipedia.org/wiki/William_Tecumseh_Sherman#Breakdown
The Greatest Story Ever Told (1965)
Personally I just don't buy it but there is a suggestion that JWs role as the Roman Centurion witnessing the death of Christ in this overlong and somewhat boring Biblical epic is actually based upon a real person. Known as Longinus, but only referred to either as "Centurion" or "The Roman" in publicity materials for the film, he was supposedly the "unnamed Roman soldier who pierced the side of Jesus with a lance", which is kind of a contradiction. How can you be unnamed if your name is Longinus?
The notion of John Wayne spearing the Son of God is just too much to consider, so forgive me as I move swiftly on to the next film.
The Sons of Katie Elder (1965)
Although the movie featured only four brothers, "The Sons of Katie Elder" is based upon five real-life brothers known as the Marlow's, a bunch of reckless siblings who, in the 1890s, were prone to acts of violence and other such anti-social practises. The more violent of the Marlow's, Boone, the brother upon whom the character played by Dean Martin in the film is apparently based, supposedly shot and killed the local sheriff. This in turn led to the other four brothers being placed under arrest for murder whilst Boone went on the run.
The brothers were in the process of being transferred to another jail about sixty miles away when their wagon was attacked by a mob out for some frontier justice, an incident that also features in the film. Two of the brothers, Alf and Epp, died in the attack, as opposed to just one brother in the film.
The surviving siblings, George, presumably the eldest and therefore the character upon which Wayne's role as John Elder was based, and his younger brother, Charley, were eventually found innocent of all charges, although Boone was later apprehended and possibly murdered by his captors.
The book, "Life of the Marlows: A True Story of Frontier Life of Early Days", written by William Rathmell.
Resources:
https://www.historynet.com/murder-mobs-and-the-marlow-brothers.htm
---
Cast A Giant Shadow (1966)
I've tried to actually find written evidence that John Wayne's portrayal of General Mike Randolph was based upon the famous American General, George S. Patton, but apart from a few comments suggesting that this might be the case there doesn't appear to be anything concrete to support that contention. I once had a copy of the book written by the director of the film, Melville Shavelson", entitled "How To Make a Jewish Movie", which might have shed a bit more light on this but it has alas disappeared from my bookshelves.
From what I've read it would appear that JWs character is possibly a "composite of two Generals", who may or may not have been Patton and General Lucius D. Clay, who ordered Colonel Mickey Marcus, the main real life character in "Cast A Giant Shadow", to personally inspect the concentration camp at Dachau after VE Day. Shortly before this, General Patton witnessed at first hand the conditions in the liberated concentration camp at Orhdruf in Germany.
It may be possible to make a direct connection between these events and the major scene that Wayne appears in when he takes part in the liberation of a Nazi death camp, the horror of what he witnesses communicated purely through Wayne's restrained but very moving reaction to the death and devastation seen only through his eyes.
As an addendum to this, it's worth mentioning Wayne's supposed involvement in the later film, "Patton: Lust for Glory", in which, according to various sources, he either "eagerly sought the role but was turned down by the producer" or that "Burt Lancaster and John Wayne were both considered for the role". Whilst I applaud the Oscar winning performance of George Scott as the infamous general, I think John Wayne would have been equally as impressive, and it stands as one of the lost great roles of his career.
Hellfighters (1968)
Directed by Andrew McLaglen, it's a well-known fact that Wayne's character in "Hellfighters", Chance Buckman, is based upon the famous American oil well firefighter Red Adair, who, along with his colleagues, 'Boot's Mansen and 'Coots' Matthews, served as technical advisers on the film. The sequence towards the end when Chance and his team take on a job in Venezuela putting out five oil wells is supposedly based upon the real-life job that Adair was involved in when confronted with an out-of-control fire located in the Sahara desert in 1962.
The burning gas produced a pillar of flame that shot 450-feet into the air, and was christened the Devil's Cigarette Lighter. It took five months before Adair, Boots and Coots eventually managed to get everything under control, the exploit making Red a household name from that moment on.
Adair was only about seven years younger than Duke so having JW cast in the role wasn't too much of a stretch for the actor. One interesting little vignette I came across was that in "North Sea Hijack", released in 1979, and also directed by Andrew McLaglen, one of the bad guys, upon mistakenly thinking that an oil drilling platform has exploded, suggests that someone calls Red Adair in to sort out the fire otherwise "it could burn for a year". I guess you can't keep a good firefighter down.
Check out Red's biography.

---
Chisum (1970)
"Chisum" includes a number of real historical figures from the Old West to tell its story. John Chisum, played of course by John Wayne in the film, is not as famous as Billy the Kid and Pat Garrett, who also feature, but he sounds just as interesting. The storyline is basically a fictionalised account of certain aspects of the Lincoln County Cattle War of the late 1870s.
It directly references the suggestion that the actual conflict itself centred around two sides fighting over control of goods and cattle, as illustrated in the film through the opposing characters of cattle baron Chisum and the dastardly Lawrence Murphy, played by Forrest Tucker.
Other real-life figures in the film include Pat Garrett, the Englishman Henry Tunstall and his business partner Alexander McSween, as well as Sheriff Brady, played by Bruce Cabot. In the film Billy the Kid goes off on a murder spree in order to avenge the killing of his friend Tunstall but if you want to know how it all ends for the Kid and Pat Garrett I recommend watching "Chisum" on a double bill with Sam Peckinpah's classic Western, "Pat Garrett and Billy the Kid" to get some notion of the full story.
It would appear JW isn't the only actor to portray Chisum, the role also having been played by both James Coburn and Barry Sullivan respectively in "Young Guns II" and the aforementioned Peckinpah movie.
Wayne was in his early sixties when he took on the role of John Chisum, his counterpart having died before that at the age of sixty after a botched operation to remove a tumour in his jaw. Many years after his death Chisum was inducted into the National Cowboy and Western Heritage Museum, which sounds like just the kind of august institution John Wayne himself should also be inducted into.
I'll start the petition.
Final note: Some but not all DVD releases of the film also contain a short feature entitled "John Wayne and Chisum" which should be worth checking out if you're lucky enough to have it in your collection.
Resources:
https://historycollection.co/10-of-john-waynes-characters-what-he-got-right-and-what-he-failed-miserably-at/4/
https://historycollection.co/10-of-john-waynes-characters-what-he-got-right-and-what-he-failed-miserably-at/10/
We hope you enjoyed our look at the movies in which John Wayne appeared in playing roles based on real people. Let us know in the comments below whether you liked it, hated it, was ambivalent towards it or can add any other historical figure played by JW.