I know this is probably going to be a contentious list but, starting with the presumption that John Wayne is to all intents and purposes considered by our readership to be numero uno best cowboy star ever (and if you don't agree with that then maybe you're looking for a one way trip to Boot Hill) then all other cowboys stars fall into place behind him.
The list is in descending order and I'll only be mentioning those Western the following actors appeared in that I think are worthy of note.
So, if you're curious as to who in our humble opinion made it onto the list of the top ten most popular cowboy actors to ever grace the silver screen then read on.
Robert Mitchum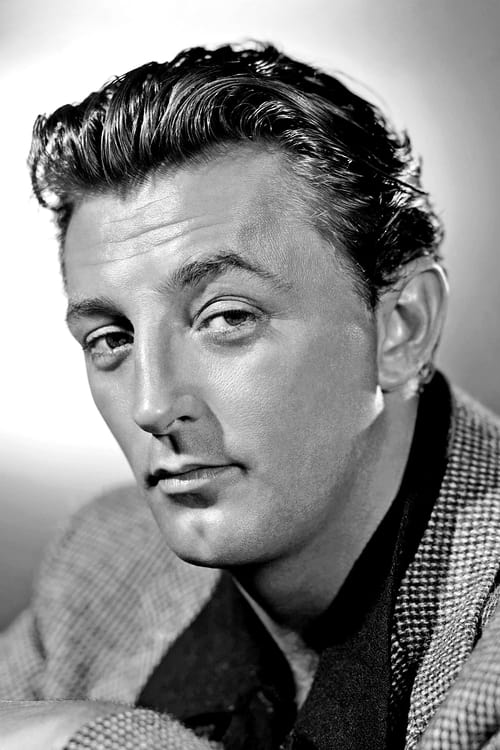 Mitchum's acquaintance with the cowboy genre was established right near the beginning of his career when he appeared in a series of Hopalong Cassidy Westerns, all released in 1943 and featuring Mitchum more often than not in the role of "Henchman".
Continuing his association with low-budget Westerns the actor landed his first starring role in "Nevada" in 1945 and followed that up in the same year as Pecos Smith in "West of the Pecos".
Moving successfully back and forth between war, gangster and cowboys films Mitchum scored a critical success in the 1947 Western noir movie "Pursued", directed by Raoul Walsh.
He saw out the 1940s with two other Westerns, "Rachel and the Stranger" in which he co-starred with another up-and-coming Hollywood actor by the name of William Holden, as well as taking the lead in "Blood on the Moon", a so-called psychological Western directed by Robert Wise, a filmmaker not generally associated with the cowboy genre.
The following years saw Mitchum favouring more appearances in gangster movies as opposed to the Western, although during the 1950s he also found time to ride the range with films such as the rodeo drama "The Lusty Men" and "River of No Return", a Cinemascope oater also featuring 20th Century Fox star Marilyn Monroe.
In 1954 the actor also signed up to play the lead in a John Wayne / Batjac production entitled "Track of the Cat", although it was his memorable performance a year later as the chilling serial killer Reverend Powell in the classic film noir "Night of the Hunter" that proved he was capable of playing against type when required.
Towards the end of the decade Mitchum tried producing himself in "The Wonderful Country", a Western set on the border in Mexico and featuring the actor as a mercenary for hire involved in gun-running and other nefarious activities.
Whilst now considered to be a classic of its kind the film did not fare too well at the box-office, Mitchum not deigning to appear in another Western until 1967 in the wagon train saga "The Way West", directed by Andrew V. McLaglen, in which he contended for screen time opposite Kirk Douglas and Richard Widmark.
Making up for lost time Mitchum then proceeded to star in another three Westerns on the trot of which "El Dorado" is definitely the best of the bunch.
A loose remake of the Howard Hawks Western "Rio Bravo", Mitchum, played Sheriff J.P. Harrah opposite John Wayne as gun-for-hire Cole Thornton, Mitchum in effect reprising Dean Martin's role as Dude from the earlier film.
Just like Dude, Harrah also turns to the bottle after an unhappy affair with a woman. Also, just like Dean Martin, Mitchum was one of the few actors to match Wayne onscreen, the both of them displaying the same kind of chemistry that JW and Martin enjoyed in "Rio Bravo".
Whilst remaining forever watchable on the big screen no matter what part he played Mitchum eventually eschewed the Western genre after his appearance in the Ralph Nelson directed Western "The Wrath of God", released in 1972.
It would be another twenty-one years before the actor was listed in the cast of a Western, delivering the narration in his instantly recognisable 'husky gravel-purr monotone' for the Wyatt Earp movie "Tombstone" in 1993. His final screen role was most fittingly also a Western, Mitchum playing a cameo in the cult movie "Dead Man", released in 1996 and directed by Jim Jarmusch.
Best Cowboy Films: "El Dorado" (with "The Wonderful Country" a close second).
Richard Widmark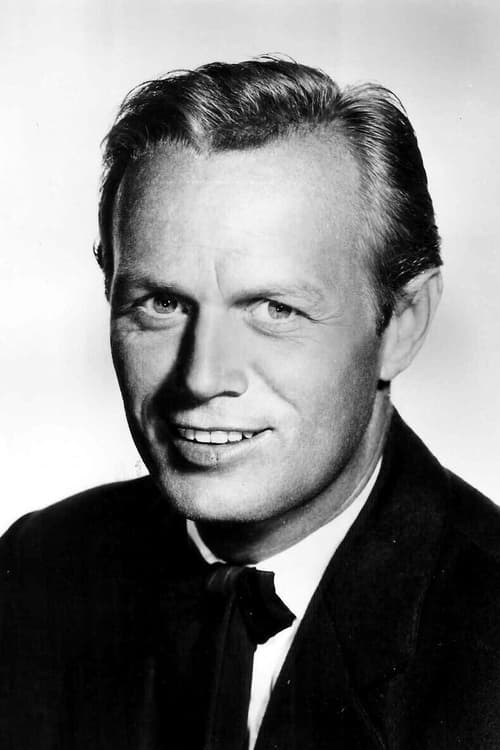 There aren't that many actors who can claim to have hit the big time immediately upon their screen debut and also win an Academy Award nomination for Best Supporting Actor into the bargain but Richard Widmark definitely falls into that elite category.
His striking performance as the vicious gangster Tommy Udo in "Kiss of Death", released in 1947, brought him instant stardom.
Happy to occasionally play second lead when required, Widmark's first Western saw him co-starring with Gregory Peck in the 1948 Western "Yellow Sky", supposedly partly based upon the Shakespeare play "The Tempest" with the actor playing a baddie by the name of Dude who doesn't make it to the end in one piece.
He didn't grace the screen in another Western until six years later in 1954, appearing alongside Gary Cooper in "Garden of Evil" in which he unfortunately bites the dust yet again.
The same year he played the wayward son of Spencer Tracy in "Broken Lance", another Western also partly based on a Shakespeare play, "King Lear" to be exact.
He also appeared a couple of years later in a little-known Western directed by John Sturges called "Backlash", a film with aspects of noir in which Widmark searches for the body of his father who, whilst digging for gold, has supposedly been killed by the Apache.
After a few twists and turns it transpires his father is still alive, both of them eventually facing each other down in a gunfight.
In the same year Widmark took the lead role in "The Last Wagon" as Comanche Todd, a white man who has thrown in his lot with the Indians.
Chained to a wagon by a seriously deranged sheriff, Todd murders him with an axe after which he and a bunch of settlers are attacked by Apache's, Todd unbelievably surviving being thrown over a cliff along with the wagon he's still chained to. Then it gets really exciting.
In 1958 Widmark played bad guy bad guy Clint Hollister with shades of Tommy Udo from "Kiss of Death" in another Sturges Western, in the process stealing the film from the main lead played by Robert Taylor as Jake Wade.
Everyone is looking for buried gold again, a pastime that absolutely every single time in a movie causes trouble for all concerned, Hollister eventually getting his just deserts from the business end of Jake Wade's six-shooter.
The following year the actor appeared in "Warlock", a bit of a curates egg of a film directed by Edward Dmytryk in which Widmark, after being appointed town deputy, finds himself up against two gunfighters played by Henry Fonda and Anthony Quinn.
Although he was the star of the film the movie really belongs more to Fonda and Quinn whose characters, it has been said by certain critics, may or may not be involved in a homoerotic relationship. One for the film students there I think.
In 1960 Widmark stole the acting honours from the likes of John Wayne and Laurence Harvey with his portrayal of Jim Bowie in Wayne's epic "The Alamo".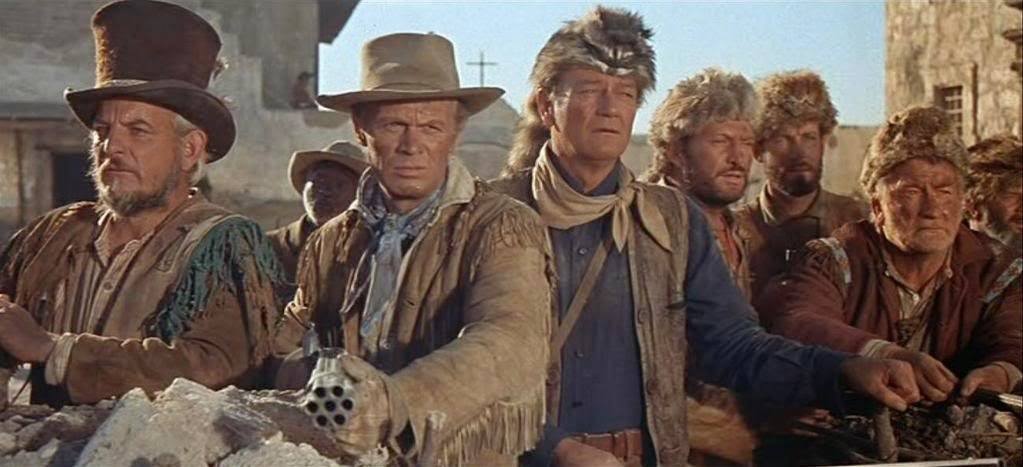 There was apparently some tension on the set between him and Wayne, but it all turned out fine in the end with Duke admitting afterwards that "United Artists insisted on Richard Widmark. I thought he was wrong for the part. I was wrong. He was magnificent".
In the early 60s the actor found himself cast as a cavalry officer in two John Ford films, the first of which was "Two Rode Together", released in 1961 with Widmark teaming up with James Stewart to rescue a group of captives held prisoner by Comanche Chief Quanah Parker.
The film is very similar to "The Searchers" at times and but that did not turn into success at the box-office. Widmark also played the lead role in Ford's last Western, "Cheyenne Autumn" as Captain Thomas Archer, tasked with attempting to prevent a Cheyenne tribe looking to return to their home territory after illegally abandoning their reservation.
In between he played a cameo, reverting to type as hard-hearted railway boss Mike King in the star-studded epic "How The West Was Won".
Apart from "The Way West", directed by Andrew V. Mclaglen and released in 1967, the last cowboy film of Widmark's worth mentioning is his turn as Red Dillon, an ageing rodeo star in "When the Legends Die", a contemporary Western released in 1972.
Best Cowboy Film: "The Law and Jake Wade" (with a special mention to "The Alamo").
Glenn Ford
Ford appeared in a couple of Westerns early on in his career ,"Texas" with William Holden and "The Desperadoes" opposite Randolph Scott, released in in 1941 and 1943 respectively.
It wasn't until the early 1950s that Ford got into his stride in the cowboy genre with his role in the 1953 Western "The Man from the Alamo", directed by Budd Boetticher.
He plays Dave Stroud, a man fighting for justice after being accused of cowardice for leaving the besieged mission to warn of the impending arrival of the Mexican army, even though he was ordered to do so before the Alamo fell.
After playing opposite Edward G. Robinson in the 1955 land war Western "The Violent Men", Ford hit the ball out of the park in two other well received cowboy movies, both directed by Delmer Daves.
The first of these, "Jubal", released in 1956, yet another 1950s Western loosely based upon a Shakespeare play, "Othello" (I think there's an article to be written on the little known influence of Shakespeare on cinematic tales of the Old West), features a great supporting cast including Rod Steiger, Ernest Borgnine and Charles Bronson.
The following year Ford and Daves made what is considered to be one of the best Westerns of the 1950s, "3:10 to Yuma", a suspense filled drama in which Ford, playing against type, stars as villain Ben Wade, taken prisoner and escorted to jail by an out of his depth farmer, Dan Evans, played by Van Heflin.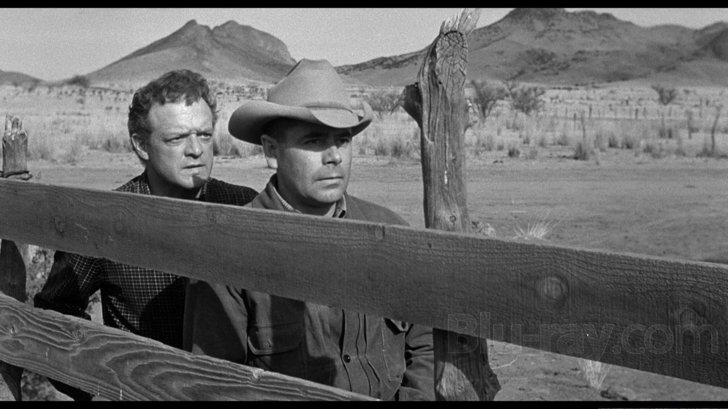 Ford also took on the role of trail boss Tom Reece in "Cowboy", released in 1958 and (I believe) the only Western to also feature Jack Lemmon, here playing real-life author Frank Harris.
Yet another Glenn Ford oater directed by Delmer Daves, "Cowboy", although an interesting take on the genre of 'An Eastern Dude Goes West' didn't quite garner the kind of attention bestowed on the other two Ford / Daves Westerns.
Any Western directed by Anthony Mann is always worth a look but it was Glenn Ford's misfortune to take the lead role in Mann's 1960 epic remake of "Cimarron", which died at the box office when released, due to, among other things, a lengthy two-and-a-half hour running time.
From the 1960s onwards Ford still split his screen roles across comedies ("Love is a Ball"), melodramas ("Fate is the Hunter") and Westerns ("Day of the Evil Gun"). In the 1970s he turned his attention to TV, his most notable role that of Sheriff Sam Cade in the modern-day Western series "Cade's County" which aired in 1971 and ran for twenty-four episodes.
Best Westerns: "3:10 to Yuma" and "Jubal".
---
5 More Western Stars – Part II
Audie Murphy
Enlisting in the army at the age of 17 in 1942 but falsifying his birth certificate to make him one year older, baby-faced Audie Murphy is considered to be the most decorated American soldier of WWII, Murphy ending up with a very impressive tally of medals.
He won the Medal of Honor at the age of 19, and went on to receive the French Legion of Honor and various versions of the Croix de Guerre as well.
Encouraged by none other than James Cagney after the war to try his luck in Hollywood, Murphy signed to Universal Studios in 1950, starring as Billy the Kid in "The Kid from Texas", a title that also referenced his own birthplace.
The following year he played "The Youth" in director John Huston's adaptation of "The Red Badge of Courage", his character almost the complete opposite of Murphy himself, a young Union soldier struggling to conquer the fear of battle.
He went on to appear in over thirty Westerns of varying quality, the better examples being "Night Passage", opposite James Stewart, "No Name on the Bullet", in which he was very impressive as a gunslinger for hire, and another John Huston title, "The Unforgiven" which also starred Burt Lancaster and Audrey Hepburn.
Murphy also uniquely played himself in the wartime biopic "To Hell and Back", based upon his own autobiography of the same name.
He appeared mainly in cowboy films for most of his career with an occasional diversion into non-Westerns such as the film noir "World in My Corner" and the comedy "Joe Butterfly", released respectively in 1956 and 1957.
He also took the lead in the romantic thriller "The Quiet American" in 1958, an adaptation of the Graham Greene novel of the same name.
It wasn't very well received and from then on, apart from the two non-Westerns "Battle At Bloody Beach" and "Trunk from Cairo" it was cowboy movies all the way for the rest of his career.
In his last film, "A Time for Dying", Murphy took on the role of another famous outlaw, Jesse James, the movie also the swansong of veteran Western director Budd Boetticher.
Given the right script and director, Audie Murphy showed enough screen potential to indicate he could have competed in the same league as other cowboy stars such as Randolph Scott and Joel McCrea but his untimely death in a plane crash in May 1971 at the age of 45 put paid to the realisation of that potential.
He was laid to rest in Arlington National Cemetery, and it is said his gravesite is the second-most visited after that of John F. Kennedy.
Best Western: "No Name on the Bullet".
Henry Fonda
Fonda's screen career kicked off in 1935 with the comedy "The Farmers Takes a Wife" and the following year he appeared in his first Western "The Trail of the Lonesome Pine".
By the following year, Fonda could usually be found first or second in the cast list, mainly in comedies and melodramas, so it wasn't until 1938 that he appeared in another Western, the hugely successful "Jesse James" with Tyrone Power in the title role with Fonda as his brother Frank.
Fonda's screen persona epitomised integrity, moral rectitude and all-round good citizenship in equal measures.
This came to the fore at the end of the 1930s when he took the lead role in three John Ford movies, "Young Mr. Lincoln", "Drums Along the Mohawk" and "The Grapes of Wrath", the last of which garnered him a Best Actor Nomination, the first of many accolades to come his way.
In 1940 he reprised the role of the brother of Jesse James in "The Return of Frank James" and then forsook the genre for a few more years before returning in the classic Western "The Ox-Bow Incident" in 1943.
Directed by William Wellman, the film is a harrowing indictment of mob rule and vigilante justice that stays with the audience long after the film has finished.
Fonda plays Gil Carter who attempts to convince an out-of-control posse not to summarily hang three men accused of rustling.
His reading of a last letter from one of the doomed men, all of whom turn out to be innocent, is one of Fonda's finest moments.
Taking time out from his acting career to enlist in the US Navy in 1943, Fonda returned to the screen in 1946 in what is probably his best Western role, that of Wyatt Earp in John Ford's masterful "My Darling Clementine".
Fonda's understated study of a man forced to take up his guns against the men who murdered his brother shows the actor at his best and the fact that Sam Peckinpah considered it to be his favourite Western says it all.
Fonda and Ford returned to the West in 1947 when the director cast him as the martinet Lt. Col. Own Thursday in "Fort Apache", the first of Ford's unofficial cavalry trilogy. This is also the film in which Fonda effectively handed over the baton of leading man in Ford movies to John Wayne.
He retired from Hollywood between 1949 to 1955, returning to the screen after this period in yet another Ford movie, "Mr. Roberts", the actor reprising a role he had played successfully on Broadway for two years.
In 1957 Fonda played bounty hunter Morgan Hickman in "The Tin Star", directed by Anthony Mann, in which Hickman comes to the aid of a young inexperienced sheriff played by Anthony Perkins.
He followed this up with a role that began to push the boundaries of his much-revered screen personality as a man of the people in "Warlock", portraying a marshal of ill-repute up against a small-town sheriff, played by Richard Widmark.
In 1958 he shattered the idea that major Hollywood stars ought not to appear on TV by taking on the role of Marshal Simon Fry in the television Western series "The Deputy". Most of the acting duties fell to his co-star Alan Case who actually played the deputy of the title.
Fonda confined himself to the occasional narration at the beginning and end of each program, appearing in approximately only nineteen of the episodes throughout the two-year run of the series.
The 1960s found the actor appearing in big-budget epics including the star-studded "How the West Was Won", Fonda taking on one of the main roles in the film as grizzled buffalo hunter Jethro Stuart.
He then took on two roles in succession that challenged the audience's perception of him as the perennial good guy by playing the villain in two back-to-back Westerns, "Firecreek" and "Once Upon A Time in the West".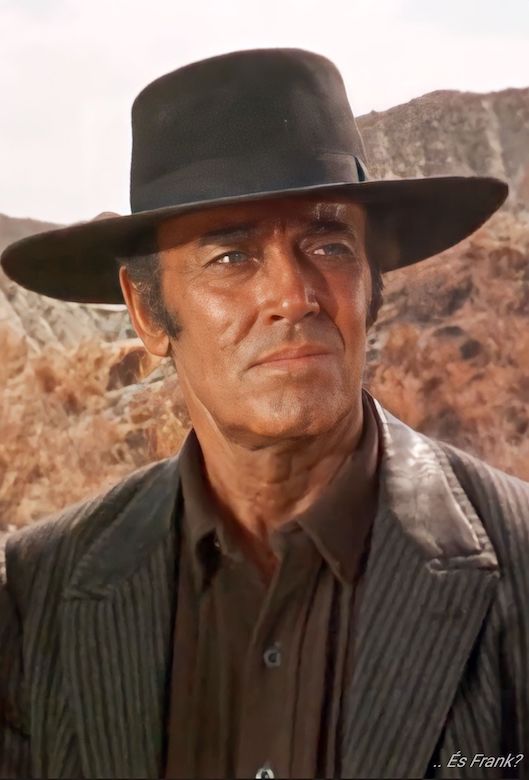 His portrayal of evil gunfighter Frank in the latter title caught filmgoers at the time by surprise, especially near the beginning of the film when he callously wipes out a family of three children and their father with nary a blink of an eye.
Fonda said that he didn't realise what Sergio Leone was looking for until he saw the finished movie and realised the director had cast him because "he could imagine the audience saying 'Jesus Christ! It's Henry Fonda!'"
It's worth mentioning a couple of late career Fonda cowboy movies including the 1970 release of "There Was A Crooked Man" in which the actor, portraying a sheriff in pursuit of villain Paris Pitman, played by Kirk Douglas, turns out to be just as corrupt as the bad guys he's required to track down.
Then there's "My Name Is Nobody", a comedy spaghetti film released in 1973 in which the actor was reunited with Sergio Leone, who apparently co-directed some of the scenes. In 1979 Fonda played a cameo role as an old prospector in "Wanda Nevada", a modern-day Western directed by his son Peter and the only movie they both worked on together.
Fonda went out with a bang in his final movie "On Golden Pond", released in 1981. His performance as an ageing man coping with a fading memory finally won him a much-deserved Best Actor Oscar, his co-star Katherine Hepburn also winning for Best Actress.
Best Westerns: "My Darling Clementine", "The Ox-Bow Incident" and "Once Upon A Time in the West"
James Stewart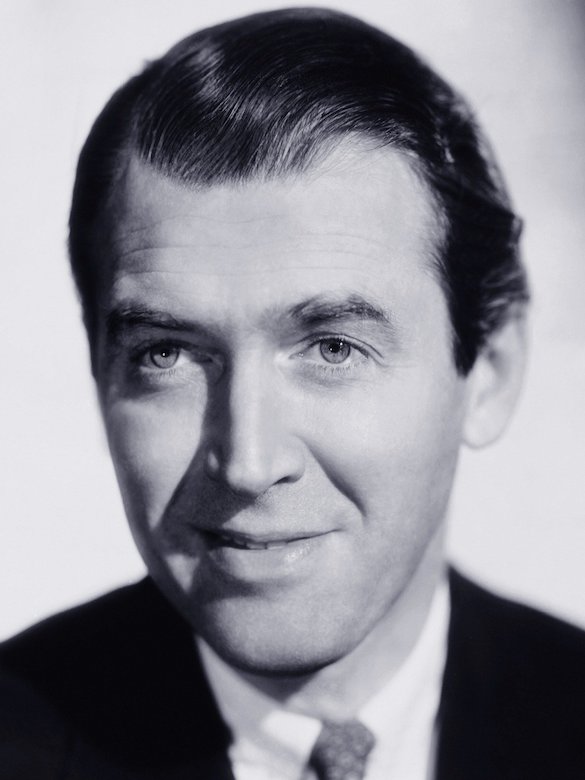 Stewart starred in only one Western during the pre-war years, "Destry Rides Again", released in 1939.
Stewart was second in the cast to Marlene Dietrich who performed "See What the Boys in the Back Room Will Have" in the film, a song that would be associated with for the rest of her life.
In 1941 he put his career on hold to enlist in the US Air Corps and, after a distinguished record in WWII Stewart returned to the screen in the classic Frank Capra fantasy "It's A Wonderful Life".
In 1951 the actor teamed up with director Anthony Mann for a series of five Westerns, the first of which was "Winchester '73", a film that saw Stewart beginning to leave his pre-war stuttering "aw shucks ma,am" persona behind and take on more psychologically complex characters, of which his role as the vengeful wanderer Lin MacAdams established a template for his screen performances over the next few years.
Stewart took on another cowboy role in the same year in the Delmer Daves Western "Broken Arrow", generally considered to be one of the first major Hollywood Westerns to feature a more sympathetic attitude towards Native Americans, although the casting of Jewish actor Jeff Chandler as Apache chief Cochise diluted the message somewhat.
In 1952 Stewart and Mann teamed up for a second time on "Bend in the River", in which the actor plays a man with a past who redeems himself whilst helping a wagon train of settlers navigate their way across hostile country to start ranching and farming in Oregon.
Both he and Mann then ramped up the hysteria to eleven with their next outing "The Naked Spur", Stewart portraying Howard Kemp, a lawman on the trail of an outlaw by the name of Ben Vandergroat, here played by Robert Ryan in laughing psycho killer mode.
It turns out, however, that Kemp is in fact a bounty hunter, out to capture Vandergroat dead or alive for a reward of $5000.
As the film progresses Stewart starts to come unhinged, in the process playing the closest he ever got in a major starring role as a villain. The screenplay, by Sam Rolfe and Harold Bloom, was deemed to be so good that it was nominated for an Academy Award, a very rare honour for a Western at that point in time.
"The Far Country", released in In 1954, is probably the cheeriest of the Stewart / Mann Westerns and certainly the most spectacular in terms of location, shot in the mountain regions of Alberta, Canada.
Just as in "Bend of the River", Stewart's character finds acceptance and peace of mind by embracing community and domesticity. It's a worthy entry in this series of films but there's definitely a bit of soft peddling of Stewart's onscreen persona that on occasion makes this one of the more lightweight efforts so far.
The Stewart / Mann partnership definitely saved their best for last in terms of the Westerns they made together with "The Man from Laramie", a truly classic cowboy movie released in 1955 that rubs shoulders with other great Westerns such as "Shane", "The Searchers" and "The Wild Bunch".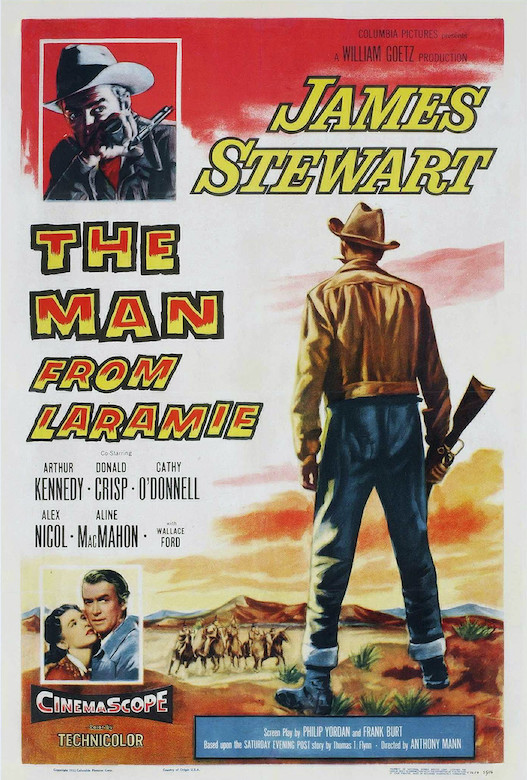 Stewart plays Will Lockhart, who Is ostensibly delivering goods and materials to the town of Coronado, but who is actually on an undercover mission to find out who has been selling weapons to the local Apache tribe.
Along the way, he encounters the resident psycho Dave Waggoman, played with evil relish by Alex Nicol.
Brutality being a constant theme throughout these five Westerns it's no surprise that the two best sequences revolve around the animosity between Lockhart and Waggoman, the first being when they punch it out after Lockhart's wagons have been set on fire and their second encounter when Waggoman has Lockhart shot through his gun hand at close range.
A number of movie scholars have suggested that the film has echoes of Shakespeare's King Lear which may or may not be true but there are definitely elements of tragedy, whether Greek or Shakespearean, underscoring the storyline.
The Westerns Stewart appeared in from then on were intermittent to say the least, the best of them being his turn as mild-mannered Eastern lawyer in John Ford's last classic oater "The Man Who Shot Liberty Valance", released in 1962.
By this time the hard and darker edge that Stewart had honed in his initial post-war movies eventually faded away to be replaced by the folksy idealistic persona of his pre-war movies.
Special mention should be given to his role as the God fearing patriarch in Andrew V. McLaglen's Civil War drama "Shenandoah", released in 1965 and "Firecreek" with Stewart as a part-time sheriff taking on a villainous outlaw played by his off-screen friend Henry Fonda.
Stewart's final appearance in a Western was in 1976 with a cameo role as the straight talking Doc Hosteler in John Wayne's last film "The Shootist', informing ageing gunfighter J.B. Books that his cancer is terminal. It was a fitting end to both Wayne and Stewart's cowboy film careers.
Best Westerns: "The Man from Laramie", "Winchester '73" and "The Man Who Shot Liberty Valance"
---
Top Ten Cowboy Stars Part 3 – Part III
Joel McCrea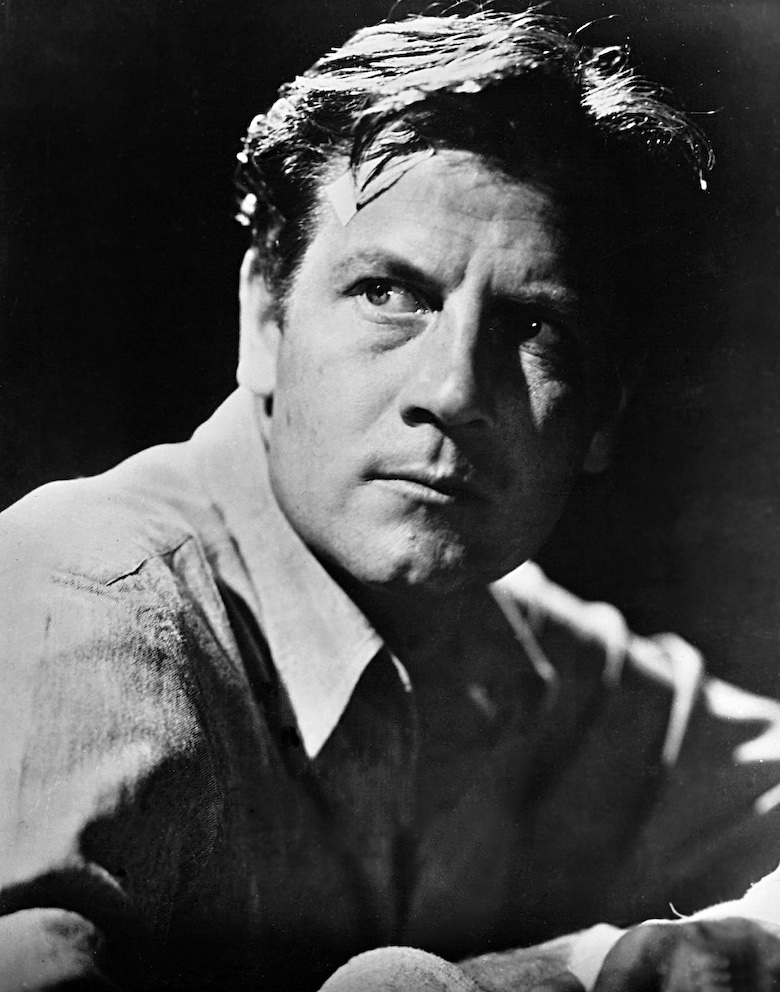 Beginning his film career in the silent era as a stuntman Joel McCrea didn't actually land a part in a Western until just over ten years later in 1937 with a starring role in "Wells Fargo".
McCrea's star shone bright in the 1940s when he teamed up with director Preston Sturges in three movies, two of them outright classic comedies, "Sullivan's Travels" and "The Palm Beach Story", but the Westerns still called from those faraway hills with the actor taking on the title role in "Buffalo Bill" in 1944.
In 1946 he appeared in "The Virginian" a remake of two earlier versions of the film, one of which starred Gary Cooper in 1929. From then on, apart from two exceptions, it was cowboy films all the way for McCrea right up until the end of his career.
The actor went on to work with a number of notable directors including Raoul Walsh with whom he collaborated on a Western remake of the earlier Walsh gangster movie "High Sierra".
The original version starred Humphrey Bogart and McCrea, going against type, took on Bogart's role as the bad guy, playing outlaw Wes McQueen and dying in a hail of bullets at the end of the film.
A pious man in real life McCrea was at home playing a gun toting preacher in "Stars In My Crown", released in 1950 and the first of three Westerns he appeared in for director Jacques Tourneur.
In 1955 he teamed up with Tourneur for the other two films, the first being "Stranger on Horseback" based on a story by Louis L'Amour with McCrea playing Judge Richard 'Rick' Thorne, a voiceover informing the audience that a "United States circuit judge needed three things to bring justice to this country – a law book, a horse and a gun".
"Wichita", the third and final McCrea / Tourneur film has the actor taking on the role of Wyatt Earp, the story chronicling the famous lawman's efforts to tame the rowdy town of the title by enforcing a no guns policy on locals and outlaws alike.
Like a lot of 1950s Westerns, there's quite a nice little supporting cast to luxuriate in, including Jack Elam, Robert J. Wilke.
There's also a blink-and-miss cameo from a certain Sam Peckinpah as a bank teller. Other McCrea cowboy films of the late 1950s worth mentioning include "The Tall Stranger", another adaptation of a Louis L'Amour story, and "The Gunfight at Dodge City" with McCrea playing another real-life lawman, Bat Masterson.
In 1959 McCrea took on the role of Marshal Mike Dunbar in the short-lived TV Western "Wichita Town" which in turn had evolved from the "Wichita" movie.
McCrea co-produced the series which featured his son Jody as deputy Ben Matheson, the show running for only twenty-six half-hour episode's before being cancelled in April 1960.
In 1962 the actor appeared in what was to become one of his most memorable Westerns, starring alongside Randolph Scott in "Ride the High Country" (aka "Guns in the Afternoon"), directed by Sam Peckinpah.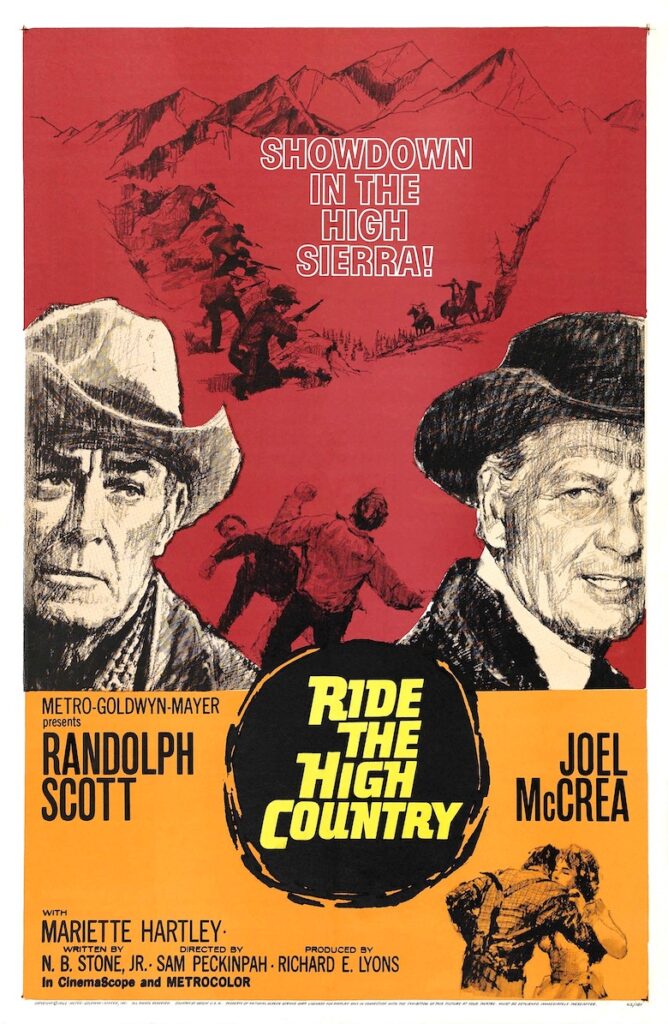 Set in the early 190ss and packed with Peckinpah stock actors including Warren Oates, L.Q. Jones and R.G. Armstrong, McCrea plays ex-lawman Steve Judd who reconnects with his old acquaintance Gil Westrum, played by Randolph Scott, and together they take on the job of transferring a large shipment of gold from a mining camp to the nearest town bank.
Naturally things don't work out quite as planned causing the two men to find themselves on opposing sides when Westrum decides to keep the gold for himself.
In an interview he gave a few years before he passed away McCrea revealed he was originally slated to play Scott's role and vice versa. In the end they swapped parts, McCrea taking on the role of Steve Judd, a man of conscience whilst Scott got to play the badddie.
Scott's character was supposed to die at the end but according to McCrea it was Peckinpah's idea to have Steve Judd die instead, suggesting it would make a more powerful ending. No matter the outcome, "Ride the High Country" is a wonderful tribute to both actors and a great swansong for Scott whose last film this was.
McCrea effectively retired at the same time although he played a few cameo roles in his later years, most notably in an extremely brutal revenge Western called "Cry Apache Death", in which his co-stars included son Jody as well as drummer and singer Don Henley of the Eagles.
McCrea's last film role was as a rancher by the name of Dan who befriends a runaway Native American boy in "Mustang Country", released in 1976 and co-starring Patrick Wayne and Robert Fuller.
Best Westerns: "Stranger On Horseback" and "Ride the High Country".
Randolph Scott
Hero to many including the residents of Rock Ridge in "Blazing Saddles", Randolph Scott started his film career in 1928 just as silent movies were transitioning to sound.
His first part in a Western was as an uncredited extra in "The Virginian" featuring Gary Cooper in the lead role. By 1932 Scott was top of the bill in the Western "Heritage of the Desert" which also happened to be the directorial debut of Henry Hathaway.
Scott and Hathaway made a further six Westerns together, all based upon stories by Zane Grey, culminating in 1934 in "The Last Roundup".
Although from this point on Scott occasionally took on non-cowboy roles in musicals ("Follow the Fleet"), dramas ("She") and Shirley Temple movies ("Rebecca of Sunnybrook Farm" and "Susannah of the Mounties"), the actor was now firmly associated with the Western genre which he rode all the way through to the end of his career.
Usually the nominal good guy he wasn't above portraying a bad'un every now and then, playing a crooked gold commissioner in the 1942 version of "The Spoilers" opposite John Wayne, he and Duke participating in a nearly three-and-a-half minute fistfight at the end of the film.
Notable directors that Scott worked with from the late 1940s / early 1950s onwards include John Sturges in the modern-day 1949 Western "The Walking Hills" and director Andre DeToth.
The director and Scott produced a series of six movies from 1951 to 1954 including "Man in the Saddle", "The Stranger Wore A Gun", featuring Lee Marvin and Ernest Borgnine in supporting roles, as well as "The Bounty Hunter", also featuring Borgnine and Fess Parker.
The pinnacle of Scott's career began in 1956 when he appeared in the first of seven movies that came to be known as the Ranown cycle. According to film writer Richard Jameson "The
'Ranown cycle' is the designation critics have awarded a remarkable series of low-budget Westerns from the late Fifties, starring Randolph Scott and directed by Budd Boetticher: "Seven Men from Now" (1956), "The Tall T" (1957), "Decision at Sundown" (1957), "Buchanan Rides Alone" (1958), "Ride Lonesome" (1959), "Westbound" (1959) and "Comanche Station" (1960).
For my money the standout film in the cycle has to be "The Tall T". In this one Scott, as rancher Pat Brennan, finds himself embroiled in the kidnapping of a wealthy woman, Doretta Mims (Maureen O'Sullivan), and her husband.
The villain of the piece, Frank Usher, is played with evil relish by a pre-Paladin Richard Boone. Frank takes a liking to Brennan before Brennan finishes off his two cohorts, Billy Jack (Skip Homeier) and Chink (Henry Silva) before finishing Frank off as well, after which he walks off into the wilderness with the now widowed Doretta.
The different characters Scott plays throughout the Ranown films is on occasion interchangeable from one film to the next yet there's an understated measured tone to Scott's performance in the series, as if he is the constant around which the action and the other characters revolve.
He's as much an observer as he is a participant, ready with a pithy remark or a quick burst of action just to let the other protagonists know he's still in charge.
According to some sources Scott retired after appearing in the last Ranown film, "Comanche Station", but he wisely decided to hit the trail one last time alongside Joel McCrea in the early Sam Peckinpah classic "Ride the High Country", released in 1962.
As already mentioned previously Scott played against type in the role of villain Gil Westrum who spends most of his time throughout the film attempting to stab his old fried Steve Judd, played by McCrea, in the back and relieve him of a wagonload of gold. In the end they unite to finish off the bad guys, but it's Steve and not Westrum who expires at the end.
This was a fitting full stop to Scott's film career, the actor most definitely going out on a high in what Peckinpah himself considered to be his first 'real' Western.
Best Westerns: "The Tall T" and "Ride the High Country".
Clint Eastwood
Of all the cowboy stars mentioned so far Clint Eastwood appeared in the least number of Westerns but the popularity of his cowboy films, as well as his TV stint as Rowdy Yates in "Rawhide" still resonate with audiences to this day.
Prior to landing his breakthrough role in 1959 as ramrod Rowdy Yates Eastwood first appeared in a big screen Western as a cavalry lieutenant in "The First Travelling Saleslady", a comedy Western released in 1956 and starring Ginger Rogers.
His screen career remained in the doldrums for a couple of more years before he won third billing in "Ambush at Cimarron Pass" as a hot-headed Yankee hating ex-Confederate soldier by the name of Keith Williams.
The low-budget film didn't make much noise at the box-office with Eastwood himself later saying it was a 'lousy Western'. Salvation arrived when "Rawhide" propelled the still relatively unknown Eastwood to TV superstardom in a show that ran for a total of two-hundred and seventeen one hour episodes until its cancellation in December 1965.
At that point Eastwood was the lead character in the series after Eric Fleming was let go in a bid to halt a decline in the ratings. Unfortunately, Fleming's departure set the seal on the series and Eastwood only got to play trail boss for about thirteen episodes before "Rawhide" was cancelled.
By this time, however, Eastwood had already appeared in a little known Italian Western by the name of "A Fistful of Dollars", which was filmed in Italy and Spain in 1964.
He was back in the saddle for Sergio Leone as the Man With No Name in the sequel "For A Few Dollars More" and in the following year he appeared in the final chapter of the Dollar trilogy, "The Good the Bad and the Ugly".
Due to a legal tangle between Leone and Japanese director Akira Kurosawa, who maintained that Leone had appropriated the story of Kurosawa's earlier Samurai movie "Yojimbo" for "A Fistful of Dollars", there was a delay in release dates for the Dollar films the two of them settled their differences.
This meant that "A Fistful of Dollars" was not released worldwide until 1967 with the sequel following hot on its heels later that same year. "The Good the Bad and the Ugly" was then released to worldwide acclaim in 1968 by which time Eastwood was well on his way to becoming very famous indeed.
Eastwood's next Western was as Marshal Jedediah Cooper in "Hang 'Em High", charged by hanging judge Adam Fenton to bring in the men who tried to lynch Cooper at the beginning of the film.
Seeing as on occasion Clint had expressed his admiration for "The Ox-Bow Incident", a 1940s Western dealing with the lynching of three innocent men accused of rustling, it comes as no surprise to find himself playing a man who almost suffers the same fate.
The following year the actor ill-advisedly appeared in the Western music "Paint Your Wagon", opposite Lee Marvin, and the less said about it the better.
Having already established a partnership with director Don Siegel in 1968 when Eastwood appeared in the modern-day Western "Coogan's Bluff", the two teamed up again a couple of years later for the Western "Two Mules for Sister Sarah".
Heavily influenced by Clint's work with Sergio Leone, the movie even boasts a soundtrack by Ennio Morricone, apparently this being the maestro's first complete score for a Hollywood film.
Things picked up in 1972 when Eastwood appeared in the John Sturges Western "Joe Kidd", the actor playing an out-of-work bounty hunter turned town drunk who finds himself embroiled in a dispute between land-grabbing Frank Harlan, played by Robert Duvall, and a Mexican revolutionary, Luis Chama, played by John Saxon.
Harlan puts together a posse to hunt Chama down and offers Kidd a job, which he first declines before subsequently throwing his lot with the bad guys, the fuse is then set for a showdown between all parties concerned.
That same year Eastwood finally did what he had been hankering to do for a long time, taking up the directing reins on a Western of his own, "High Plains Drifter". Playing a character known only as The Stranger, within a few minutes of riding into the town of Lago he off's three gunmen a la "A Fistful of Dollars".
The film then takes on a hint of the supernatural, the suggestion being that the Stranger has come to avenge the dead sheriff, who was whipped to death by the outlaws whilst the townspeople looked on. Or maybe the Stranger is the ghost of the dead sheriff.
Directed by Eastwood and released in 1976, "The Outlaw Josey Wales" is a post-Civil War Western and, in my humble opinion, his finest Western to date. As Wales, Clint is the complete opposite of the character he played in the Dollar trilogy.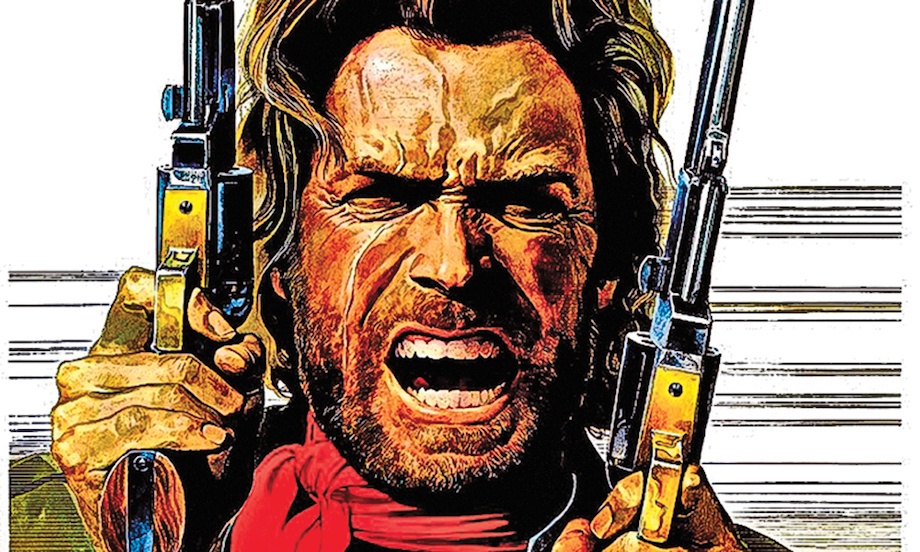 He's a farmer, he's a family man, he loves, he loses, he cries, then before you know it he reverts to type by spitting chewing tobacco juice in all directions, killing, maiming and generally causing all kinds of trouble and mayhem, so you get the best of both worlds.
It would be another nine years before Clint saddled up again with "Pale Rider" in 1985. There's a slightly spooky air to the whole thing, what with Clint seemingly able to disappear into thin air as The Preacher whenever the mood takes him.
The film is highly reminiscent of "Shane" with Clint and co-star Michal Moriarty as miner Hull Barret engaging in an Alan Ladd / Van Heflin tree-stump bonding exercise, only this time it's a boulder instead.
If "Unforgiven", released in 1992, is Clint Eastwood's acting and directorial swansong to the Western, then he's going out with a real masterpiece.
Eastwood surrounds himself with a whole raft of excellent character actors, most notably Gene Hackman as the no-nonsense sheriff "Little Bill" Dagget, Richard Harris as notorious gunfighter English Bob and Morgan Freeman as doomed ex-gunfighter Ned Logan.
Jaded gunfighter William Munny, played by Eastwood, teams up with Ned and a young upstarts by the name of the Schofield Kid (Jaimz Woolvet) and ride off to the town of Big Whiskey in order to kill two men who have assaulted and mutilated a prostitute and, in the process, get themselves some much-needed cash.
Things don't exactly go to plan, Munny and Daggett shooting it out after Daggett kills Ned and displays his corpse in the window of the local saloon.
After a brief exchange about seeing each other in hell, Munny blows Daggett's head off. With an ending like that there's no denying that this is a dark movie both in content and visual style.
Munny, Daggett, English Bob, Ned – they're all killers, and Munny, haunted by nightmares of the people he's murdered over the years, is the worst of the lot.
Best Westerns: "The Outlaw Josey Wales" and "The Good the Bad and the Ugly".
PS Check out the Mostly Westerns website if you're interested in our two-part article on Clint's Westerns:
And Part II of Clint Eastwood's Best Western Movies
Finally, we present the actor we consider to be the best and most popular Hollywood cowboy star of all time, notwithstanding John Wayne of course, and the winner is:
Gary Cooper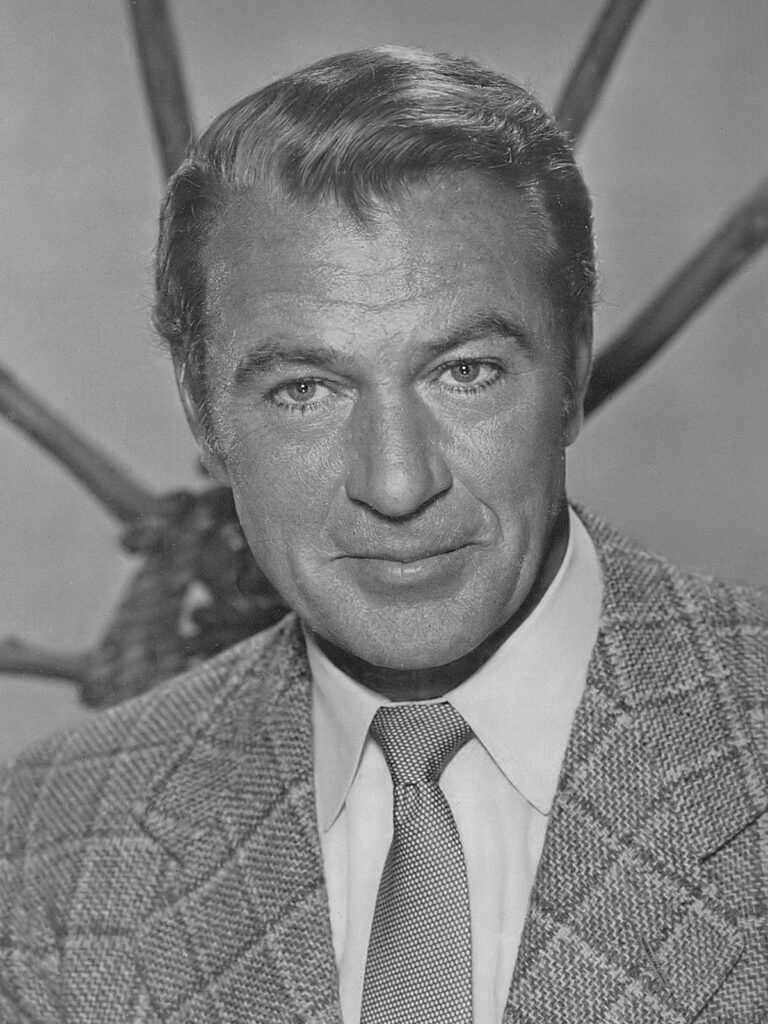 The early career of Gary Cooper, or 'Coop' as he was known to his friends, followed a similar trajectory to that of fellow cowboy actor Joel McCrea, Coop working in a few low-budget movies towards the end of the silent era before moving up the cast list.
After signing with Goldwyn Productions in 1925 the actor received third billing for his role as nice guy Abe Miller opposite Ronald Colman and Vilma Bánky in the Western saga "The Winning of Barbara Worth".
Four years later he appeared in his first sound film, "The Virginian", in which he pulls a gun on Walter Huston accompanied with the famous quote "You wanna call me that – smile". Cooper eventually honed his screen image into that of the laconic loner, short on words apart from "yep", "nope" and "maybe" but ready for action at a moment's notice.
In 1930 he took on the role of Roy Glennister in the third version of the Gold Rush Western "The Spoilers", a role that would be essayed twice more in the future by both John Wayne and Jeff Chandler.
Cooper endeared himself with cinema audiences no matter what genre he worked in whether it be a war movie, a comedy or an historical drama and it would be another six years before Coop jumped into the saddle once more , this time as legendary gunfighter Wild Bill Hickock in "The Plainsman", directed by Cecil B. DeMille and released in 1936.
Continuing to pace himself as regards Westerns Coop appeared in "The Westerner" in 1940 as drifter Cole Hardman, nearly ending up on the wrong end of a rope when encountering hanging Judge Roy Bean, played by Walter Brennan.
In between working twice more with DeMIlle in "North West Mounted Police" and "Unconquered", released in 1940 and 1947 respectively, Cooper took on the lead role in the comedy Western "Along Came Jones". In the film he actually gets to sing "I'm A Poor Lonesome Cowboy" as well as taking a few pot-shots at his own screen cowboy persona.
It wasn't until the 1950s and the heyday decade for Hollywood Westerns that Cooper finally hit the ground running in terms of his cowboy roles and filming three oaters back-to-back, starting with "Distant Drums" in 1951.
Directed by Raoul Walsh, it's a remake of his earlier WWII movie "Objective Burma!". The film is set in the 1840s and features Cooper as Captain Quincy Wyatt, the leader of an American strike force attempting to outrun both gunrunners and Seminole Indians in the Florida swamps.
His second Western of the 1950s is without doubt the film he will always be remembered for, playing Marshall Will Kane in the iconic "High Noon", in which Kane is forced to take on the viscous Frank Miller and his gang on the Marshal's wedding day.
Cooper found himself caught in the middle of a row between Carl Foreman, the screenwriter of the film, and the House Un-American Activities Committee, brought about due to Foreman's previous membership of the Communist Party.
None of this affected the popularity of the film, however, "High Noon" making a staggering profit of over $11m dollars at the box-office. And it had a great theme tune too.
The following film, "Springfield Rifle", didn't exactly set the world alight but after appearing in the sea adventure "Return to Paradise" in 1953 Cooper jumped straight back in with yet another three back-to-back Westerns, "Blowing Wild", "Garden of Evil" and "Vera Cruz".
In "Blowing Wild" Cooper plays a wildcat oil explorer trying to find black gold in an anonymous country in South America populated by bandits, the film failing to click at the box office. "Garden of Evil" is much more engaging, a rather violent story directed by Henry Hathaway in which Cooper, Susan Hayward and Richard Widmark attempt to stave off a painful death from a tribe of vengeful Apache warriors out for their scalps.
"Vera Cruz", released in 1954 and directed by Robert Aldrich, teams Gary Cooper with Burt Lancaster, two mercenaries in Mexico who decide to hijack a consignment of gold which is supposed to be a payment for weapons destined for the army of shady Emperor Maximillian (George Macready).
With a supporting cast including Jack Elam, Charles Bronson and Ernest Borgnine the film scored just as big as "High Noon" with audiences on its initial release. Certain film scholars have suggested "Vera Cruz" is a precursor to the type of Westerns directed by luminaries such as Leone and Peckinpah, considered by some to be prototype for 'Spaghetti" Westerns.
Cooper appeared in two more noteworthy Westerns towards the end of 1950s, "Man of the West", directed by Anthony Mann and released in 1958 and "The Hanging Tree", Coop's last oater, released in 1959 and directed by Delmer Daves.
"Man of the West" features Cooper against type as ex-outlaw Link Jones, attempting to distance himself from both his violent past as well as his shady relatives including Uncle Dock Tobin (Lee. J. Cobb) and cousins Coley (Jack Lord) and Claude (John Dehner).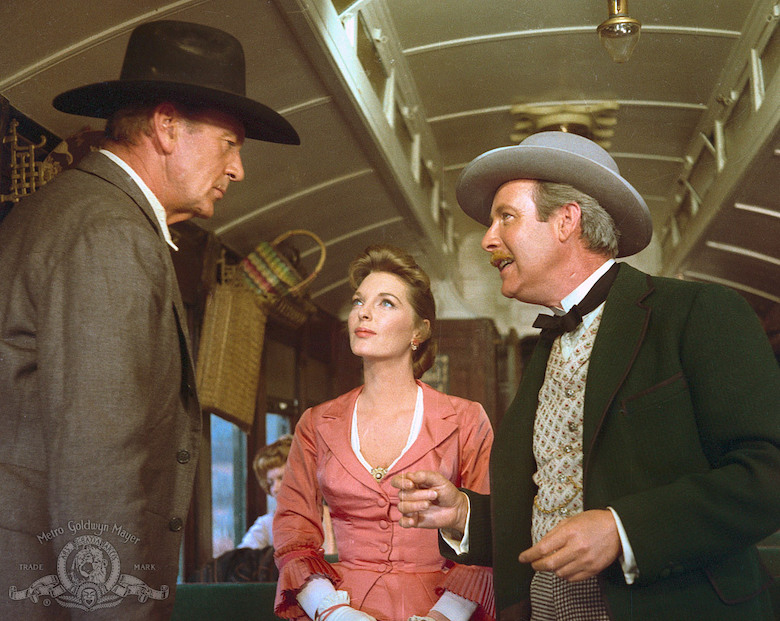 The film was condemned at the time as 'morally objectionable' but in time it has been recognised as perhaps Mann's best Western, eclipsing the cowboy films he made earlier in the decade with James Stewart.
In "The Hanging Tree" Coop plays ex-gunfighter Joseph Frail who sets up shop to practice medicine in the gold rush town of Skull Creek.
Before too long he becomes embroiled in a love triangle consisting of himself, pretty Elizabeth Mahler (Maria Schell), who has been seriously wounded in a stagecoach holdup and 'Frenchy' Plante (Karl Malden).
By the end of the film Frail ends up about to be lynched on the hanging tree of the title, Elizabeth saving the day by trading her claim to a parcel of land on which gold has been discovered in exchange for Frail's life.
Gary Cooper passed away at the age of 60 on May 13th 1961. The admiration of his peers was demonstrated by the presence at his mass of some of Hollywood's greatest and good including James Stewart, John Ford and, not surprisingly, the most famous cowboy star of them all, John Wayne himself.
Best Westerns: "High Noon" (of course) and "Man of the West".
This list is obviously a personal one so please feel free to comment one way or another as to whether or not you agree with our choice of who we consider to be the top ten cowboys stars. In the meantime we'll get started on another article for the future featuring those actors who didn't make the cut first time around.
Adios for now.